The question on most people's lips when thinking about purchasing a property in a foreign country like Italy is, do I need a lawyer or not? 
That's the dilemma for many and one of the most frequently asked questions by overseas house hunters in the belpaese.
As a matter of fact, in some countries, such as UK, the transaction is made between lawyers. But in Italy, is such a person required? The answer is that − although not necessary − it is highly recommended to hire the services of an English speaking property lawyer as quite often the buying process could turn into a financial and bureaucratic nightmare if you're not familiar with the Italian legal system.

That's why, according to our experience, many buyers are more comfortable getting advice from a lawyer, who is independent and only has the best interests of the buyer in mind. If you purchase a property with the help of a real estate agent, remember that in many cases they could have agreements with trusted lawyers that can assist you, but in this case, if the lawyer is connected with the agent, how independent are they?

So how can a lawyer help you?  We have asked Alessandro Clemente − solicitor specialized in property law and founder at Clemente Law Firm, who provided us with the top 5 reasons why usually people ask for his assistance to ensure a smooth property transaction.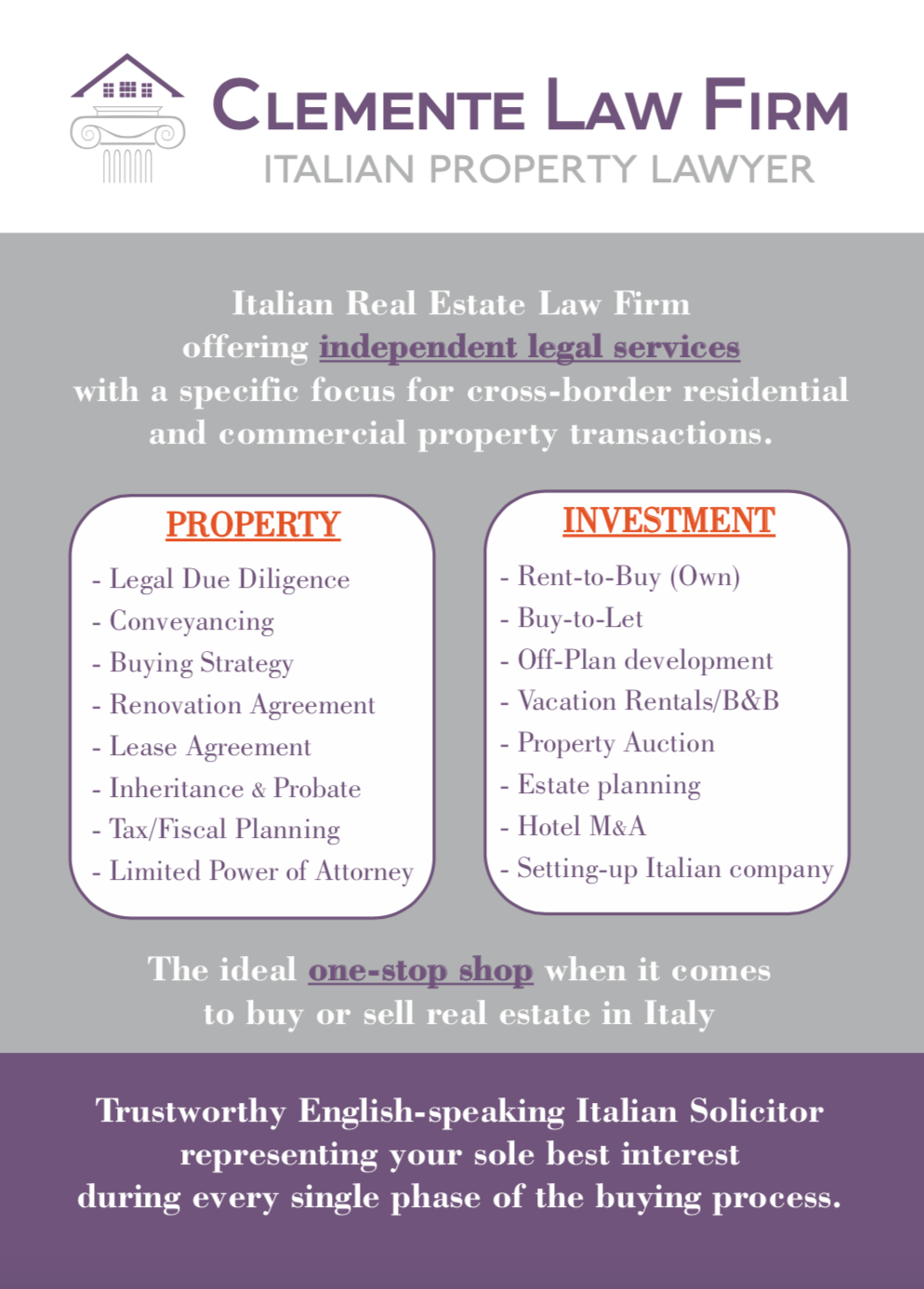 1. A lawyer is an independent professional who protects only you as the buyer

The Lawyer will represent the sole very best interest of the buyer being not being in conflict of interest with the seller, developer or real estate agent. On the contrary the estate agent represents both parties in the property buying process. 

2. A lawyer can carry out the Legal Due Diligence on your behalf

Your Lawyer will carry out all the legal checks to make sure that there are no obstacles to the transfer of the ownership rights without any risk. On the other hand, the Legal Due Diligence can also show some information which might help maximize the contractual term and condition of the transaction: your Lawyer will know how best to use the information.

3. Highly specialised in property law and and buying process in Italy

Your Lawyer will also own a specific in-depth understanding and experience with the Italian property law and real estate industry; In fact, in Italy there are three stages of the buying process – Proposta di acquisto (Reservation offer), Contratto Preliminare di vendita (Preliminary contract) and Rogito (Deed of sale) − and they all involve signing legally binding paperwork. If you are not familiar with the Italian legal system he can help you avoid any unpleasant surprises.

4. He can help you overcome the language barriers

If you are not fluent in Italian, it will be easier to understand every step of the process through the detailed explanations of an English-speaking Italian Lawyer.

5. He can arrange a Power of Attorney

If needed,  you can ask your Lawyer to sign on your behalf the essential documentation, so it is not necessary having to come to Italy for every stage of the process.
Looking to get in touch with Alessandro to understand how he can help you with buying your dream property in Italy? Contact him via his website or visit his community on Facebook.