Cover photo credit: Fototeca Trentino Sviluppo S.p.A. Foto di Arturo Cuel
You might want to visit the Trentino Alto Adige for skiing, hiking, or touring its many charming mountain villages, but the regions are major sweet havens with countless irresistible dolci. Here's an A (Apple Strudel) -to-Z (Zelten) guide to their Alpine treats.
In the Trentino Alto Adige Apple Strudel, or Strudel de Mele, is like its Austrian counterpart, an apple-filled pastry, although for an authentic local version the Golden Delicious Apples grown in the area should be used. While apple strudel came to the South Tyrol via its Hapsburg overlords, the pastry originated far from Vienna. Strudel is a distant cousin of Turkish baklava, introduced to Middle Europe during the time of the Ottoman Empire. "Strudel was originally made with pasta matta, a dough created only with flour, water and olive oil—no precious ingredients like eggs, butter etc.," says  Matteo Piffer of Panificio Moderno in Trento. "It's a very humble method. In the South Tyrol, this is the same. In the Trentino while you can still find pasta matta, you also have pasta sfoglia (like millefeuille) and pasta frolla (shortcrust)."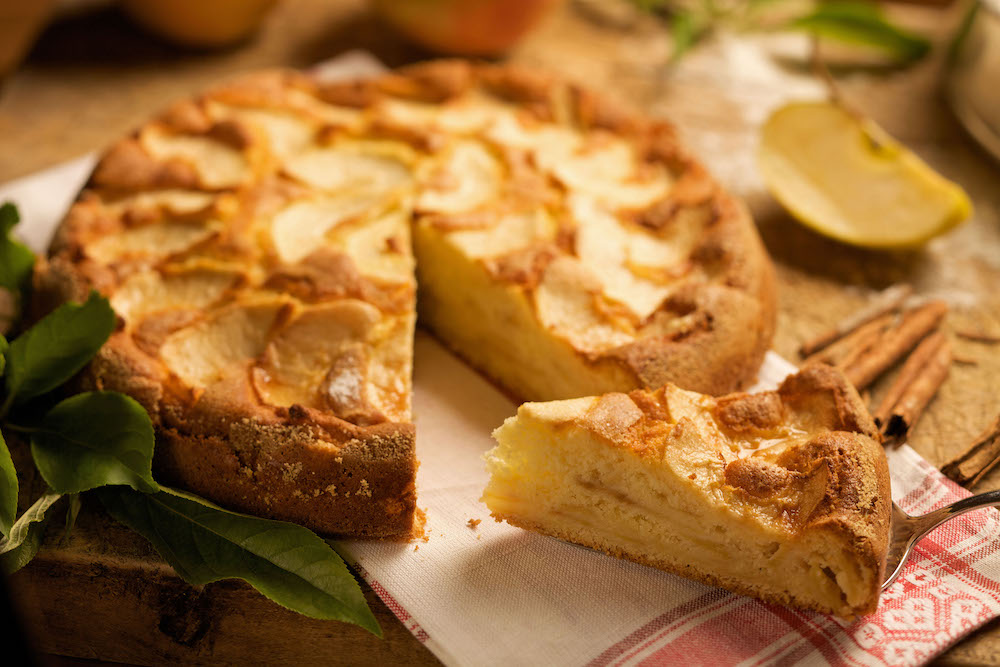 Fototeca Trentino Sviluppo S.p.A. Foto di Marco Simonini
Since Italians like to customize their recipes, the strudels can vary from valley to valley, town to town and family to family—with changes not only restricted to dough type, but also to the filling. Besides the requisite apples, raisins, sugar, and cinnamon, the mix's sweetness, nuttiness or spiciness can differ from one spot to the next. Regardless of the dough or filling type, making fine apple strudel requires practice and skill. (According to romantic lore, strudel dough should be almost transparent—clear  enough to read a love poem through it.) You can learn the secrets of making this pastry at the Strudel Week festival held in the South Tyrol town of Castelrotto/Seis am Schlern in late August/early September. In addition to refining your baking skills, you'll be able to sample varieties of strudels, both sweet and savory. But you can enjoy strudel in the Trentino and South Tyrol and other apple desserts throughout the year. As apples are one of the Trentino's largest crops they turn up in many dessert recipes, like apple tart and apple mousse. Apple lovers traveling the Apple Route in the Valli di Non and Sole will find other options, too.
Dumplings are pervasive in the Trentino-Alto Adige, often made with a local meat, like Speck, or cheese filling and served as entrees. But there are delectable sweet versions, too, like Canederli con Albicocche (also known as Marillenknodel). Canederli are prepared with with a gnocchi-like dough (a mix of potato and flour) although Quark, a sour cream-style cheese, or  ricotta are sometimes added to it. The Trentino version of the dumplings uses filling made with apricots grown in the Val Venosta. These apricots are so prized there's an annual festival, Marmor and Marillen, held in Laas in August to celebrate the harvest, where numerous apricot treats, including the canederli con albicocche, are served.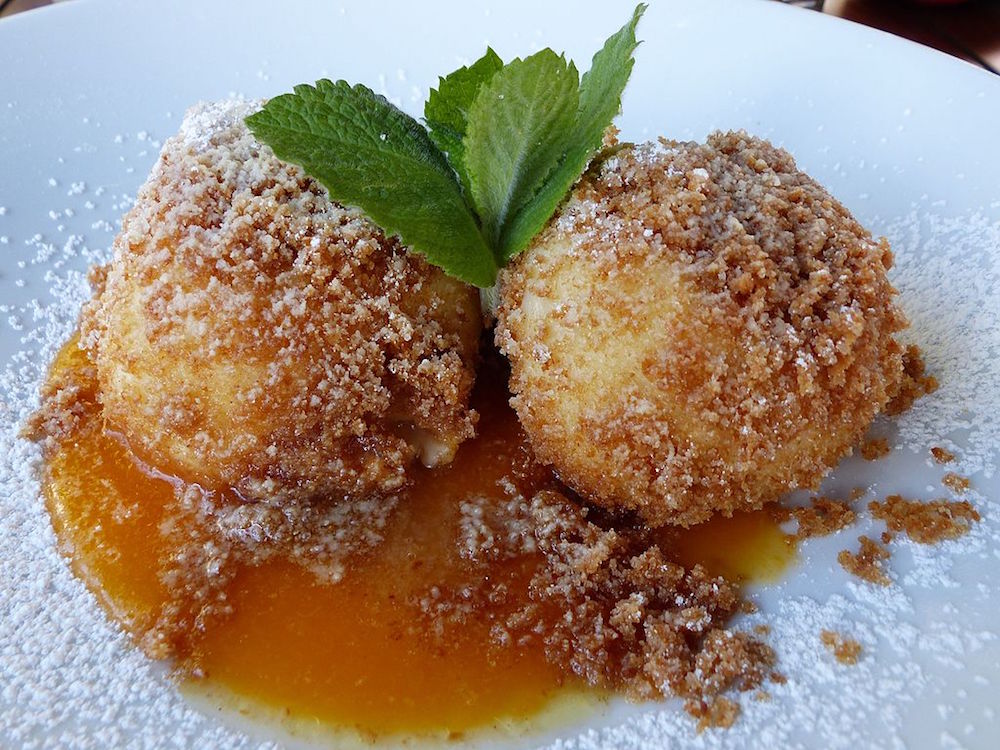 Canederli con Albicocche: By Whgler (Own work) via Wikimedia Commons
Kaiserschmarrn (also known as Schmorn and Schmarren), a pancake dessert, was named for Austria's longest reigning Emperor, Franz Joseph. The name means Kaiser's mismash or mess, since the dish looks like a pancake that's been ripped to shreds. Kaiserschmarrn may have started as a mistake (there are several anecdotes about its origin), when a cook for Franz Joseph botched a preparation of traditional pancakes. To make the best of the mishap he shredded them and  slathered the concoction with raisins and sugar. Despite the disheveled appearance it became one of Franz Joesph's favorite dishes. While the original pancake dough was a mix of flour, eggs, milk and sugar, varieties eventually included nuts (for nussschmarrn) and of course, there's a type with apples and honey (apfelschmarrn) found in the South Tyrol's Alpe di Siusi.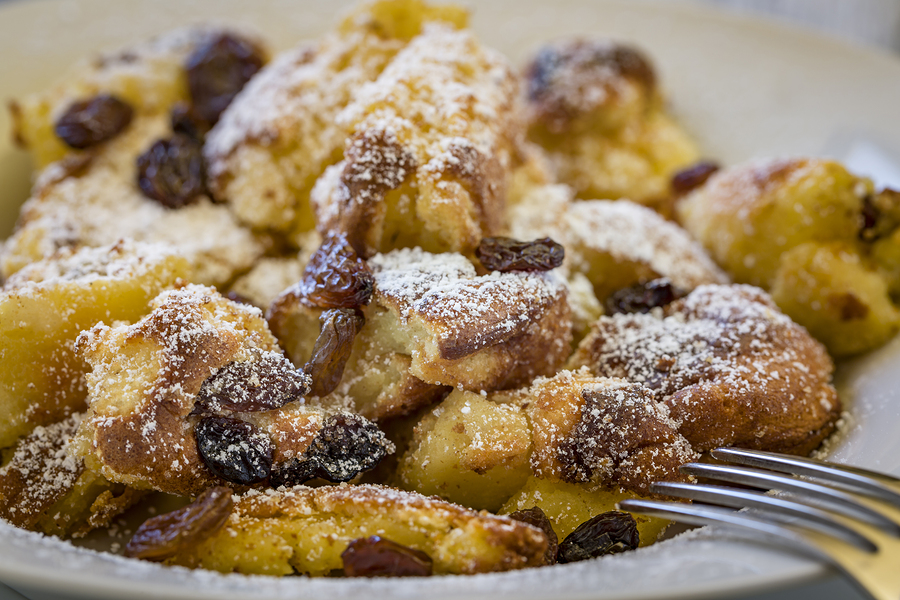 A delicious plate of Kaiserschmarrn
Krapfen are extremely popular in the region, particularly as Carnevale treats, although they are so scrumptious they're available year round. (The sweet's name is believed to be a variation of an old German word for fritter.) Even if you haven't been to the Trentino or Alto Adige you've probably sampled something similar to krapfen— in the US the closest version is the  jelly doughnut; in Tuscany it's bomboloni. Krapfen fillings vary, but the most typical ones are made with apricot or raspberry jam or cream. Not surprisingly a treat this addictive has a festival celebrating it, the Krapenfest in Valdaora (near Bolzano) each July, where competition among bakers is keen to see who can produce the most delectable filled fritter.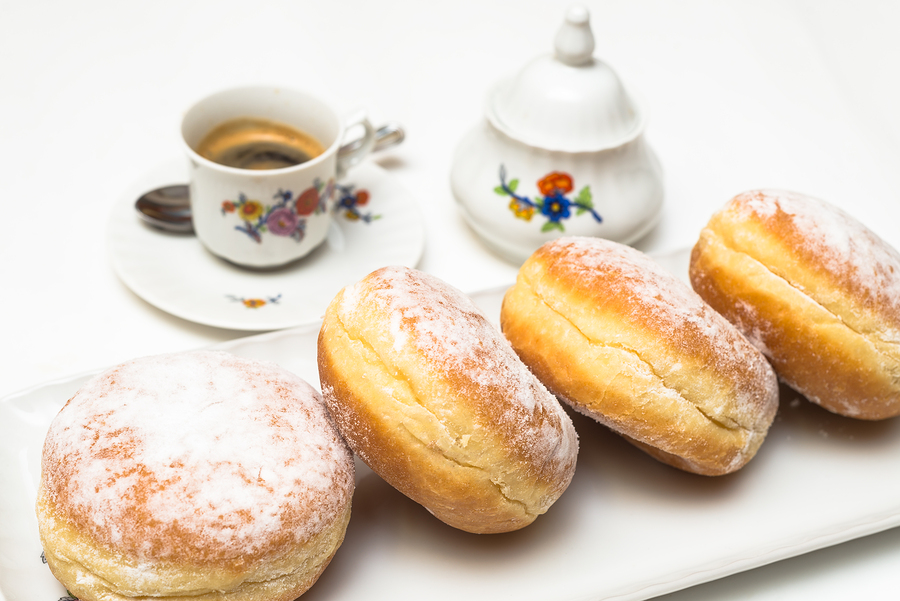 Our favorite? Definitely the Krapfen
Strauben (also Straboi or Stromboi) are another tasty offering in the pancake family, made with a dough typically spiked with grappa or brandy. Since Strauben are easy to prepare they are often served as street food at village festivals in the area. When presented Strauben can be arranged to look like a huge pinwheel; other times as an assortment of large straws or thick spiraled pasta. The Ladin version Fortaes is popular in the Val di Fassa area and served with sugar and jam, often as a pre-wedding treat. Like Kaiserschmarrn these pancake desserts are also consumed on Shrove Tuesday.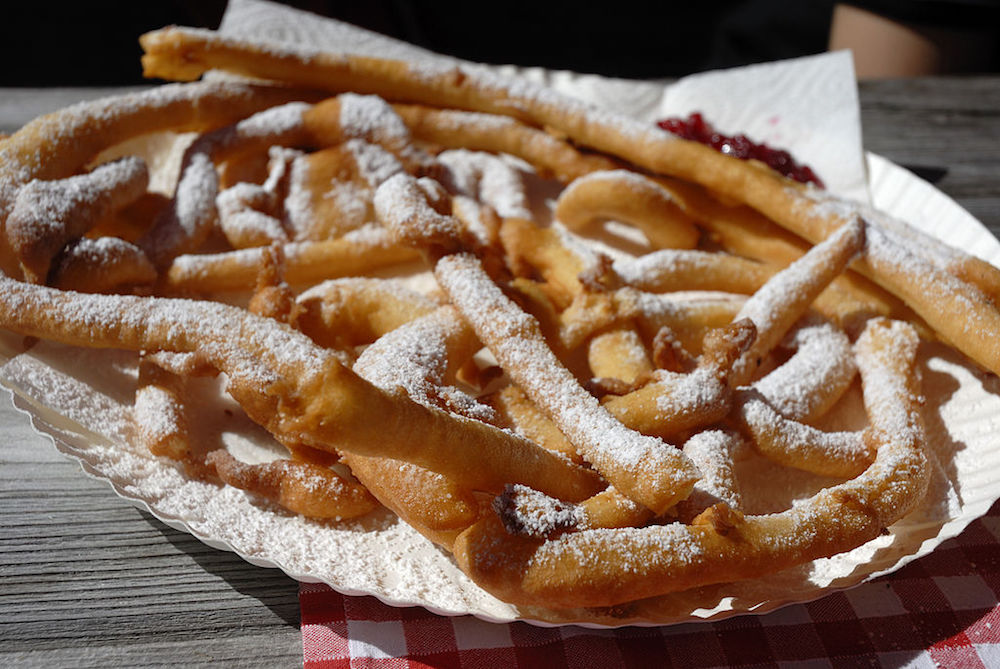 By User:Haneburger (Own work) [Public domain], via Wikimedia Commons
Zelten is the Trentino Alto Adige's panettone, a holiday bread made with raisins and candied fruit, but figs, pine nuts, hazelnuts, walnuts and grappa are also in the mix.  Zelten started out as a rural bread made by farmers in the region who consumed it during Advent and on Christmas Eve. Records show that Zelten is a derivative of Central European fruit breads; its name comes from the German word zelten, which means rare, suggesting its once-a-year holiday appearance. Of course, like panettone there are variations—families pass on recipes from generation to generation and towns add or subtract ingredients to the recipe for their own unique takes. For example, the Bolzano version is a particularly rich one with figs, dates, sultaninas, raisins, rum, brandy and spices like cloves and cinnamon. Sample the varieties this month at the Bolzano Christmas market and at other holiday celebrations in the region.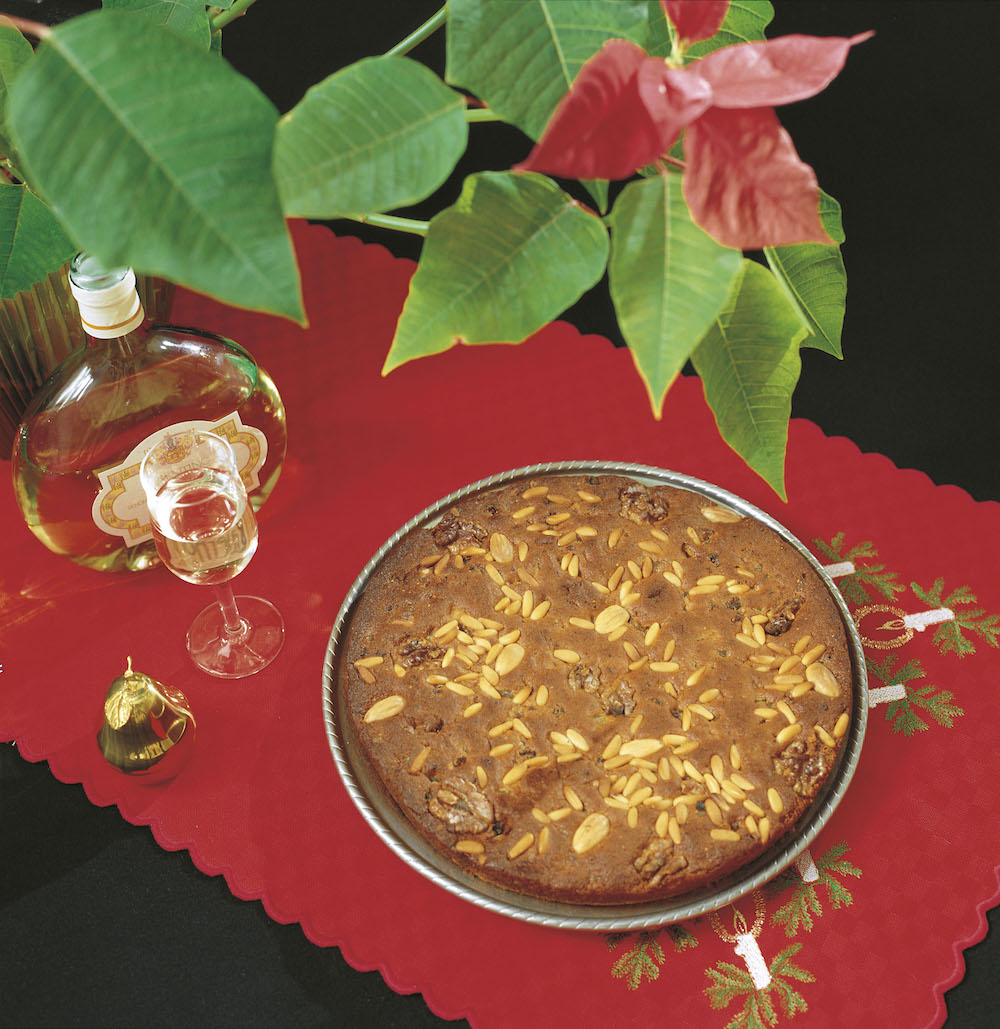 Zelten, Fototeca Trentino Sviluppo S.p.A. Foto di Gianni Zotta
In addition to the area's most popular desserts like strudel and krapfen and their many variations, Trentino Alto Adige offers endless ways for you to forget the word calorie exists—there are delectable cakes, among them Tyrolean wine cake, Linzer Torte, Torta di Grano Saraceno, made with a buckwheat and jam, Torta di Mele, and Sacher Torta and countless varieties of cookies.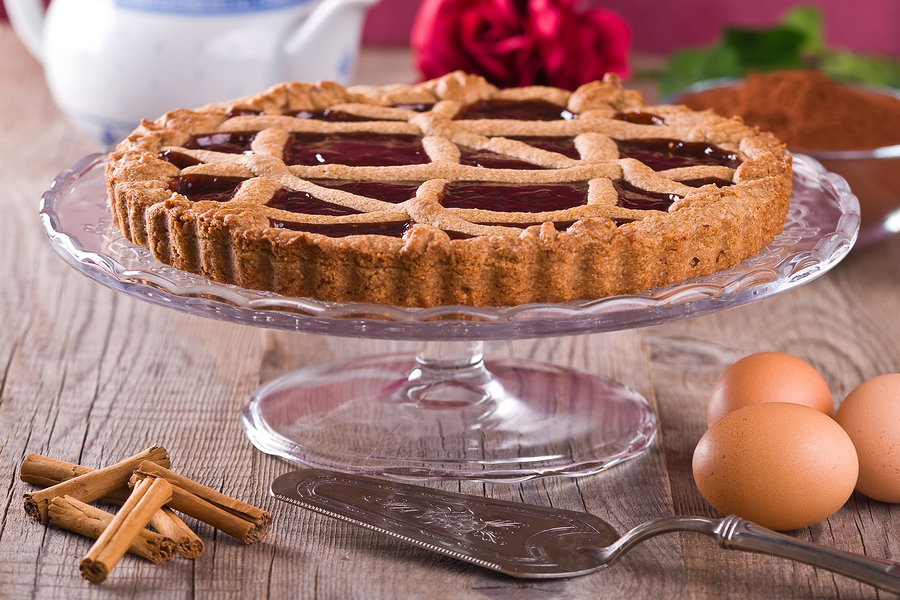 Linzer Torte
The SudTirol website has an excellent guide to the desserts and other foods in the region, along with recipes.