Cala Gonone is a town abundant in natural beauty but, as Robyn Rosenfeldt discovered, there's a whole lot more that lies beneath the surface.
Leaving the wild ranges of the Barbagia behind me, I entered the long dark tunnel that cuts through the limestone mountains to the sea. Coming out the other end, I was confronted with a sight that would cheer any weary traveller's eyes: an endless expanse of blue. Following the winding road that leads down the mountainside to the town of Cala Gonone, all I could think of was being in that beautiful Mediterranean sea.
I pulled up in the street that fronts the town and without stopping to look around, ran straight to the sea and dived into the aquamarine waters that make Sardinia so famous. It wasn't until I emerged, cooled and refreshed, that I took the time to look at the town itself.
Going to the Limit

Cala Gonone, nestled inconspicuously in the Gulf of Orosei, on the east coast of Sardinia, is the jewel of the island. With its ideal geographical position, it has quickly made a name for itself as an adventure sports mecca. With limestone cliffs behind and beside the town centre, pristine Mediterranean waters and plenty of secluded coastline, it makes the perfect spot for those who want to get out and be active.
I spent the first few days doing as many activities as I could. I sailed throughout the bay, walked to secluded beaches, swam in deserted coves, trekked to hidden caves in the mountains and pushed my strength and determination to the limit, climbing sheer rock walls. I felt I had seen and done it all… until I saw the sign for scuba diving.
Beneath the Surface
Not having dived before, I was curious to know what it was all about. First thing the following morning, there I was, hanging over the edge of the Argonauta diving boat, cruising across the crystal clear sea. Looking into the water below, I wondered what I was going to find down there.
In my wetsuit, mask and flippers I was feeling very much like a crazy-looking fish out of water, flip-flopping around the boat. After jumping in and attaching my tank and breathing apparatus, down I went. As I gradually sank lower and lower, I started to feel more and more like a sea creature returning to its watery home.
It was such a wonderful feeling, being completely engulfed by water, well below the surface, in a world like nothing I had previously known. As I looked around, I saw life as I had never seen it before. There was no noise, no smell, no traffic and no people. Just water and fish and coral and rock. Suddenly the realisation struck me: in all those years of swimming in and walking beside the sea, I had just literally been scraping the surface, totally oblivious to this whole other world. The feeling was absolute magic.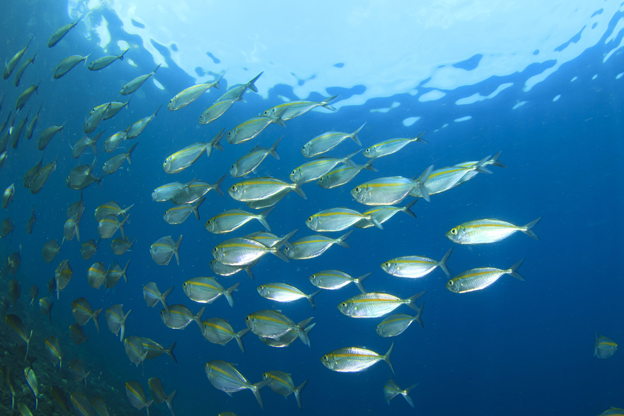 Submarine Ballet
After running through all the basic hand signals with my guide, and practising taking off and replacing my mask underwater, I was ready to explore. I glided through the water with the greatest of ease, using only my fins to propel me. With just a slight twiddle of my feet I could navigate myself through this watery world.
We passed along rock walls and through archways that led into caves and crevices; some cool and dark, others leading into bright, open, sunny passages. We swam through schools of fish going about their business in perfect synchronisation. We watched larger fish come and go and sometimes I would follow one and for a brief moment try to feel what it was like to be that fish.
As we glided along, the guide would stop and point out amazing coral formations and unusual aquatic life forms, all in the mute language of the water. All actions and expressions were transmitted slowly and weightlessly. It was like a huge submarine ballet put on especially for me.
I don't know how long we were down there – all sense of time had vanished. When I came back to the surface, it was a strange sensation to see the boat nearby, the coastline exactly as I had seen it before and the calm surface of the water giving away nothing of what lay beneath it.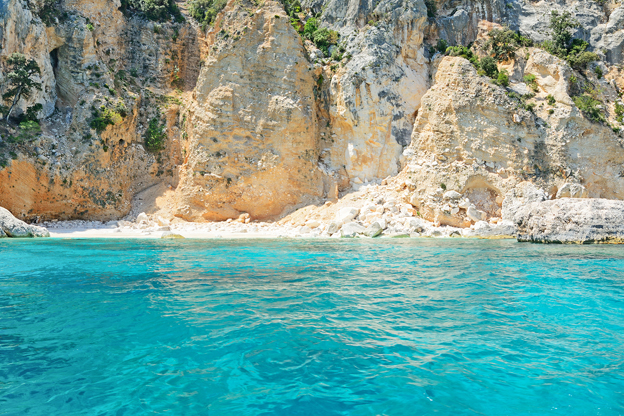 For billions of years this sub-aquatic world has existed, yet most people are completely ignorant of it. What I had seen was just one small part of one small bay, yet I felt I had explored a whole new universe.
Sardinia offers the perfect way to discover diving: warm, crystal-clear water with great visibility and a beautiful town to stay in that allows you to experience a part of Italy that is well off the beaten track. By getting beneath the surface of the place I discovered so much more than I expected.