Museum: Museum of the Imperial Fora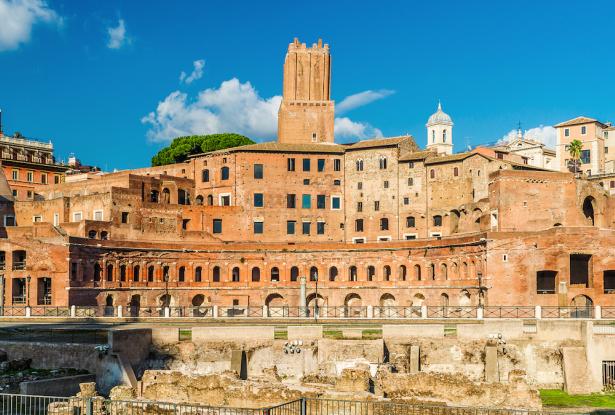 The Museum of the Imperial Fora, which opened in 2007, houses a wealth of artifacts from all of ancient Rome's forums. The modern entrances to Trajan's Market are at Via Quattro Novembre, 94, and Piazza Madonna di Loreto. Immediately, the visitor enters into a shopping area, disposed on two different sides, where free wheat was once distributed to the people of Rome.
At the end of this hall, a large balcony offers a beautiful view of the markets, Trajan's Forum, and the Vittoriano. This is actually a part of the Via Biberatica (from the Latin bibo, bibere meaning "to drink"; the street was the location for several of the Roman taverns and grocers' shops in the area). The road cuts through Trajan's Market.
On the lower part there are also two large halls, probably used for auditions or concerts. A shop housed in the Market is known as a "taberna". The giant exedra formed by the market structure was originally mirrored by a matching exedral boundary space on the south flank of Trajan's Forum.
The grand hall of the market is roofed by a concrete vault raised on piers, both covering and allowing air and light into the central space. The market itself is constructed primarily out of brick and concrete.
Postal Address
Via IV Novembre, 94
00187 Rome RM
Italy
Other points of interest in Rome