Siena, Italy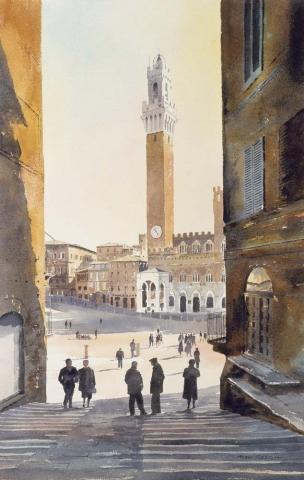 Signed and Numbered Limited Edition Print.
Taken from an original watercolour of Siena from the cold shadows, looking towards the warmth of the shell shaped Campanile in Siena which is famous for hosting the Palio horse race. 
My first visit to Siena was in February 1999. It was a wonderfully bright and crisp, sunny (but cold) morning.
When we arrived, the shell shaped Piazza del Campo (where the famous Palio horse racing is held twice a year) was very quiet.
It was just a little too cool to do any painting, however I spent quality time observing the locals wandering around the piazza. Most of them were men who would often stop to greet each other and stand chatting. It was lovely seeing them enjoying the bright morning sunlight and their conversations.
On my return to the UK I did a couple of  watercolours capturing the historic centre which has been declared by UNESCO as a World Heritage Site, one of which I reproduced as a limited edition print  The other is this one titled  Siena, February Morning which can also be seen at my Studio & Gallery in Ponteland.
You may be also interested in...