Florence from San Miniato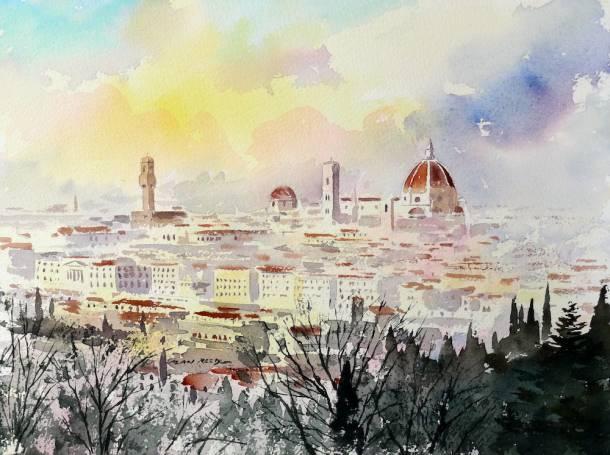 Signed and Numbered Limited Edition Giclee Print.
The church of San Miniato provided an excellent vantage point to view the Duomo in Florence. 
In February 1999 Susan and I spent a week in Italy, taking in Florence and the Venetian Carnevale.
During our stay in Florence we took the rewarding walk leading up to Piazza Michelangelo. It boasts majestic views over this fine city of art and culture. I recall walking a little further on to the church of San Miniato. From here I did a small 7 " x 5″ watercolour of the Duomo dwarfing the smaller surrounding buildings in the watery winter sunlight. I titled it Florence from San Miniato.
Recently I was doing a watercolour demonstration for a local art group in Rothbury. I decided to tackle this same scene of Florence to show the students how to approach painting a cityscape. I still have the original location study framed up and hanging in our living room, so I had the reference fresh in my mind whilst painting this new rendition.
You may be also interested in...