Filled with color, grandeur and a playful sense of derision toward class divisions, Italian carnivals are uniquely celebratory. Most regions have more than a few to choose from, so this list isn't comprehensive, but here's what to expect at some of this year's showstoppers.
Venice Carnival
Ongoing until February 21, 2023
Background
One of the oldest among these picks, the Venice Carnival dates back to at least 1094, the year the seasonal festivities were mentioned in a document of the Doge of Venice. The carnival was never regarded as an event for the elite: With sumptuary laws temporarily suspended for the period, people of all classes and backgrounds abandoned their socially dictated modes of dress and conduct, coming together to celebrate in the streets.
While there was a lengthy hiatus after the fall of the Republic of Venice, the carnival splashed back onto the scene again in 1979 after some local sticklers and civic associations were intent on reviving it. Today, its reputation is cemented as one of the world's quintessential carnivals. 
What's in store this year
This year's theme is Take Your Time For The Original Signs, referring to the four elements of earth, water, fire and air and their astrological associations. With Massimo Checchetto at the helm of the carnival's artistic direction, Venice is expected to be transformed into an "open-air theatre" for the duration.
Key events and developments this year include an ambitious multi-night water show staged at the Arsenale; a digital-only Carnival mask competition, clearly ideated for the post-Covid era; street entertainment with varied day-by-day programming, and the ongoing Festa della Marie, in which 12 young women vie for the title of "Marie" at the 2023 carnival, in a commemoration of the 973 kidnappings of 12 Venetian women by Dalmatian pirates during annual celebrations of the Virgin Mary.
Acireale Carnival
Ongoing until February 21, 2023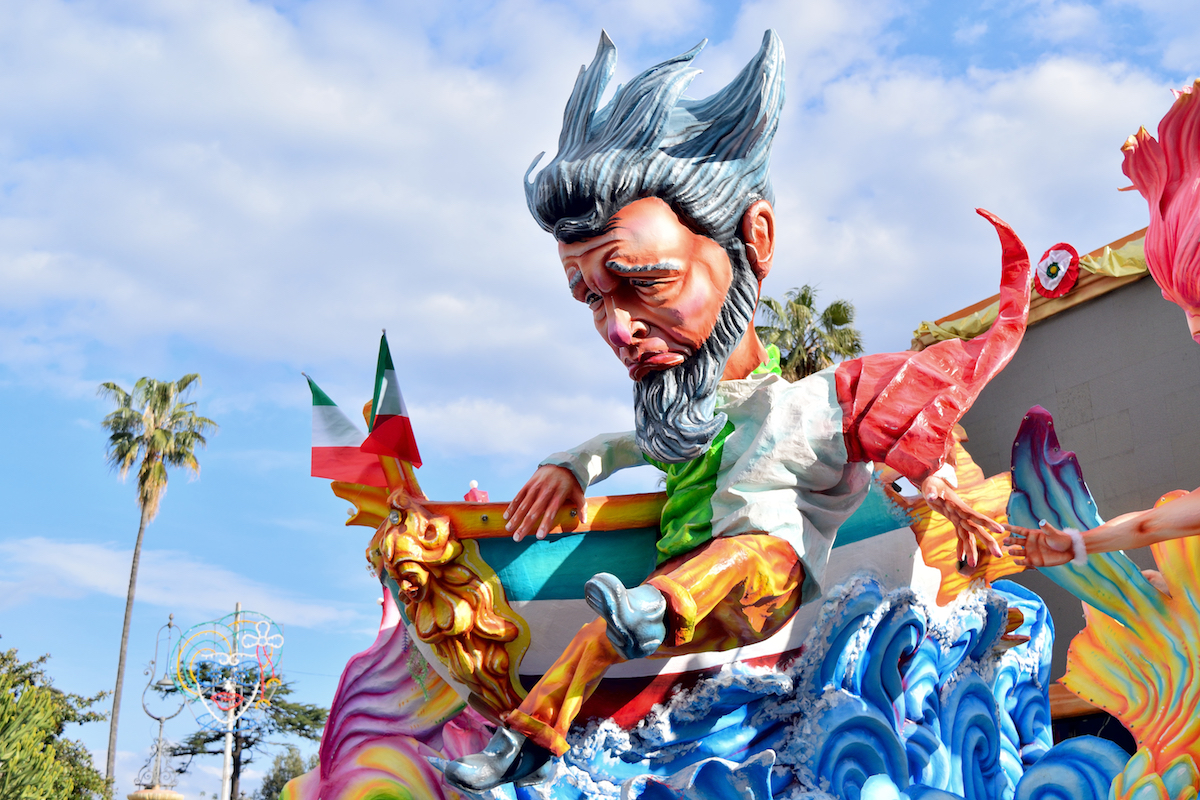 Background
Originating in the late 16th century, this carnival, like so many others, was an outlet for the locals to comment on and even mock their rulers. One notable masked figure was l'Abbatazzu (also known as Pueta Minutizzu) who would pretend to read from a big book while impersonating (primarily) clergy and taking them to task.
This anarchic streak ran through the carnival for years, with other traditions including a battle that used oranges and rotten eggs as weapons (eventually curbed, due to the damage caused).
What's in store this year
Masks continue to play a crucial role in 2023, with some notably kid-friendly offerings: A colorful parade spotlighting local schools will take place on February 16, in the lead up to a children's mask competition held the following day. Allegorical floats are also part and parcel of this memorable carnival — naturally, with an accompanying contest to name the best-in-show.
Special guests at this edition include singers Anna Tatangelo and Gio d'angi, who will perform in Piazza Duomo, respectively, on February 12 and February 14. 
Viareggio Carnival
Ongoing until February 25, 2023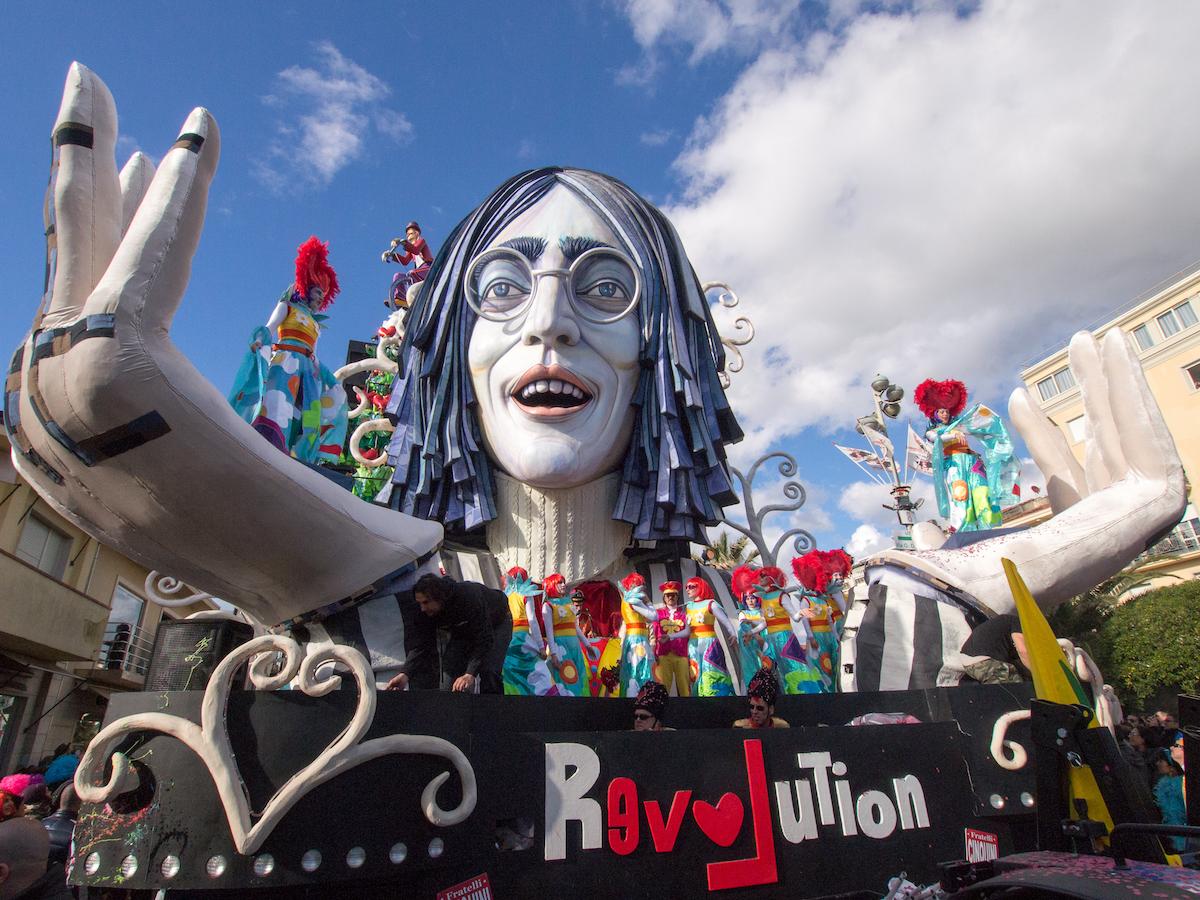 Background
This is a landmark year for the famous Viareggio spectacle, which joined the Carnival circuit 150 years ago in 1873. The carnival prides itself on its innovative wagons, which are designed to the highest order, paraded to great fanfare and lined with revelers in striking masks, known for their biting visual commentary on current affairs and public figures.
What's in store this year
Be prepared for a very special birthday celebration. The remaining parades of note will take place on February 12, 16, 19, 21 and 25, but the final round in particular is expected to be one to remember, as it closes with a fireworks display. 
Cento Carnival
Ongoing, Sundays through March 5, 2023
Background
This carnival was around at least as early as the turn of the 17th century, if we're to judge by Gian Francesco Barbieri's frescoes depicting all the revelry. While the carnival was seen as more of a local event as recently as the 1980s, the 1990s brought a change when Patron Ivano Manservisi took the reins, elevating it to its current status as one of the great international carnivals, twinned with that of Rio de Janeiro.
What's in store this year
There's a bumper line-up at this edition. Confirmed guests include singer-songwriter Ermal Meta, rapper Emis Killa, X Factor Italy's Disco Club Paradiso, and Dominican singer-songwriter J.Peralta.
Alongside the usual quest to name the best float, cars, sporting events and culture figure heavily into the proceedings. The carnival floats and color conclude with a more macabre twist, when the iconic local mask, the Tasi, is burned at the stake (this tradition is known locally as the Testamento e Rogo del Tasi). A spectacular pyrotechnics show at the Rocca di Cento lights up the sky during the ritual.
Fano Carnival
Ongoing, Sundays through February 19, 2023
Background
A case of happy families making amends is said to have inspired the Carnival in Fano, when the eal Cassero (Guelphs) and Da Carignano (Ghibellines) families formally reconciled and the whole town celebrated in response. 
As to when the carnival itself officially began, reports are conflicting. Documentation of the "post-family-feud" celebration dates to 1347, but the current guise of the festival likely took shape many centuries later.
What's in store this year
Talk about a sweet deal: One of the fixtures on the Fano Carnival program is the Getto, when sweets are fired into the watching crowds, who then scramble to get their hands on chocolates, candies and other delights. On Shrove Tuesday, meanwhile, the Burning of the Pupo (a papier-mâché puppet) officially marks the end of winter (and, as legend would have it, the flames "fan out" any sins committed during the Christmas season).
In 2023, the carnival will also feature events centered on poetry, steampunk themes, Pop Art and, in a bit of a wild card, the 50th anniversary of Pink Floyd's Dark Side of the Moon album. The latter will be marked with a February 17 tribute concert performed by Fondazione Teatro della Fortuna and Orchestra Sinfonica G. Rossini.
Other highlights look to the future. The second weekend's featured guest is Rosita the Robot, which was devised as a project between ASI (Italian Space Agency) and DIAG (Department of Automatic and Management Computer Engineering Antonio Ruberti) of La Sapienza University in Rome. Rosita's aim is to promote space and robotics research and knowledge, and to inspire younger generations to explore ths field. ASI will also be at the last carnival weekend, promoting a Space and Art project alongside astronaut Paolo Nespoli and artist Michelangelo Pistoletto.
Crema Carnival
Ongoing, Sundays through February 26, 2023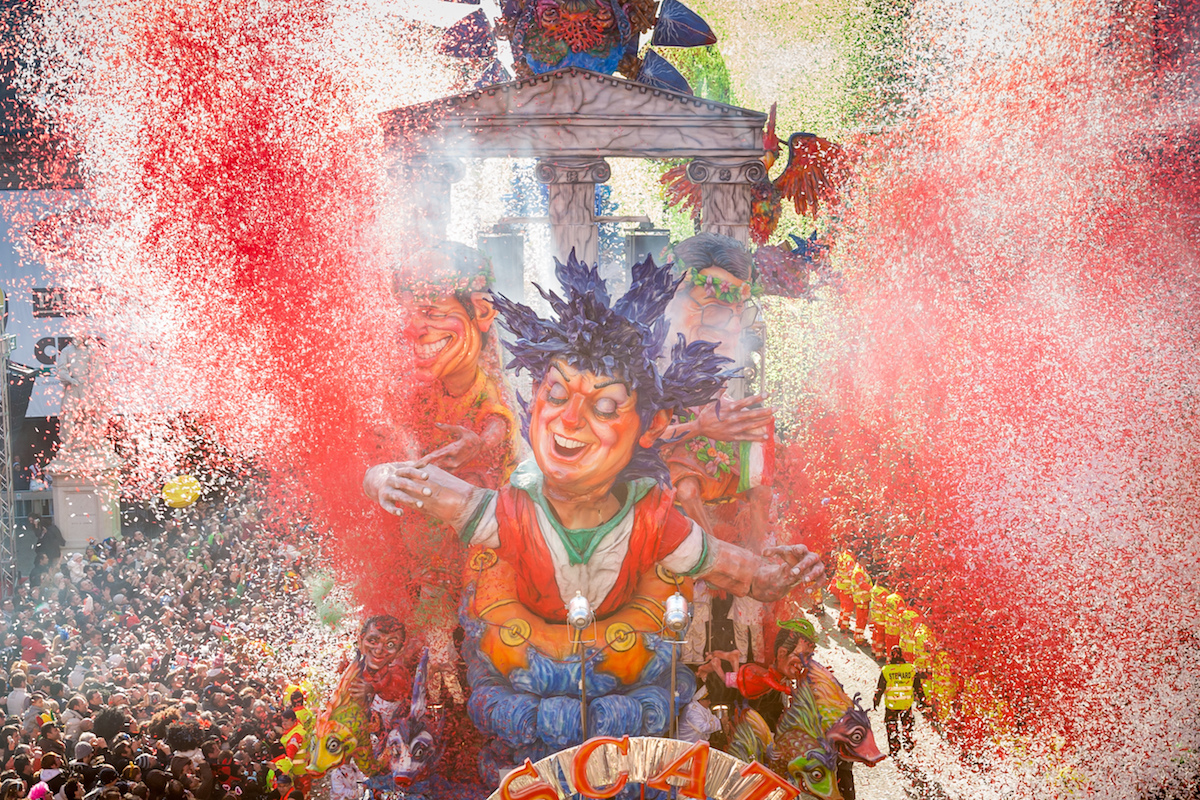 Background
Another of the best-known traditional carnivals, Crema Carnival remains hugely popular today. Its signature feature? Unrestrained...orderliness.
Like that friend who plans party schedules in Excel spreadsheets, it's organized in a way that ensures everyone has the best possible time. Such precision has been around since the middle of the 19th century: In the wake of drunken behavior from some attendees, it became compulsory for attendees to report to the Commissioner what their choice of costume would be.
Today, the event involves in excess of 50,000 people, between the general public and those overseeing the papier-mâché figures, masks and floats.
What's in store this year
In keeping with the spirit of optimized organization, regional elections are happening on February 12, so the Parade of the Great Allegorical Floats has been pushed back a week to February 19. Visitors can still peruse market stalls, take part in workshops and take the kids along to get their faces painted. Musical performances from local bands and folk groups are also on tap.