Ed.: Welcome to Italy Magazine's new and more holistic coverage of hotels around Italy. Keep an eye on this series as it continues to grow, and check back for more vetted-by-us properties when you're planning your next trip. 
While stays are hosted by the featured hotel, Italy Magazine and its writers do not accept compensation or gifts in exchange for positive coverage.
Why we love it
With its whimsical and brightly-hued heaven- and hell-themed rooms, candle and fireplace-lit lounge, and luxurious amenities, including a sauna and private townhouse with its own pool, this design hotel is a playful and relaxing respite in the center of Florence. It's also conveniently located near the Santa Maria Novella train station — without being right in the thick of the comings and goings. 
What to expect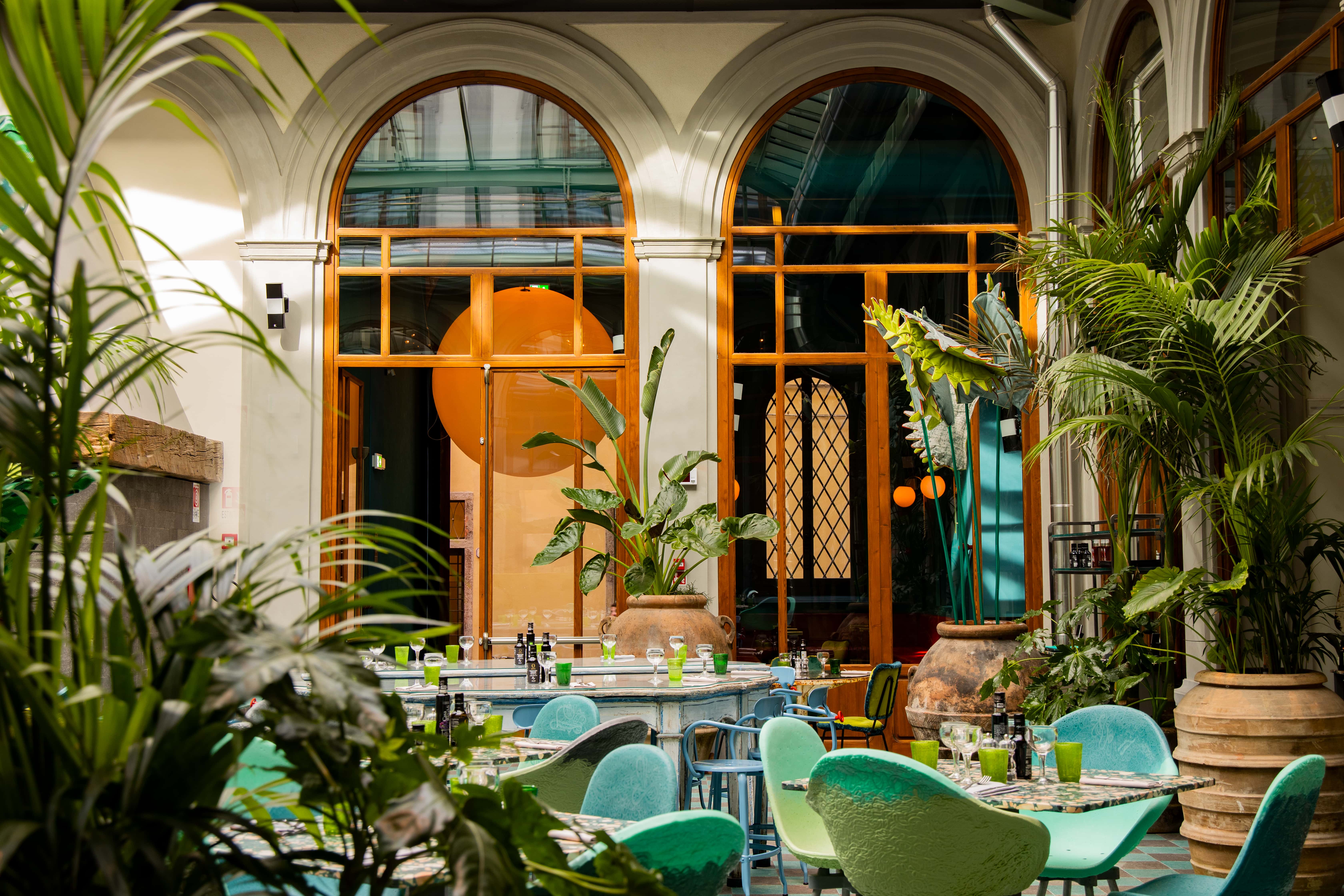 By day, the 25hours Hotel brand's Florence outpost is a verdant atrium; by night, it's a hangout for those in-the-know. It's designed by Paola Navone, and furnishings and decor throughout the space also have the Milan-based designer's touch. Velvet, marble, metallic, and neon details are contemporary and fun — a hallmark of the brand's aesthetic, which celebrates free expression. 
Background
The 171 guest rooms and townhouse are part of 25hours' first property in Italy. The former convent (previously a Florence bank and loan office) for neighboring San Paolino Church expanded with a contemporary building, internal piazza, and lush garden that opened to guests in September 2021. 
Location, location, location
Located less than a 10-minute walk from Santa Maria Novella train station, Santa Maria del Fiore (the Duomo), and Palazzo Strozzi, it's an ideal position for walking (there's also an underground garage). With its piazza setting and the nearby antique stores of Via dei Fossi and eateries of Via Palazzuolo, it also feels quiet, local, and removed from the crowds.
Where you'll sleep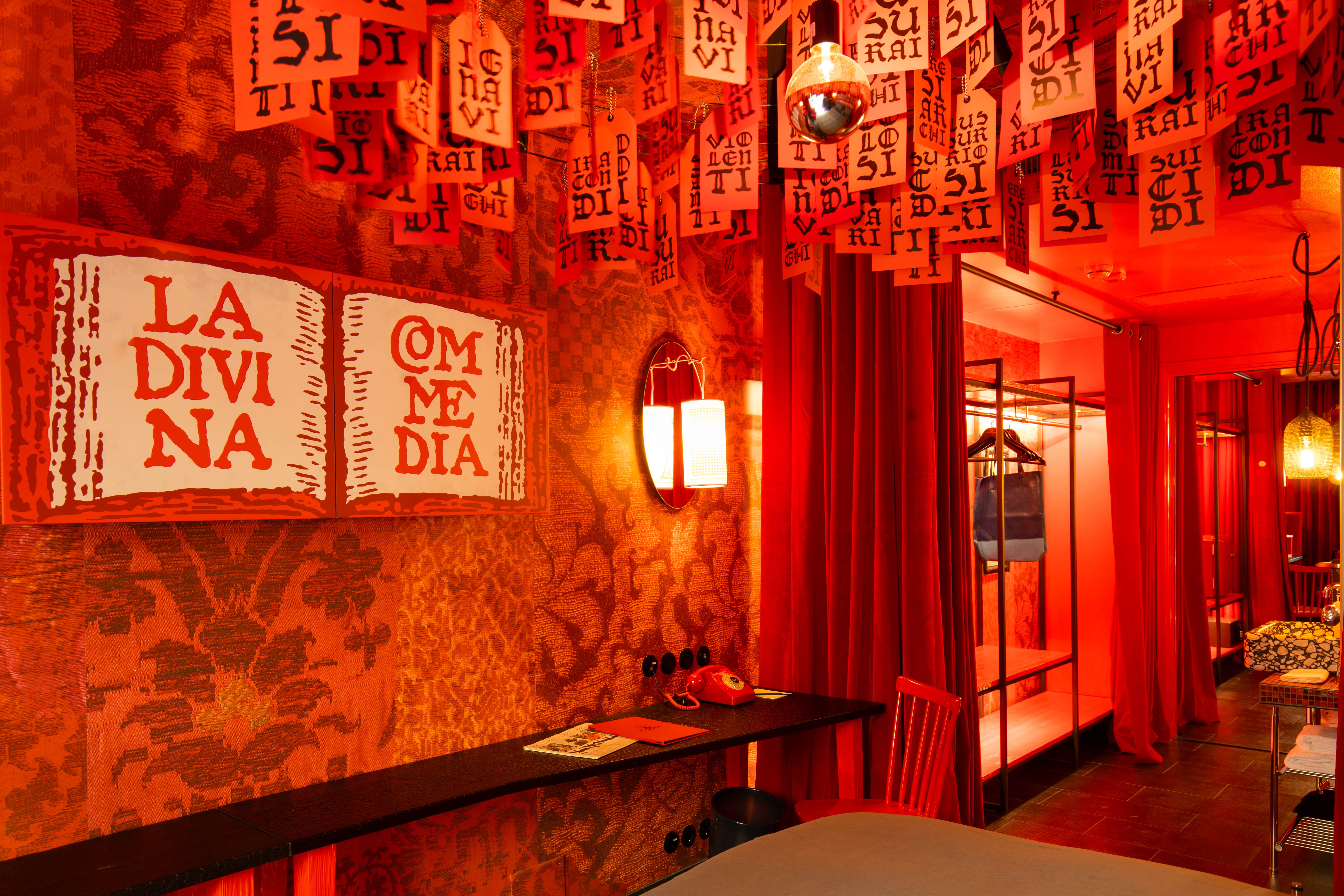 Rooms will take you to paradiso or inferno. Hell floors and rooms are in red and neon. Celestial rooms and are in white, with in-room wearable wings. Pillows offer two softnesses and beds come with a stuffed animal. The rooms (most of which have private balconies) reflect the hotel's commitment to sustainability with toiletries in regular sizes that stay in the room instead of getting disposed or replaced right away like the usual travel-sized staples. You'll also get a durable Freitag bag to use during your stay. In-room refrigerators include a complimentary minibar.
Dining and drinks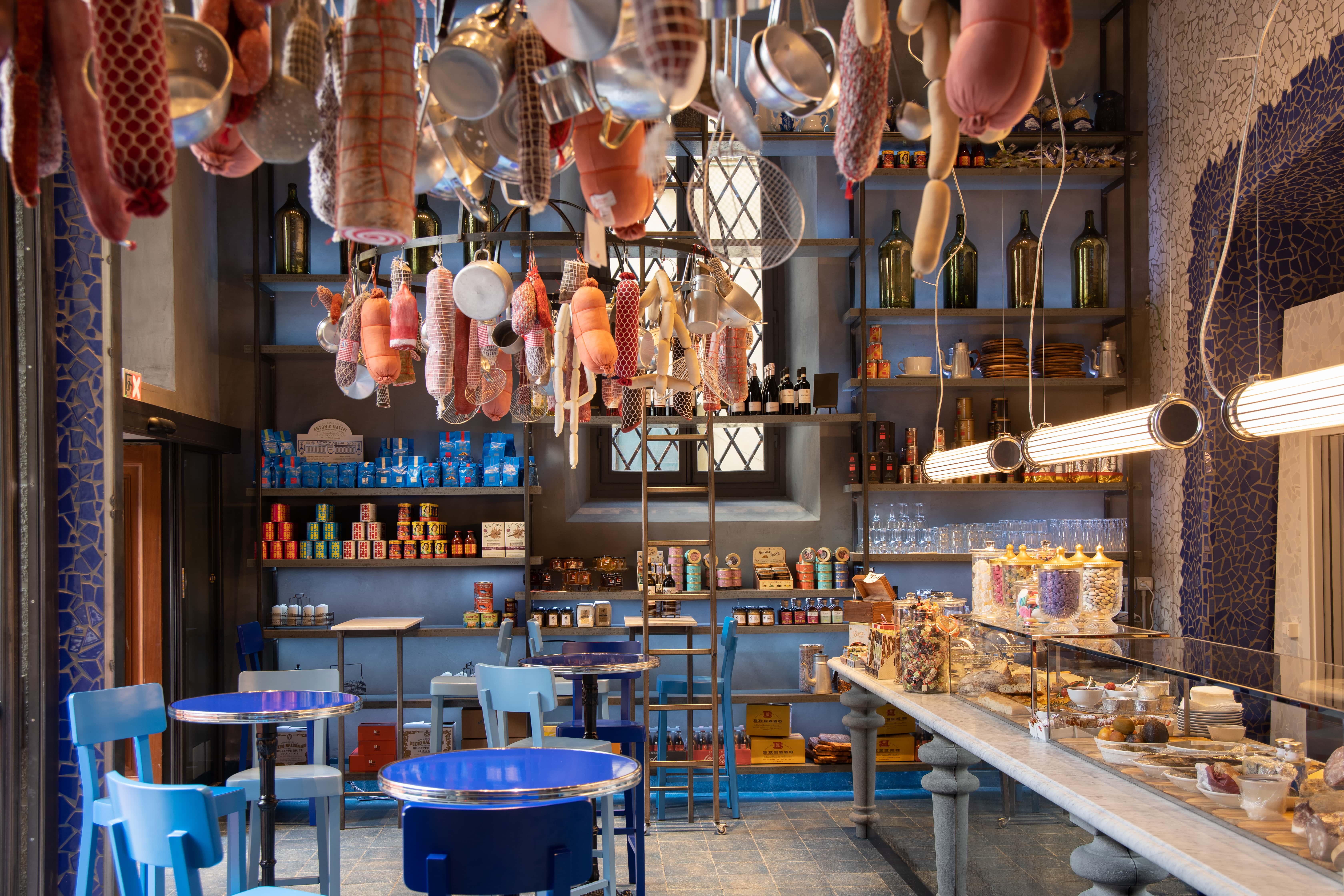 Every dining and drinking occasion is covered at 25hours Florence. San Paolino restaurant is open for lunch and dinner in the atrium and offers Tuscan dishes such as pappa al pomodoro as well as pastas and mains. Alimentari is a café to grab a coffee, sandwich, or pastry and to buy local products, including from the Oltrarno bakery, Sforno. Companion bar is open from pre-dinner until 2am, and while it's dedicated to the Negroni — Florence's signature cocktail — there's a wide selection of drinks with an emphasis on bitter liqueurs.
Service notes
The hotel's expansive footprint and cavernous hallways can be difficult to navigate at first. Some may find the hell decor rooms unsettling, and opt for the more calming white celestial rooms with cherub print rugs, and blue hued and silver accents.
Spa time
Step into the outdoor sauna with a picture window out to the well-manicured garden after a workout in the ground-floor gym with elliptical machines, a treadmill, weights, and a stretching room. There is also an adjacent shower and relaxing room to cool off post-sauna. 
You should know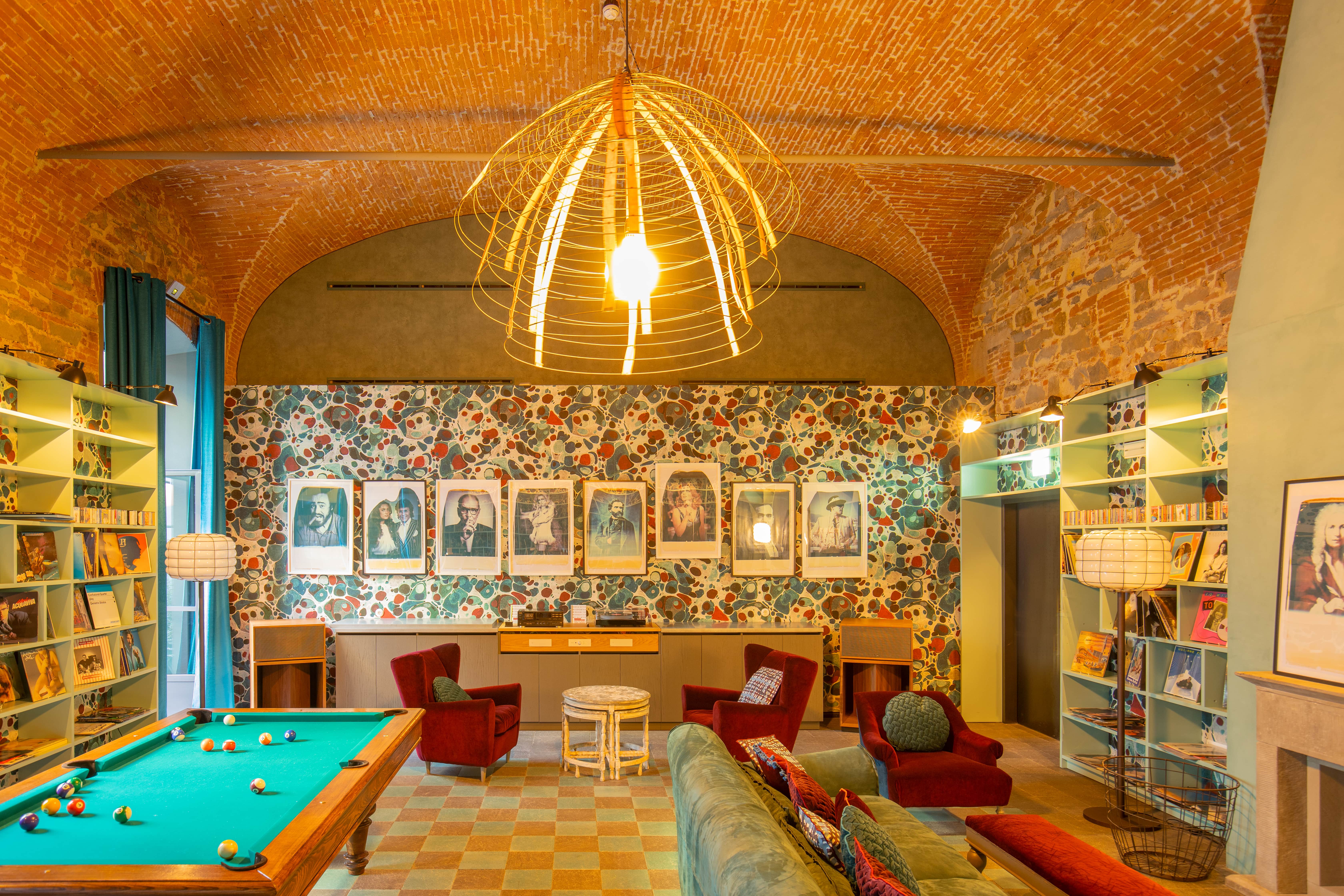 The hotel's movie theater screens Italian films once a week and its billiards room and library has hundreds of titles to read during your stay. Schindelhauer bikes are available for rent to get around the city like a Florentine if you don't feel like walking.
Accessibility notes
The hotel has elevator and ADA friendly rooms/bathrooms.
Features & amenities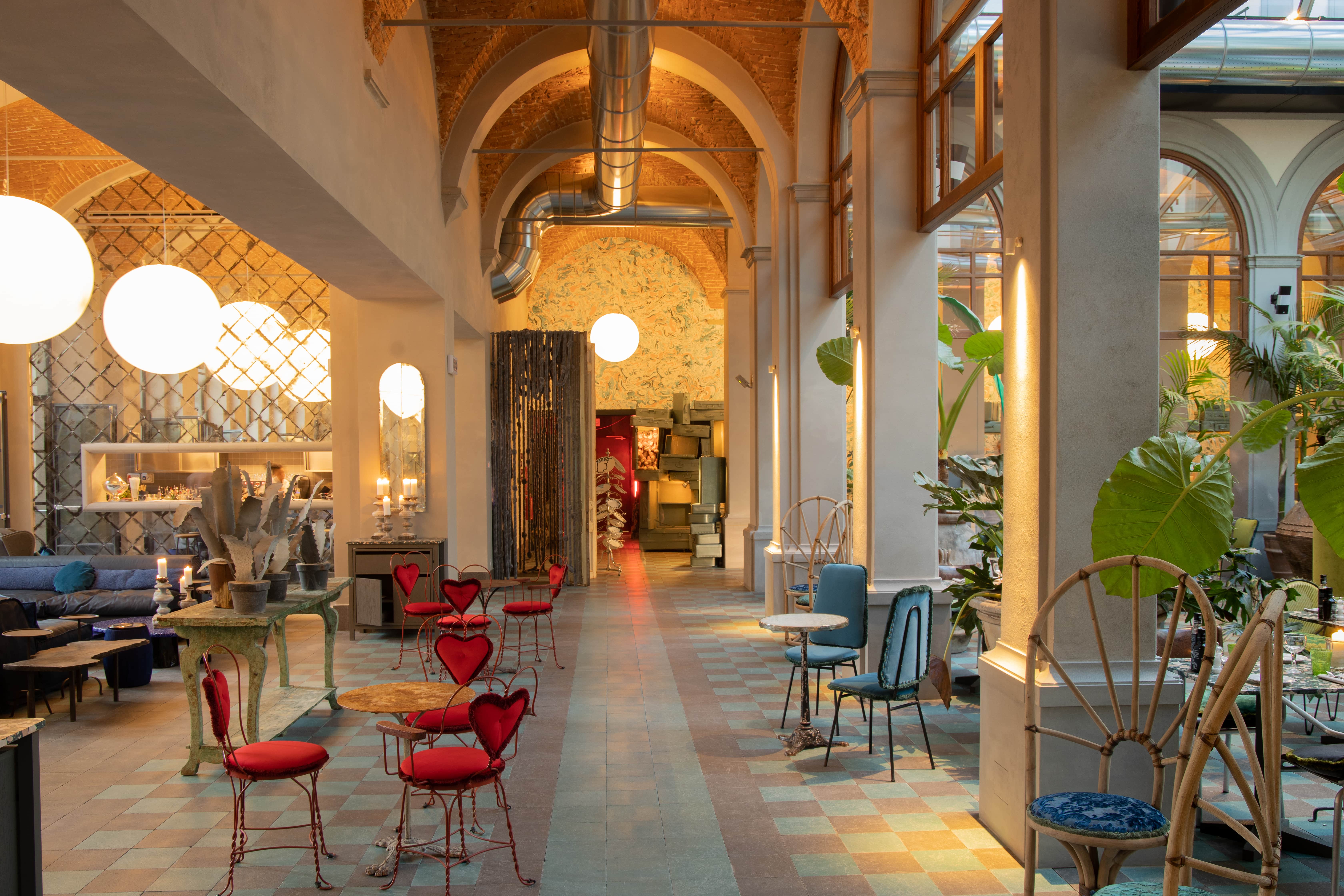 City setting
Restaurant
Bar
Free WiFi
Free parking
Spa
Garden
Fitness room
Contacts
25hours Hotel Florence Piazza San Paolino
Piazza di S. Paolino, Florence
Tel. +39 055 296 6911
Website