Udine , the historical capital and second largest city in the region of Friuli Venezia Giulia, is an overlooked gem.
With its Renaissance squares, Venetian villas and Tiepolo frescos, the city has an impressive artistic heritage, along with a vibrant contemporary edge thanks to its large student population and world class modern art museum. 
Its distinct Friulian culture – a wondrous mishmash of Italian, Austrian and Slovene influences – gives the city a unique ambience, best experienced in its cuisine, where world famous treats – San Daniele prosciutto, Bastianich wines – go plate in plate with the city's more unusual offerings – frico and cjalsons – which are virtually unheard of outside the region.
In contrast to many Italian cities, which can often feel like theme parks for tourists, Udine is refreshingly workaday, and offers the rare thrill of feeling like you've truly discovered somewhere in Italy which is completely off the tourist trail.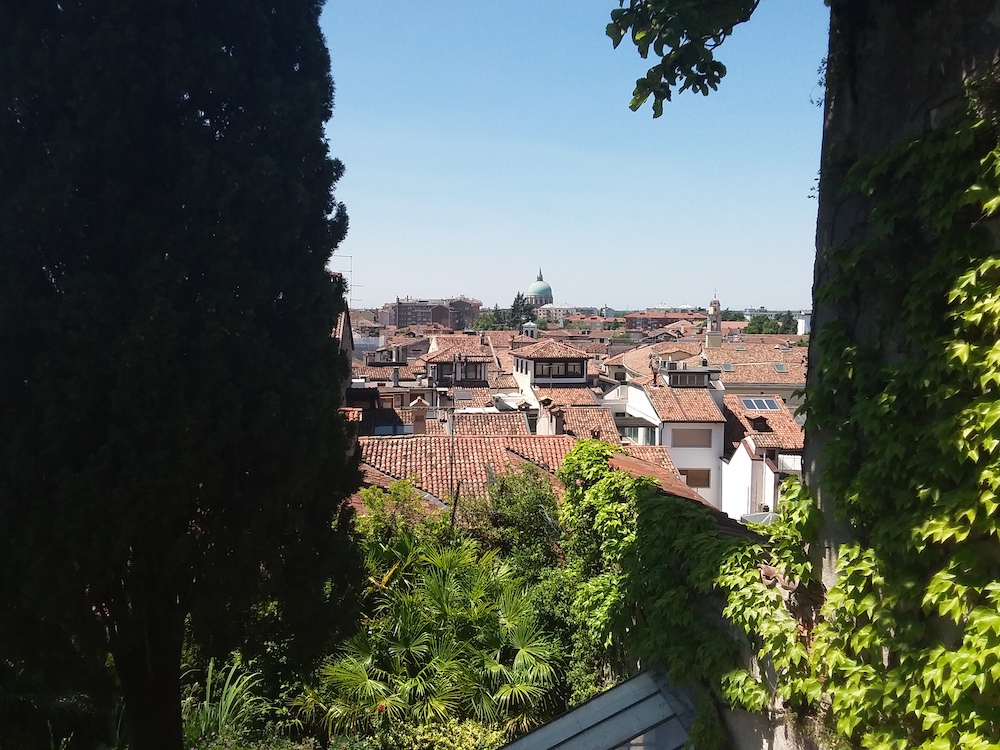 -----
All trips to Udine must begin in Piazza della Libertà, the city's ravishing central square which boasts a dizzying architectural ensemble to rival most Italian cities. The Gothic town hall is a homage to the Palazzo Ducale in Venice, and the former empire's prints are everywhere, including in the majestic Loggia di San Giovanni; its striking white, gold and blue clocktower with two young boys cradling a bell, is the symbol of the city.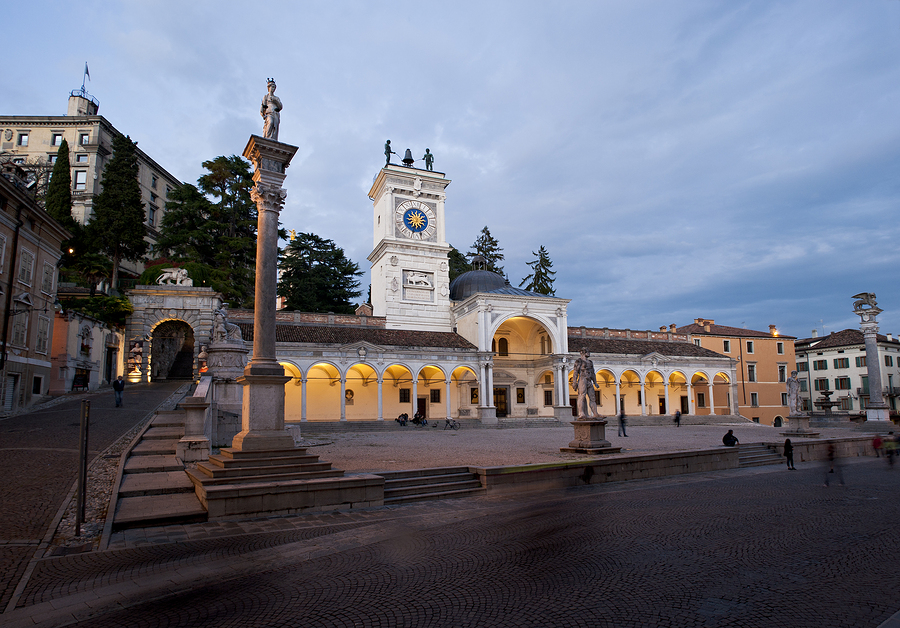 The streets which radiate outwards are filled with quirky and often beautiful surprises. Grand buildings, in styles ranging from Renaissance to Art Nouveau, seem to materialise out of nowhere. Udine's canals, mostly entombed, occasionally re-emerge as beautiful ornamentations to the small squares dotted around town. Several small parks are scattered across the city, down inauspicious alleys and inside crumbling Gothic courtyards.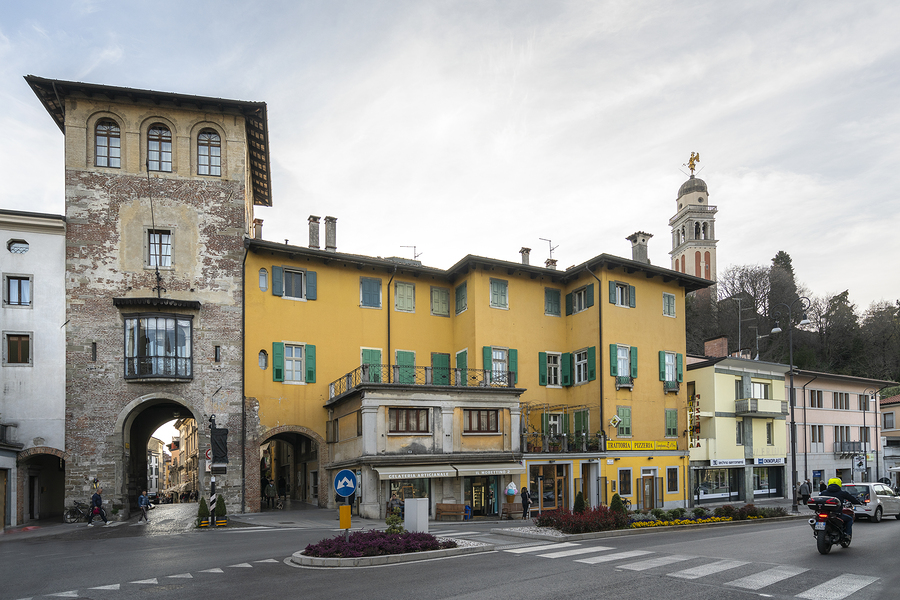 A series of sinuous passages will lead you to Piazza Matteotti. Though not as beguiling as Piazza della Libertà, it's still incredibly beautiful, with its towering Renaissance houses and Baroque Church of San Giacomo. During the day, it's a frequent location for events and festivals, while in the evening, the square comes alive with people of all ages drinking and laughing the night away.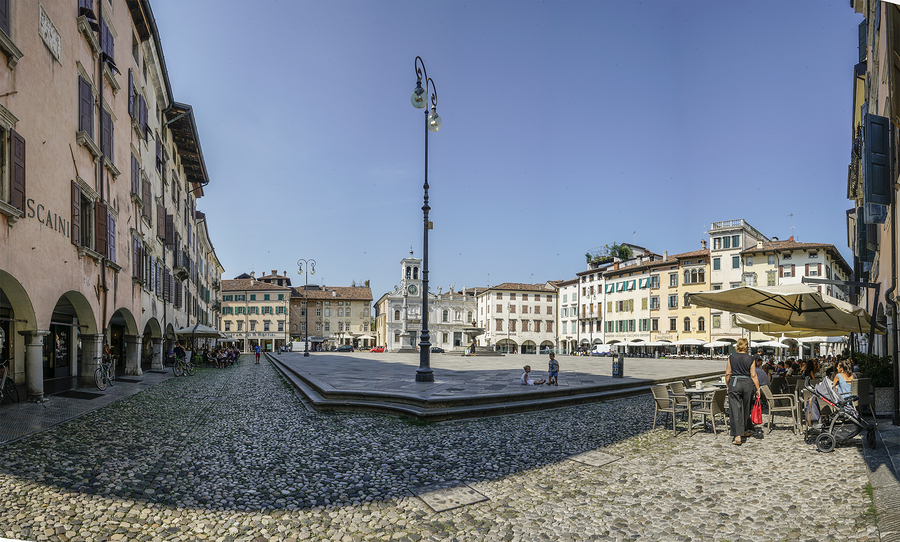 Again you ask yourself: how is this city not more well-known?
-----
Continue your journey by climbing Udine's lone hill, reached by passing under Palladio's Arco Bollani. The views from the top allow you to take in the city's unusual skyline - a hodgepodge of Venetian spires, tiled roofs and modern glass and steel structures. Pivot north and you are struck by the sudden appearance of the Alps, which seem to emerge fully formed out of nothingness.
On the hill lies Udine's castello – really more of a palazzo – host of the city's art gallery featuring works by Carpaccio, Caravaggio and Tiepolo as well as local Friulian artists. There's also a risorgimento and photography museum inside.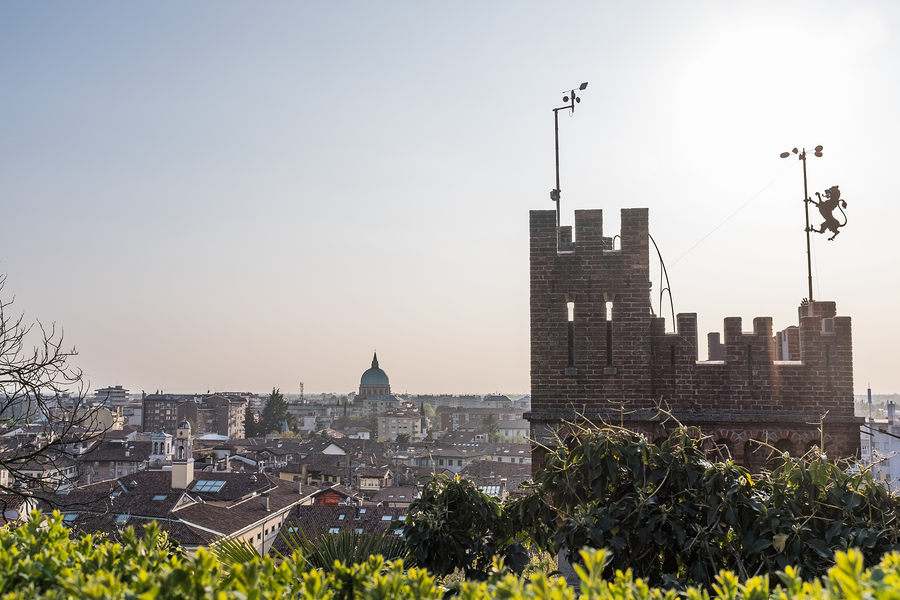 Udine prides itself on the being the second home of the great Venetian painter Tiepolo, who adorned the city with some of his most celebrated work. His instantly recognisable style – fresh, ebullient frescos with an almost trompe-l'œil quality – can be seen in situ at the Palazzo Patriarcale and in the city's marvellous Romanesque duomo. It's also worth checking out the nearby Oratorio della Purità to see Tiepolo's last ever fresco in Italy. Titled Assunta, it's a vibrant depiction of the Virgin Mary's ascension into heaven, and is a fitting Italian swansong for this Venetian-born master.
For a more voguish experience, head to Udine's Museum of Modern and Contemporary Art, which displays the city's cutting-edge ambitions. Here, substantial twentieth century Italian artists such as De Chirico, Morandi and Carrà sit alongside a cavalcade of international celebrities – Picasso, Braque and Chagall - and modern American artists such as de Kooning, Lichtenstein and Judd. The latter group donated art works to Udine after the devastating 1976 Friuli earthquake. They were intended to be sold at auction to raise money for the city's reconstruction, but the canny mayor at the time decided to hold onto them, feeling they would be more valuable in the long term as exhibits in a prospective modern art museum.
Where to stay:
Most of Udine's accommodation caters to business travellers. For a bit of Belle Epoque glamour, try the Ambassador Hotel near the station. Hotel Suite Inn in the north of the city has rooms that get the right balance between rustic and sleek. The women who run it are super friendly and can help you rent bikes and plan cycling tours in the region. There are also plentiful agriturismi  options in the surrounding countryside. Ask the tourist office for recommendations.
Where to eat and drink: 
Udine's culture bending identity is best experienced in its food. Osteria all Ghiacciaia is an Udine institution and the best place to sample some of the region's more eccentric offerings, such as frico (a kind of cheese and potato fritter) and cjalsons (gnocchi stuffed with berries and dusted with cinnamon) alongside platters of more conventional fare, such as Montasio cheese and San Daniele prosciutto, which connoisseurs consider to be the finest ham in Italy. Ai Frati is another local favourite: try their spin on tagliatelle al ragù, which here is made with rabbit meat.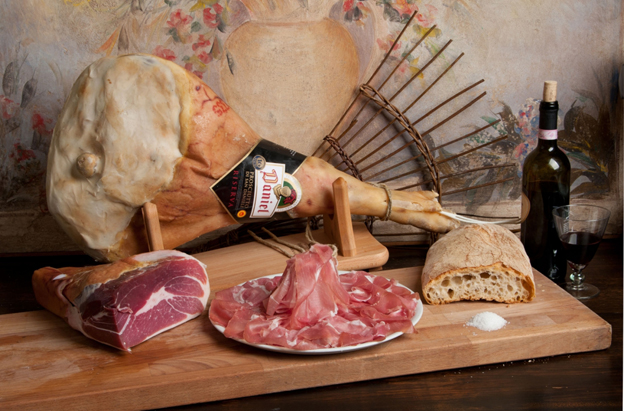 If there's one thing Friuli is famous for, it's their wines - Pignolo, Picolit and Refosco being the most renowned. Birra Moretti, ubiquitous throughout Italy, was actually founded here in Udine. Students and locals can be found drinking in and around Piazza Matteotti until the early hours.
Like this? Don't miss "Discovering The Traditional Food of Friuli and Where To Taste It"
Day trips
Aquileia and Grado
Aquileia, an extraordinary archaeological site roughly an hour's bus ride south of Udine, was founded by the Romans in 181BC, and grew to become the fourth largest city in Italy. The excellent archaeological museum charts the potted history of the city, from its pagan roots and growth as a Roman trading power, to its destruction by Germanic tribes and later re-emergence as the capital of the Patriarchate of Friuli. The city's Basilica, which dates from the fourteenth century, has its entire floor given over to the largest Paleo-Christian Mosaic in the world.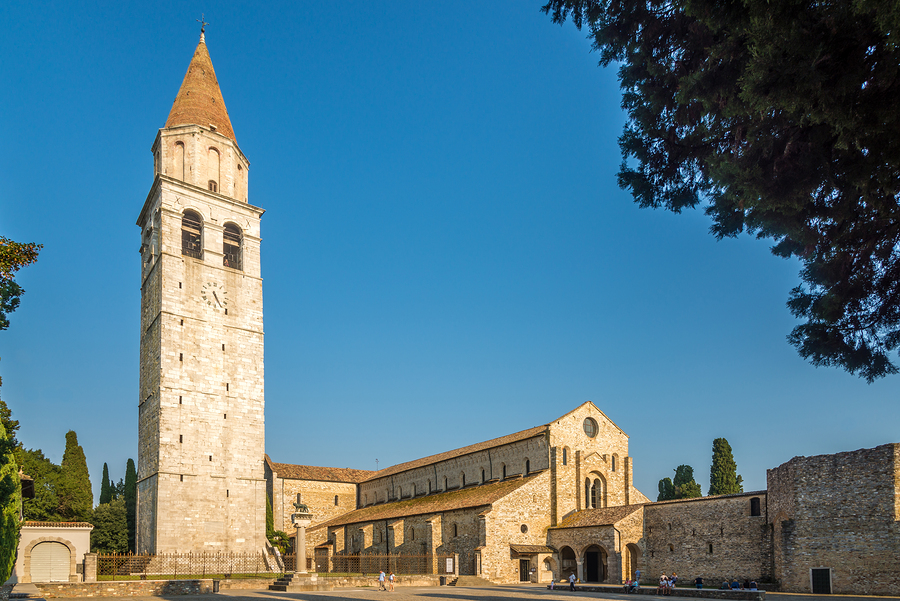 A further ten-minute bus ride from Aquileia takes you to Grado, a colourful fishing town with a beautiful Venetian core and some long sandy beaches. The town sits on a picturesque lagoon, which is fun to explore by bike or boat, both readily available in town. Both Aquileia and Grado can be done in one easy day trip from Udine.
Cividale del Friuli
Cividale del Friuli is arguably the most beautiful town in Friuli. Founded by Julius Caesar (whose statue now stands outside the town hall), it later saw invasions by the Lombards, rule by Venice, annexation by Austria and finally incorporation into Italy. These days it's a centre of Friulian culture and has a strong Slovene influence, being just ten kilometres from the border. The Tempietto Lombardo, a unique religious building dating from 760 with some evocative frescos, is the most striking historical site.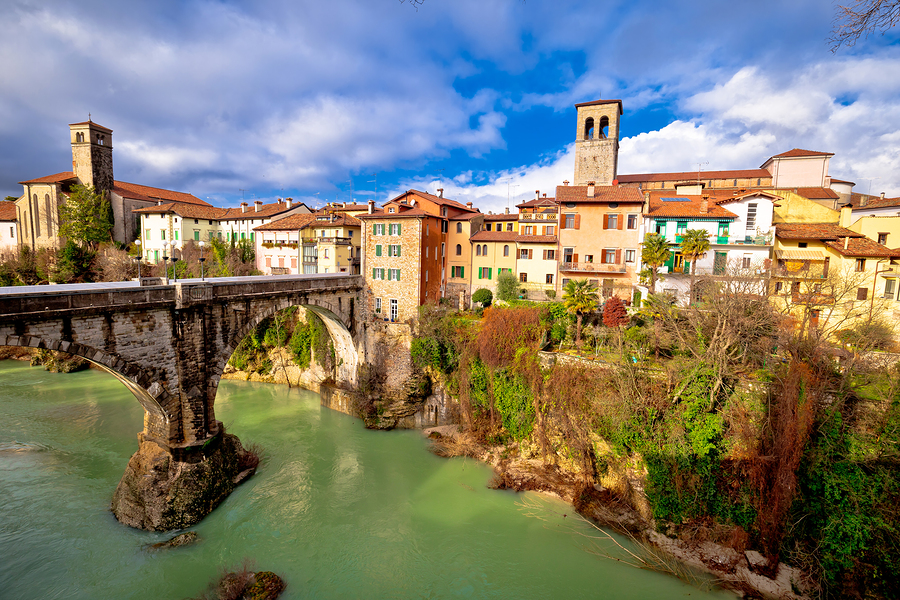 But the greatest pleasure in Cividale is just strolling the streets, with their beautiful squares and churches, and taking in the mesmerising Ponte del Diavolo (Devil's Bridge) - a remarkable engineering feat which connects the town over the steep gorge of the Natisone river. Cividale del Friuli is just a 25-minute train ride from Udine.