San Daniele del Friuli: Prosciutto, Renaissance Frescoes and a Mighty River
ITA:
San Daniele del Friuli: Prosciutto, Affreschi Rinascimentali e un Fiume Possente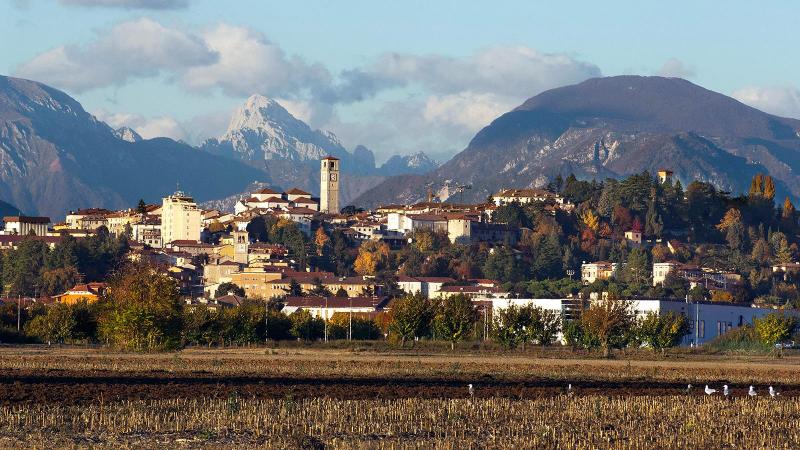 Use player to listen to Italian version
English
There's more to San Daniele del Friuli than prosciutto, although that alone would be enough of a good reason to visit: Prosciutto di San Daniele, produced here, is ranked among Italy's best hams.  
If you're a prosciutto lover, there may be no better time to visit than the end of June, when this great product is celebrated at the annual Aria di Festa festival, which draws thousands of aficionados from Italy and abroad, and the local prosciuttifici (ham factories) are open for guided visits.
It is the special microclimate of San Daniele del Friuli, set amid gentle hills where the winds blowing down from the Carniac Alps meet and mingle with the breezes of the Adriatic Sea, that gives prosciutto di San Daniele its unique flavor.
Besides this foodie delight, San Daniele del Friuli has much to offer if you like history and art. It boasts one of the most prestigious libraries in Italy, the oldest in Friuli Venezia Giulia: Biblioteca Guarneriana, guarding precious documents painted in gold and silver (codici miniati).
Other must-see sights include the 18th-century Duomo and the frescoes of the former Church of Sant'Antonio Abate, considered the most beautiful Renaissance cycle of the region, painted by Martino da Udine.
The river Tagliamento, one of the few rivers in Europe to still follow its original course, flows nearby and is home to another prized product from the area: smoked trout. In the summer, the locals flock to the  wild beaches  found in the river's coves, or you could explore it on a canoe or horse-riding.
Italian
Non c'è solo il prosciutto a San Daniele del Friuli, anche se da solo costituirebbe una ragione valida per visitare la cittadina friulana: il Prosciutto di San Daniele, che qui viene prodotto, è infatti considerato tra i migliori prosciutti italiani.
Se ami il prosciutto, il periodo migliore per visitare è la fine di giugno, quando questo eccellente prodotto è il protagonista dell'annuale Aria di Festa, che richiama migliaia di appassionati dall'Italia e dall'estero e i prosciuttifici locali sono aperti per visite guidate.
È il microclima speciale di San Daniele del Friuli, immersa tra dolci colline dove i venti che scendono dalle Alpi Carniche incontrano e si mescolano con le brezze del Mar Adriatico, che danno al prosciutto di San Daniele un sapore unico.
Oltre a questa delizia per buongustai, San Daniele del Friuli ha molto da offrire a chi ama la storia e l'arte. Vanta una delle più prestigiose biblioteche italiane, la più antica del Friuli Venezia Giulia: Biblioteca Guarneriana, che custodisce preziosi codici miniati.
Altre attrazioni da non perdere includono il Duomo del 18° secolo e gli affreschi della ex Chiesa di Sant'Antonio Abate, considerato il più bel ciclo rinascimentale della regione, dipinto da Martino da Udine.
Il fiume Tagliamento, uno dei pochi fiumi in Europa che ancora segue il suo corso originale, scorre nelle vicinanze e ospita un altro prodotto pregiato della zona: la trota affumicata. In estate, la gente del posto affolla le spiagge selvagge nelle anse del fiume, che può anche essere esplorato con una canoa o a cavallo.
 
More Dual Language Articles...