[Photo: DeBella (DiBella) Family documents. Photo credit Toni DeBella.]
We begin a new series we're very excited about: 'Back to Your Italian Roots' will explore the stories of Italy Magazine readers who have traveled to Italy in search of their origins, visiting their ancestral towns and reconnecting with their Italian relatives. These are often very emotional journeys and we're touched that readers want to share them with us.
We begin with the story of Toni DeBella, an Italian-American currently living in Orvieto (Umbria), whose grandparents both moved from Sicily to the U.S. in the late 1800s, during the great wave of immigration (between 1870 and 1920, more than four million Italians emigrated to the U.S.). Toni traveled to her grandfather's hometown of Corleone to search for relatives who may still live there. While she hasn't yet been successful in finding living relatives, she said the journey was special and heartwarming: "The townspeople, upon learning of my heritage, welcomed me and said that I was Corleonese!". Toni plans to return to Corleone to dig deeper into her family's history; in the meantime she has stayed in touch with potential cugini. You can keep up with Toni's progress through her blog, Orvieto or Bust.
What prompted you to begin your search to trace your Italian roots?
Throughout my childhood I lived next door to my Sicilian grandparents. The only thing I knew about them was that they came to America by way of New Orleans during the second wave of immigration from Sicily in 1886. My grandfather worked as a shipbuilder in San Francisco until the earthquake of 1906, which forced the family to relocate to San Jose where my father, the youngest of their ten children, was born.
I have to admit that I wasn't very curious about my Italian roots when I was a child and by the time I was interested in my heritage, they had both passed away. I loved my nonni—they were kind, hardworking people. The fact that they spoke broken English and were seventy-five years older than me created a huge generation and communication gap that was hard for a little girl to bridge. Fortunately, they left behind a lot of photographs, letters and legal documents, which proved invaluable when I finally did get started with the program.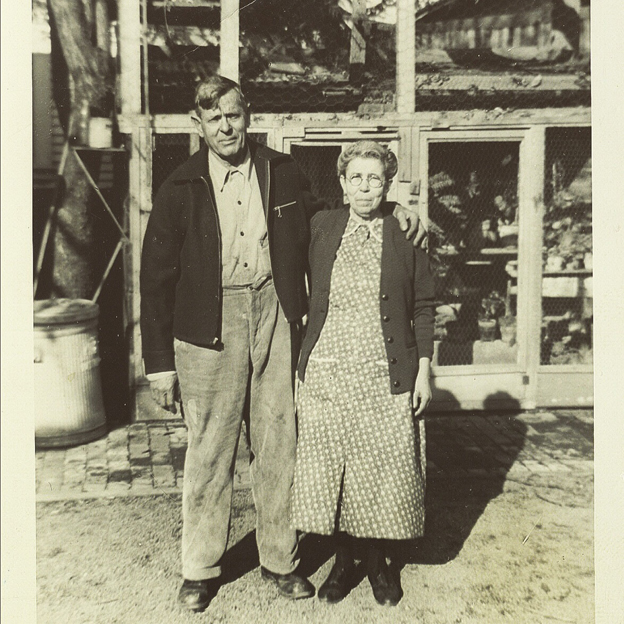 [Gioacchino (Jake) DeBella and Cologero (Emma) Pizzo, San Jose, CA, circa 1960.]
Please describe the process. Did you already know your ancestral town? If not, how did you find it? Who or what was your first resource when you started your search for your ancestral town and Italian relatives?
Honestly, without the existence of the Internet, I don't think I would have gotten as far as I did. I'd come across a website with the original passenger log of the ship my family crossed the Atlantic on—listing everyone's name, age and the town they were born. There was my grandfather and his family in black and white! Fascinating! I posted a message on Ancestry.com and made contact with a woman who'd done extensive genealogy research about the DiBella clan in Corleone. Her findings dated back five generations! The amount of information you can glean online is really astounding!
My grandparents' birthplaces were never a mystery because they were listed on copies of their alien registration (green) cards. Somewhere during the early 1900s, my grandfather received a handwritten letter in Sicilian dialect that explained how my great grandfather, Matteo, had died in Corleone and my great grandmother, Cologero Paternostro left with her children to remarry a man in Louisiana. The last name of her second husband is unknown.
What were the obstacles, if any, during the process of finding your relatives and then getting in touch?
I joined several DiBella Facebook groups, but didn't have much luck finding relatives, so I figured I'd just have to go to Corleone myself for answers. In April of 2014, that's exactly what I did.
It's amazing what showing up in town with a folder of photos and birth certificates can produce. People in grocery stores called friends to ask if they knew anyone by my last name. At the Central Bar in the main square of town (which was decorated with Godfather film memorabilia - Al Pacino's mother was coincidentally born in Corleone too), a man named Enzo overheard my conversation with the barman and offered to help. When he learned that my great grandmother's family name was Paternostro, he got all excited, picked up the phone and called someone and told them to come over to the bar subito! Giovanni Paternostro was the spitting image of my grandfather, but it turned out to be a false alarm. The gentleman was quite sure that he didn't have any relatives who'd immigrated to the U.S.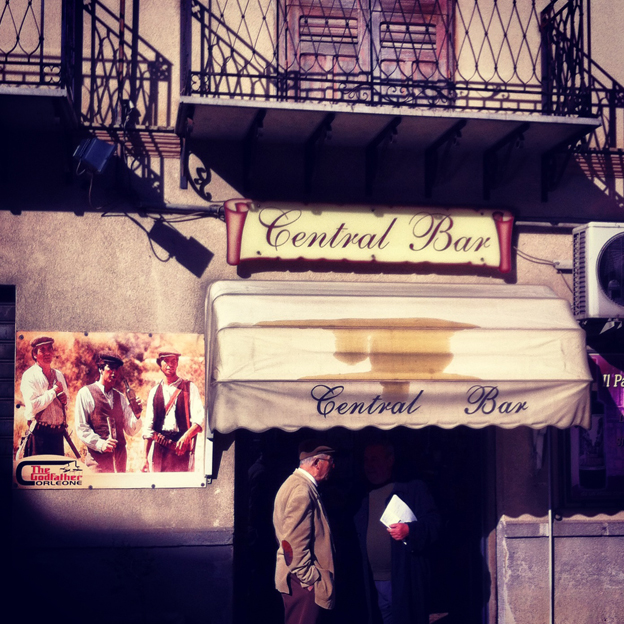 [Central Bar in Corleone. Photo credit: Toni DeBella.]
Please describe the moment when you first met your Italian relatives. How did you feel?
I never actually met any "verifiable" descendants, but two or three offered to be my de facto cousins until we could prove a bloodline exists. I'm still in touch with a few of them on Facebook.
Please describe how you felt the first time you walked the streets of your ancestral town.
It felt both surreal and emotional walking around the town where my grandfather had spent his boyhood. The people of Corleone are extremely proud of their city and were more than happy to share with me its interesting history, helping me to imagine what the town was like in that era. I spent a lot of time just strolling around, soaking up as many experiences as I could.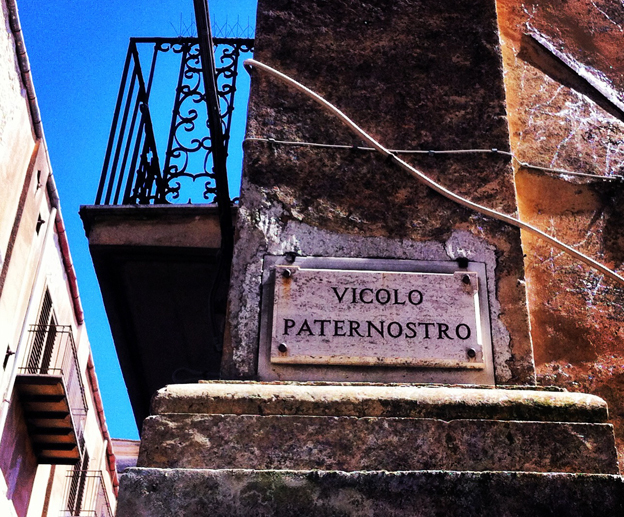 [Photo: Vicolo Paternostro in Corleone. Photo credit: Toni DeBella.]
Any fun anecdotes about meeting your Italian relatives?
As I mentioned before, I wasn't successful finding descendants on this trip, but on the last day of my visit, I met up with Enzo and he made a few more phone calls on my behalf. We came up empty, but I was so touched by his enthusiasm and generosity. He said that when I returned, he'd drive me to Contessa Entellina, the town where my maternal grandmother was born. He claims her surname, "Pizzo", is quite common in those parts. I may just find my Sicilian family yet.
Did you discover any amazing story during the process of searching for your Italian relatives?
I think the most amazing things I discovered were about the town of Corleone itself. The city is, of course, most famous for being the setting for Mario Puzo's novel, The Godfather, but the historical realities were much worse than the romanticized, Hollywood version. I learned how Corleone's citizens had suffered decades of fear and oppression from this criminal organization, and only in the last twenty-some years has the mafia finally loosened its grip on the community.
I took a fascinating tour of the anti-mafia museum, Il Laboratorio della Legalità (actually run by one of my 'possible cousin's' wife.) The museum is housed in the confiscated home of Bernardo Provenzano, the former boss of one of the most brutal crime families in the country. I chronicled my visit there, along with other sights in an article for Browsing Italy entitled, Corleone, Sicily: 5 Great Reasons to Visit.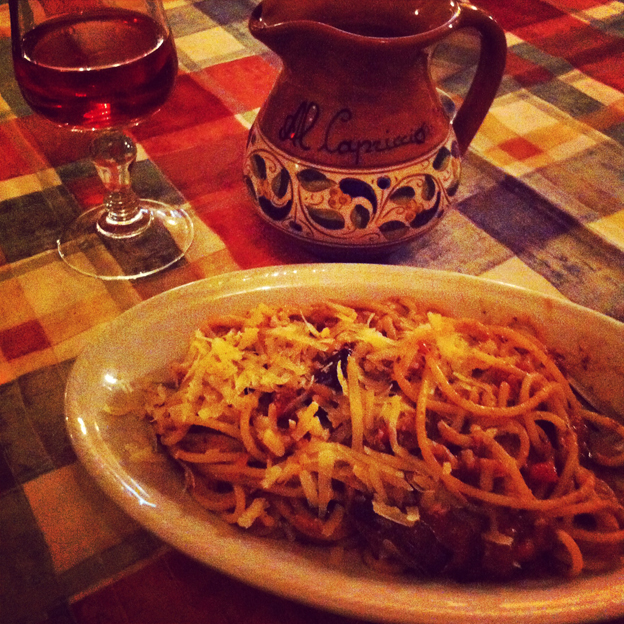 [Typical spaghetti corleonesi. Photo credit. Toni DeBella.]
Ultimately, what has the experience of reconnecting to your Italian roots meant to you? 
It meant a great deal to me, as I'm sure it does to a lot of people whose families immigrated to the U.S. Americans of Italian-descent often grow up in a hybrid culture that makes us feel extra connected to Italy. I may have been born and raised in America, but part of me will always identify as Italian. 
Thank you, Toni, for sharing your story with us and good luck in your search!