Amy Gulick is not just your average Tuscany food blogger: she takes lessons learned in her life in Italy, and applies that same fortitude in the kitchen. Nothing is a mistake, merely an opportunity. Her blog, The Bittersweet Gourmet, is home to a variety of delicious recipes that Amy whips up from her kitchen in the small town of Grezzano, creating Italian flavors with French and American influences. She admits that 'Tuscan foods' aren't her favorite, brave words in a place where everyone is so proud about the regional cuisine.
What we love about her blog is that she often touches on the history or story behind each dish, and makes us feel like we could become fabulous home cooks like her.
She also was a winner in our 2013 Blogger Awards, in the category of Best Single Recipe from a Food Blog, Bucatini in Artichoke, Anchovy & Saffron Sauce, which is still a favorite with the ITALY Magazine staff.
Now we get the chance to chat with Amy and learn a little more about her and her blog. 
Amy, where are you from originally? 
Sacramento, California.
What made you choose Tuscany as your home base?
My husband is from Borgo San Lorenzo, in the Mugello region. When we decided to make a life together, we chose to stay close to his family and his place of work, which is just a few minutes from our town, Grezzano.
Can you tell us about the area where you live?
The Mugello is a vast, lush valley northeast of Florence skirted by the Tosco-Romagnolo Apennines to the north and Monte Giove and Monte Senario to the south. Agriculture makes up the primary commercial activities here: dairy and vegetable farms, orchards, wheat and sunflower fields, some olive groves and few vineyards. The valley and surrounding mountains are dotted with small towns and medium-sized cities, but the majority of the territory is agriculture-driven. I think the best words to describe this area would be green and laid-back.
What do you love about Tuscany?
The landscapes and their natural colors, especially in fall and spring.  Living here, you really come to appreciate why so many artists visit Tuscany for inspiration and to work. I love, too, that Tuscany has a bit of everything: seaside and mountains, cities and villages, old farms and swanky villas, the full range of seasonal weather. 
In your blog you write, "Much of what we view as Italian flair is rooted in the Italians' manner of dealing with problems," as a comparison to how you cook. Can you elaborate?
One of the greatest challenges I have faced as a home cook in Italy is the lack of available ingredients. Before leaving the U.S., I took the diversity of American culture and its broad range of culinary traditions for granted. In a large American supermarket you can find everything from fresh cilantro, lemongrass, and seaweed to cream of tartar, vanilla beans, and coconut oil - not exactly exotic items to the average American, I realize, yet these and other items are not easily found here in Italy, and never under one roof! While Italian cuisine is diverse from region to region, at the same time it is also closed off from much of the world's foodways. Italians don't really use buttermilk, for instance, so you won't find it in the markets here. For items like mustard powder, corn syrup, vanilla extract, granulated garlic powder (not the super-fine powder that is the consistency of talc powder and overly potent, nor the dried chunky flakes, but the plain old-fashioned granulated garlic powder like McCormick makes), for a long time I would have to make a special visit to a so-called 'ethnic foods' store. This is changing though. When I first moved here, I would gasp in delight if I happened to come across real vanilla extract or baking powder in the grocery store. Over the years, however, the big chain stores have been expanding their foreign foods and baking goods sections to include such items. Buttermilk remains elusive, though, as do real chocolate chips for baking.
So, since I do not cook exclusively Italian, I have resorted to crafting workarounds, which simply means substituting wherever possible and learning to make things such as buttermilk, sour cream, and baking powder from scratch (ironic note: you need cream of tartar to make baking powder). I make my own tomato salsa, pickled hot peppers, flour tortillas, and enchilada sauce, since really good versions of these items cannot be found in Italy premade.  I grow cilantro in summer to make sure it's on hand, and my husband plants garden oddities like tomatillos for me occasionally (as it is probably becoming obvious, Mexican cuisine is my favorite). Instead of chocolate 'chip' cookies, I make chocolate 'chunk' cookies, a compromise I've never been entirely enthusiastic about, but most Italians do not seem to know the difference, thankfully. For many years I would use an ultra-aged Gouda in place of Cheddar; Cheddar can be found fairly easily now, just prepare your wallet for a shock.  Next summer, I would like to try my hand at dill pickles, another item Italians just don't seem to appreciate (I think dill is an underrated herb). In short, it's all about working around the problem - in this case, the missing ingredient - to arrive, hopefully, at what passes for a very close approximation of the dish I was striving to create. Sometimes I succeed.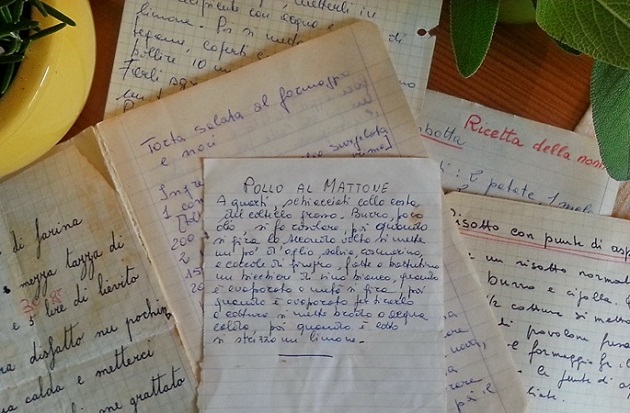 [If you want to try Amy's Italian family recipe for "pollo al mattone", click here.]
Is there anything that drives you crazy about life in Italy?
I've noted elsewhere the anarchic aspect of the Italian character, their inexplicable resistance to authority and the rule of law. I suppose from the perspective of, say, sipping a glass of wine on a pretty terrace while watching Italians do what they do, this defiant quality could be considered quaint - a harmless cultural curiosity. In daily life, it's another matter. I think we who come from rule-driven and rule-enforced societies will always have difficulty reconciling our own cultural makeups with this particular feature of Italian society. Italians just seem to have a different concept of the relationship between the individual and authority, in my view. I do my best to accept this, but it can be maddening at times. Frankly though, what drives me most crazy is how wholly undervalued the avocado is in Italy.
Can you describe some local dishes that you love?
Honestly, I'm not all that crazy about Tuscan cuisine. It's taken many years to muster the courage to admit that! What can I say? I prefer strong flavors and bold and unique flavor combinations, and to me traditional food in Tuscany can be rather bland, lackluster. But I do love inzimino. Crespelle alla Fiorentina are nice. And anything made with porcini mushrooms is a win.
When and why did you start your blog?
A couple of years ago, I noticed I was turning into one of those people who photograph every plate of food she makes. I'd always enjoyed cooking, but around this time what was formerly an average interest in food was transforming into something greater. It wasn't just that I wanted to learn more about cooking and to challenge myself in the kitchen - I wanted to explore topics like feast day traditions, local recipes and forgotten foodways, my experience of food when travelling, my memories of wonderful classic American dishes that remind me of where I come from, and so on. I was reading a lot of cookbooks and watching cooking programs all the time, and then one day I just thought to myself, start a blog, silly! It was a lot of work in the beginning, getting materials ready, learning to take better photographs, and making creative decisions in preparation for the blog's launch, but it was worth the effort. Once everything came together, I was happy to have a place to 'park' my food writings, recipes, photos, and ideas. Blogging can be gratifying, even fun, as long as you recognize that you will only get from blogging what you are willing to put in, and even then, I'd say the returns are a fraction of your dedicated efforts. So it's got to mean something to you, personally, or you'll probably lose steam and give it up, eventually.
Who follows your blog? Tell us about your readers.
Well, let's see, there's my mom and my husband...Seriously, my readership is quite small, though faithful. Mostly they are friends, friends of friends, and family. I write in English so naturally that means I won't garner a large following here in Italy, especially since there are also some very good food blogs in Italian.
What do you blog about?
Mostly I share recipes, either of my own creation or my attempts at others' recipes from cookbooks and television programs. I also write about food histories - the 'backstory' of a particular name of a wine or type of dish, for instance - as well as forgotten recipes, foods traditionally prepared on specific feast days, food events and festivals, and people in the food world doing something I admire or find interesting. 
Where would you advise people to eat if they were around your area, and what?
If you visit the Mugello, you should probably try tortelli mugellani, potato-stuffed ravioli served in traditional meat sauce or one made from wild boar meat, or in a simple 'white sauce' such as butter and sage. Tortelli are on any restaurant menu in these parts and in Florence, but the best place to taste them is at the local sagre, particularly those hosted by the Mugello towns of Scarperia, Vicchio, Ronta, and Luco di Mugello-Grezzano. Curiously, the tortello recipe varies from town to town within the Mugello.
All your blog posts are interesting, but can you recommend one especially for ITALY Magazine readers?
Speaking of sagre, I sometimes write about local government regulation of sagre as well as their shifting function and image in Italian society at large. Most people who have spent time in Italy, especially those lucky enough to get out into the countryside in summer, are familiar with the Italian sagra tradition. Yet I don't think many people realize that sagre have been changing, have been corrupted some would say, and to an extent have started to lose their former reputation as a guaranteed, true experience of a particular gastronomic specialty. In recent years, restaurant owners have accused sagra organizers of unfair competition (the economic climate in Italy is a factor in this debate). Some local governments, such as my own in Borgo San Lorenzo, have been moderating sagre and instituting reforms in response to pressures from the restaurant sector. To me this is a worthwhile topic, since like many I love the sagra experience and want sagre to survive. But it's equally important to note the civic, economic, and even environmental concerns surrounding the Italian sagra today.
Thank you for talking to ITALY Magazine, Amy! Happy blogging.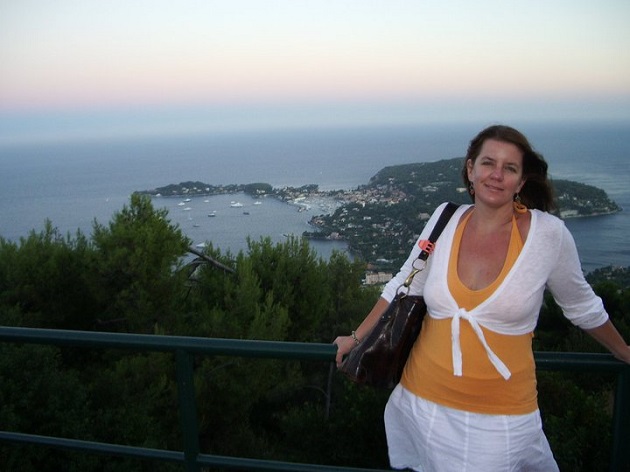 Check out Amy's Blog, tweet her, or follow her adventures on Facebook.