Chianti
The Essential Guide to Chianti
Famous the world over for its winemaking tradition, Chianti has got a lot more going for it than being a premiere ruby-red wine-producing region. Located in center of the Italian peninsula, approximately halfway between the cities of Florence and Siena, Chianti boasts splendid landscapes of vineyard- and olive-cut rolling hills, aged-old castles and a peppering of pretty hilltop towns.
When you go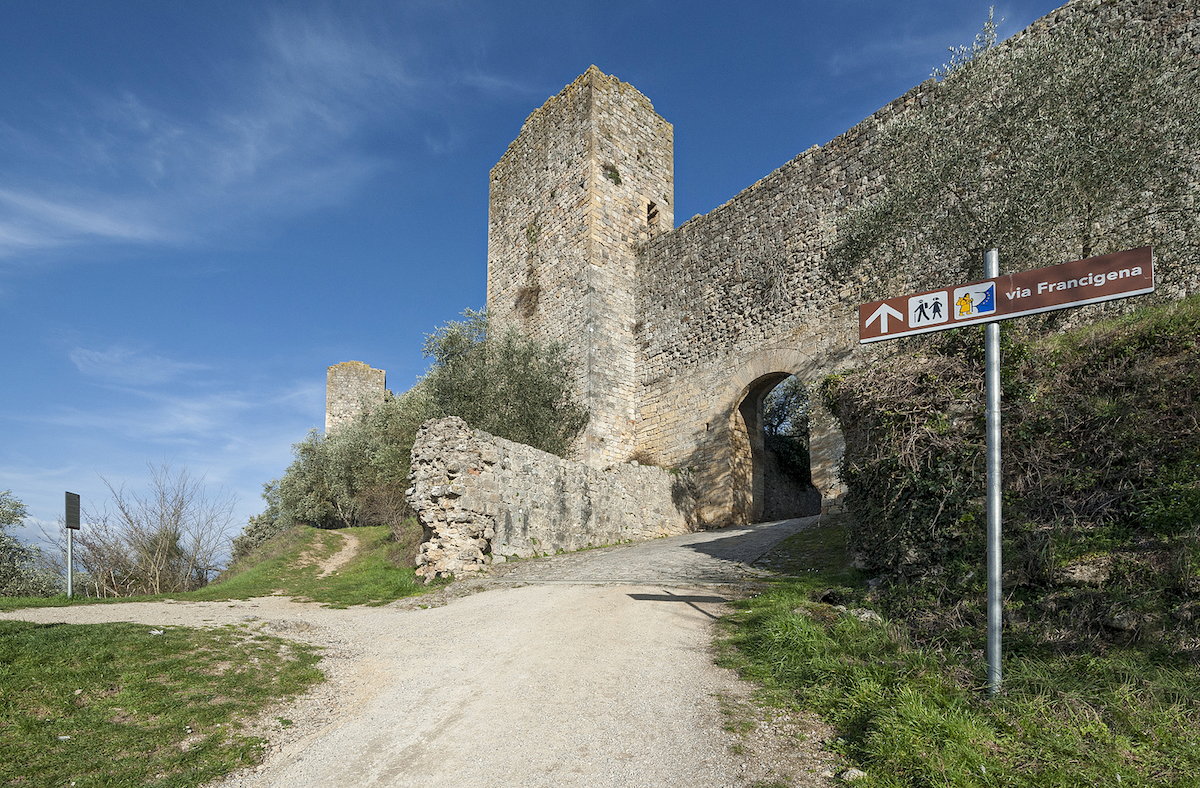 There's no better season to visit Chianti than in early-to-late fall when the change of foliage peaks, displaying a prism of intense autumn colors. Days are bright and sunny (around 20C/68F) and evenings cool and crisp (about 10C/50F), sometimes requiring only a jacket and scarf for chilly mornings and late nights). 
Late October to November (depending on the climate conditions) is the time of year for the grape harvest (vendemmia) and olive collecting raccolta. Traditionally, this is when neighbors and friends pitch in to help small family farms pick or gather crops. Their labor is typically bartered for a satiating lunch and a percentage of the season's "new" yields. If you book a stay at an agriturismo (a working farm offering accommodations) during harvest season, many hosts permit guests to join in.
How to get there
Easily accessible by car, Chianti is a favorite destination for day trips from Florence, Siena, Pisa and even Rome.
By air
The two nearest airports to Chianti are Florence's Amerigo Vespucci/Firenze-Peretola (FLR) and Pisa's Galileo Galilei International International (PSA). 
Pisa's airport, the larger of the two, is served by most major European cities and has the PisaMover that transfers travelers to the city's central train station in about 6 minutes. Chianti is approximately 67 miles/102km from there. 
If you're using Florence as your base, flying into Florence's airport makes sense. It offers convenient transit to Firenze/Santa Maria Novella (SMN) from the terminal via the T2 Vespucci tram line, which runs frequently and takes around 20 minutes. The distance from the SMN to the middle of Chianti is about 32km/20 miles. The distance from Siena's train station is about 25 miles/40km away.
By train
From either Florence or Siena's central stations, it's easy to connect to Chianti's two main train stations in Poggibonsi and Castellina di Chianti. Keep in mind that it may require a train change in Empoli. Once in a Chianti town, it's possible to arrange a private or group-guided winery tour. Leaving the driving to a professional is a relaxed and worry-free way to partake in tastings without the worry of getting behind the wheel.
By car
From Florence and Siena
The Raccordo Autostradale Firenze-Siena is the fastest way to get to Chianti. The four-lane highway stretches along the western border of the region and gets you from Florence to the heart of the region in about 60 minutes and from Siena in 30 minutes, depending on traffic.
The state two-lane SR222/Chiantigiana cuts a path through some of the most beautiful countryside and villages in Italy. It can be quite curvy in places and not well-lit, so it may not be the best route to take at night.
The SR2/Cassia is an old Roman thoroughfare that runs parallel to the Autostradale, passing through towns like Poggibonsi and Monteriggioni.
Getting around Chianti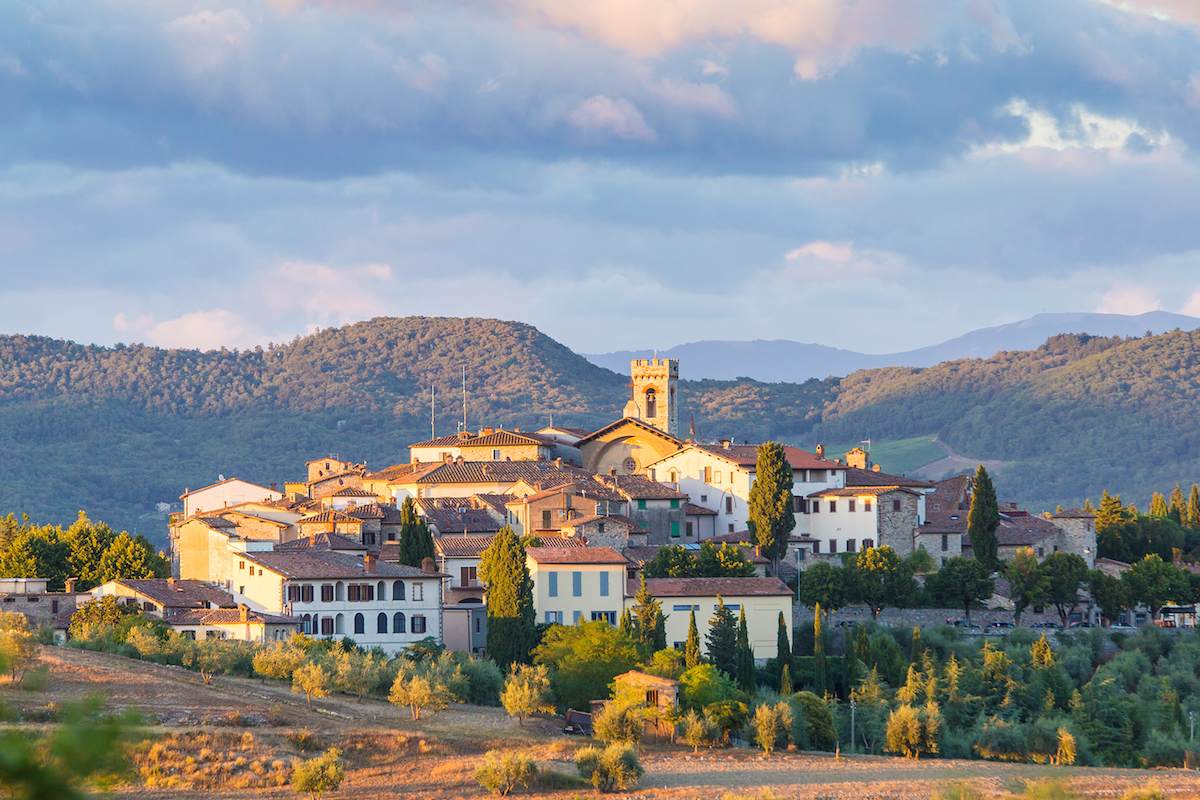 Car
To really get the most out of Chianti, booking a car or hiring a driver/guide is optimal, particularly given that train and bus service is either infrequent or non-existent to many remote destinations. The beauty and rural nature of the region lends itself to a slow-paced, "stop-along-the-way" kind of travel that only motoring can provide. 
Scooter or Bicycle
An outstanding way to see the Chianti countryside in style, scooters and bikes can be hired in numerous places around the region, either by the day or week.
Bus
Autolinee Toscane buses depart near Florence's SMN and stop in many small towns and villages across Chianti. Make sure to check the schedules for both andata (going) and ritorno (return trip) ahead of time, especially on Sundays and holidays to avoid getting stranded. Bus line 365A, for example, goes from SMN to Greve in Chianti. To get to Radda and Castellina, take line 131 and switch to 125. Bus tickets can be purchased at train and bus stations, as well as at coffee bars and tabacchi (tobacco shops).
Best things to do and see in the Chianti area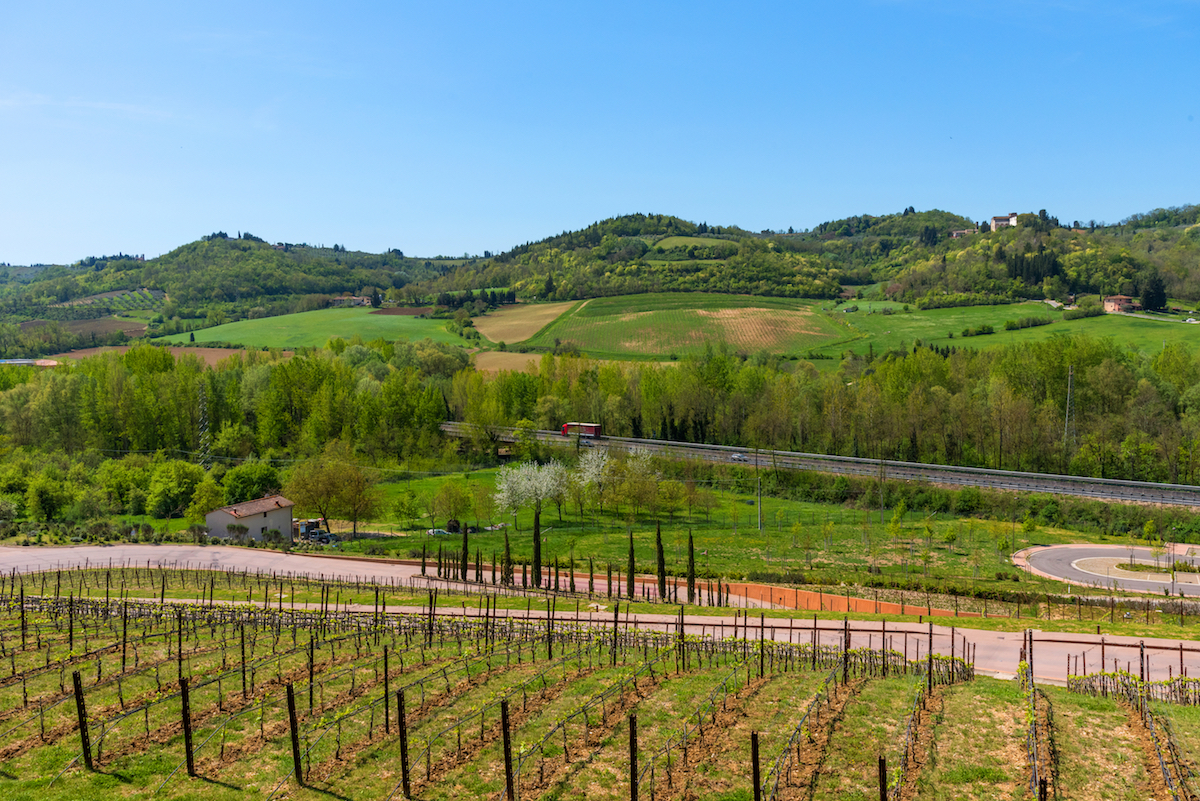 Drawing people to its fertile territory since the time of the Etruscans, come for the wine and stay for the sublime scenery. Here's what to do and see in Chianti
Meander through Chianti's hills and dales
Whether you do it all in one day or break it up into a two-day affair, there's nothing quite like taking a leisurely giro (tour) around spectacular Chianti. 
From Florence, hop in the car and get on the classic SR222/Chiantigiana, making your first stop in Greve in Chianti, considered the gateway to the region. The city's most famous citizen is explorer, Giovanni da Verrazzano who is honored with a statue on its main square, Piazza Matteotti. 
Take a detour from Greve on Via Case Spares to Montefioralle with its small and well-preserved 12th-century fortress. Head toward SP118 to Panzano where you can "meet meat" at Antica Macelleria Cecchini (see below). Have lunch here or stop along the way at one of the many rustic trattorias along the way. 
Drive over to SP112, a road leading to Volpaia, a pretty borgo (hamlet) dating back to 1172; its cellars hidden within the fortified walls make it quite unique.
Continue back on via Chiantigiana to Castellina in Chianti, a city inhabited by the Etruscans, which also played a key role in the battles between Florence and Siena. The Archeological Museum Sinise Chianti has a tower that affords visitors sweeping and panoramic views. 
Swing south, ending up at the circular, stone-walled city of Monteriggioni with 14 rectangular towers protruding upwards. Continue down to Siena and catch the Firenze-Siena highway back to Florence.
If you go
Museo Archeologico del Chianti Senese 
Address: Piazza del Comune 17, Castellina in Chianti
Open: April-October, 10am to 6pm daily (Jun, Jul & Aug 11am-7pm)
Website: http://www.museoarcheologicochianti.it/
Marvel at medieval paintings and frescoes
The prestigious Antinori cellars — one of Chianti's most renowned vineyards — surrounds this 11th-century monastery. Featuring a large cloister for quiet contemplation, the building holds two lunettes (arched apertures or windows) on the refectory walls by painter Bernardo Rosselli (1472). An impressive fresco of the Last Supper by brothers Davide and Domenico Ghirlandaio (1476) is a must-see. The abbey church retains important works by Michele di Ridolfo del Ghirlandaio, Passignano and Alessandro Allori as well.
If you go
Badia a Passignano
Address: Loc. Badia a Passignano, Barberino Tavarnelle
Tel: 055 807 1171
Website: https://www.badiapassignano.com/badia.html
Chat with one of Italy's most beloved butchers in Panzano in Chianti
The lovely town of Panzano is where you'll find Antica Macelleria Cecchini. The shop, owned by the world-famous celebrity butcher Dario Cecchini (deemed the best meat person in Italy) has been in the Cecchini family for eight generations. Drop in and if you're lucky, Dario may break into a verse or two from Dante's Inferno. The adjacent restaurant serves both lunch and dinner, Monday through Friday. Reservations are highly recommended.
If you go
Antica Macelleria Cecchini
Address: Via XX Luglio 11, Panzano in Chianti
Tel: 055 852020
Butcher shop open: 9am to 4pm daily
Restaurant open: Lunch starts at 1pm; dinner at 8pm
Sleep in the "Mona Lisa villa"
Vignamaggio is a 14th-century villa built by the Gherardini family that today is an elegant 62-hectare agriturismo/wine estate located on the outskirts of Greve. Rumored to be the birthplace of Lisa Gherardini, who is widely believed to have been the model for Leonardo's Mona Lisa, the property offers small cottages encircled by gardens featured in Kenneth Branaugh's 1993 film adaptation of Shakespeare's Much Ado About Nothing. 
Villa Vignamaggio,
Address: Via Petriolo 5, Greve in Chianti
Tel: 055 854661
Website: www.vignamaggio.com
A taste of Chianti
What to eat
Stracotto al Chianti is a dish made of slow-cooked beef so tender you could eat it with a spoon.
Bread is a huge part of traditional Chianti cuisine. Dousing a slice of warm grilled bread with extra virgin oil is called fettunta (roughly translated means "sliced"). Tuscan bread's lack of salt only helps to bring out the peppery and rich flavor of the oil even more. 
Pappardelle al ragù di cinghiale is made of freshly made strips of pasta with a wild boar ragout. Although believed to have originated in the Maremma area of Tuscany, it's become a signature dish of Chianti.
For dessert, try pan con l'uva, a traditional cake made with black grapes.
What to drink
Chianti Classico, of course.
In the same way sparkling wine cannot be sold as "champagne" unless it's produced in the Champagne region of France, you can't call it "Chianti" unless it was grown and made in this wine region. In fact, in 1960 Chianti became the first Italian wine to be certified "DOCG" or Denominazione di Origine Controllata e Garantita (Controlled and Guaranteed Designation of Origin) — the highest mark of excellence and authenticity. Chianti Classico is made with two red grapes, Sangiovese and Canaiolo, mixed with white Malvasia and Trebbiano fruit. Medium bodied and highly drinkable, it is often recognized for its iconic "fiasco" (flask) wrapped in blanched straw.
Top events and festivals in Chianti
Greve Chianti Expo takes place in early September and showcases over 50 Chianti Classico wineries in the town's historic square, Piazza Matteotti. Throughout the event, artisan workshops are open to the public, on Sunday is a flag-throwing exhibition and each evening are musical concerts. 
For a full program go to the Expo's official website.
Taking place each in late December through the Epiphany in Castelfiorentino is the La Via dei Presepi; a display of nativity scenes traditional of the area.
What you can't miss in Chianti
Where is Chianti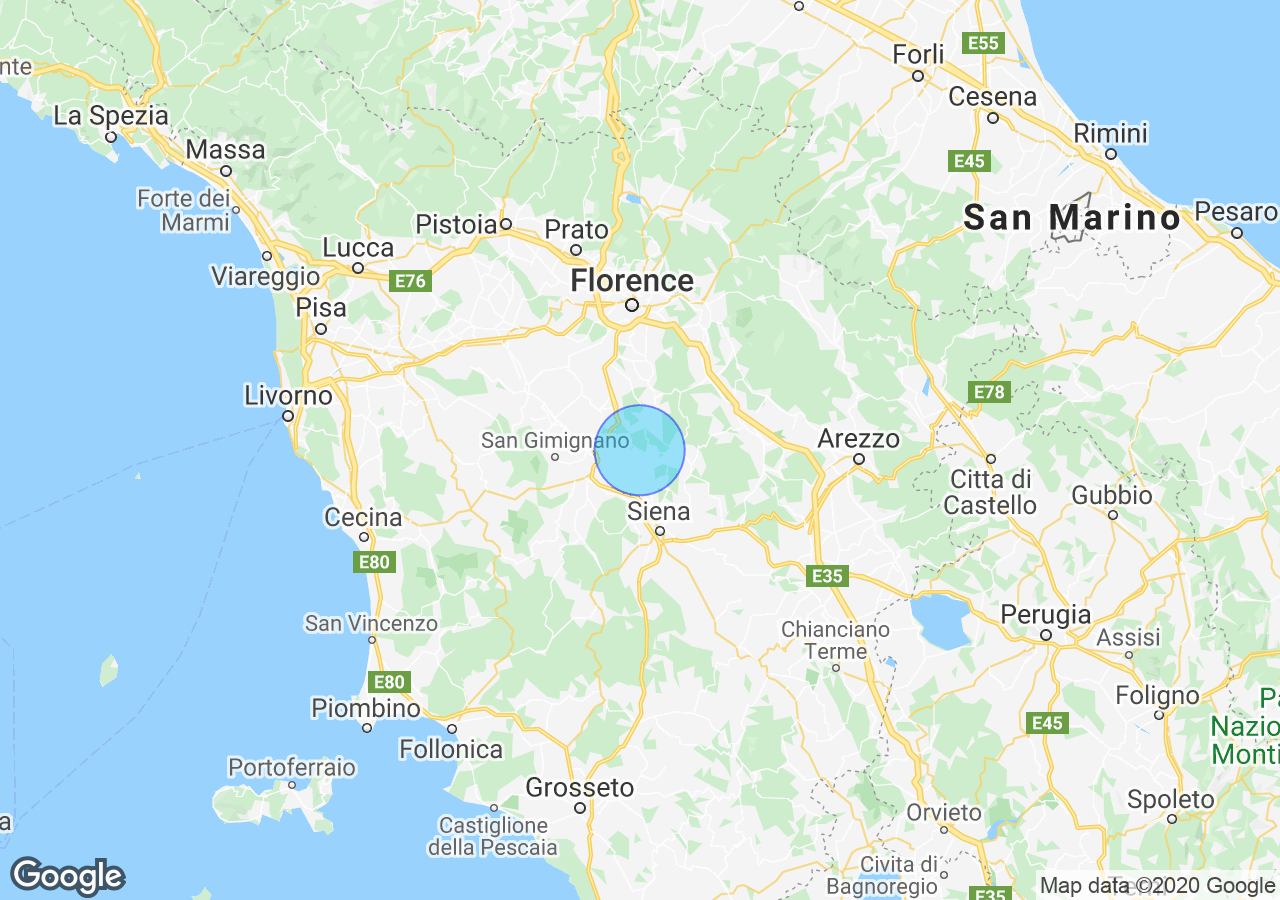 Properties for sale in Chianti