The flexibility, independence and sense of adventure is what generally attracts people to an RV vacation; add to that the varied beauty of Italy's landscapes, from the rugged peaks of the Dolomites to the gentle rolling hills of Tuscany to the impressive cliffs of the Amalfi Coast, and the idea of driving up and down il bel Paese in a camper van begins to sound pretty attractive even to no-camping fans. 
As camping, RVing, and the recent luxury spin on it, glamping, become more and more popular, we've put together this concise guide to the essentials you need to know, whether you just want to camp in the wild for a night, rent a motor home for a longer vacation or be pampered in a luxury tent. 
CAMPING IN ITALY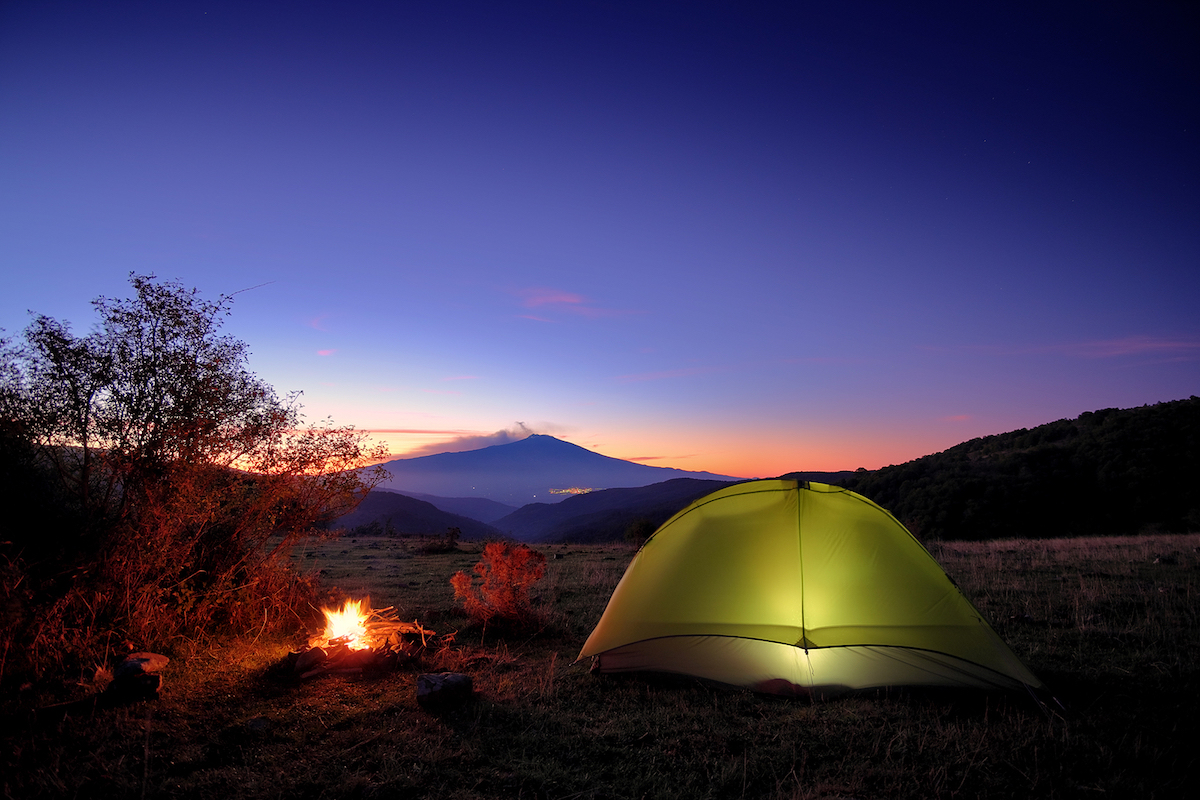 Can I wild camp in Italy?
As for many things in Italy, the answer isn't a definitive yes or no. Since in Italy there is no national law that regulates free camping, whether you're allowed to free camp or not in Italy depends on the region you're in, and also on the specific location within the region. Some regions, like Veneto, Friuli Venezia Giulia and Sardinia, are clear on the rule: it is absolutely prohibited to camp outside the specially provided equipped areas. However, not all regions have clear laws regarding wild camping. 
As a general rule, unless there is a sign that explicitly forbids camping, you are allowed to set up your tent from dusk to dawn, but you have to dismantle everything during the day and move on to another place for it not to be considered illegal camping. This form of camping is considered a night bivouac. 
If you leave your tent up in the same place for more than 24 hours without a permit, you will be likely subject to fines; most towns specify in their regulations that camping is possible upon request of a permit or by notifying the mayor's office. Some municipalities issue ordinances every year indicating the areas where camping is prohibited. Therefore, you will need to check what the rules are for the specific place where you plan on camping.
Our recommendation is to always check with the town or the park where you wish to camp. There may be special protected areas within a park where camping is forbidden in order not to disturb the wildlife, but you may be able to camp in other areas. In national parks, camping is forbidden outside the dedicated areas. 
Camping on the beach is also prohibited. 
RV-ING IN ITALY: WHAT YOU NEED TO KNOW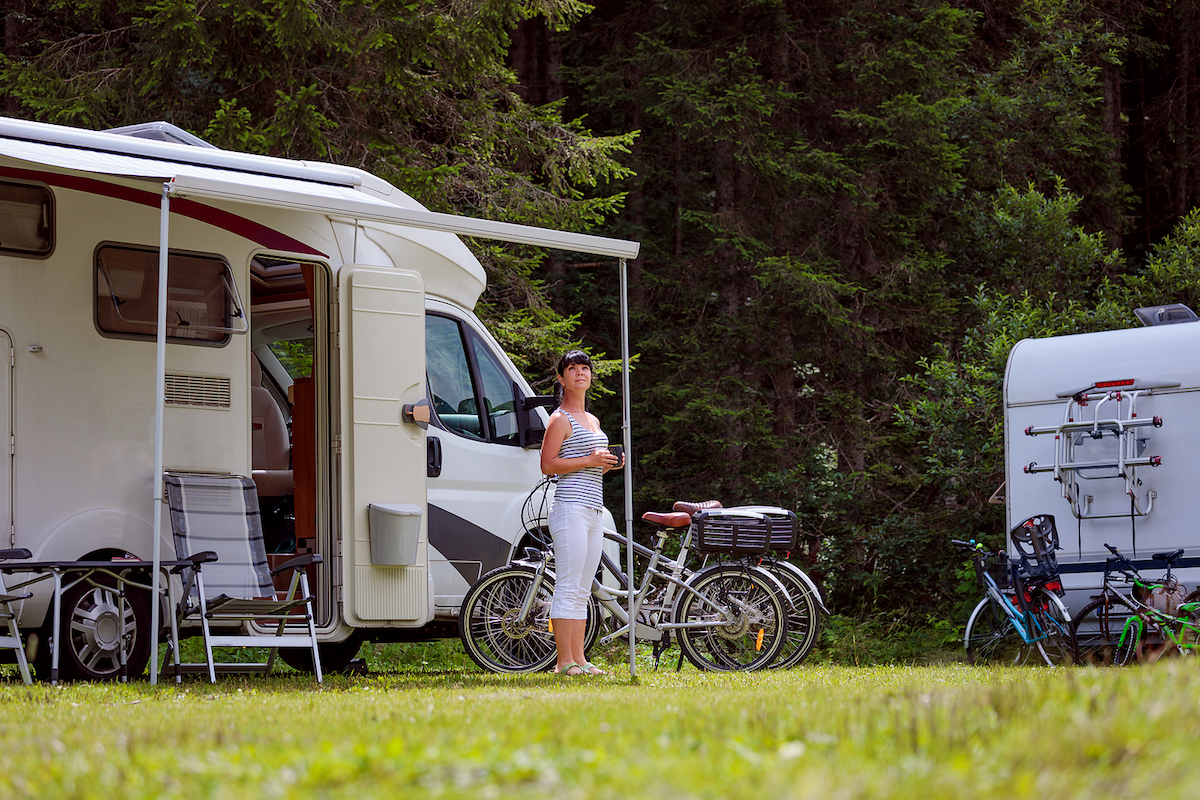 Italy is a campervan friendly country and there are many options to camp in Italy, from basic parking areas with camper service (ideal for those on a budget) to more equipped camping villages.
Designated parking areas, called 'aree di sosta,' provide camper service (grey and black waters disposal facilities, drinking water refill, some even electricity) for free. There are not bathroom facilities and, as a general rule, you cannot stay at these parking areas more than 48/72 hours unless stated otherwise. These parking spots cannot be booked in advance and operate on first come first served basis.
Camping villages, or campeggi, are built specifically for tourists with tents and campervans. They all have facilities such as communal kitchen, toilets (some with family restrooms, with more space for strollers and a wash tub), showers and electricity. They are rated with stars like hotels, from one to five; the quality and number of services provided increase with the number of stars. Some campsites in Italy have pools, restaurants and even a spa or a hairdresser! (Obviously, you don't want to look messy while camping.) 
Below are some of the most common questions regarding RVing in Italy.  
Where can I park my RV in Italy?
If there is no sign expressly forbidding it, you can park your RV (called 'camper' in Italian) as you would a car because Italian law does not distinguish between the two. So, just as you wouldn't park your car on a beach or in a way that would obstruct passage, you do the same with a camper van. 
You can park your camper van overnight and sleep in it as long as, once you stop, you don't set up those conditions that would be considered camping, for example setting out chairs and a table, opening the canopy, using the levels to stabilize your camper, and so on. That would be considered camping, not stopping, and in that case, you need to find a designated area.
Needless to say, the way you position your camper must not cause any disturbance to the residents of the place, or other campers that may be near; also, you can only dump black and gray waters at designated locations equipped with the appropriate disposal systems. 
How much does it cost to rent an RV in Italy? 
It depends a lot on the type of motor home and the season, as well as the type of rate you choose (some offer unlimited mileage, but others include a fixed mileage, such as 100 km, per day; any additional km is an extra fee). You may expect an average cost of €1100 to € 1500 for a week in July, and as much as, if not more, €2000 for a week in August.
When you book, you also need to make sure that the rental comes with basics like sheets, towels, and dishes. They may be an additional fee to rent; in Italy there are no outfitters where you can just rent them (you would have to buy them). 
Because of the pandemic, demand for campervans has skyrocketed, as many people now see this form of travel as safer and easier to social distance. If you want to book a camper in Italy in the months of July and August, make your reservations well in advance. That may also help you find better deals. 
Which brings us to the next question.
When is the best time to go camping in Italy?
July and August are the nicest months for camping weather-wise, but they're also the busiest. Consider the months of May, June and October if you can, there are fewer crowds and the weather is still nice. In the south of Italy, you could camp even in November as it's warmer, whereas in the Alps, it will be too cold unless you have a good heating system (which will consume a lot of electricity).
How much does it cost to rent a spot in an RV campsite?
That varies a lot. It can be as little as €20 up to €100 and more in high season and depending on the services on offer. As mentioned above, some campsites in Italy are very fancy, with restaurants, pools, even spas and a supermarket, on site!
GLAMPING IN ITALY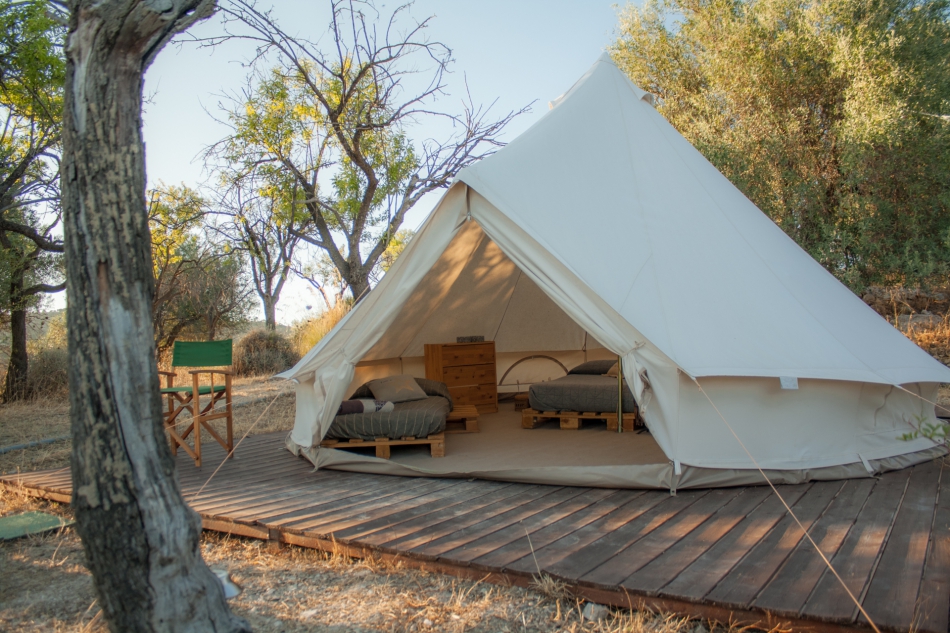 Love comfort and the idea of sharing a bathroom with strangers makes you go 'eek'? Then glamping is for you!  
Glamping (from glamorous camping) is a form of camping involving accommodation and facilities more luxurious than those associated with traditional camping. The glamping movement is growing and today you can enjoy all kinds of experiences, such as luxurious tents and cabins, treehouses, yurts, and eco-lodges. There are many options for glamping in Italy, you can check websites like glamping.com, glampinghub.com, and ecobnb.com. 
To give you an idea of what's on offer, varying in terms of luxury and services available, we've selected glamping accommodations you can experience in Italy. 
Five Places to Experience Glamping in Italy
The Lazy Olive Glamping, Tuscany
Located in the heart of Tuscany, between Siena and Pienza, the Lazy Olive Glamping has 10 "gipsy chic" tents with private bathroom set among olive trees and vineyards. On the property, there is an organic vegetable garden and a swimming pool. You can go wine tasting, truffle hunting and explore the hilltop villages.
Sextantio Le Grotte della Civita, Matera (Basilicata)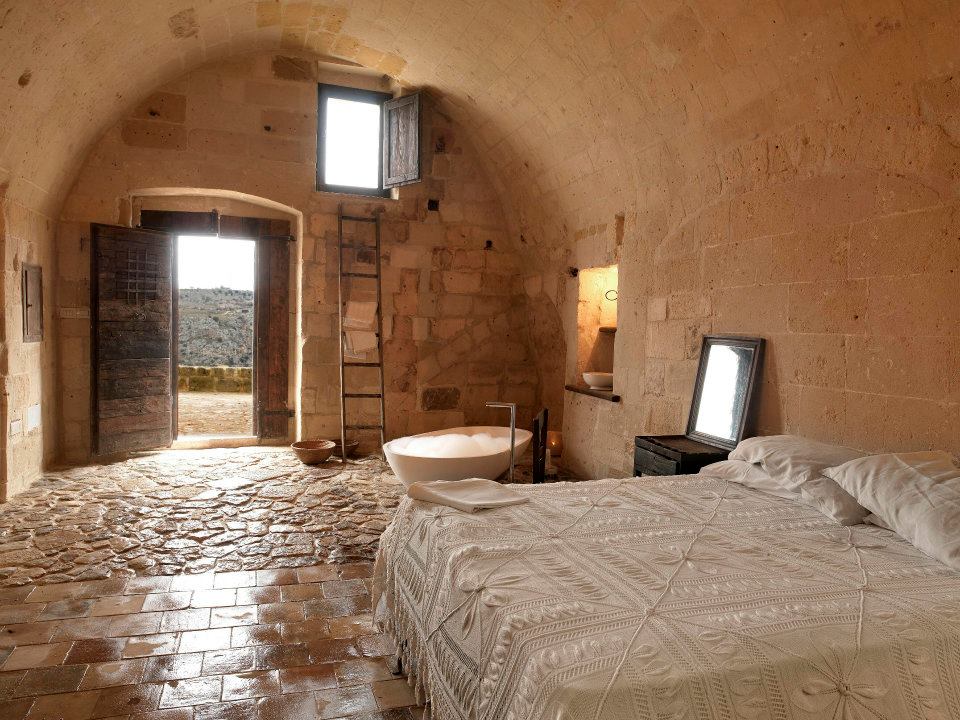 Here you get to sleep in restored ancient caves in Matera, a Unesco World Heritage site. The 18 cave rooms have integrated traditional design made from local materials with contemporary amenities. You can also take a relaxing hot bath with natural soaps in one of the caves set up as a wellness area.
Parco del Grep, Piedmont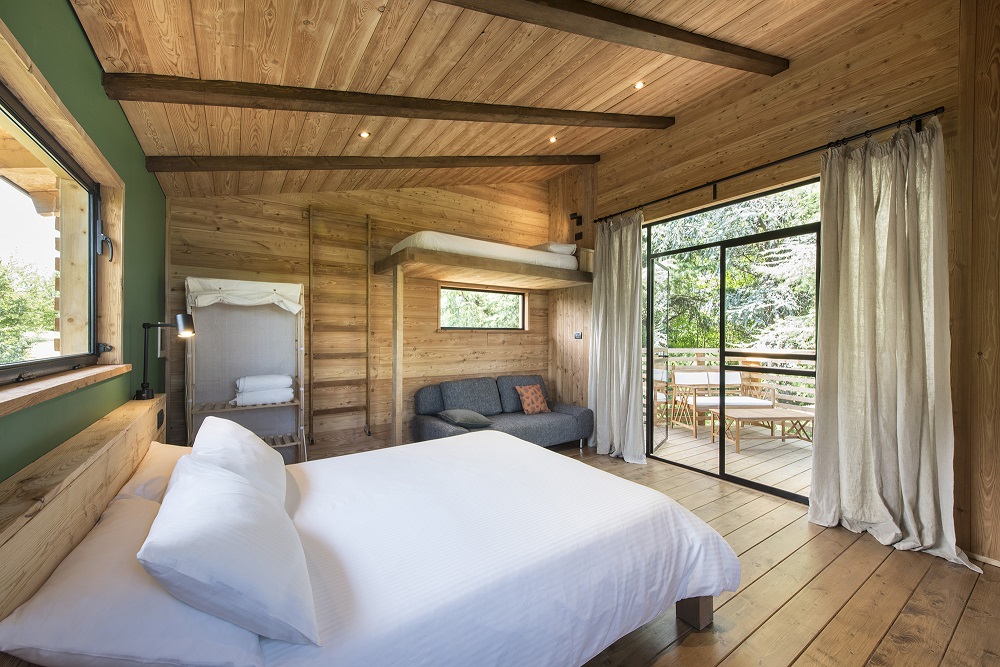 Parco del Grep is an old farmhouse not far from Turin with tents set up among trees (actually hanging between trees) and two treehouses, with views of the peaceful landscape around. There is also a restaurant on site to try the local cuisine and you can go hiking, horse riding, wine tasting, as well as visit nearby cultural sites. 
Essenza, Sardinia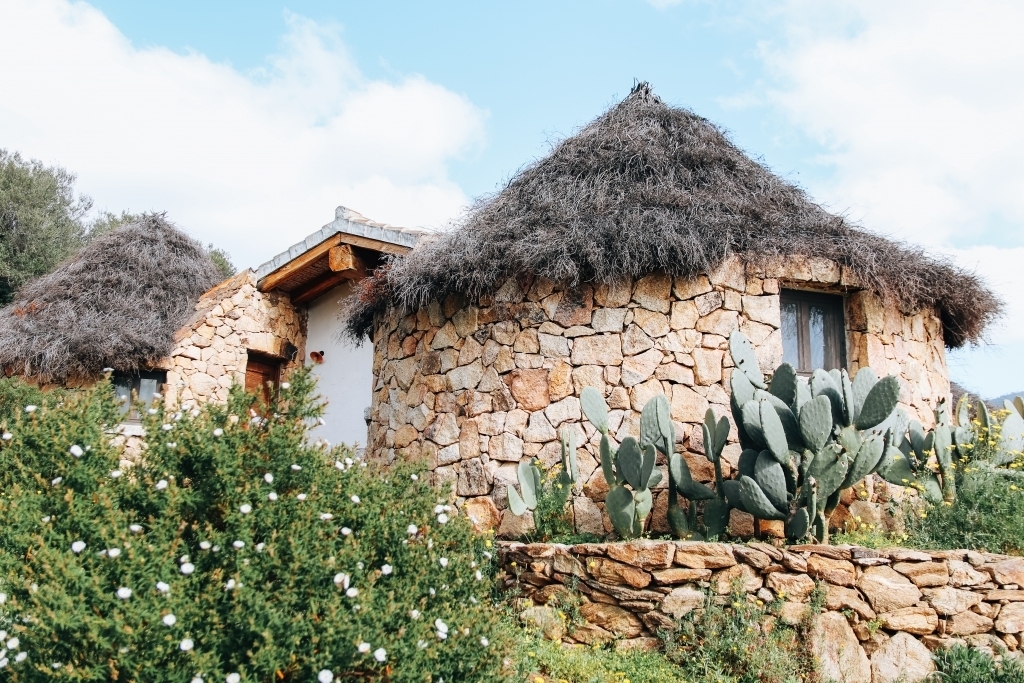 This glamping structure has four hut rentals on the beautiful island of Sardinia, designed in the style of traditional huts used by shepherds, with a circular stone base and a roof of tree branches. Located in central Sardinia, the structure is located in the regional Park of Tepilora, and you can experience both the mountains and sea. 
Shauri Glamping, Sicily
Surrounded by the scent of sage, fennel and thyme and by almonds, olive and carob trees, Shauri Glamping offers two tents with all the amenities of a regular hotel room in beautiful Val di Noto. You can hike, bike, go to the beach, visit Baroque towns, before you return to the peace of the Sicilian countryside.