A hidden sanctuary 30km south of Italy's capital city, the Castelli Romani area has long been a secret among in-the-know Romans. Now, a new food & wine retreat is putting this under-appreciated part of Lazio on the map as Italy's next must-visit culinary destination that you don't want to miss out on.
Italy's Eternal City needs no introduction. Home to the Colosseum, the Pantheon, the Spanish Steps, and more fountains than any other city on the planet, we could wax lyrical about Rome's attractions forever. Surprisingly, though, the countryside in the surrounding region of Lazio often flies under the radar, both as a vacation destination and foodie hotspot.
Roman locals have long been aware of the virtues of the "Roman Castles," the Castelli Romani, as a refreshing yet easy to reach "out-of-town" spot. Located in the picturesque Alban hills, the Castelli Romani are composed of several small villages nestled between two beautiful lakes. A short distance from the city, the whole area is a protected natural park, with verdant countryside just waiting to be explored. Highlights include the famous wine town of Frascati, hilltop Castel Gandolfo and the scenic Lago Albano.
Since ancient times, the area has provided a green refuge from the city; today, Romans still flock to the area on hot summer weekends. Roman emperor Caligula had his floating summer palaces in the heart of the Castelli Romani, on Lago di Nemi, and emperors Tiberius and Nero had country homes in the area. More recently, Castel Gandolfo is said to have been a favored area of retreat for Pope John Paul II.
What's so remarkable about the area is that despite its stunning countryside, and proximity to Rome, not too many people seem to know about it even today. With tourism on the rise again in Italy, people are again flocking to the country's most famous areas, crowding places like Tuscany, the Cinque Terre and Positano, and pleasurable respites such as the Castelli are again becoming far and few between. 
A culinary retreat
The Castelli Romani area also has a wonderful gastronomic offering, with a vibrant food and wine culture that offers a whole new perspective on "Roman Cuisine." There's Porchetta di Ariccia, Nemi strawberries (and their annual strawberry festival), Pane Casareccio di Genzano, and much more. The area also produces several DOC wines, culminating in the Marino Wine Festival where the local fountains overflow with wine. 
One delicious way to explore this area without having to work out details yourself is to enjoy a cooking retreat, ideal for gourmands who love a little adventure. Eat Castelli Romani is a boutique tour company run by Luca and Karla, a delightful Italo-American couple with unparalleled knowledge on the local culinary landscape. 
Four times a year, they run a hugely popular retreat, six days of eating, drinking and cooking alongside like-minded buongustai. From the moment you arrive at the beautiful venue, a medieval lakeside ex-monastery or a stunningly beautiful agriturismo with views of the countryside, you're treated to all-inclusive indulgences in some of the best flavors Italy has to offer. Think hands-on cooking courses, a vineyard tour and wine tasting, a street food stroll, market visit, chef's table and Michelin starred dining experiences and much more. You'll also get exclusive backstage access to come and take a look inside the workings of local producers, artisans and chefs, discovering the inner workings of their techniques. 
An Italian love story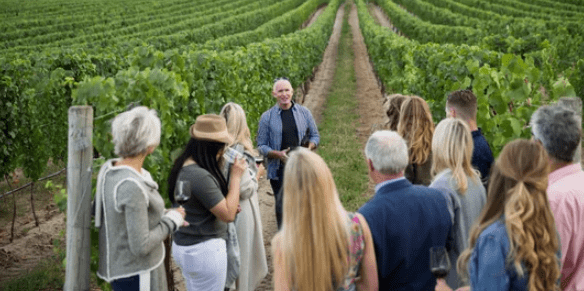 So, who is the team behind Eat Castelli Romani? It's a charming boy-meets-girl romance: US-born Karla came to Italy aged 18 on a study abroad program, which she laughingly admits was inspired by The Lizzie McGuire Movie. Luca, on the other hand, is a Castelli Romani native, who grew up in the small town of Ariccia. After traveling all over Europe and the USA, he decided to return home with the idea to bring people together with food. The pair met during the study abroad program and married within a year. Fifteen years later, they're still going strong, building a family business together. When he's not planning retreats or hosting guests, Luca is also a blues-rock musician. 
"When planning our retreats, I like to create experiences that my family and I would want to enjoy, with foods and authentic culinary experiences that please each of the senses," Karla explains. Luca agrees wholeheartedly, saying: "One of the best things about hosting food and wine retreats is enjoying meals together with great company. I truly believe that food speaks to each of us and has the power to unite."
As part of the American Society of Travel Advisors, Eat Castelli Romani are the only LLC-licensed American company offering tour services to the area. "Our concept is to provide exceptional food and wine retreats to Rome's wine country, while at the same time promoting sustainable travel," Karla continues.
"One of the first things our guests notice when they arrive is the quality, quantity and uniqueness of food and wine experiences in our area and the close proximity to Rome that lets them enjoy both locations during one vacation. We teach guests about local and seasonal Italian foods through our culinary activities and cooking courses."
Come for Rome, stay for the Castelli Romani
"We think the Castelli Romani is an ideal location for those already in Rome, who want to come and retreat to Rome's wine country or for guests who want to visit an off-the beaten path area to get a taste (literally) of the real Italy."
So, with tourism back in full swing across Italy, this is the perfect itinerary for gastronomes looking for a way to escape the heat and the crowds and seek out a more unusual experience close to the Eternal City.
Get in touch