Italy has long been an attractive destination for those wanting to get hitched no matter where you're from in the world. I know this from personal experience and can admit that I am still gleaming after getting married in 2015.  This country so packed with history and breath-taking scenery means that your wedding becomes a vacation for your whole family. This week I had the pleasure of talking to Paola D'Amico who together with her husband Marco own and manage the wedding agency MWE - Magical Weddings and Events based in Rome, Italy. If you're interesting in a beautiful destination wedding in Italy and aren't sure how to get started in your planning, this interview will give you a jumpstart  into local insight. 
Ciao Paola, thanks for agreeing to do this interview. Can you start us off by telling me more about your wedding planning business? Was this always something you wanted to do? How you got started and how the business has evolved until today?
Become a wedding planner was a consequence of my career choices ... but perhaps as all things happen in life ... it was written in my destiny. My work experience started in a five star luxury hotel, then as an event manager in an important agency organizing events which them moved to handling one of the most prestigious luxury venues in Rome. Here my professionalism continued to grow as we handled large private events, weddings and conventions. This partnership has lasted almost 10 years and in the kast year we decided it was the right time to use our organizational, professional and communicative skills to establish MWE Magical Weddings and Events. This has been an important step and a big challenge, but one that has given us a lot of satisfaction and that we hope will give us more and more in the future.
How many weddings have you planned?
I have organized more than 700 weddings, 120 of them have been for foreign couples. It has been such a wonderful experience where I was able to come into contact with so many incredible people of different countries and cultures (Russian, American, Scottish, Irish, Norwegian, English, Syrians, Arabs ..). From each one of them I learned something, an enriching experience for us all. What I appreciate most us that even after several years, we keep in contact and maintain a great relationship.
What kind of planning do you offer? Will you handle every aspect of the planning or can can the couple do some things on their own? In other words, what parts of the planning will they be responsible for?
We can offer both a "full wedding planning service", or a "partial" one or a "on-the-day" wedding management. It depends on the guests' needs. In either case, the couple has always the "last word". At the initial consultation, we will really get to know the couple's ideas and wishes for their wedding and any style they have in mind. We will then use our experience, contacts, creativity and planning skills to put all of this together to create the wedding of their dreams! They will be in control every step of the way and we will tailor all services to their circumstances. Using a luxury wedding planner means they get the best prices from suppliers and they will be able to sit back and really enjoy the weeks before their wedding.
Let's talk venues! Since you have done weddings mainly based around Rome, can you share a few spectacular places someone could get married that only an insider would know?
Near Rome there are many intimate "jewels" that people have no idea exist. One of these places is located in Grottaferrata, in the heart of the Castelli Romani, just a few kilometers from Rome. It is an ideal place for a small wedding with few guests ... a restaurant housed in a cave, rustic but classy at the same time, with an excellent kitchen and an adjoining hotel whose rooms are a real "gem".
For those who want to dream big, there is a magnificent twelfth-century castle in the province of Rieti (still only a few kilometers from Rome) on the cusp between fantasy and magic. It's an exclusive and elegant hotel and in which the magical atmosphere make it the charming fairytale wedding a reality.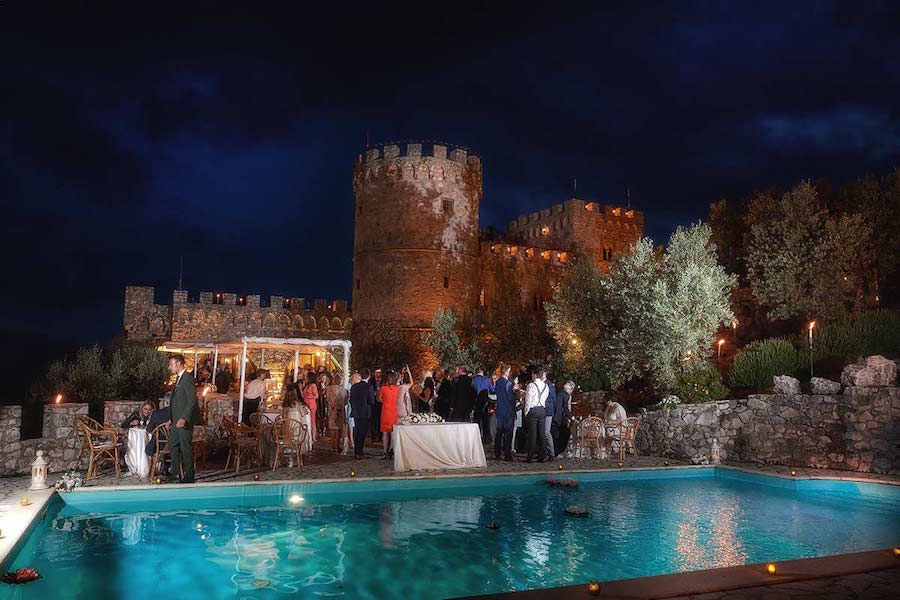 What about the beach?
A beach wedding represents a bit "freedom." It's something "different" from the usual type of weddings, informal but with a magic that really has no equal.
How do Italian and International weddings differ in all of the years you have been doing this as your career?
Italian and foreign weddings are very different than one another. While Italians tend to be more traditional, foreign couples typically choose something a bit more "folk," and focus on being fun, colorful and vivacious. You can see this in the matching gowns of the bridesmaids, the music, the dancing, speeches and other personalized rituals that each time are quite spectacular.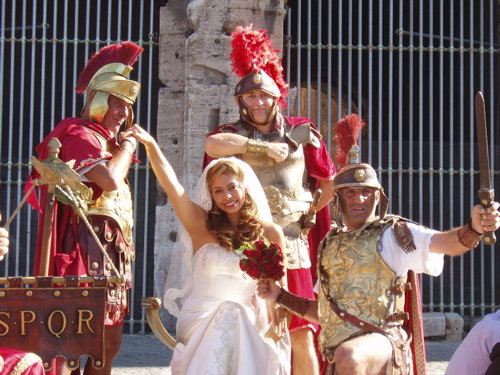 [Yesenia De Avila is the beautiful bride]
How long does the process of planning a wedding usually take, when do you recommend a couple contacts you?
Actually it depends much on the couple and what kind of wedding they have in mind. I don't suggest to start planning a wedding two years in advance. Too much time and too much stress for bride and groom! For a catholic wedding I suggest to start planning one year before, just because in this case bureaucracy is longer and the couple needs many documents also from their country. For civil or symbolic weddings six months are more than enough.
Are there any particular wedding trends that you foresee for 2017?
The philosophy of MWE Magical Weddings and Events is to not to follow the trends. We think that every couple is different and that each wedding is unique. Every marriage is that we organize "tailor-made" for the couple.
I would love to know some personal stories regarding weddings you have done in the past, please share a few that were most memorable to you.
During these years there have been many different stories that have stayed with me. So many moments of real emotion and touching stories like that of Silvia and Gianluca. A love that broke the mold, beyond any mental and architectual barriers. Just two souls that were chained to one another and destinted to be together which you were able to feel at their wedding. But there has also been so many funny moments too. Like the marriage of Laura and Finn, both Irish, where at the end of the night we all danced typical Irish dances and the tarantella. Or that of Rebecca and Dess, she from Australia and him Scottish, a wonderful evenning where all the men outfitted in kilts created dances accompanied only by the sound of bapipes and somewhere, a glass of great whiskey.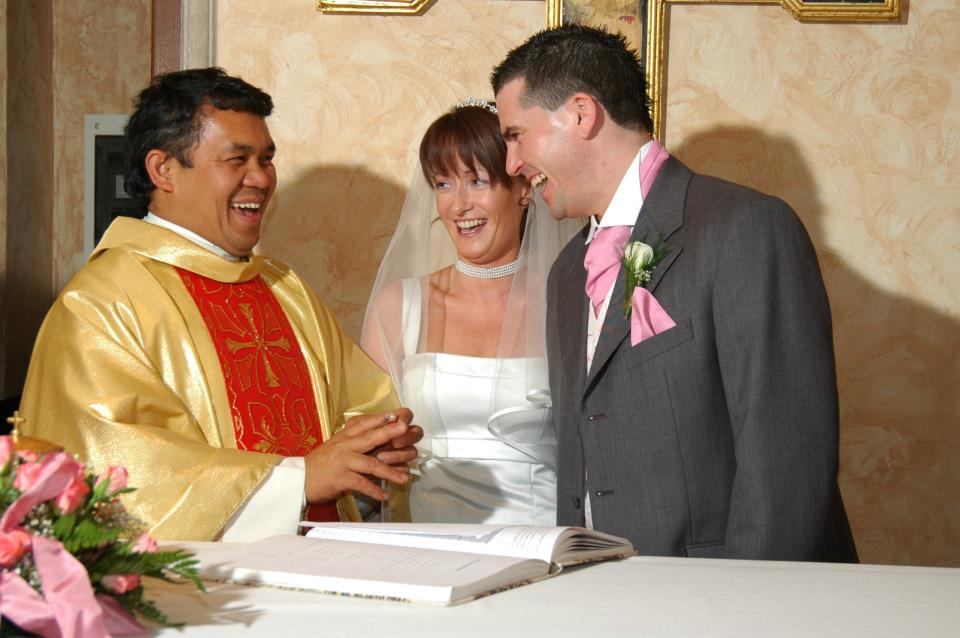 [Laura and Finn]
Ok we want to know about the meltdowns too. Have you had any "bridezilla" moments that you can share?
Being a wedding planner, coming across nervous breakdowns just comes with the territory. One that I remember well brings a smile but at the time, kept me quite busy. Two days before the wedding, the bride called Keira called me desperately saying that she no longer wanted to get married, she wanted to escape and cancel everything. We stayed for two hours on the phone and in the end I was able to reason with her. In the end they went through with the wedding, it was a spectacularly beautiful affair and the couple both thanked me endlessly. Even now, after a number of years, they are a wonderful pair.
Other interesting scenes happen when the bride, in curlers and her dressing gown, run around the castle just hours before the ceremony no really understanding what is going on. Sometimes they call me every thirty seconds from some kind of anxious episode where my job is to reassure them that everything is completely under control. As wedding planners we would all make great psychologists.
Describe the most challenging wedding you planned and how you handled the problems that came up.
There was a marriage in which spouses and parents were particularly apprehensive. They had had a bad experience a year before the wedding of his brother of the bride, and feared that this time could be a repeat of what happened. It was a struggle to be able to gain their trust and try to reassure them all, from the menu, at the ceremony, flowers, photography services, the "direction" of the event. With a lot of patience and tenacity we finally managed to convince them that we could do a good job. I still remember with great pleasure the embrace of the mother of the bride at the end of the wedding ... a hug that was worth a thousand words!
Can you offer some advice for couples who are looking to get married in Italy after so many years of your own personal experience?
Mainly foreign couples wishing to marry in Italy should rely on the advice of local professionals who know the local wedding market and therefore can offer an excellent service and this helps a lot with the economic factor.
Your wedding service also offers a "before, during, and after" service. Can you clarify more on the "after" part of that service? I'm curious!
Marco, for more than ten years is creator and planner of travels and itineraries in one of the most important tour operators in Italy. According to our experience and the requests not only of the newlyweds but also of their guests, we will organize personalized food and wine tours in Tuscany, Umbria, Rome and round Rome. But also post wedding brunches, honeymoon planning, guided visits to museums and archeological sites. We want "cuddle" our guests from the first time they come into contact with us until the "come back home"!
Interested in getting married in Italy? Contact Paola regarding your special day in Italy here.