Sure, Italians boil pasta in water, but that's not the only way they prepare Italy's fabulously versatile ingredient. Many Italians –home cooks and chefs-- boil pasta in vegetable extracts, a riff on the centuries-old technique of cooking pasta in wine. The vegetable juice combines with the gluten in the pasta to create the silky mouthfeel of a cream sauce without the fat. Chef Andrea Aprea, executive chef of VUN restaurant in Milan is nicknamed "The Martian" -- 'o Marziano -- for his out-of-this-world creativity.  He uses red cabbage juice to produce pasta with a glorious purple color and lovely vegetal flavor. Other chefs use different juices: zucchini for a mellow green pasta, or carrots for bright orange.  Michelin star chef Niko Romito first flame-chars leeks and then juices them for his signature pasta dish.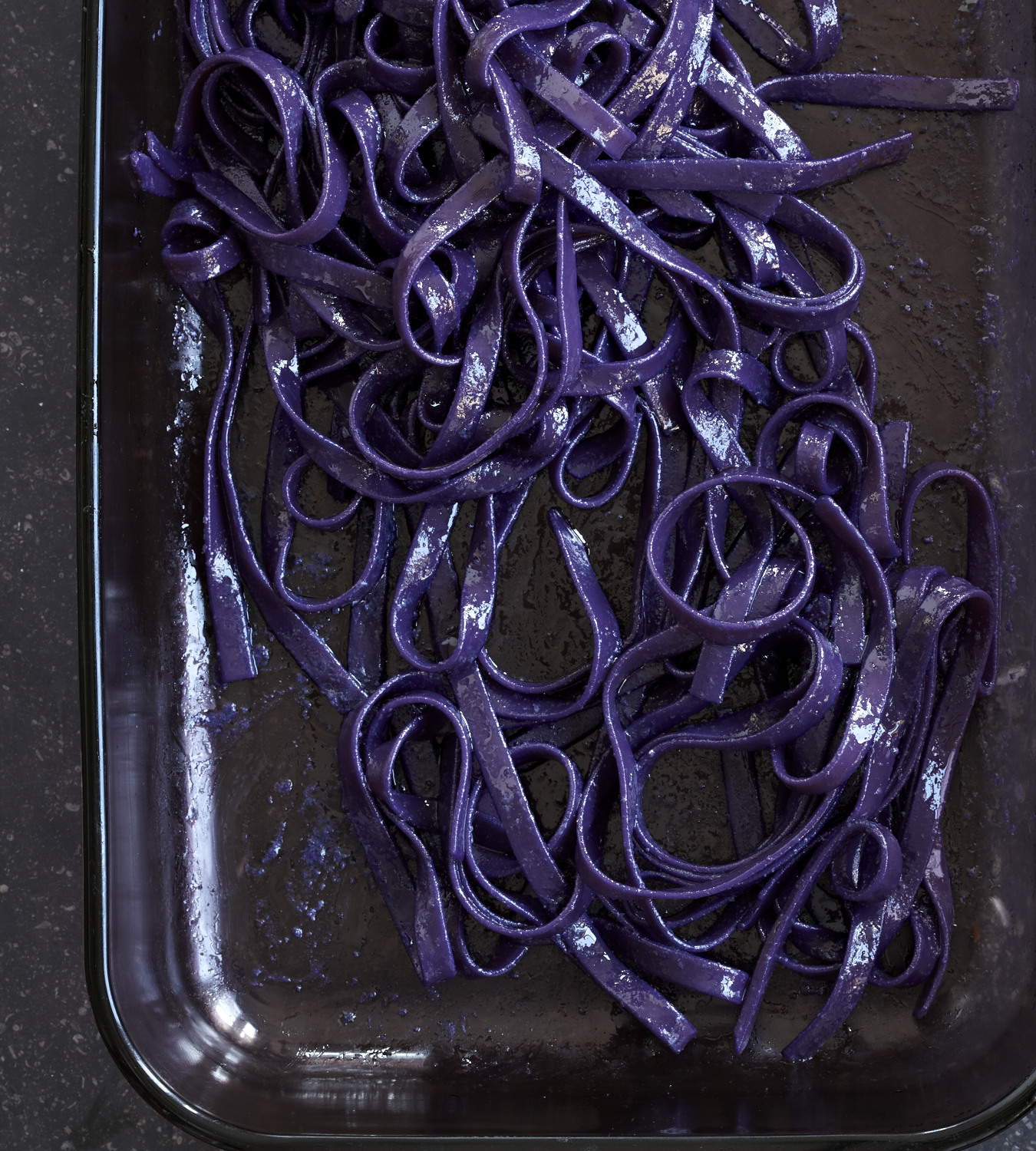 Home cooks can easily try cooking pasta in vegetable juice.
It's a simple, fun, versatile technique that's easy as …..boiling water. Vegetable juice -- can be bought in any supermarket or juice shops or be made at home in a juicer -- offers a way to make pasta into a one-pot meal. It's light, clean, healthy, and versatile: you can add all kinds of ingredients to the finished sauce, from salmon roe to chopped nuts to your favorite crumbled cheese.
There are also lots of recipes for baking raw pasta in the oven, without needing to parboil. The natural juices of the vegetables its baked in supply all the liquid needed to thoroughly cook the pasta. No need to buy any sort of special pasta, any normal pasta works perfectly. Just pop the raw ingredients into the oven, walk away, and return to a gourmet dinner! Called "pasta without water" pasta sanz'acqua, because the pasta isn't cooked in boiling water as usual. Layers of raw tomatoes, potatoes and herbs baked with the pasta into deliciousness. The pasta absorbs tons of flavor from the ingredients!
Pasta without Water
Pasta Senz' Acqua
Serves as many as you like
No need for many specifics here. You can't go wrong…..add other veggies---like zucchini, radicchio & artichokes and more herbs, if you like. 
Eggplant, peeled and very thinly sliced
Olive oil
Garlic, lots, finely minced
Salt
Dried or fresh oregano
Baby roma or other very juicy tomatoes, cut in half or quarters
Dried or fresh basil 
Pennette or other small short pasta, 2 to 3 ounces/85 grams per person
Black pepper
Red onion, thinly sliced
Grana padana, Pecorino or any aged cheese, grated
Prepare 3 bowls. In bowl #1 toss the potatoes with olive oil, and garlic, salt, and oregano to taste. In bowl #2 toss the tomatoes with oil, salt and basil. In bowl #3 toss together the pasta with oil, salt, pepper and oregano.
 Preheat the oven to 350 F. Drizzle some oil in a skillet that can go from stove top to oven, and set onto the stove over medium heat. Scatter the onions over the entire bottom and spread the potatoes over them, pressing down firmly and evenly. Top with half the tomatoes, then the pasta. End with a layer of tomatoes, skin side up. Using a spatula, press all the layers down very firmly, all the while cooking it over medium high heat. 
Pour some boiling water over the top so it reaches at least 1/4 of the say up. , cover tightly with a lid or with foil, and bake until the pasta and potatoes are tender, about 1 to 2 hours, adding more boiling water, if needed. Remove the foil, raise the heat, sprinkle with cheese and bake until golden on top.
Purple Pasta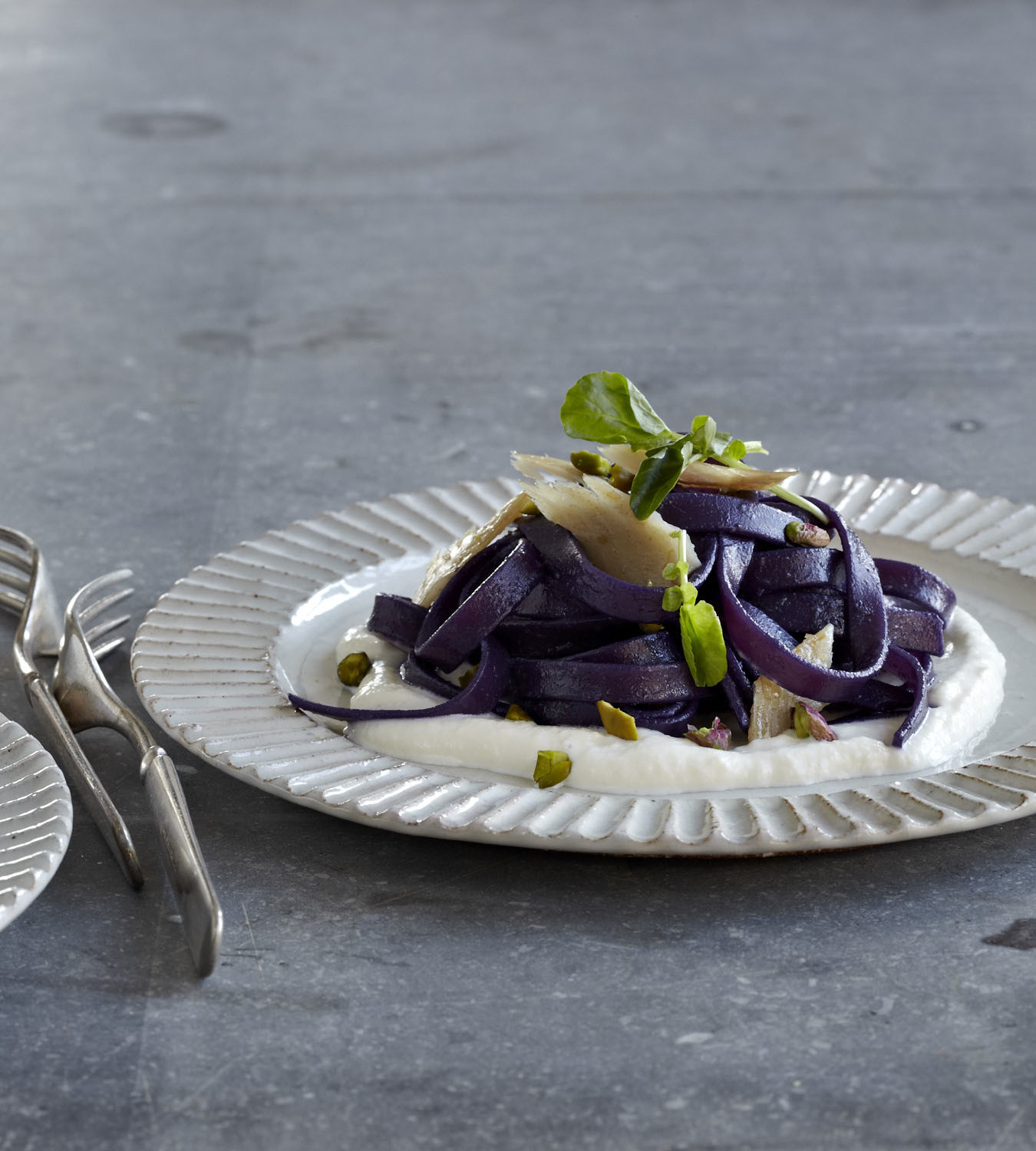 Serves 2 
From: Pasta Modern: New & Inspired Recipes from Italyby Francine Segan (Stewart, Tabori & Chang)
1 head red cabbage
1/2 pound spaghettoni or any long pasta
Salt
Olive oil
1/4 pound burrata or fresh mozzarella 
3 ounces smoked trout or whitefish, flaked
1/4 cup toasted pine nuts
A few sprigs of watercress
Using a electronic juicer, juice enough red cabbage to get 1 1/2 cups of liquid. Bring 1 cup of juice to a boil in a skillet wide enough to hold the pasta.
Meanwhile, parcook the pasta in a pot of boiling salted water for 2 minutes. Drain and add to the red cabbage juice to finish cooking, occasionally adding more juice, a little at a time, so it absorbs into the pasta and creates a glaze. When the pasta is al dente, stir in a tablespoon or two of olive oil and toss over high heat for a few seconds until well amalgamated. 
Meanwhile, puree the buratta cheese in a blender or small food processor with a little olive oil until creamy. (If using fresh mozzarella, which is drier than buratta, add 3 tablespoons of heavy cream.) 
Spread the burrata cream on the bottom of the serving plates, top with pasta and garnish with smoked fish flakes, pine nuts and a few tiny watercress leaves.
*This recipe is best made with 1/2 pound of pasta so the juice can reduce down more easily as the pasta cooks. If making more, just double the ingredients and use 2 pans.
Leek Glazed Spaghettini with Pancetta
Spaghettini Glassate ai Porri 
Serves 2*
From: Pasta Modern: New & Inspired Recipes from Italy by Francine Segan (Stewart, Tabori & Chang)
Flame-charred leeks are juiced and then combined with bits of smoky pancetta and a touch of wine. The pasta cooks right in these delicious liquids, creating a silky, glossy sauce. An outstanding dish!  This masterpiece is by Michelin star chef Niko Romito. 
4 pounds leeks
2 ounces pancetta or bacon, finely minced
1/2 cup white wine
Salt
Cayenne
1/2 pound spaghettini, angel hair or other thin pasta
Olive oil
Parmesan cheese
Wash the leeks and cut off the root ends, but keep them whole. Broil or flame-grill them, until the outer leaves are charred and the insides soft, turning to char all sides, about 30 to 40 minutes. Once cool, process through a juicer or vegetable extruder. Discard the pulp, reserve the juice.
In a skillet wide enough to hold the raw pasta horizontally, cook the pancetta over medium heat until crisp, about 3 minutes, then pour in the wine, scraping up any brown bits with a wooden spoon. Add 1/4 cup of the leek juice, season with salt and a pinch of cayenne, and bring to a boil. Add the raw pasta and stir, adding additional leek juice a few ladlefuls at a time as needed, until the pasta al dente, about 6 minutes. At the end, stir in a tablespoon or two of olive oil and toss over high heat until all the leek juice is absorbed and the pasta has a pretty glaze. 
Twirl forkfuls onto a plate and serve immediately. Sprinkle on finely grated cheese, ideally grated on a microplane.
* This recipe is best when made with just ½ pound of pasta in one pot so you can more easily control the amount of liquids and finish with a creamy glaze. If you'd like to double the recipe be sure to use 2 pots. 
Zucchini Glazed Pasta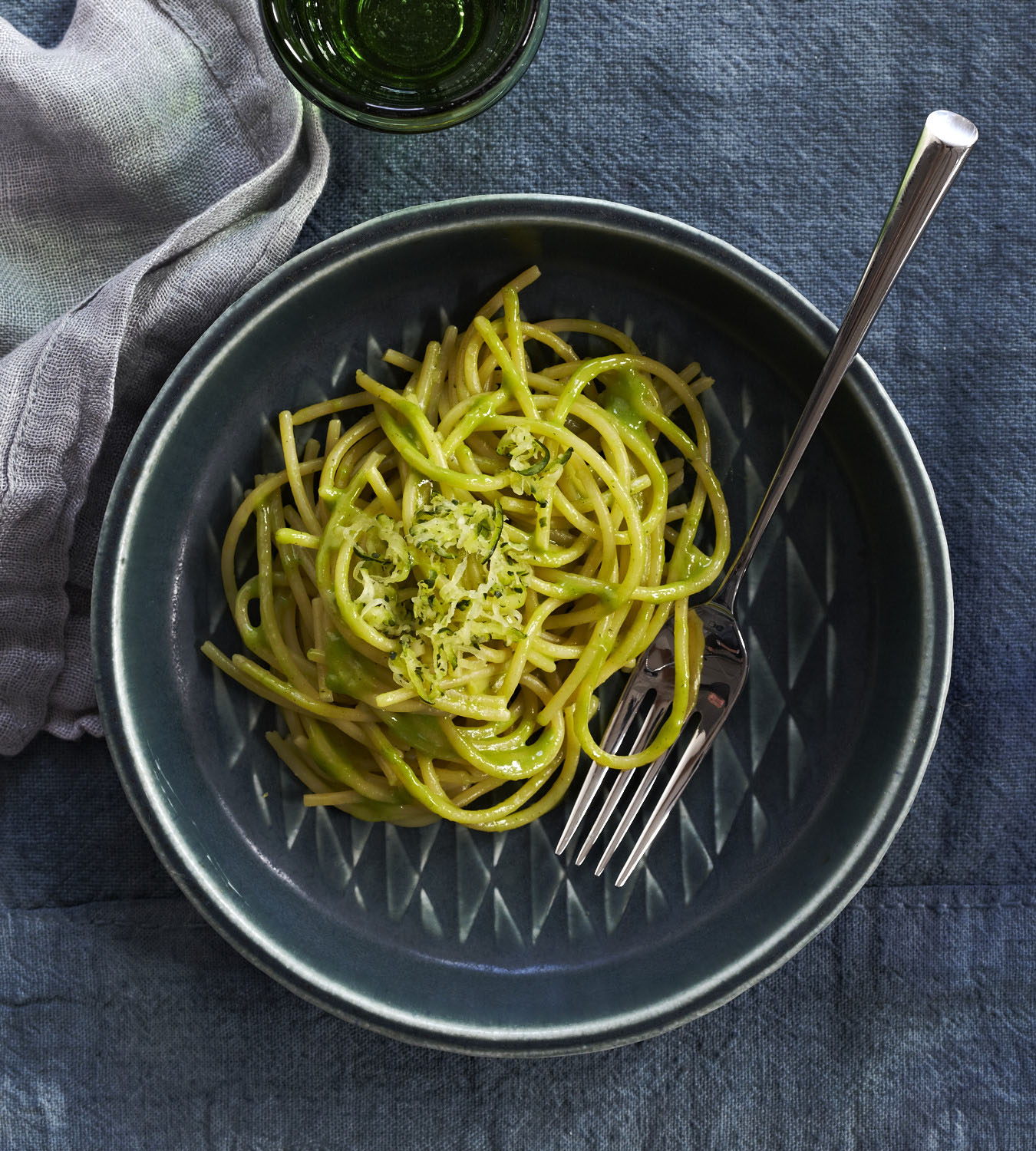 From: Pasta Modern: New & Inspired Recipes from Italyby Francine Segan (Stewart, Tabori & Chang, 2013) 
Serves 2, but you can easily double or triple it! 
The zucchini does double duty as both cooking liquid and topping. Grate the zucchini and use the delicious green juice that forms to cook the pasta. It makes a gorgeous glossy sauce. The remaining grated pieces are then tossed with hot pasta so none of the vibrant, fresh veggie goes to waste. I like the recipe because it's simple but has a fancy, chef-y touch. 
3 large zucchini
Salt
1 to 2 garlic cloves, minced
1/2 pound farro, kamut or spelt spaghetti, preferably Felicetti brand
Olive oil
Parmesan or other aged cheese, optional
Line a colander with cheesecloth and place it in a large bowl. Grate the zucchini on the smallest holes of a cheese grater into the colander. Toss the zucchini with a pinch of salt and the garlic and let rest for 1 hour at room temperature. 
Squeeze the zucchini to extract all the liquid; you should have about 1/2 cup of juice. Set aside both the grated zucchini and the juice. 
Parboil the pasta in lightly salted boiling water for half the time suggested on the package, then drain. Bring 1/4 cup of the zucchini juice to a boil in the now empty pasta pot. Toss in the pasta and cook on medium, stirring occasionally, until al dente, adding more zucchini juice a little at a time so it absorbs into the pasta and creates a nice glaze. 
Now you have a choice on how to finish the dish. You can either toss the pasta with the raw grated zucchini and top with a drizzle of raw olive oil or, if you prefer, fry the zucchini in a skillet on high heat with 2 tablespoons of olive oil, until crispy, and then toss into the pasta. Serve the pasta topped with grated or shaved cheese, if you like.