There's something fishy about a certain type of food tour guide — the one with a glint in his eye and a never-failing acquiescence to his hungry clients' wishes, no matter how out-of-sync they might be with local culinary customs. You might spot him waxing poetic about Pugliese burrata in, say, Bologna, or singing the praises of Sicilian cannoli on the streets of Florence.
Whether it's your first trip to Italy or your fifteenth, you'll want to steer clear of this character.
If you're a stickler about eating food in its proper context, and stubborn to a fault about embracing local tradition when you travel, then Marco Romeo, the Palermo-born founder of Streaty Tours, is a kindred spirit. (And for the record, even if "stubborn" isn't how you'd describe your travel sensibilities, genuine curiosity and a nose for new foods and experiences will get you far with him and the Streaty crew.)
Backstory and mission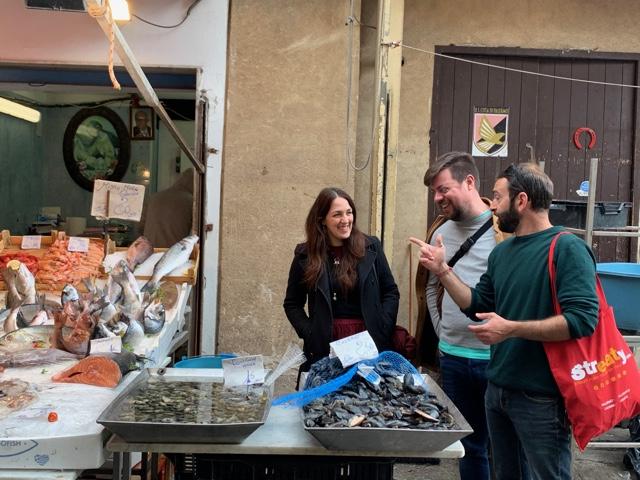 Marco founded his company back in 2013, in response to the proliferation of global chains in Italy and his growing passion for defending the integrity of region-specific cuisine – and street food traditions, in particular. Active in Marco's hometown of Palermo, along with Catania, Naples, Florence, Venice (and, beginning in 2023, Rome), Streaty can help you find the savoriest cicchetti, or give you the full scoop on how Buontalenti gelato came to be. But they'll only do so in the places where those foods are truly part of the local fabric. 
If that's sounding a little preachy or pretentious for your taste, think again. The Streaty approach is much more fun, honest and engaging than being fed Fake (food) News that's only designed to pander to undiscerning masses and confirm old-hat stereotypes. Italy isn't one big "lasagna-land," and Streaty embraces this fact as a central part of its mission. 
You'll bite into baccalà in Venice, try panelle in Palermo, or delight your senses in Florence's Sant'Ambrogio or Naples' Pignasecca markets (hubs of local life, not made to entertain — though we'll admit they deliver on that front). Adding to the authenticity factor, all tours are led by Italians who hail from or live long-term in the spotlighted city. "The guiding principle for our tours is treating travelers as if they were visiting friends," Marco says. Say you're in Venice, for example: Streaty guides will steer you away from those over-eager waiters swindling you into overpriced trattorias. They'll walk you straight into their favorite local Bacari, Venetian tapas bars, as if you were buddies on your way to after-work drinks.
So, if less-contrarian food tour companies are like loose acquaintances, telling you what you think you want to hear, Streaty tour guides, like all true friends, won't hesitate to challenge you or gently push you to expand your horizons. All the tours, for example, offer firsthand explorations of foods that could be considered, as Marco puts it, "challenging." But there's a reason the group sticks to its guns: "It's not out of pure desire to challenge or provoke," he says. "We do it specifically because we want travelers to discover the cuisine of our grandparents, the cuisine of the people, which today is at real risk of extinction."
The textbook example of this is Streaty's street food tour in Naples. As Marco puts it, Naples is the "capital of discomfort." It can be overwhelming, but it's much more exciting than anxiety-inducing when you feel "part of the circus," Marco says. Streaty guides want you to understand the Neapolitan street spirit and warmth. They won't shy away from taking you deep into the city's raucous corners, such as the Quartieri Spagnoli, a spider web of squared blocks overflowing with shouting vendors, roaring scooters, sizzling street foods and laughing friends. 
Food as a lens for Italian life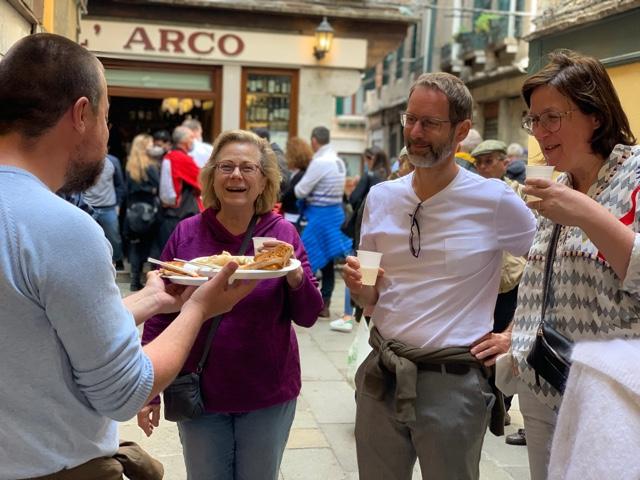 Streaty is young, fresh and dynamic. Most clients, at the end of their tours, say they feel they've spent a half-day with "a long-time local friend." Streaty's guides are spirited and super-social, yet in many ways, what they're offering is an antidote to the overly "Instagrammable" and hyper-curated culture that's dictating taste trends these days. Trends and flavors-of-the-month hold little interest for Streaty's team, and the travelers who hop on their tours find them all the more intriguing for it. "We show Italian life as it is, without filters," Marco says. And that extends beyond just food: "We'll talk about the pros and cons of living in Italy, sharing the beauty, but also [touching on] social problems and controversial topics."
Food is the beating heart of Italian culture, as Marco describes it; so many aspects of a society's memories, values, demographics and periods of upheaval can be gleaned by closely examining its cuisine. All Streaty tours place dishes and delights in their historical context, and are peppered with colorful anecdotes and conversational tidbits that bring foods, their home cities, and their cooks and consumers to life. In a nutshell? Street foods, busy markets and cucina povera ("peasant cuisine") offer priceless insight that swanky locales with celebrity chefs and geographically neutral menus just can't touch.
Giving back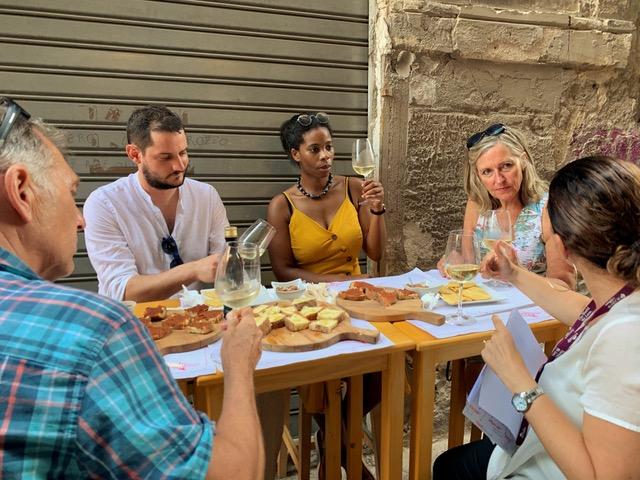 Streaty's straight-talking, beyond-the-surface approach isn't set up to earn the company millions, but instead to bring travelers into contact with the real Italy, in all its richness and regional complexity. The company isn't interested in cornering the culinary tourism market, but in being a part of reshaping it. Their main aims? To better respect local residents and the environment, and to use this "slower" and more locally anchored form of tourism as an engine to support small, family-run businesses and keep sacred street food traditions alive.
That big-hearted mission is resonating with many people, platforms and publications. Streaty Palermo tours have been ranked as one of the top 20 food experiences worldwide on TripAdvisor for the past three years, and the company has been spotlighted by travel bibles including Lonely Planet, as well as on food-centric programs on BBC1, Food Network and more. 
Just say no, then, to oversimplified pizza-pasta-sunshine tours, and opt for opinionated, frank, and unapologetically local flavors on your next trip. 
Get in touch
Website
Instagram: @streatytours