Once upon a time, there was Ferragosto desert. If you found yourself in any Italian city on August 15, you would have thought the apocalypse had come: deserted streets, store shutters down, factories closed, not a soul in sight.
Ferragosto - a national holiday in Italy - was a day for gavettoni (water balloons) on the beach and for family grigliate (barbecues); most households had been at the beach since the beginning of August, and the day marked the height of summer, after which the 'burrasca di Ferragosto,' a low pressure area associated with a drop in temperatures, was likely to arrive to signal the end of summer was nearing and, with it, the return to work or to school (now, meteorologically speaking, summer begins on average two weeks earlier and ends two weeks later compared to the 1960s, with temperatures 2C higher on average).   
Roughly until the end of the 1990s, August was the time of the great exodus, when city factories and offices and stores and restaurants all closed at the same time. Holidaymakers usually headed off for at least three-four weeks, mostly al mare, to the beach (down to 10 days on average now). Children were likely already there, looked after by nonni, grandparents, since June or July.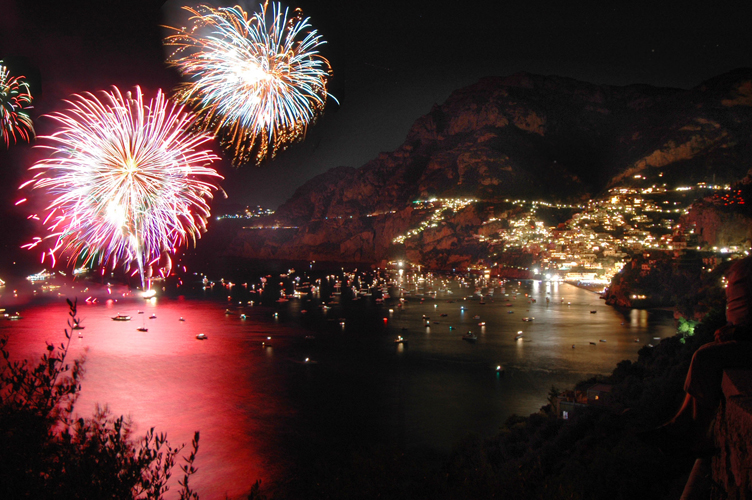 [Ferragosto fireworks on the Amalfi Coast.]
Oh, how things have changed, and not just weather wise: far from empty, Italian cities now buzz not only with residents unable (for lack of money or because their companies no longer shut for the entire month of August) or unwilling (no desire to travel in the high season) to go on vacation, but also with increasing numbers of tourists, Italian and foreign, as traveling has become cheaper and easier for everybody.
Cities have responded accordingly: a large number of open-air events, festivals and concerts are organized all throughout the summer. Museums no longer close on Ferragosto; on the contrary, to attract more visitors, they often schedule special events, themed tours and discounted entrance tickets. Shopping malls remain open and, well, you almost get irritated if you discover that your favorite restaurant or gelateria has closed for a few days – 'what are they thinking, with all the tourists around, this has become a great time of the year to do business!', you seethe, touchy from the heat.  
For me, when I was a teenager and all through my university years, it would have been inconceivable to spend the month of August, let alone Ferragosto, at home in Bologna. I would have found the city disquieting. But for the last several years, I haven't taken a vacation in August, first because I can (meaning I prefer to travel in the low season when the crowds decrease and with them the prices), second because I've come to enjoy August in the city. There's no longer a sense of desolation. I can go to Piazza Maggiore to catch a movie under the stars while enjoying the pleasant breeze that sweeps the square at night thanks to the 'Sotto le stelle del cinema' summer festival. I can, say, take an astronomer-led tour to watch the shooting stars as the night of San Lorenzo (August 10) nears, or any other of the many guided tours organized in summer. I can watch a musical performance or have dinner at one of the many trattorie and agriturismi that have recently opened in the hills.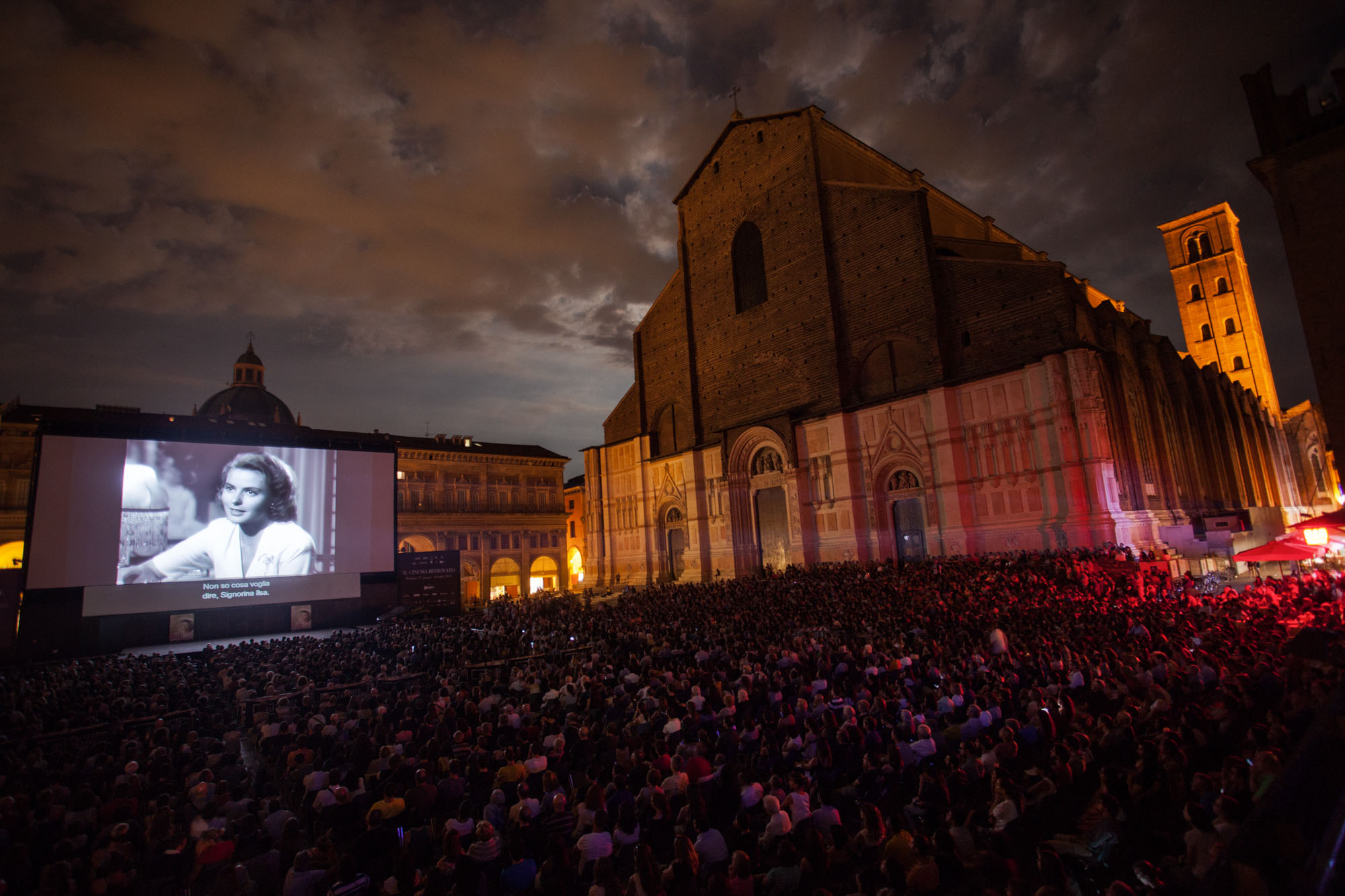 ['Sotto le stelle del cinema' summer movie festival in Bologna's Piazza Maggiore.]
Granted, August remains the preferred month of vacation for 60,3% of Italians. But the time for ferie has begun in recent years to spread over the summer months, from June to September, with a significant increase this year in the number of people choosing to go on holiday in September (19,5%, compared with 12,4% in 2017). August is still chosen mostly by families, and by those who work for companies that still close down in August (less and less of them; the globalized economy does not go on holiday and foreign customers do not really care that Italians traditionally take their vacation in August).
And the beach is definitely still the favorite summer destination of Italians, with 67% opting for the sea, and only 9% for the mountains.
The tradition of taking a long period of rest in August goes all the way back to Roman times: in 18 B.C., emperor Augustus introduced the Feriae Augusti (Holidays of Augustus), for people to take a break after the intense agricultural labor of the previous months.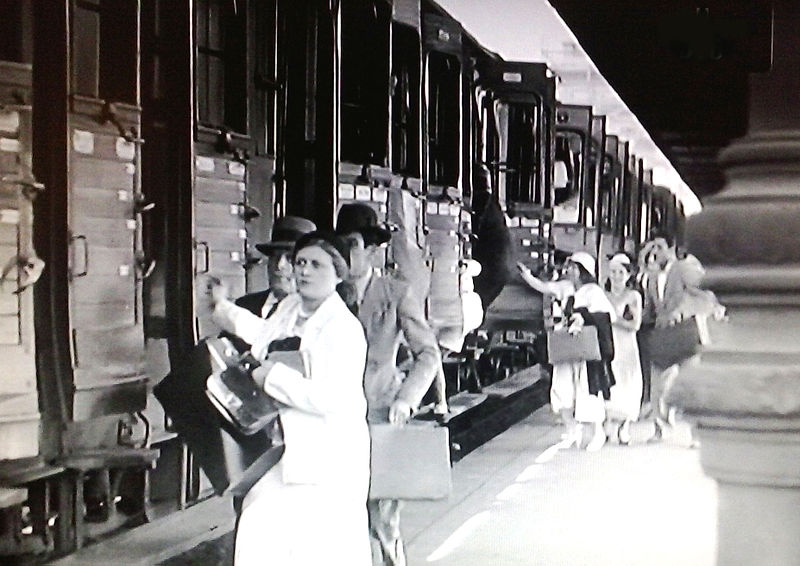 [What popularized Ferragosto was the Fascist regime, with the introduction of the discounted 'People's Trains of Ferragosto'.]
What popularized Ferragosto was the Fascist regime. From the second half of the 1920s, the government began organizing hundreds of trips through its post-work recreational organizations, later setting up the 'People's Trains of Ferragosto' (which ran between 1931 and 1939), special train rides made available at discounted prices in August, and especially on the 13th, 14th and 15th. The initiative gave the chance to less affluent people who couldn't otherwise afford it to travel and spend time at  seaside or mountain resorts. It represented the precursor of mass tourism, although it had to do mostly with city dwellers and workers, not with farmers and countryside folks.
Since the Fascist-sponsored trips did not include the food, the tradition of packing lunch and the associated picnic was born then. Today, the Ferragosto lunch is still a major part of the holiday, with family and friends gathering at the freshest possible spot for feasts that often lightheartedly disregard dietary guidelines for hot weather. Nope, Italians will happily gorge on baked pasta (after having happily sweated over scorching ovens and frying pans), roasted pigeons and free range cockerels, all kinds of grilled and cured fatty meats, stuffed vegetables, breads, wine, to finally end the meal with the only nutritionist-approved summer food on the menu, cocomero (watermelon).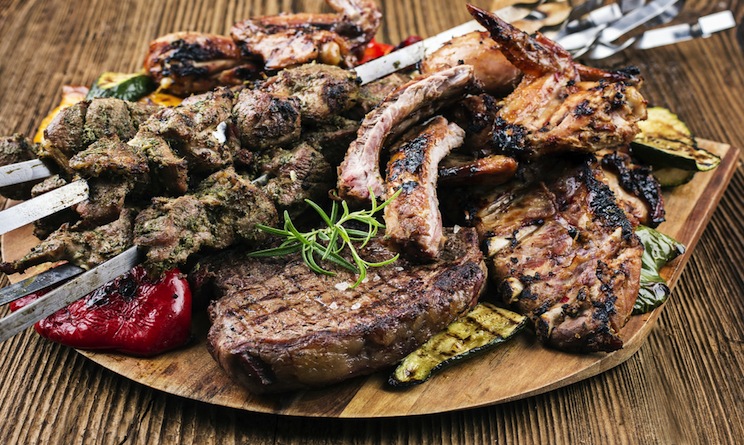 [Grigliata di carne - barbecued meat - is a must on Ferragosto.]
Vacation habits may change, but when it comes to conviviality around the table, copious amounts of food, and celebrating, Italy still sticks to tradition.
Data cited in the article provided by hoteliers' association Federalberghi.
Want to practice your Italian on Ferragosto? Read our Dual Language article.