If Florence is your destination, it's more than likely that you will arrive at the station called Santa Maria Novella, or Firenze SMN for short. It is Florence's main station, built in the Modernist style in 1934, used by 59 million passengers per year, and named after the nearby enormous Dominican church begun in 1246. Normally areas near stations are rather seedy and to be avoided, but this is the exception. In this little area there are so many treasures that you could spend a whole day within a small radius.
Crossing the road in front of the station you will immediately see the church, and walking down the side will come to a lively piazza where its lovely facade is shown to full advantage. If you look closely, the Renaissance facade by Alberti complements the lower gothic arches with circles above, and the scrolls conceal the chapel roofs. The whole effect in green white and pink marble is a reminder of what many other churches might have looked like from the outside if only the Florentines had got round to finishing them. (The rough brick facade of San Lorenzo springs to mind.)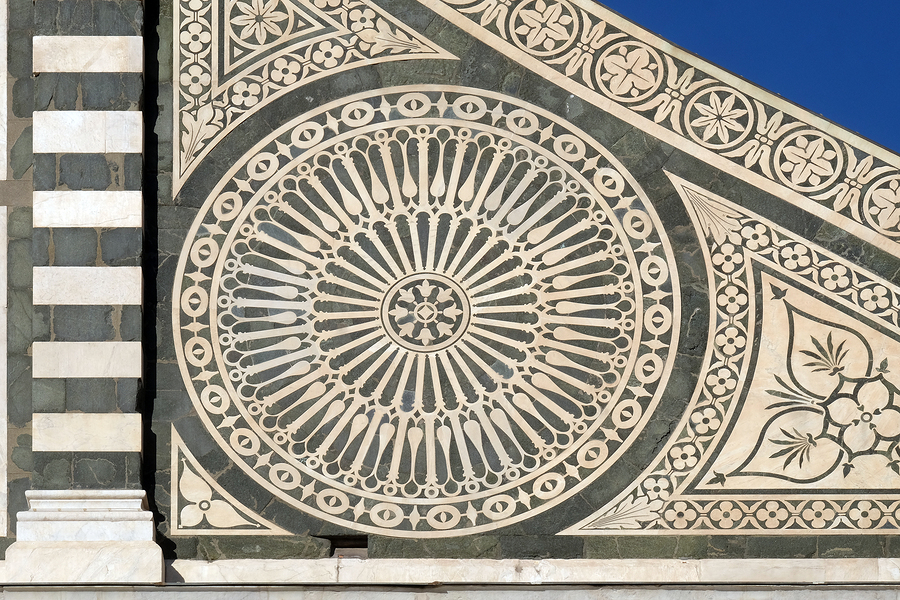 [Detail from facade of Santa Maria Novella Dominican church in Florence, Italy]
As in many of Florence's most important churches, there is an entry fee. At the moment it is reduced from €7.50 to €5 because of restoration work in the Green Cloister, so it's a good time to go.
The nave looks vast, but it's partly an illusion: the pillars are placed closer together as you approach the chancel. Immediately opposite you as you enter is a superb small fresco 'The Trinity' by Massaccio, painted in about 1425, with bold use of perspective and his characteristic pink colour. The famous inscription over the painted skeleton translates as a chilling reminder of mortality: 
                "What you are, I once was: what I am, you will become."
Santa Maria Novella has not one but two cloisters, the smaller of which was terribly damaged by floods in 1966. The water came half way up Uccello's frescoes, but they have now been removed for restoration and can be seen in the little museum just beyond.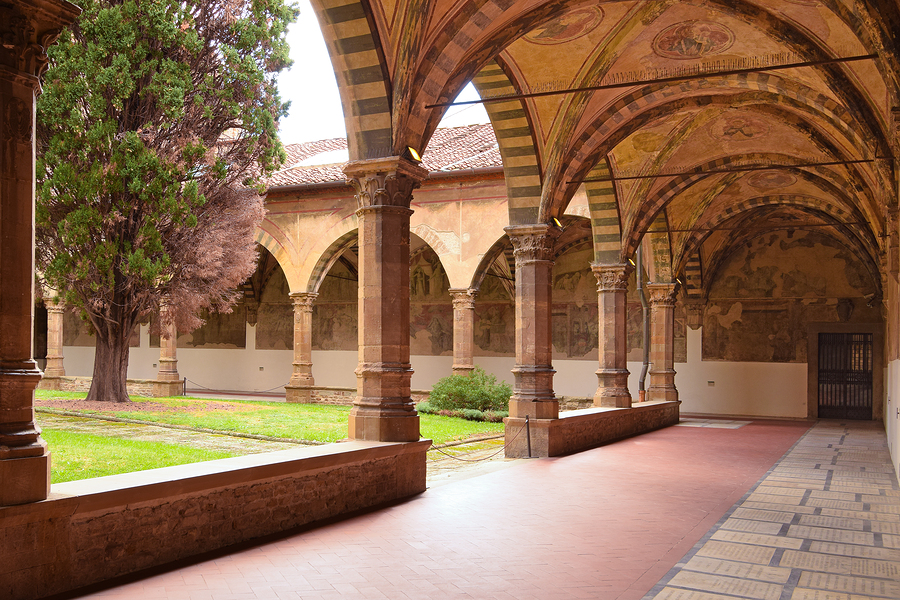 [Cloister garden Santa Maria Novella in Florence]
For me the most unexpected visual treat is the Spanish Chapel. This has rich 14th century frescoes all over the walls and ceiling by an otherwise unknown artist, Bonaiuti. It's fascinating to see how he visualised Florence's cathedral before it was even built. At the bottom of this scene of life in medieval Florence you can see lots of dogs, a visual pun on Dominicans: 'Domini canes' - dogs of God, a very appropriate depiction as the Dominicans were fearsome vigilantes of 13th century Catholicism.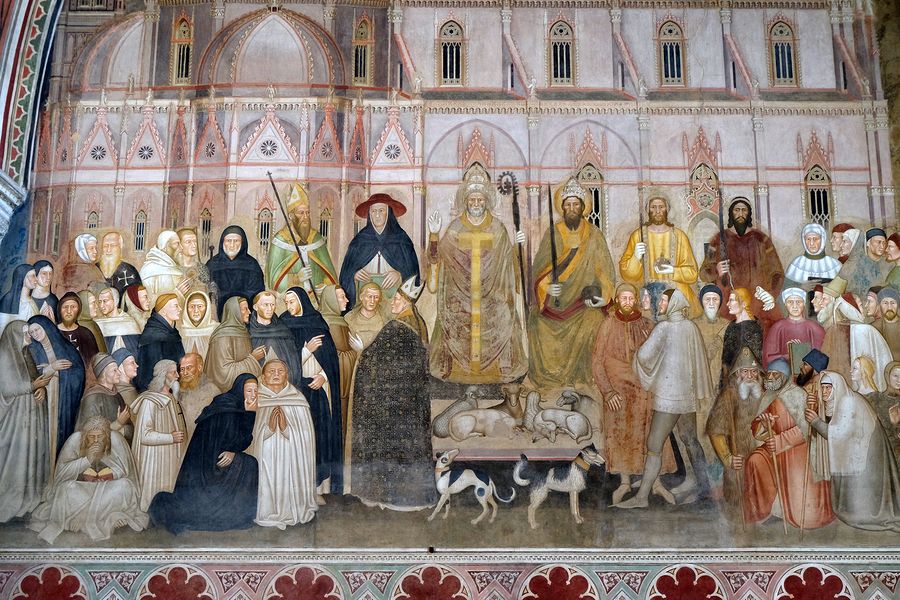 [The Active and Triumphant Church detail, fresco by Andrea Di Bonaiuto, Spanish Chapel in Santa Maria Novella Principal Dominican church in Florence, Italy]
In addition to all these wonders, Santa Maria Novella has not forgotten that this is the year of Leonardo da Vinci. In the Great Cloister, which you can enter from the station side of the church, is 'The Botany of Leonardo' exhibition which aims to bridge art, science and nature. It is family-friendly, with interactive installations to remind us that the genius Leonardo was the first to discover dendochronology (dating trees by the rings in their trunks) and phototropism (how plants react to light). In the cloister are 5 wooden polyhedra originally drawn by Leonardo in his work on divine proportions. As well as three original books, the Codex Atlanticus, you can see examples of his famous backwards writing - using a mirror to read it!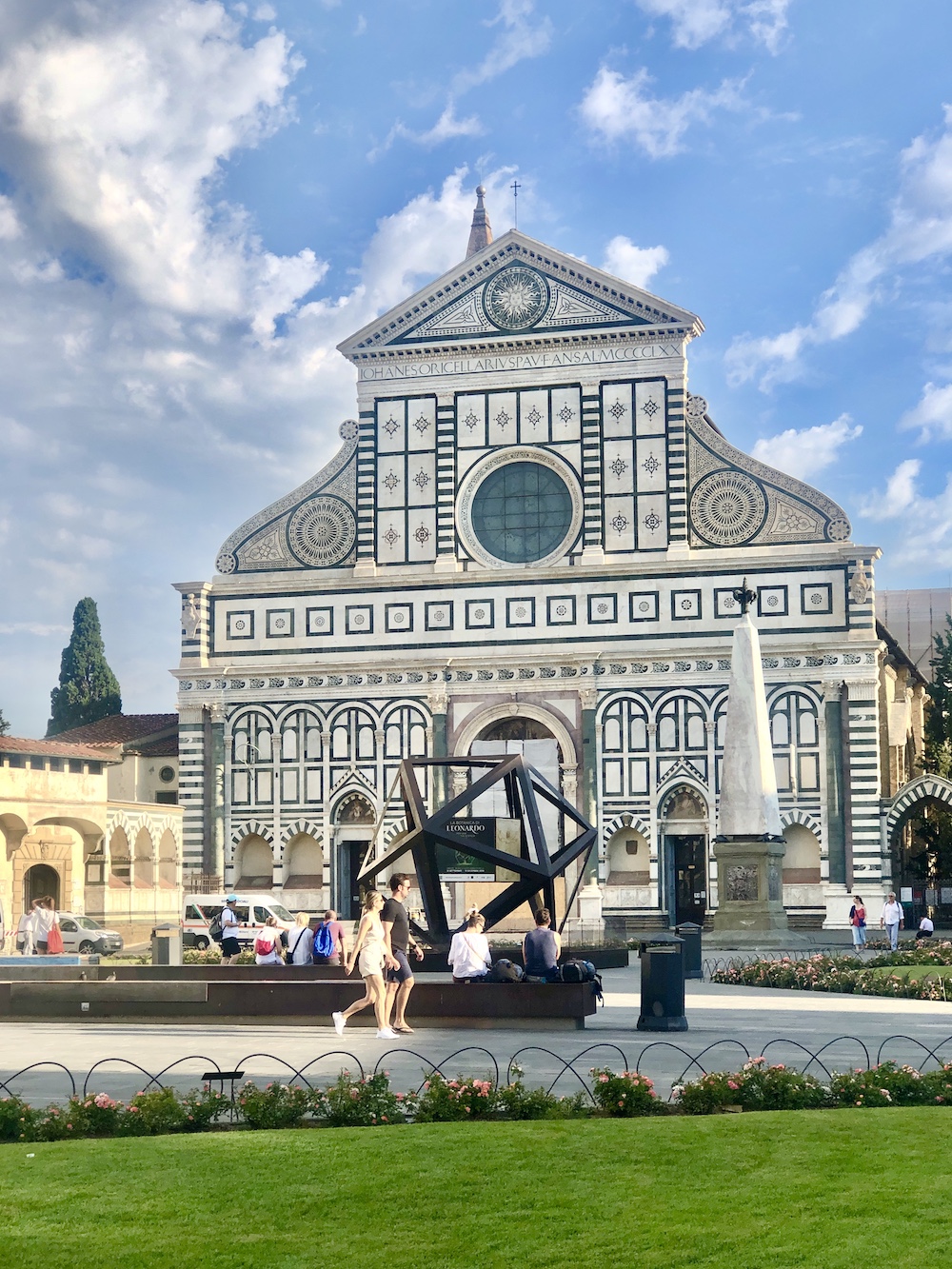 [The Dodecahedron in Piazza Santa Maria Novella. Ph: Georgette Jupe-Pradier]
Leaving behind all things spiritual, it's time to discover the 17th century world of commerce.
Returning to the piazza, just around the next corner is via della Scala. At number 16 is the Farmacia di Santa Maria Novella, little changed since the 1600s.The gentle perfumes in each room combined with old bottles, carved wooden shelves and marble floors make it an absolute delight. You can of course buy beautifully packaged soaps and lotions. There is even an elegant tea room beyond the perfumery.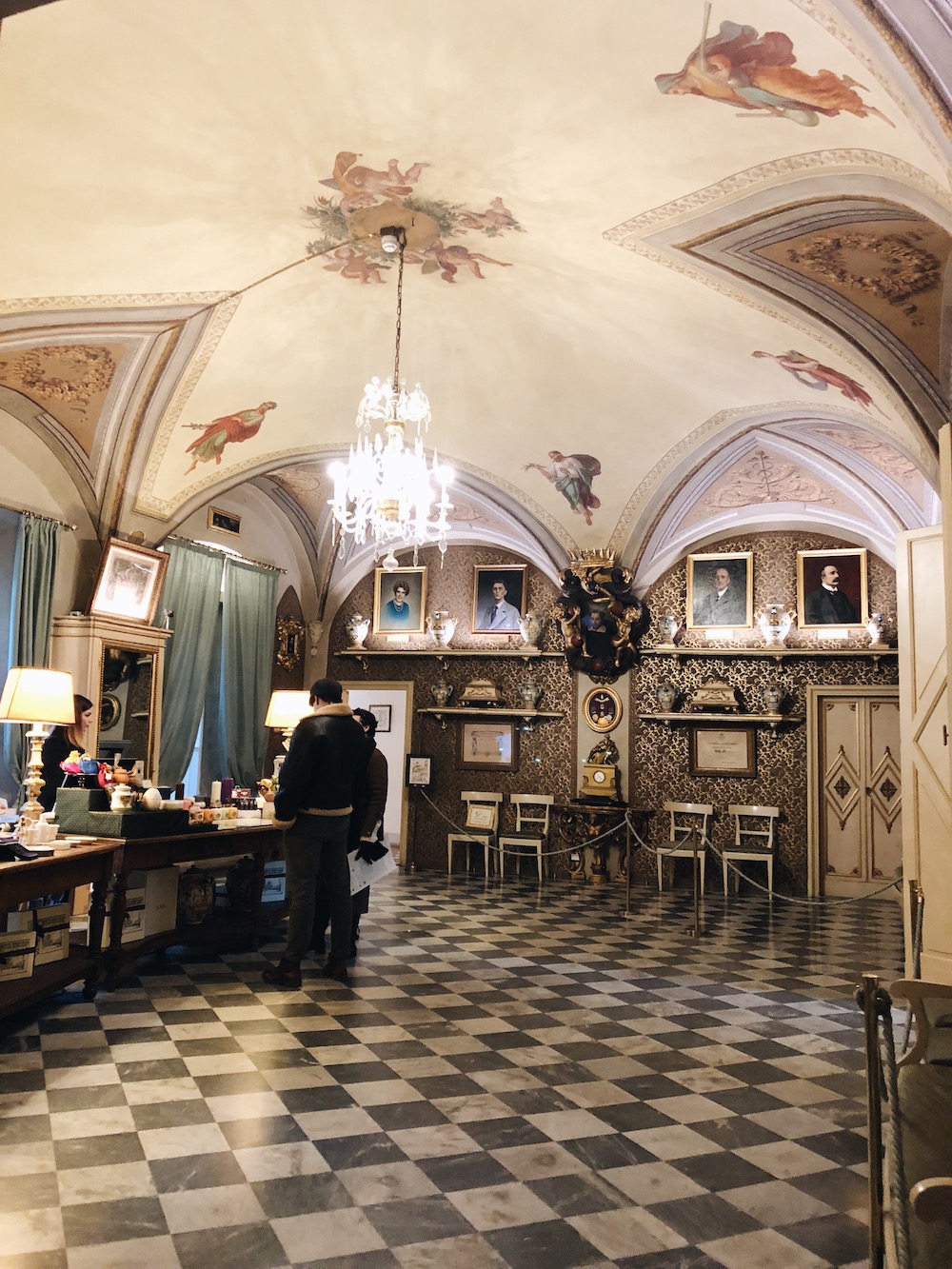 [Officina Profumo-Farmaceutica di Santa Maria Novella, photo by: Georgette Jupe-Pradier]
After all that art and history it will be time for a good meal, and where better than just across the road from the Farmacia, the Osteria Pastella. Here, there's usually someone in the window making their famous hand made pasta, and if you fancy eating here, which I highly recommend, you should book or risk being turned away. It will be filled with tourists, but they cut no corners in producing superb quality meals as well as offering pre-dinner prosecco and post-dinner limoncello.
Their most spectacular dish is 'tagliatelle flambé alla bottarga in crostata di Gran Padano' made using half a wheel of Parmesan cheese into which the waiter at your table pours brandy and sets it alight. As the cheese melts, it is scraped off the sides to form a creamy sauce to which is added various other ingredients - at this time of year truffle oil and shavings, served with their fresh pasta. Words fail me in an attempt to describe how delicious it is! The chef, Giovanni Montagnolo deserves a big 'bravo' for his interpretation of the dish suggested by their Sardinian consultant.
Florence is probably the richest city in the world for art treasures of the Renaissance. My moment of epiphany came in San Marco with its moving frescoes by Fra Angelico which inspired my life-long love of Italian art, but that's quite a walk from the station. Who'd have thought that by just crossing the road you could find such wonders on the station's doorstep?
Farmacia Santa Maria Novella; 16 via della Scala
Restaurant contact:, Info@osteriapastella.it Tel: 0039 552670240