Past to present, Italy, it seems, is synonymous with scandalous erotica. Some academics claim Rome as the birthplace of modern pornography. Its roots are said to begin with the print culture of the Italian Renaissance; in particular, 'I Modi' (The Ways), a set of sexually explicit engravings designed by Giulio Romano and published in 1524 by Marcantonio Raimondi. The scandal caused Pope Clement VIII to cast Raimondi in prison – until his release the year after helped by author and satirist Pietro Aretino, himself credited as the controversial founder of (literate) modern pornography. Two such works of his are considered masterpieces. The Lust Sonnets or 'Sonetti Lussuriosi' (1527) - later known as 'Aretino's Postures' – mix sexually explicit sonnets with the engravings of Romano from 'I Modi'. Continuing the adult theme, the ensuing 'Ragionamenti' (1534-36) was to prove popular in aristocratic circles - and become the future prototype for pornographic prose.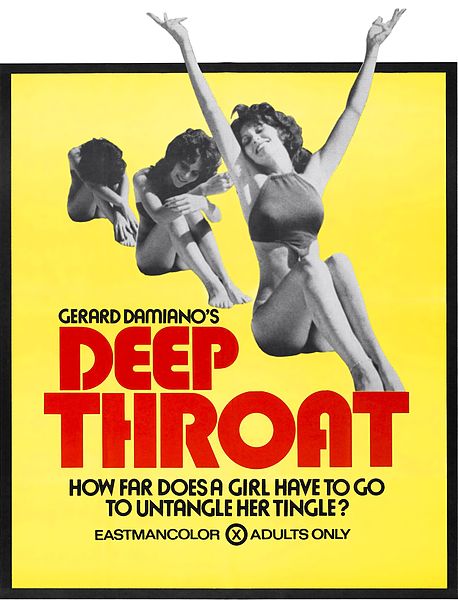 Fast-forward four centuries… and at the centre of controversy is pioneering Italian-American, adult movie-maker Gerard Damiano. His 1972 landmark film 'Deep Throat' caused a worldwide sensation. Overnight, its notorious female star personified the sexual revolution. Writer/director Damiano cast unknown Linda Susan Boreman and renamed her Linda Lovelace in the groundbreaking vehicle he created for her. The results made cultural history. 'Deep Throat' was both the highest-grossing film of the decade and a scalding talking point. As the first hard-core adult film to reach a mass/mixed sex audience, its racy reputation came rife with contradiction - rocking church and establishment, yet embraced by the middle classes as liberating 'porno chic'. Famously ruled as obscene by one judge, 'a Sodom and Gomorrah gone wild…,' yet initially defended by feminists as sympathetic to women's emancipation, and later dropped as emblematic of male oppression. It was banned in numerous locations throughout the U.S. and the world over, yet adopted as a 'cause celebre' by Hollywood liberals, including director Martin Scorsese. So fashionable was its 'free love' topic, and its cult status so recognised that Damiano's title 'Deep Throat' would enter the dictionary and be adopted as code phrase for high-ranking clandestine sources – from coverage of the Watergate scandal in the Washington Post right up to the Papal chambers. Apart from Damiano and Linda Lovelace, both granted immunity as witnesses for the prosecution, in 1976, the U.S. brought obscenity charges against most involved in the film. Produced and financed by the notorious Perainos, the film was made over six days for just $25,000. By 2005, it had grossed up to $600 million - according to the FBI's recently released 4,800-page dossier on director Damiano and the film's mafia controlled money trail.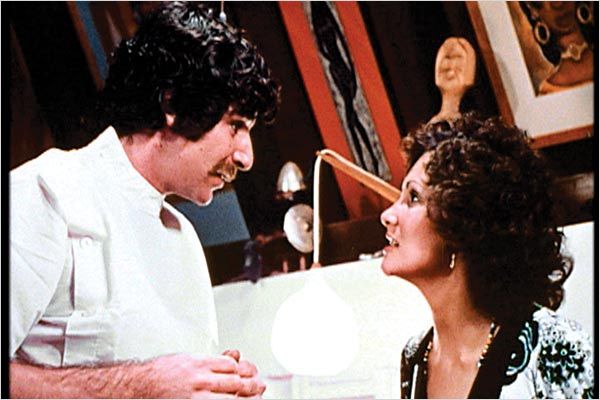 Surprised by his film's rollercoaster success, in ensuing interviews, Damiano attributed its appeal to its 'honesty and humour.' As an auteur in a sleazy and previously niche genre, he also introduced higher production values, psycho-sexual and fantastical elements, female leads cast against the usual pneumatic porn stereotype, and - progressive at the time - storylines centred on women's physical fulfilment. For nearly forty years, from First Amendment freedom advocates to religious groups against obscenity, the debate for and against the film raged on. No wonder the jury was out: new age erotica or different angle age-old exploitation?
A strange career choice
Given Damiano's traditional, if largely fatherless, Catholic upbringing in '30s New York, the adult industry appeared a strange career choice, though Damiano maintained that his porn film portfolio always had couples in mind. The former X-ray technician's later work as a hairdresser had given him an understanding of women, he said. Also an ardent amateur photographer of weddings and baby pictures, Damiano got into films by the late '60s through an industry acquaintance of his accountant's. Liking life on-set, Damiano began chauffeuring, alongside absorbing the newsreel director's attempt at horror film production on the cheap. Gifted a camera, he plunged into making semi-educational sex documentaries. With the then novel idea of a feature length adult movie in mind, he 'auditioned' for the Perainos by making some of their XXX silent peepshow 'loops' while they considered backing his work. (It only later transpired, to Damiano's dismay, that the Perainos were aligned with the Colombo crime family).
Through a meeting with pushy hustler Chuck Traynor, Damiano was introduced to Traynor's partner, Linda Boreman, for featuring in such loops. Her somewhat unique skills hid behind sweet looks ignited Damiano's darker creative interests. Complete with graphic sex scenes, 'Deep Throat' was quickly scripted for her. Damiano's more artily ambitious follow-up to this sensation was 'The Devil in Miss Jones', 1973; an adult affair about a spinster's suicide and sexual exploration in the afterlife. Cast with another unknown, Georgina Spelvin, it again scored in the mainstream. Forced by the Perainos to sell his film rights to 'Deep Throat' to them for $25,000, Damiano went on to find critical favour with the 1974 psychodrama, 'Memories Within Miss Aggie' and 1975's 'The Story of Joanna.' His only non X-rated film, the horror feature 'Legacy of Satan', along with 40 of his other hard-core movies from 1969-1994, could not match the impact of his earlier work. As for 'Deep Throat', it would haunt him in the unexpected return of Linda Lovelace.
Emancipation or domestic violence?
Dubbed by the press as 'The Pandora of Porn', and 'The World's Most Uninhibited Movie Star', Lovelace was initially a sunny symbol and outspoken advocate of sexual freedom. By the late '70s - now housewife on welfare benefit, Linda Marchiano – she painted a darkly different picture of her previous self. She claimed she'd been forced into the porn industry in fear for her life, often at gunpoint, by behind the scenes violence, meted out by her then husband, Chuck Traynor. Her disturbing turnaround as a 'victim and robot' at first confounded belief; however, via repetition and her passing of a polygraph (lie-detector) examination in 1979, Linda's story gained validity. Her definitive 1980 autobiography 'Ordeal' was one of the first accounts of domestic violence. Championed by the women's movement and feminists such as Gloria Steinem, Linda became an iconic anti-porn crusader. Culturally, her gritty take on reality seemed to chime with the threat of AIDS just round the '80s corner. Her testimony to the Meese Commission in 1986 seemed unequivocal: 'Viewers who watch 'Deep Throat' are watching me being raped.'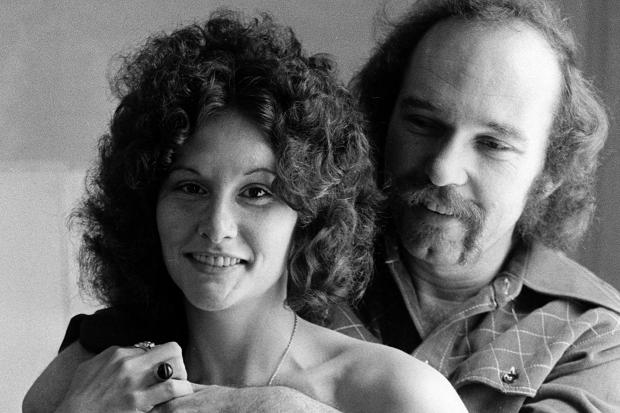 Significantly, Traynor had also kept Linda's paltry $1,250 film fee. Both he and Damiano denied all accusations – though both admitted Traynor had been 'controlling'. Though Lovelace did not implicate Damiano as such, she decried all porn directors as 'low-lifes'. Adding that her bruises from domestic beatings were clearly visible during the film shoot put him in an unwanted spotlight. In the following feminist backlash, Damiano's stance was adamant. He never did accept Linda's exploitation claims. On-camera, he cited the conclusion of a commission of pornography by US president Johnson, that 'porn had no harmful effects on society.' There was 'no basis of truth whatsoever in porn as a catalyst to male violence'. In his view, 'these people against pornography are the sexual outcasts. The people in X-rated films enjoy it. The same with Linda.'
Inferno: A Linda Lovelace Story
In 2005, 'Deep Throat' was the subject of a cultural, but no-holds barred documentary, 'Inside Deep Throat', in which Damiano agreed to be interviewed. Yet still Linda Lovelace's dramatic account of events persists to the present, and forms the basis of two US biopics. Forthcoming film, 'Inferno: A Linda Lovelace Story', stars Malin Akerman.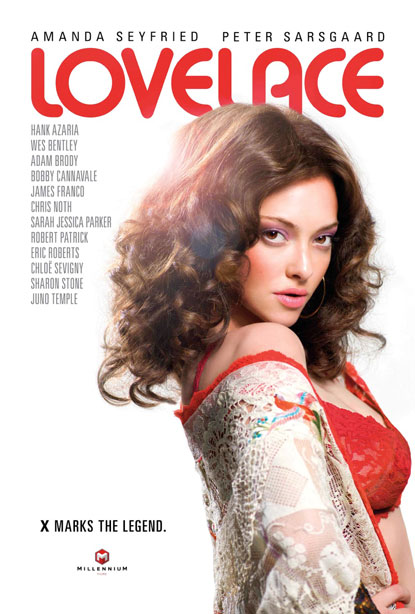 'Lovelace' is already on European general release, with 'good girl' actress Amanda Seyfried (Les Miserables/Mamma Mia!) unrecognisable in the title role. Neither Linda, dead prematurely from an auto accident, nor Damiano, who died in 2008, aged 80, are alive to see today's films. Damiano's surviving son, Gerard Jr., has recently spoken out about the film. As children, he and his sister were allowed on his father's film sets at certain times, and he claims clear memories of the period. 'Before his death, my father and I were working together on what was to be his autobiography. Out of respect for him, I feel obligated to set the record straight,' he stated. 'I know my father's version of the story. It is a story that troubled him to the day he died. But 'Lovelace' is Linda's story, not his.' Gerard Jr. claims that most of the film, abusive domestic relationship apart, is 'fiction' and that 'scumbag' Traynor 's 'complicated dominant/submissive relationship (with Linda) mystified my father.'
Gerard Jr. and the Italian stereotypes in the new movie
Today's 'morality' film is lacking in veracity he feels, and stereotypes Italians including his late father: 'The makers of 'Lovelace' would have us believe that 'Deep Throat' was created by a committee of the worst Italian stereotypes, who were convinced throughout…that they were going to make a fortune…(when) no-one could have predicted the overwhelming success of 'Deep Throat'. He goes on to add that what the film does not explore is Lovelace later coming 'full circle' by posing for a sexy leg magazine and denouncing the feminist movement in the end, for 'using' her. Despite having established the modern adult entertainment industry, Damiano remained ambivalent about his radical content. Questioned both why his name should mean 'nothing but hard-core porn', he mused, 'Why do we need socially redeeming values in these films? Why isn't pornography, in and of itself, of social merit?' Three-times divorced director Damiano considered himself 'a nice guy' in the business. 'I mean, I'd meet an actress and have to say, 'Sit down, take your clothes off – I'm going to ask you to do some nasty things. You have to be pretty nice.' In addition, 'I find pornography by itself to be boring on the screen,' he said in 1974. 'The only thing that perpetuates it is censorship; people like to feel they've been slightly daring to go to a hard-core flick. But sexual intercourse does not lend itself to cinematography. I don't care what the Kama Sutra says. There are not 101 different approaches to the subject. There are only three or four.' As he predicted, 'Deep Throat' became a household term. Like the dual reaction this erotic film entrée provoked, to the end Damiano and Linda his muse held opposing views. 'I just feel sorry that she and I did something together that created a moment in history. For her to say it happened in a way to degrade that time I think is bad.' As for Linda, in 1986, she wrote the following to a film fan: 'You say you have repeatedly written for a signature. Let me explain you should read my book 'Ordeal'. In it you will learn I was not a star or actress but rather an unwilling participant and victim of degradation. I find it difficult when people say they admire my films.' Elsewhere, she added: 'I haven't been able to escape Linda Lovelace, but I've been able to make peace with her.' 'Truth is stranger than fiction,' remarks Gerard Damiano Jr. of his father's most notorious work. Perhaps what holds most true about the ongoing 'Deep Throat'/Lovelace saga is the age-old adage: Sex sells.