Following on from our recent look at Italy's iconic scooter, La vespa, we'll look at a brief history of another iconic vehicle, the much loved Fiat 500.
The Fiat 500, or cinquecento is unmistakably Italian, like the Vespa, its image is universally linked with Italy.  Deriving from the original Fiat 500 Topolino, meaning little mouse the 500 was produced to be an affordable, small car for everyone.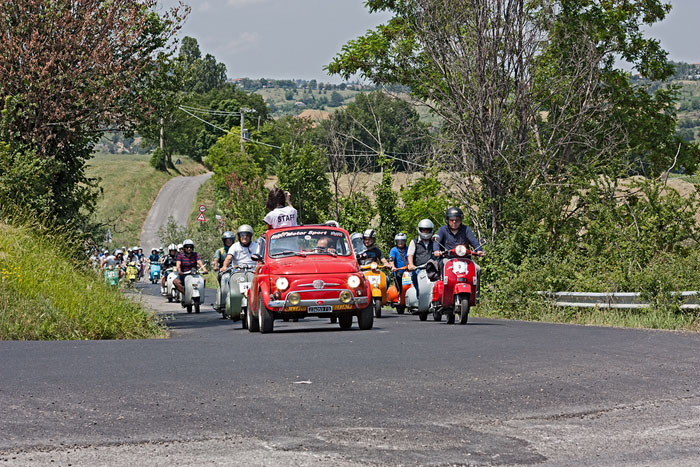 Designed by Dante Giacosa and launched in July 1957 this tiny car that evolved for use in the narrow city streets very quickly earned the name of, 'the people's car'. Measuring just over 2.5 metres long (9 feet) and powered by a 479 cc two-cylinder, air-cooled engine, it was considered to be the first true city car for the Italian driving population.
At its conception many car manufacturers were trying to develop the perfect small car with a low retail price; Volkswagen; which actually translates as, peoples car, had achieved great popularity with their, Beetle with its rear engine, a design concept Fiat would adopt in the construction of their own economy car. The rounded shape and rear engine of the Fiat 500 soon went on to inspire other car manufacturers to emulate its design. With permission from Fiat, Steyr-Puch in Austria produced their own quasi 500 model, but it was Fiat's model that proved popular, not only at home but throughout the European mainland.
Production of the iconic cinquecento ran for only eighteen years, from 1957 to 1975, but it had already secured its place in people's hearts, both because of the low maintenance costs and fuel economy.
The first Fiat 500's were basic two-seater cars made as an economical means of transportation, with rear hinged doors, often called, suicide doors and a 13 horsepower, 479 cc engine. The car had a top speed of  85 km/h (53 mph), but sadly the first model didn't meet the sales expectations, so Fiat designed and created two new versions in the December of 1957, these new 500's were named the Normale and the Economica. Both had an improved 15 horsepower engine, however the Normale now had comfortable rear seating, wind-up windows and indicator controls fixed to the steering column.
Fiat produced a striking white with red stripes, sport version from 1958 to 1960, which had a 499 cc engine with 21.5 horsepower and an all-in-one metal roof: Until then all 500's had the original canvass fold-back tops. This appealed to the younger buyer cementing the car's popularity with a wider age demographic than originally perceived.
Over the following year changes included the Fiat 500 N with its opening sunroof and this again proved popular and with increased demand Fiat realised that they had a new classic in the making. From 1960 to 1965, 500 D arrived, the sunroof was smaller, but now it included padded sun-visors, a screen washer pump, rubber floor mats and an internal ashtray.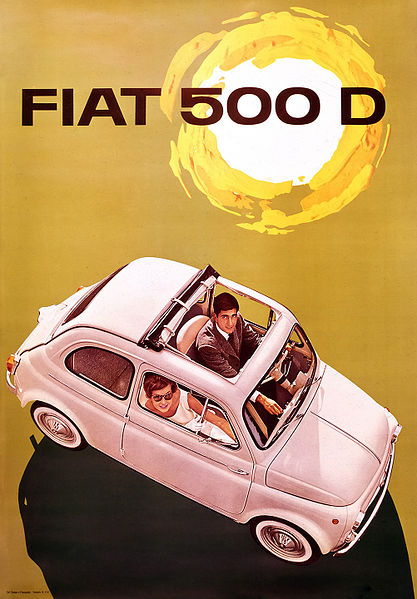 For safety reasons, the suicide doors were finally replaced with front hinged ones on the 1965 to 1968 model, Fiat 500 F. This led men to complain that the new doors didn't afford them the chance to look at girls' legs as they got in and out of the car. The round lights became more angular and squared and the larger windscreen improved driver vision, in this new model with a 'heady' top speed of 120 km/h.
1968 to 1972 saw the Fiat 500 L or Lusso as it was affectionately known come into production. The differences where mostly cosmetic, with an extra chrome bumper at the rear and front. Pleated upholstery to the door panels, a revised dashboard layout and a black steering wheel. Other changes were reclining seats and carpeting, and for the first time the rear name badge spelled FIAT in uppercase lettering.
The final 500 evolved from 1972 to 1975, this saw the Lusso bumpers removed and the interior becoming less luxurious, in truth it returned to the basic interior look of the F model. The only real major change to the new R or Rinnovata model was an improved gearbox.
Production may have ceased but the Italian roads were still filled with huge numbers of these durable little cars that seem to go on forever. As the years passed cars like the Panda took over the small car market, but these classic cars that once were sold cheaply now were changing hands for astronomical amounts, in the early 2000's it wasn't unheard of for an abandoned, un-roadworthy classic Fiat 500 from the 1960's, to fetch up to €3,000: In fact Nicola at my local garage restores classic models and has four beautiful cars in his collection and last month he had to opportunity to purchase an engineless shell of the original 1957 model. It sold for €2,600, the rust was included for free.
Realising the emotional attachment and popularity of the car, Fiat began production once more in 2007, paying care and attention to the design and requirements of the modern driver. Their retro 500 has proven to be a best seller, although larger than its predecessor it still retains the original curvature and iconic look that is expected from the people's car.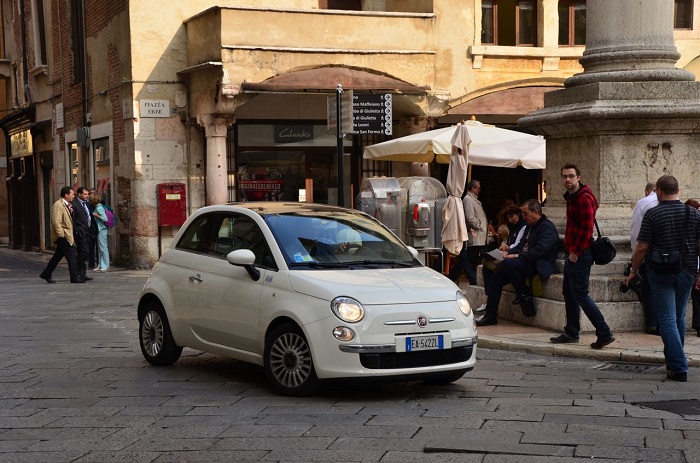 If you can't get the car, at least get this eco-leather bag featuring Italy's iconic 500 in our shop.