For the first time in its nearly 700-year history, Florence's Ponte Vecchio is set to undergo a major restoration.
After the City of Florence announced a comprehensive conservation and restoration plan aimed at addressing the historic landmark's "ailments," some early signs of the work to come — including a floating platform with scaffolding — appeared on the Arno River late this week.
The €2 million public project will be carried out as a joint effort of the Belle Arti (Fine Arts) and Viabilità (Mobility) commissions of Palazzo Vecchio (the city hall of Florence). Mayor Dario Nardella, who participated in an initial inspection yesterday with the construction site's leaders, described the earmarking of city funds as a "major investment that will allow the enhancement of one of the world's greatest icons." 
Though the city confirms that the bridge is structurally sound and poses no danger to the public, after years of taking a beating from the elements — along with constant exposure to moisture from the flow of the Arno River — it's time for some tender loving care. 
Regarding the fanfare with which the "first restoration in history" announcement was made, Nardella clarified that the Ponte Vecchio has undergone "various transformations and numerous consolidations over the years, most recently after the dramatic flood of 1966, but never before has any project addressed the state of its stone and decorations."
What to expect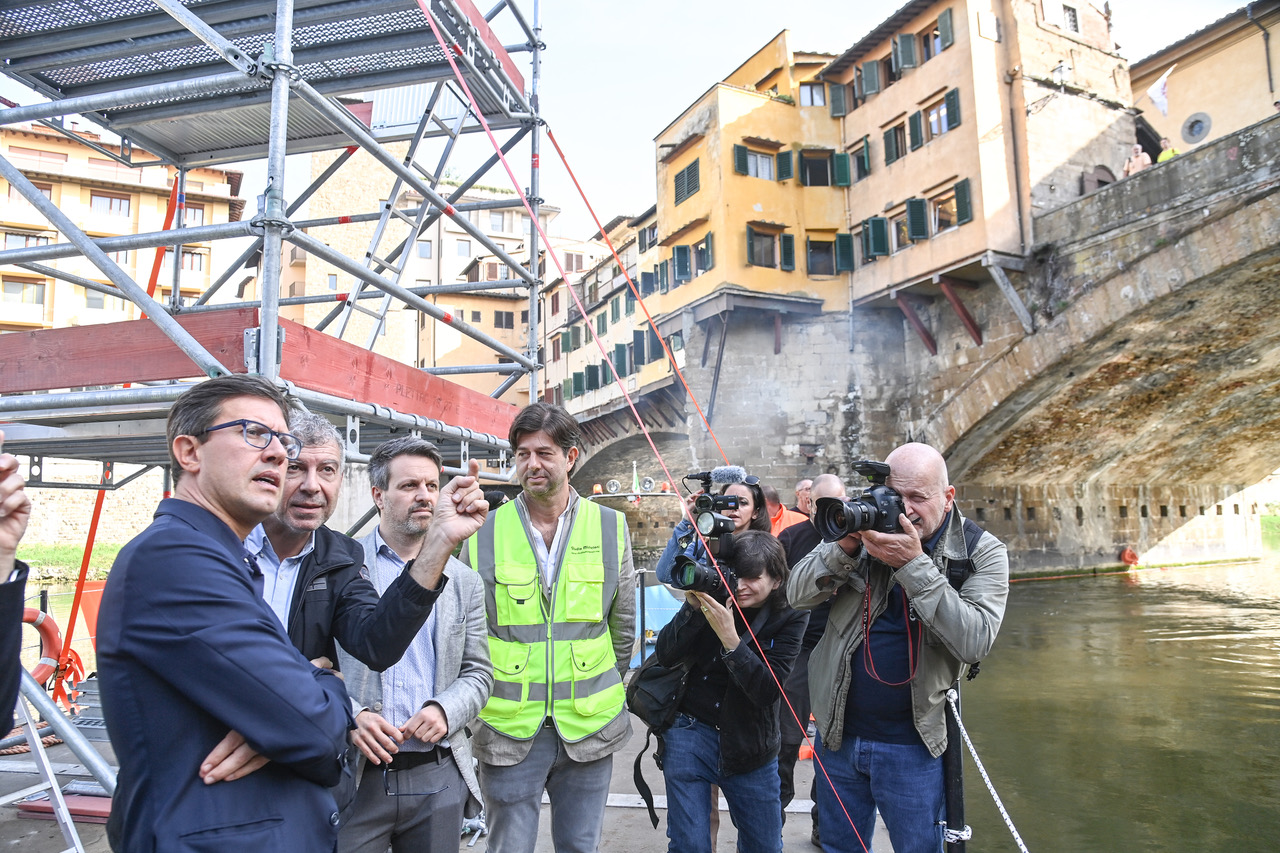 The restoration work on the bridge will take place in several stages. The floating platform that was just installed will be used to carry out surveys and take material samples as a preparatory measure. A bridge monitoring system is also being set up, and will stay in place for a year. 
Thorough cleaning is next on the to-do list. This will include removing algae — what locals have been referring to as croste nere, or "black crusts"  — lichen and vegetation. The focus will then move to repairing deteriorated sections below the shops and filling cracks in the pietra forte (hard stone) arches. A major goal of the project is to revive the bridge's coat of arms and trim, which have been obscured from view by wear-and-tear over the years. Finally, the bridge will get a fresh coat of paint.
About Ponte Vecchio
Built in 1345, Ponte Vecchio is the oldest surviving bridge in Florence. Designed by Taddeo Gaddi (a pupil of Giotto), the covered span originally housed blacksmiths, tanners and butchers until 1593, when Duke Ferdinando evicted them because of the stench they caused by dumping waste into the Arno. They were subsequently replaced by goldsmiths, jewelers and antique dealers. 
During World War II, Ponte Vecchio was the only bridge in Florence to survive the Nazi bombings.
The last time the Ponte Vecchio faced any significant improvements was after the flood of 1966. Concerns about the bridge's precarious infrastructure meant that the decorative aspects were sidelined in lieu of more pressing engineering concerns.