May 18th marked an important day for many. 
Retail shops, hairdressers, coffee bars, churches, beach bars, museums and restaurants are now allowed to reopen as well as the ability to visit friends but Italy must keep its guard up against a resurgence of the coronavirus, Italy's Premier Giuseppe Conte noted. 

According to Ansa: "Today the country is getting moving again but it's still a long road and we must never lower our guard," he said in a letter to free newspaper Leggo. Stressing the need to keep respecting social distancing and the use of facemasks, Conte said "we know that the last government decrees will not be the solution for all the economic and social problems".
In regards to the virus, the overall numbers continue their downward trend. Italy registered 99 new coronavirus deaths on Monday, the lowest daily rate since March 11, and 451 new infections (source). 
The easing of measures continues Italy's trajectory of phase two and further restrictions will also be lifted soon. For those missing the gym, sports facilities and swimming pools, they will be able to go back into business on May 25th. Large gatherings are still prohibited. 
Naturally there is worry of a resurgence of the virus, that this is all too soon. Since the beginning of the pandemic, over 32,000 people have lost their lives. One minute going further than 200 meters was a fineable offence, the thought of visiting another region almost unthinkable. On June 3rd, not only will Italians be able to move throughout Italy, they will also be able to welcome people from other countries. 
June 3rd, Italy will see restrictions lifted on entry requirements for EU member states and certain countries (including Switzerland, Iceland, Monaco, the United Kingdom) allowing people to come in without a 14-day quarantine. What remains to be seen is how other countries will handle those who have visited Italy. As for other countries, the government is expected to announce whether they will accept other international travellers by June 14th. 
Rules still remain in place as these new restrictions are lifted. Masks are still required in closed public places and on public transport and social-distancing rules must be respected. People are no longer required to bring a self-certification form as long as they stick to moving only in their home region. 
Some friends of mine have stated that visiting a restaurant wouldn't be in their near future, others just dream of walking on the beach and seeing their friends. Our local hairdresser on the other hand is booked until mid-June– this being one luxury many people really can't live without. My uneven fringe is proof that not everything can be learned via Youtube.  
Many of us were curious how yesterday's reopening would look like. I took the opportunity to stroll in Florence's historical center in the late morning to get a feel for it all. Unlike the flashy headlines about an exciting "return" to normal and the bike-wielding families of the weekend weaving their way through city streets, Monday was a more subdued affair in our city. 
Some shops tentatively opened their doors, shop-keepers sweeping the entrance and placing anti-bacterial gel on small tables for people to use when they walked in. But many places remained shut, either temporarily or otherwise as the strict protocols in regards to reopening can prove impossible for many locals that rely on elbow-to-elbow patrons.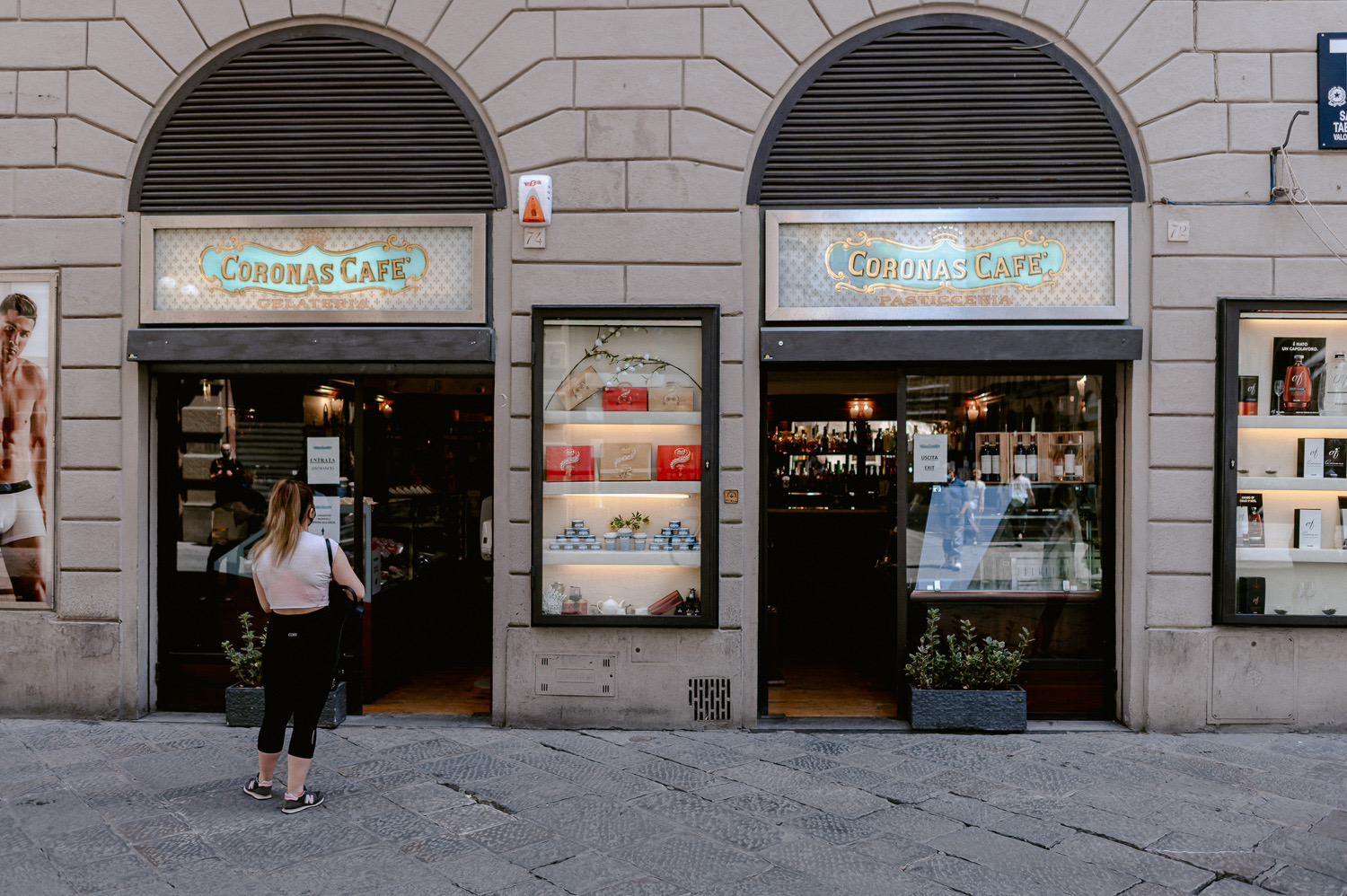 I spoke with my friend Alberto, owner of My Sugar Gelateria who has been doing gelato home deliveries and takeaway from his tiny shop on Via dei Ginori for a few weeks now. I wanted to know how this whole experience has been for him and I was surprised by his optimism and spirit. He replied "We have to go on, I can't sit at home anymore as bills pile up. Even if our business has suffered and all we can hope to do is pay the gas and electricity, there are positive points to this period. We have many Florentines that never have tried our gelato stopping to try a few flavors and chat for a bit as they wander through the center."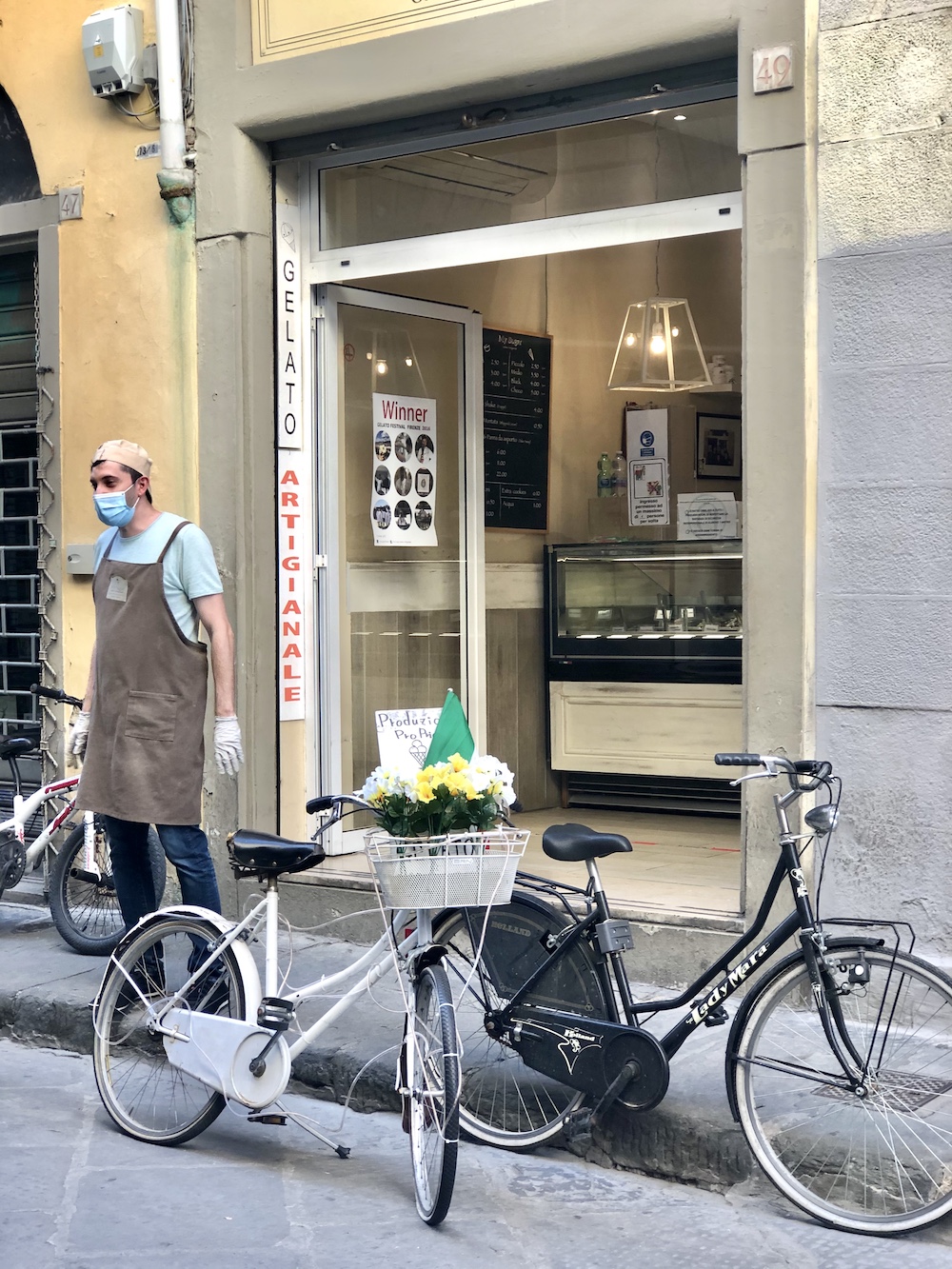 I walked into the famous Caffe Rivoire in Piazza della Signoria, a place where tuxedo-clad waiters normally serve excited tourists on small tables overlooking the piazza. Locals typically choose the bar for the cheaper prices but still enjoy this iconic café's excellent espresso and thick hot chocolate, or the sneaky before-dinner negroni. Inside, waste-high table tops were set far apart from another while the mask-covered barista remained behind a Plexiglas barrier where one can slide their receipt and order their treat.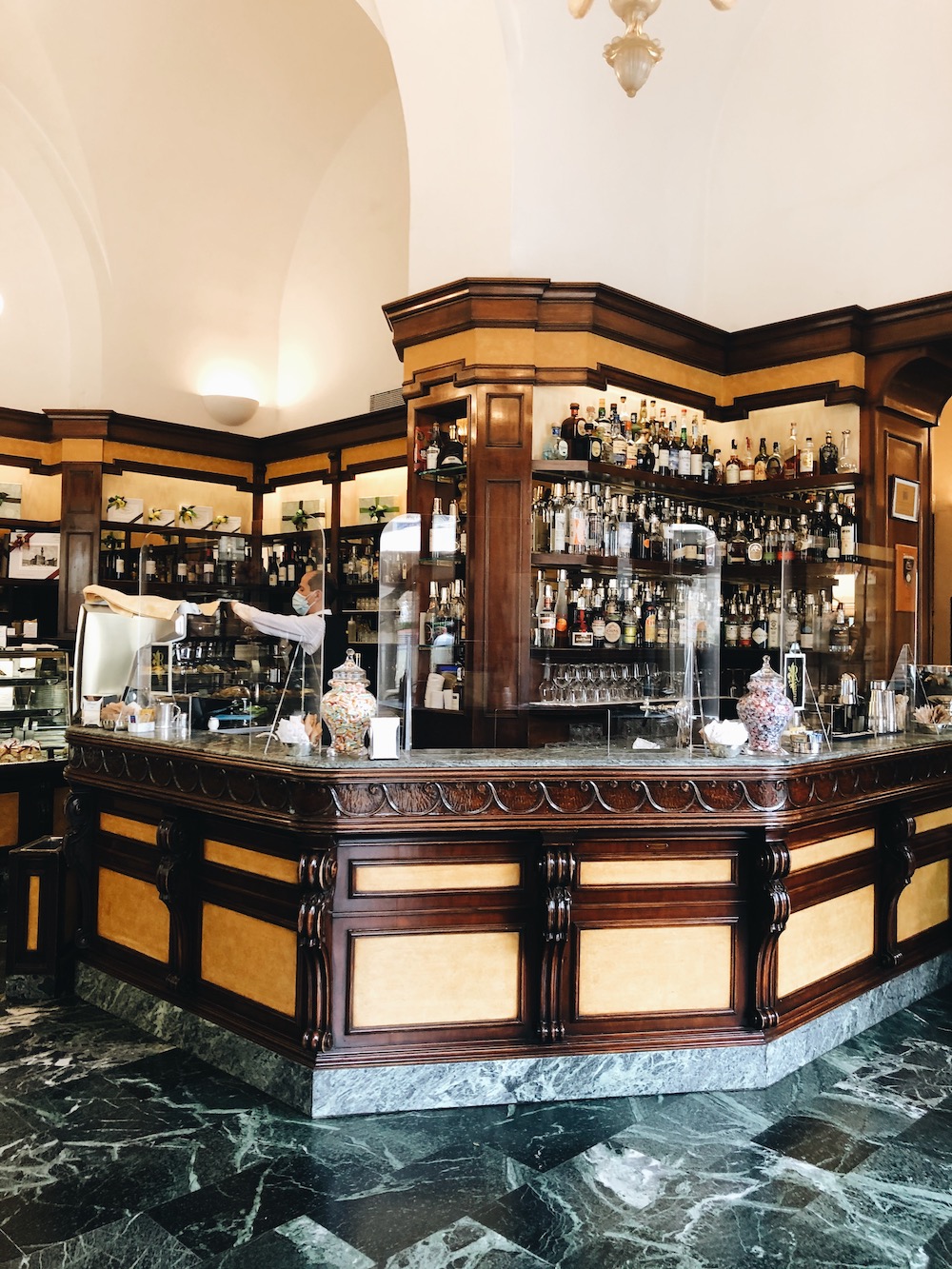 It was the first time in two months that I have stood at the bar for a cappuccino and as excited as I was, it was a little sad too. I was a tad shy and didn't linger as long as I normally would. Extra caution was taken in regards to moving my mask to enjoy the drink. One thing that popped into my mind about the experience is how hard it is to read expressions through masks which can limit your conversation to a polite "how are you holding up?".  
Piano piano "slowly slowly", I tell myself. It's safe to say that we are still very cautious and traumatized from the last two months but hope is there. This is a new normal after all, and it is going to take some getting used to. 
 
Cover photo credit: Francesco Spighi Photography. He is also selling his photos of Florence under lockdown as collectable prints with 100% of the proceeds going to a local hospital charity.