Walk through the ancient cobblestoned streets of the city of Florence and you can see that it is quite easy to get lost in its intoxicatingly beautiful atmosphere. This is the city where Brunelleschi designed a cupola almost two centuries after the Duomo was built, where Michelangelo carved his David and the home to Botticelli's Primavera and various other priceless works of art.
Naturally, this city of art and of artisans has long been a favourite on the tourist trail but beyond the cheap souvenirs, knock-offs and market bargains that remain in plain sight lies a true artisan culture that struggles to survive within a fast-fashion based economy where everything looks the same or is a cheaply-designed version of the latest trends in big brand-name shops. 
As you guys know, I personally as a writer, am very dedicated to showcasing these treasured artisans so that those of you coming to the city can seek out these purveyors of craftsmanship and buy something that you'll have forever. Despite my headline, I hope that that artisans like the one in this article, won't be the "last" in what was once a culture appreciating things made by hand. This makes me truly believe that in order to preserve it – we need to know about them first. 
Leather for example, has long been part of the city's tradition thanks to its proximity to the Arno river with tanneries once being located in the Santa Croce neighbourhood. Everywhere you go in the city you will spot shops advertising leather accessories, jackets and bags as well as in the markets.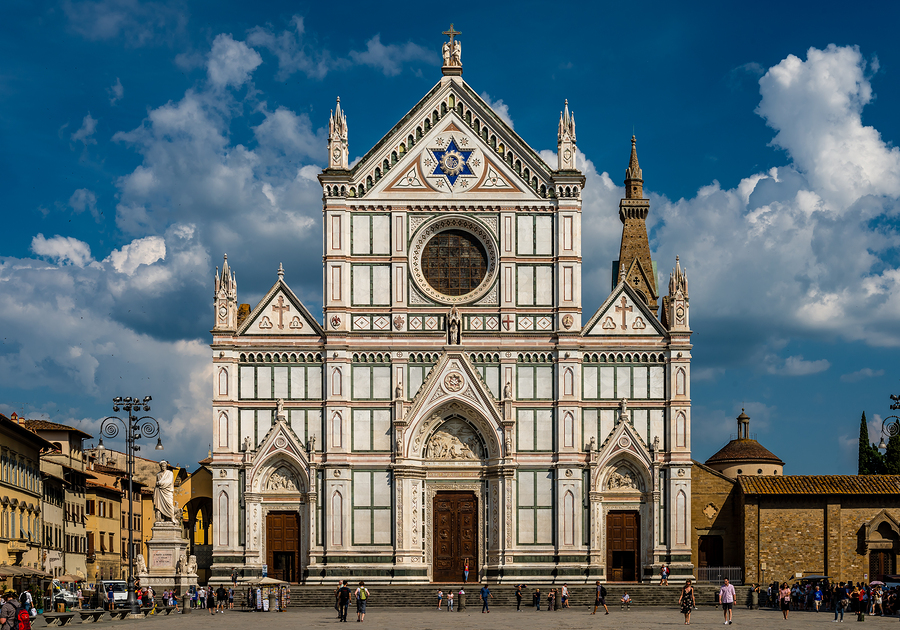 [The Santa Croce neighborhood in Florence]
Naturally not everything has been created equally. 
Plenty has been mass-produced outside of the country with only the tag or a few adjustments completed in Italy, yet you will find items still tagged with the coveted "made in Italy" label that is meant to be synonymous with quality. The only solution is for the buyer to stay informed and ask the right questions regarding the origin of the leather and how the product was made in order to ensure that they are truly getting something truly made in Italy. 
Daniele Caselli – part of a new generation of artisans in Florence
One such leather artisan that you can be assured is continuing the longstanding tradition of leather artisans in Florence is Daniele Caselli who owns a small shop "Cuor di Pelle" translated as "Heart of Leather", located in the Sant'Ambrogio neighbourhood on the quiet street of Via Pilastri. Daniele designs and handcrafts leather merchandise at affordable prices in addition to making hand-stitched unique luxury and high-end pieces for those who prefer something more customized and personal. He is also a reseller and takes great care to handpick his products and those he works with, staying local to Tuscany.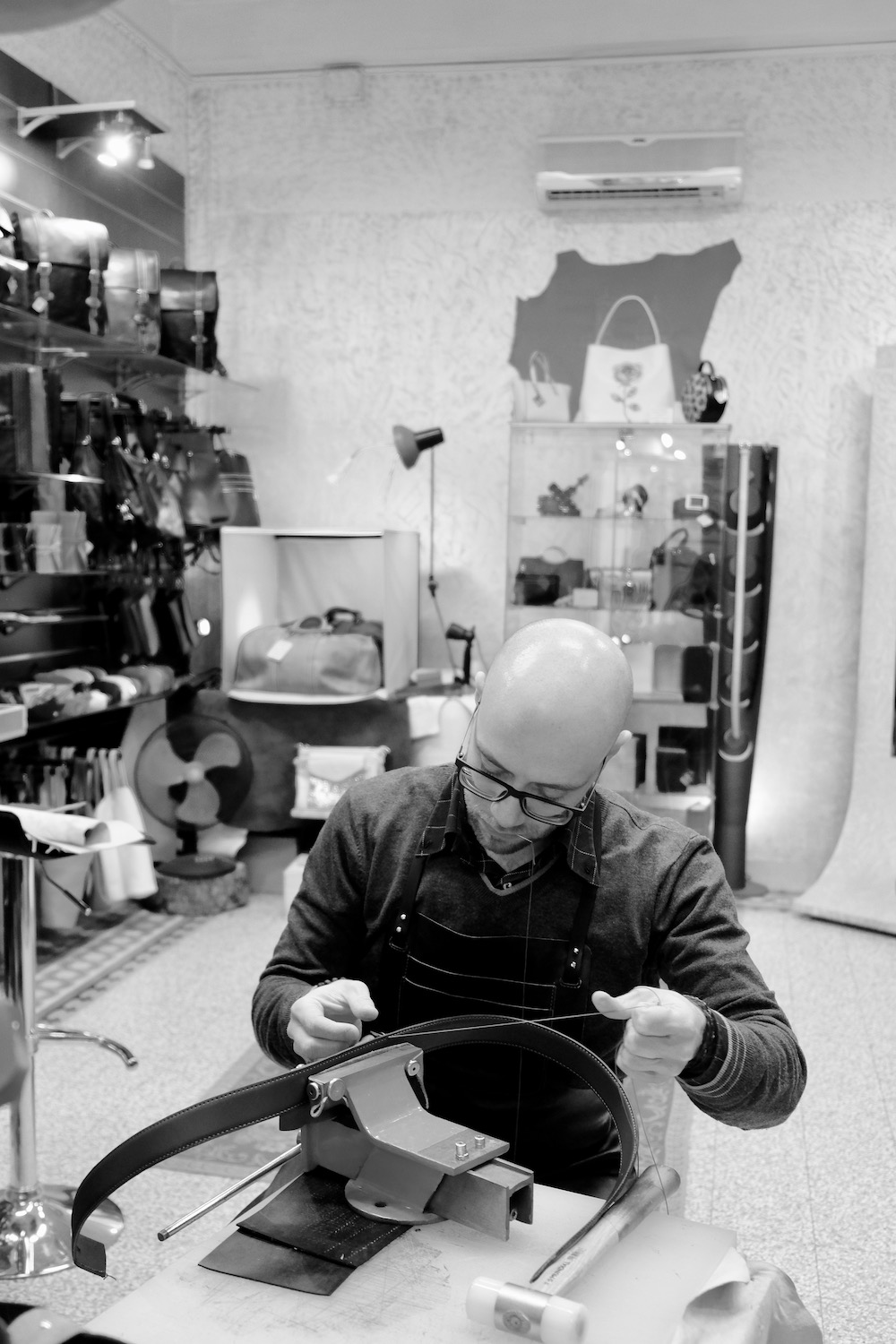 [Daniele hand-threading a belt in his shop in Florence]
Inside the Cuor di Pelle shop you'll find an array of elegant leather goods for men and women; think garment-dyed weekender bags, belts, backpacks, laptop bags, pencil-holders, purses, wallets, wine holders. Plenty has been designed by Daniele which you will see marked with a verifiable "Vera Pelle" (Genuine Leather) signage and he hand-stitches his products on a small bench towards the entrance of the shop. When I visited he was working on a belt, more or less 650 stitches to be done by hand, doubled because you don't just include one seam. This is painstaking work, but work that is appreciated by discerning clients who aren't looking for cookie-cutter items with wishy-washy origins and cheap quality fillers. 
The space is small but there is more than meets the eye when it comes to the shop. In fact, this was once the space of his grandfather, a tailor who installed in him the concept of working hard for what you love, and where Daniele would spend many an afternoon after school watching him deal with clients and peppering them constantly with questions. Interesting enough, his grandfather didn't encourage him to become an artisan despite his grandson's curiosity saying "artisans die poor" and encouraging a different route in life to hopefully more prosperity. Daniele's passion for sewing, instead, was something instilled from his grandmother, who was a seamstress working from home. Her precision and ease inspired him to one day try the same however for him but leather was to be in his future.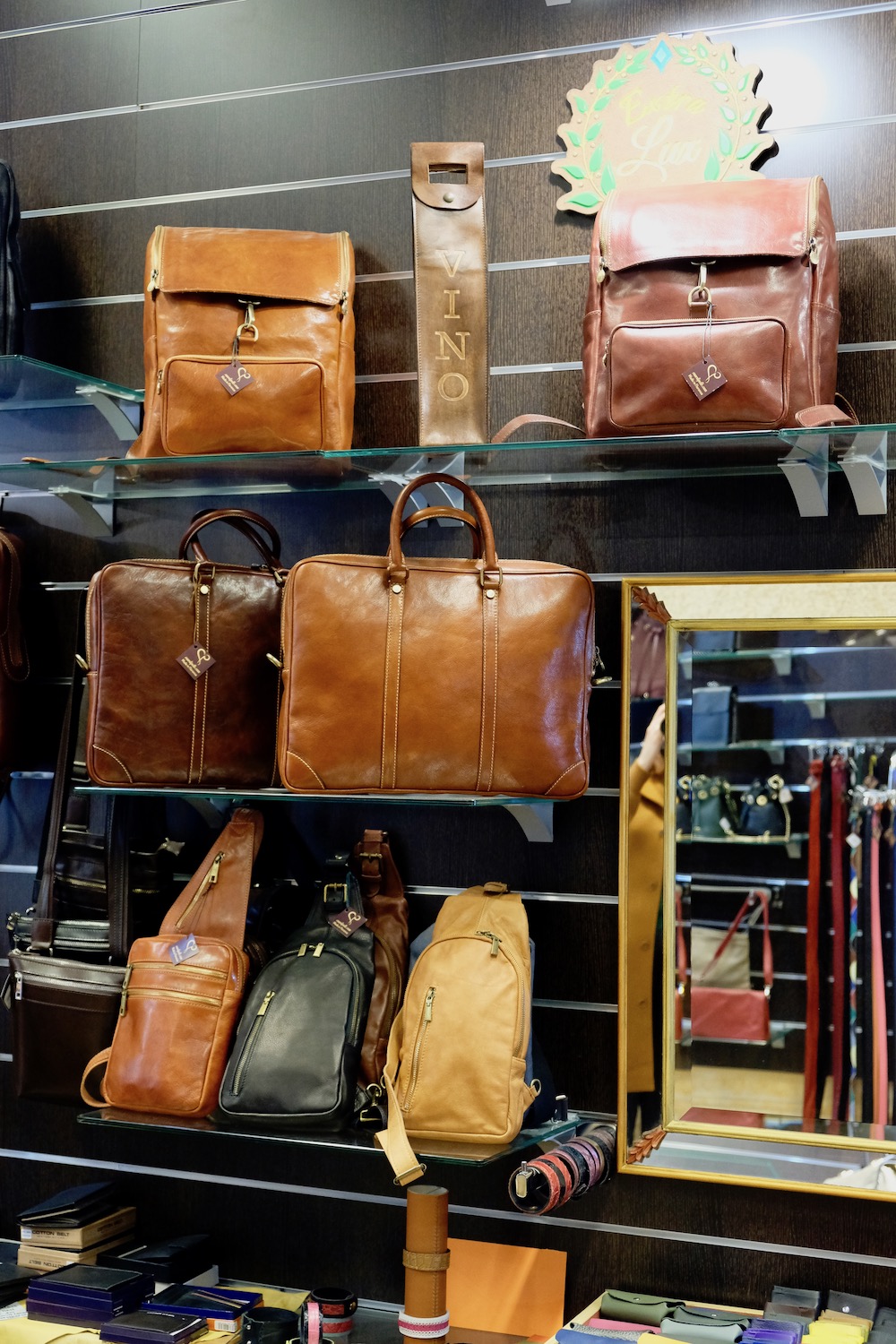 [Items for sale at Cuor di Pelle]
His love for everything manual was evident at a young age as he undertook ambitious projects such as attempting to create a full body bike, making a 3D printer and in the shop this is evident -- you'll be wowed by a display at the entrance shaped into a tree with three rotating panels showcasing merchandise and serving as a light-filled beacon from the street, a clever way to bring in curious customers.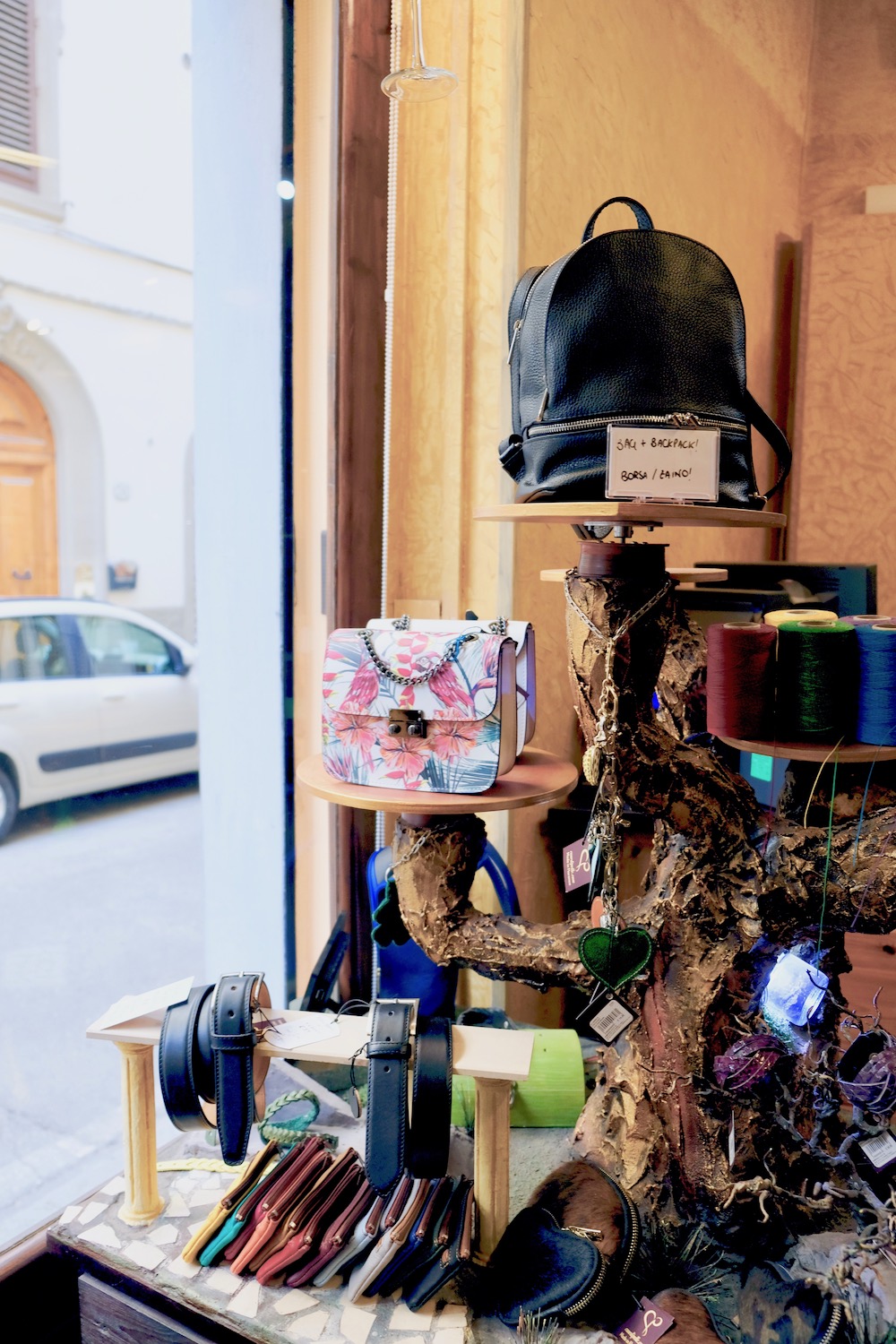 [An attractive window display complete with Daniele's handcrafted tree with rotating platforms to showcase merchandise]
On first glance Daniele might not be what you expect. He is young and quietly confident, having chosen this career after leaving his job as a coder, content to do something manual even though he still holds a passion for the digital arena. He is very present on social media and his Facebook page is a wonderful blend of satisfied customers visiting the shop and posts focusing on the details of Daniele's leather-crafting techniques, providing a much-needed education on Cuor di Pelle items come to life. 
Something even more rare for an artisan of his calibre is the fact that he has a great website, one where you can clearly view his products and even purchase them online. You would think this would-be mandatory given it is 2019, but I can assure you it isn't. This is a common frustration I have with local retailers but it also serves as a reminder that just because someone excels at one skill, it doesn't mean they do at another. 
Naturally a question I always ask artisans when I get the chance is how they see their competition in the digitilized world we live today. Especially in a city where quantity in regards to leather items is seemingly omnipresent, with kitsch, often cheaply made items screaming "buy me" from sidewalks and market stalls. It can be hard to market your own quality goods when you don't have a recognizable name brand and when there is just so much of 'the cheap stuff' around every single corner. 
His concept of "many people can braid a bracelet, but few can hand-stitch that same bracelet" is something that he strongly stands by. Assuring me that people, at least his customers, appreciate the quality work that goes with his personal touch. There is something to be said about having a truly discerning eye, and the ability to consistently keep learning and finding joy in collaborations, all in the aim of perfecting one's products and designs. In fact, at the moment he is designing a foldable wallet made from one entire piece of leather to hold cards, coins and cash. When a new productis born, Daniele makes sure to make the first piece entirely by hand, so that he can identify any potential problems. Thanks to this first prototype, he can then understand where to  simplify and optimize for production.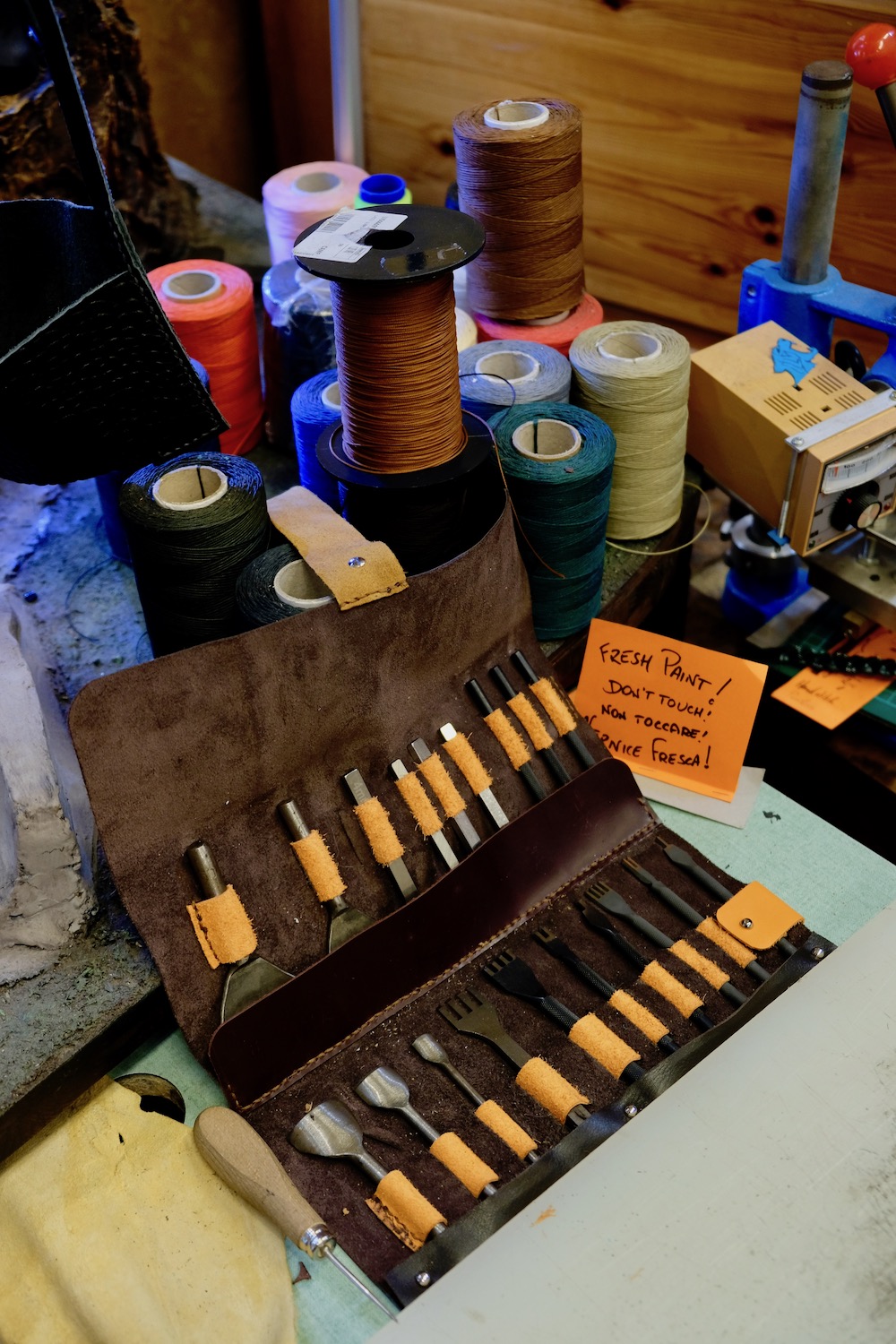 [Tools of an artisan]
We had a look at his popular cross-body bags -- they serve as both fashionable and easy to wear for travellers who want to keep their valuables in front of them at all times (always a good idea in Italy, trust me). I personally fell in love with this genuine leather cross-body sling bag, super soft to the touch and big enough to carry all of your essentials, plus a small umbrella (unisex too!).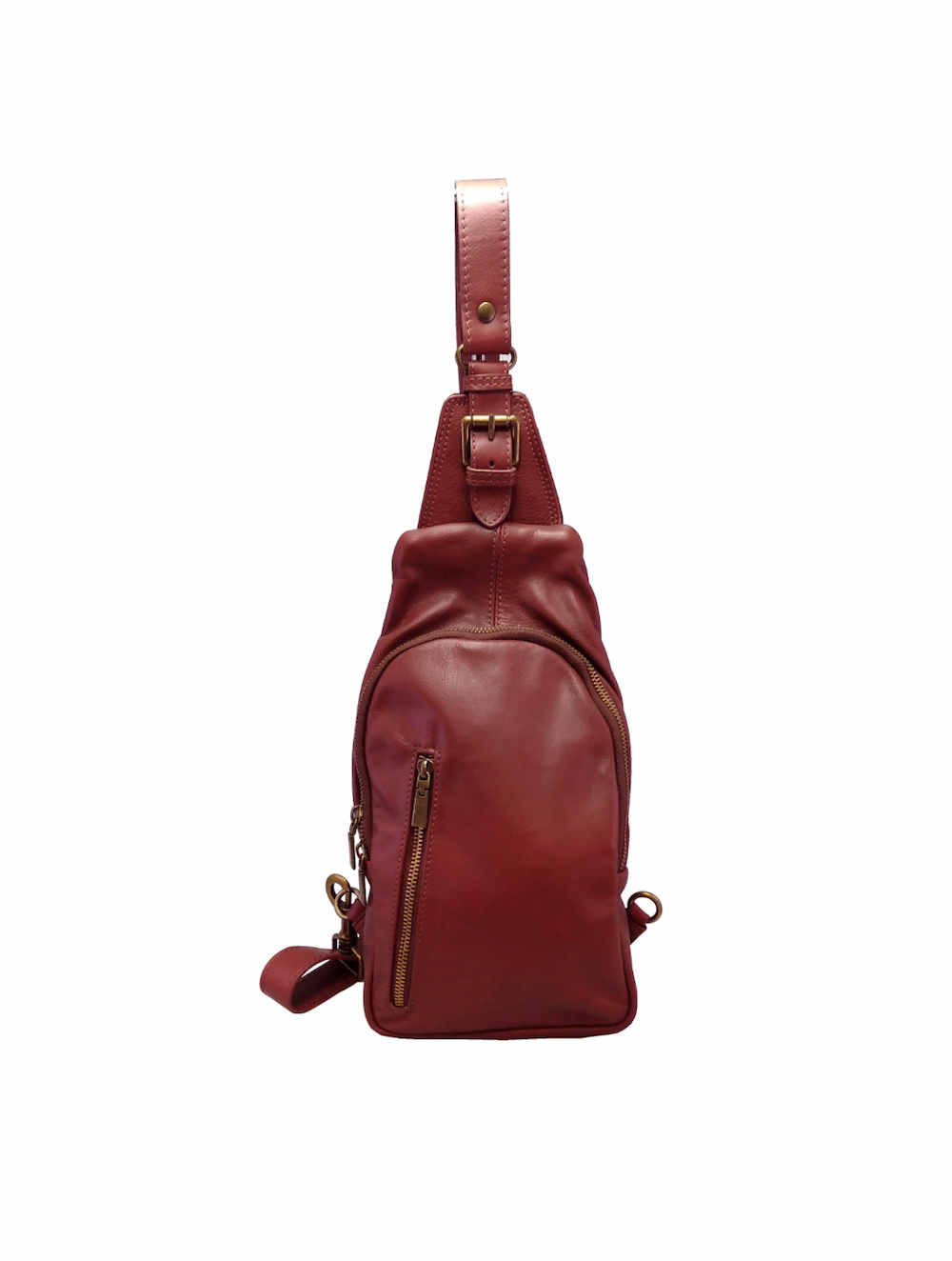 [This genuine leather crossbody slingbag is ideal for city life!]
Another favourite of mine, and ideal as a gift for wine lovers that will certainly stand the test of time, is this vegetable tanned genuine leather burgundy wine holder adorned with the word "Vino" – the leather has been hand-buffered by Daniele in various stages. 
I asked Daniele how he sees the future of his business and expanding the brand. For now, he works alone but he is more than open to collaborations with other businesses or taking on a partner one day. For now, his focus is on the quality of the products and endless experimentation. New styles are in the works including a more "raw look" that uses less processing in terms of the leather but is made of better raw materials, something Daniele is keen to try. 
"I think in the future I will be focusing more on the online business, but I also want to keep the shop because it keeps me relaxed. Hand-stitching for me is a sort of meditation so I simply don't want to stop but I know that it is very time consuming" says Daniele. "I think there is a need of balance between technology and what we can do with our hands."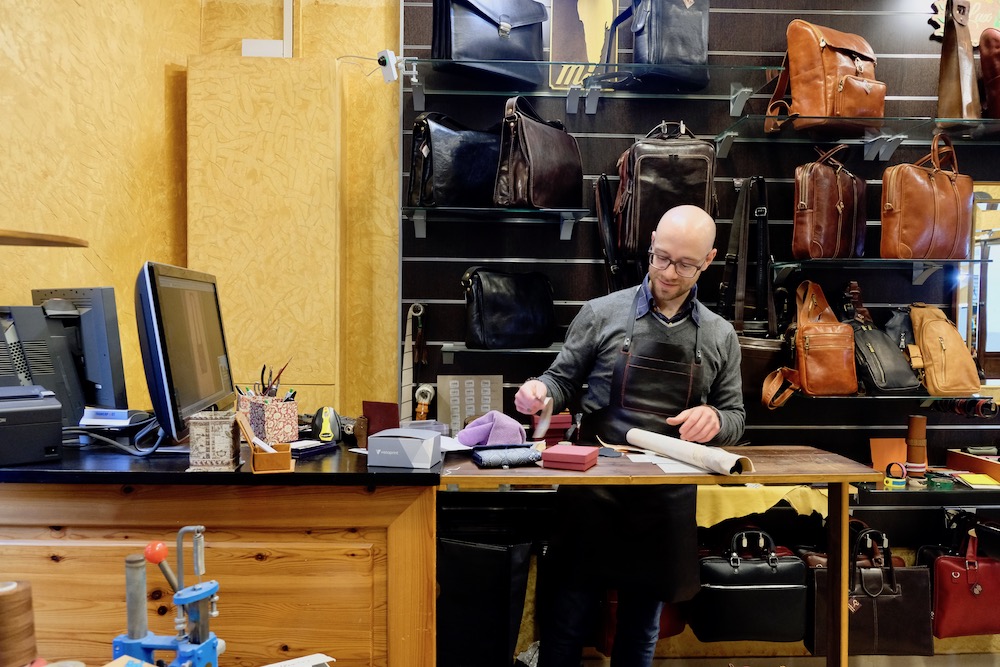 [Artisans are the lifeblood of Florence's handicraft past, not many remain, but that's precisely why we should celebrate them]
This also appears to appease customers as well. Daniele has shared that plenty of times people have walked into his shop only because he was focused on this work at the bench and not looking anywhere else. This makes me think that the "hard sell" you often feel from shopkeepers in Florence is almost as bad as when a restaurant's waiters beckon you to please try their menu. 
A true sign of greatness has always lied in the ability to remain humble, collaborative, open-minded and being confident enough to let people come to you, something I am certain Cuor di Pelle and Daniele will excel in for decades to come. 
You can find the Cuor di Pelle shop on Via dei Pilastri 25 (via dei Pilastri - Via Farini crossing, next to the Synagogue) in the Sant'Ambrogio neighbourhood in the city of Florence. He is open every day except for Tuesdays. On the weekend, Saturday and Sunday the shop is open only during the afternoon. Check out his website here and be sure to browse selected items in our Italy Magazine shop. He is available for appointments upon request.