Founded in 1974, thanks to contributions of the Italian Ministry of Foreign Affairs, the Italian Language Program of The Italian Cultural Society of Washington DC offers a variety of online courses to learn the Italian language and discover Italian literature, art, history and more. The authentic corner of Italy in Bethesda, MD is now reachable from your home!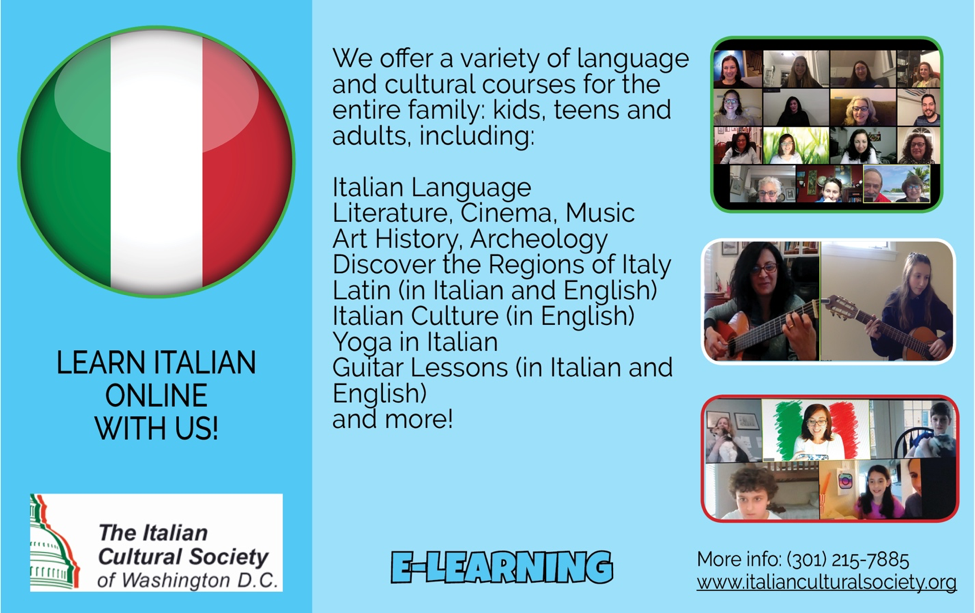 History
In the U.S. Capitol building, there is a marble bust of Giuseppe Garibaldi, the popular hero of the Italian Risorgimento, signed Giuseppe Martegana, 1888. The official catalogue "Art in the United States Capitol" lists the bust as: Gift of members of the Italian Society of Washington, Citizens of Italian descent, 1888. 
The present Society was formed in 1953 when a group of Americans and Italians was organized under the leadership of Professor Salvatore J. Castiglione, Chairman of the Italian Department of Georgetown University. In 1978, while chartered as a nonprofit corporation, the word "Cultural" was added to the Italian Society of Washington, to reflect its broad objectives.
The ICS today
Our mission is to enhance the appreciation and knowledge of the Italian language and culture. We create opportunities to explore the many facets of Italian culture, and strengthen bonds between the Italian and American people.
We proudly do so through cultural and social events, scholarships to award students who excel in the study of the Italian language (from elementary to university level), in art, music, science and the study of the classics. But our most important program is the language school, which counts over 1,400 enrollments per year. 
"Culture is an essential part in all our classes" The ICS Executive Director Francesca Casazza says, "because culture is a system of knowledge, values, products, behavior traits of a population. A student who is interested in studying a language cannot just learn grammatical issues, because a language is the instrument used by a population to express itself. Language and culture are two faces of the same coin. Teaching Italian culture exposes our students to fascinating journeys through History, Geography, Archeology, Literature, Art, Cinema, Music, Fashion, Food and Wine. In the relaxing and welcoming environment of our school we transmit our students the passion for learning la "bella lingua". In addition, we also explain Italy and the Italians, who we are and the historical and geographical elements that have been so critical to define our character and that of our nation."
"I am particularly proud of our Course + Trip" says Board Member, ILP Advisor Annelise Morani Brody, " The concept was born by listening to some of our students commenting on their trips to Italy: - Everything was wonderful, but I didn't get the chance to practice my Italian, nor get to know local people… - So we designed this formula to provide a more profound travel experience. Our instructors, who grew up and studied in Italy, teach a Course about their region: a virtual tour that covers history, art, geography, food and wine tasting; and then, we suggest a Trip: through our selected contacts in Italy, we offer our public the possibility to experience the country as an insider. They will speak in Italian or in English, as preferred, and will lead the traveler through the discovery of traditions, gastronomy, and the natural beauty of their region, with a warm welcome."
More information on the ILP and comments from our students are online!
Our Classes: now online!
Our knowledgeable, talented, passionate, native-speaker instructors have been teaching Italian and cultural courses to our community for many years at our headquarters, located just outside of Washington DC, in Bethesda, MD. Some of them hold prestigious PhD and previously worked in universities. We are lucky to have them now teaching Advanced level courses to students who want to perfect their language skills and deepen their knowledge of literature. 
The recent pandemic pushed us to revolutionize our school to guarantee the safety and health of all our students and community. We moved all our classes online, and launched new courses on the web, using Zoom, starting on March 12th. Our students and their progress is very important to us, and for this reason we are keeping small groups, to ensure that everyone is involved, engaged and has the possibility to ask questions and be an active member of the online class.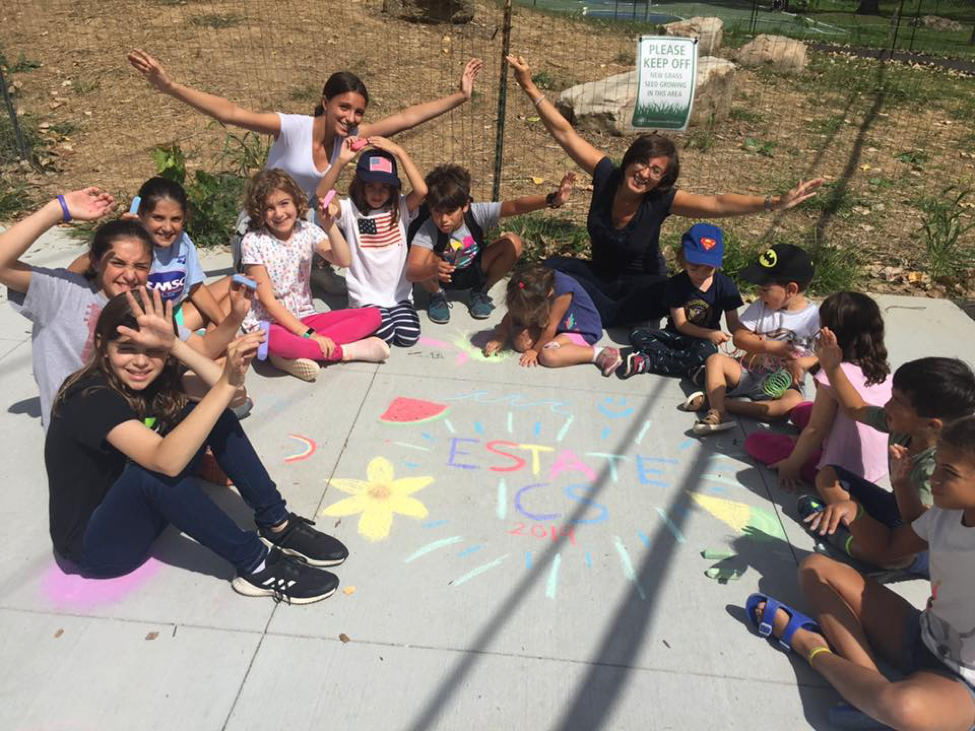 Classes for all!
We offer a variety of classes, for the entire family: adults, teens, and kids. Our courses range from beginners to advanced, including several elementary and intermediate levels. You can be part of our community from wherever you are in the world. We will resume in-person courses when the Covid-19 emergency ends, but we will continue to offer courses online, for students who live far. So, no matter what your level of Italian or your age is, you will only need passion and an internet connection!
Our Courses:
•    Italian language at all levels
•    Latin
•    Art and literature of the Renaissance
•    Contemporary literature
•    Art History
•    Italian Cinema
•    Archaeology
•    Music History and musical genres
•    Discover the Regions of Italy
•    Yoga in Italian
•    Cooking Classes
•    Guitar Lessons 
Cultural Events: now Online!
Once a month, from September to June, we host cultural events with special guests and speakers, well renowned and respected in the cultural world. After their lecture, or performance, we love to celebrate with an aperitivo, Italian style, of course!
We can't wait for our next in-person events, but given the peculiar circumstances, we are now proudly offering our events online.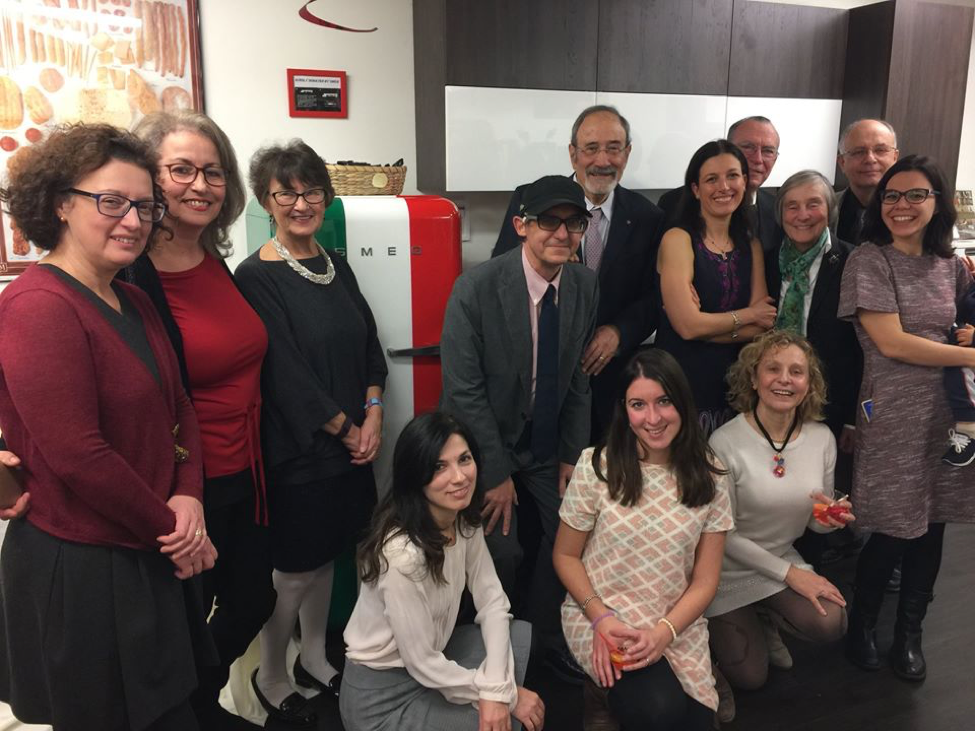 We can still come together as a community and keep sharing and spreading our love of Italian culture. In the spirit of navigating this time of uncertainty together, we are excited to listen to music, literature, visit museums, and more via Zoom. Check out our Events webpage and make sure you reserve your "virtual" seat by sending your RSVP.
CONTACTS:
Email: language@italianculturalsociety.org
Address: 4833 Rugby Ave # 201, Bethesda, MD 20814
Phone number: (301) 215-7885
Website: www.italianculturalsociety.org
Facebook: https://www.facebook.com/italianculturalsocietydc
Instagram: https://www.instagram.com/italian.cultural.society/
Twitter: https://twitter.com/The_ICS_