With the sparkling Adriatic Sea and the Apennine mountains at a comfortable proximity, a hilly and vibrant countryside as far as the eye can see -- you have to wonder why more people don't talk more about the region of Le Marche. Those in the know however are quite aware of Marche's positive attributes. And there are many. Central Italy has often been a hot place for expats to call home due to its low prices and stunning natural landscapes. It's the kind of place where people truly find their joie de vivre (joy of life).
My husband and I left Tuscany behind for a night in Le Marche, our destination the hilltop town of Petritoli which sits pretty with high points offering views overlooking the Adriatic Sea. As we drove through the three arches and 15th century turrets, I knew immediately it was going to be a place I would love. The tiny medieval town boasts only four churches, a few restaurants, and a local population of no more than 2,500.  Truth be told, I have always had a very positive view of the Marchigianis, a humble and hard-working people who know how worthy their land really is.
Two such people who have certainly figured out this "secret" destination are interior designer Dawn and successful entrepreneur Michael Hobbs, originally from the UK . Since 2004 they have split their time between England and the  beautiful town of Petritoli. They first discovered this area in search of a holiday home after a suggestion by Michael's business partner. Choosing to stay here was an easy one for them to make, with a natural beauty and charm so less besieged by tourism than neighbors like Tuscany. Also, the proximity to local airports was a huge advantage for Michael and Dawn who travel back and forth to the UK frequently. Petritoli makes for an easy 45-minute drive from Ancona or an hour from Pescara.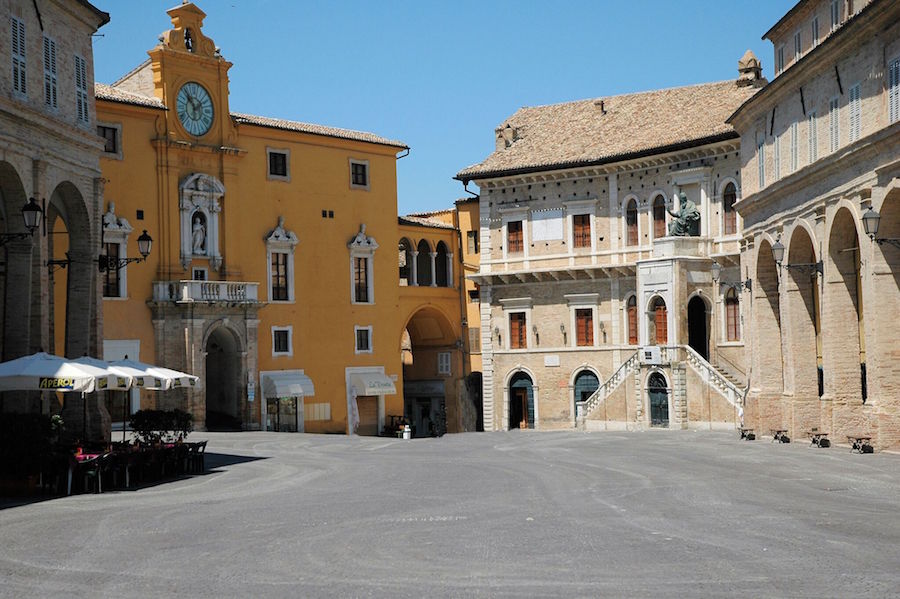 [Square in Fermo, Le Marche]
They bought their first property around 2005 and started renovations, planning to then sell the property outright but then changed their minds.  "This is when the wheels started turning regarding starting our company offering fractional ownership," Michael said. They founded Appassionata in 2007 with the idea to allow people part ownership of a property that Michael and Dawn completely renovate and furnish. After purchasing and renovating a few more places, they took their time setting up the business "we didn't want to rush things, we wanted to do this right." In fact, each property was chosen under careful consideration, for its proximity to the sea and airports, and also its potential after the renovations.
Each owner has a 1/10th ownership in the property which they have total control over and are allotted five exclusive weeks a year to use. The cost is roughly 90,000 pounds to 195,000 depending on the size of the property. With the favorable dollar to pound currency rate at the moment, this is really the ideal time for a property investments for those from the USA. Dawn and Michael's properties sell off quick, momentarily there are only 9 of 10 shares left in the latest available property "Il Riposo". None of the places are "cookie cutter," each comes with its very own personality. Currently owners include people from Australia, South America, England, American and China.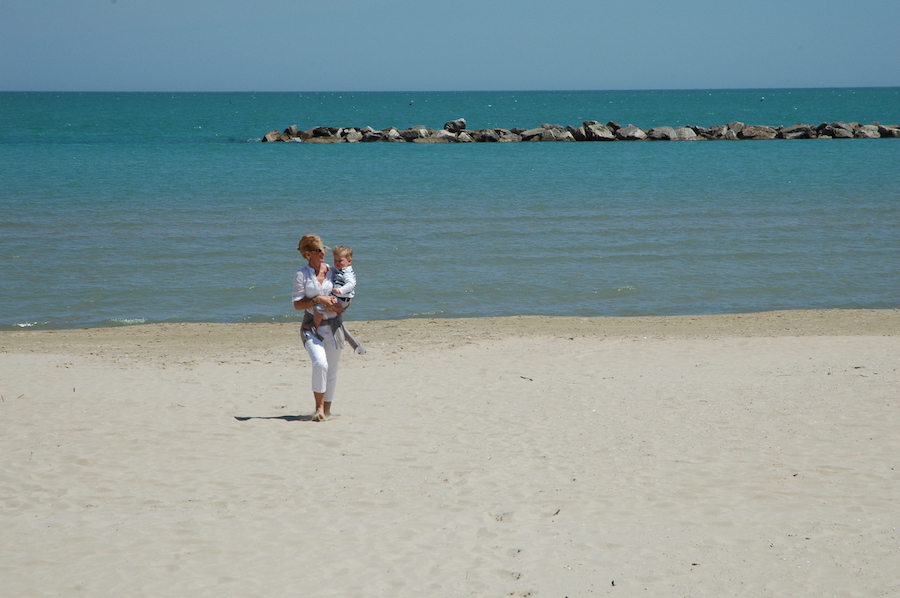 [Dawn and Grandson Lucas]
After checking in with Michael and Dawn, they showed us to an exquisitely designed one-bedroom apartment underneath their own home in the 15th century Palazzo Scarsini in Petritoli. This space is mainly used for discovery visits from potential buyers– but they also rent this apartment on Airbnb, a steal at €125 per night considering I have rarely seen five star hotels this impeccable. Like every other of the properties that they have handled, it has been completely designed by Dawn. She handpicks everything from the liberty tiles adorning the floors and kitchen to each exquisite piece of furniture, a bowl of fruit and welcome bottle of wine finished the welcome.
[Kitchen area of their beautiful apartment]
Finding a retreat in beautiful Patrignone
Their latest property "Il Riposo" a 12th century renovated townhouse is an absolute dream -- true to its name which in Italian signifies "the retreat." Located in the nearby town of Patrignone in the "Terre di Bonfini," it was known locally as a 12th century artists' colony founded by the Bonfini family whose names pepper each street corner. First in tribute to the painters Martino and Giacomo Bonfini and later the historian of King Mattia Corvino's Hungarian court, Antonio Bonfini.
For me, Patrignone, facing east of the Adriatic sea signifies a quiet, picture-perfect example of a small borgo in Italy – think narrow cobbletoned streets which beautifully pave the way towards Il Riposo. It is an area also home to incredible views while the countryside beyond is dotted below with charming countryside villages. Year-around the town boasts only 150 residents, thus making this "retreat" a true reality for those looking to escape the crowds.
Patrignone is a frazione of Montalto delle Marche, the village of Montalto closeby, just a few kilometers away and home to a few restaurants, shops, and a bank. Michael informed me of its illustrious past "What put this place on the map was Pope Sisto V" who was elected Pope in 1585, "he made Montalto a Papal State during his reign."
With all of this in mind who wouldn't want to call Il Riposo home? This three-floor light-and-airy luxury property is the perfect space for larger groups looking for a true "country and town" atmosphere with designer details. Dawns well-searched for aquisitions for the property from local artisans (like large terra cotta pots) have led to many of Appasionata's buyers ordering items direct from these Italian small suppliers for their other homes.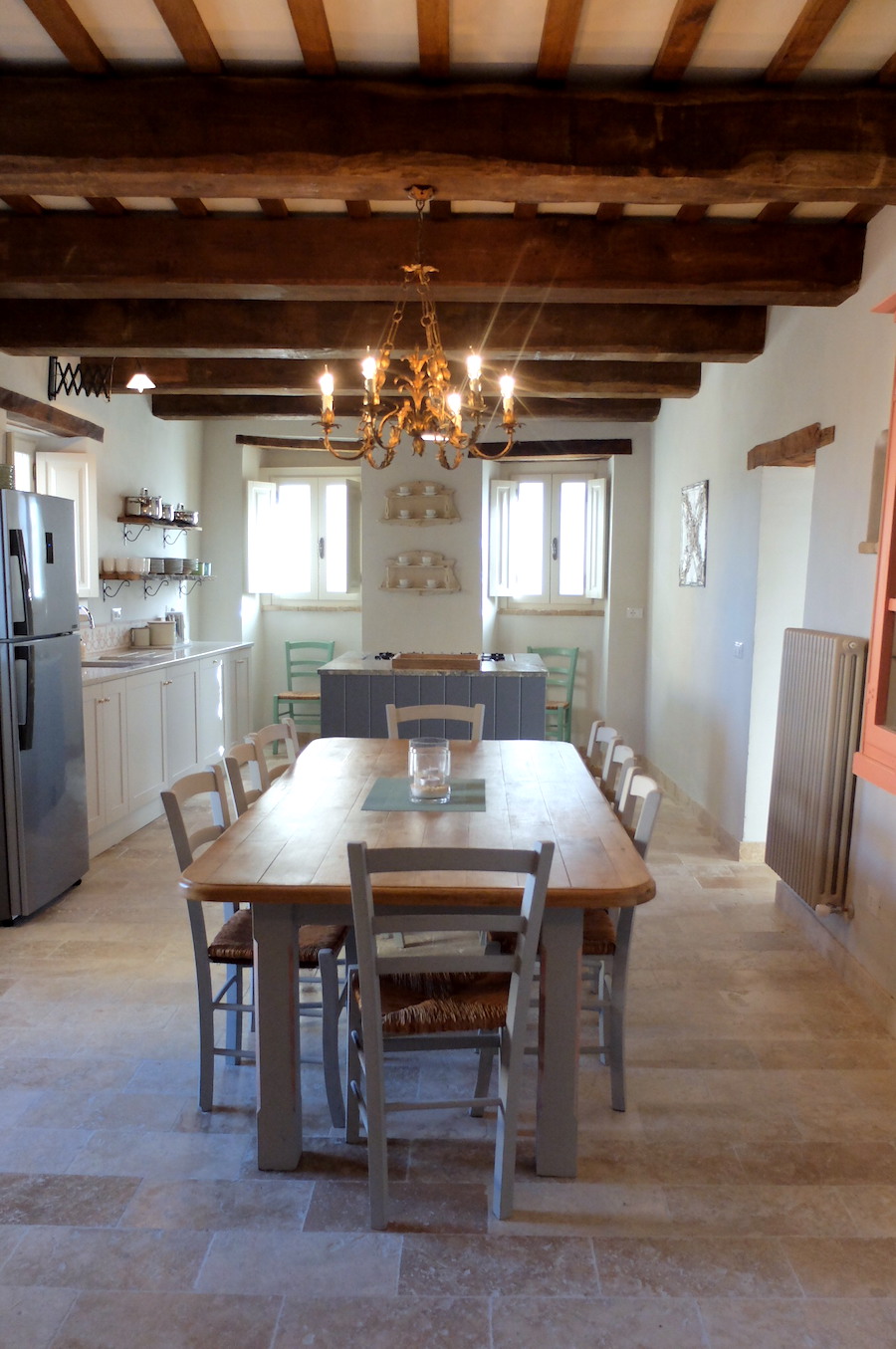 [Kitchen of Il Riposo]
Inside you'll find four spacious double bedrooms, three bathrooms, all in a luxurious 210 square meter (2269 sq. feet) space with plenty of open-plan space. All the better for enjoying the extraordinary views from the huge, airy kitchen. The cozy living room and dining space with its light colors, original wooden beams and custom, colorful furniture looked the perfect place to entertain guests, who like you, will thoroughly enjoy what is truly a slice of Italian paradise.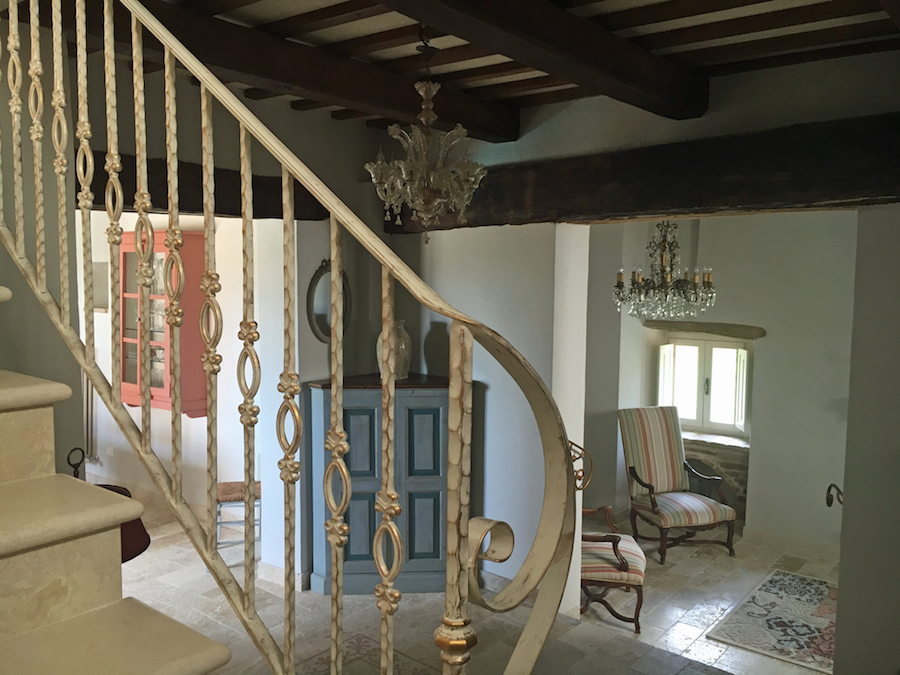 [Staircase of Il Riposo]
Walking outside, I was surprised to find the walled terraced garden even boasts a pool, albeit discreet for those who want their privacy. More importantly to note, Dawn and Michael hire local artisans and builders, which has gained them trust locally as respected business people that pay their bills on time – a not too frequent occurrence in Italy. "I often go to our carpenter and suggest an idea that he thinks is totally crazy," Dawn laughs as she shows me around, "but eventually he always surprises me and himself too by creating exactly the one-of-a-kind item that previously only existed in my mind."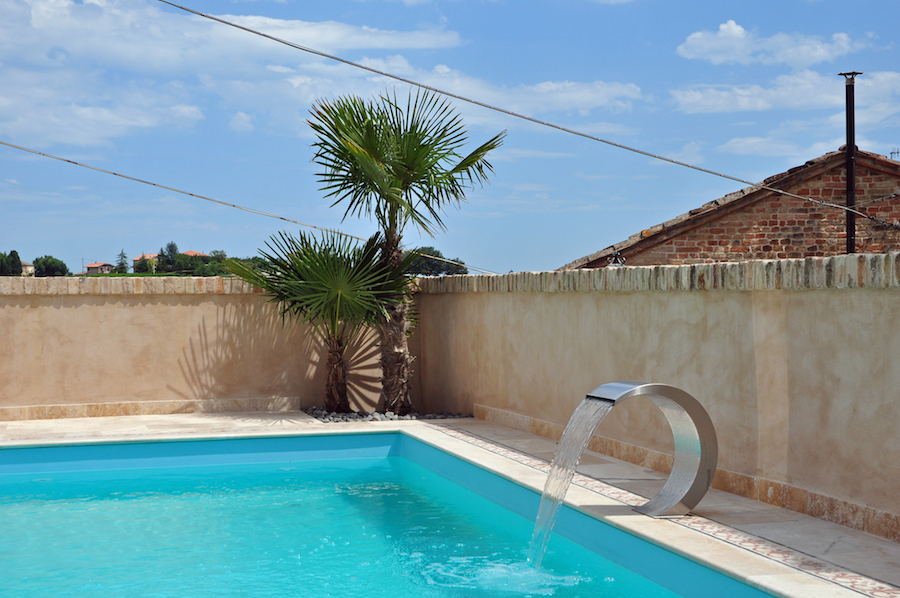 [Outdoor pool of Il Riposo]
Dawn spends hours in her car driving around to look for the next great furniture piece or antique chandelier, everything is kept in a storage space before it finds its home in an Appassionata property. Their daughter India and her husband Charlie live nearby and help out with the business, owners with special requests can turn to them for customized requests.
You might be asking yourself, why not just buy a house outright instead of a fractional ownership? As was quoted in The Times "Owners might be able to afford a holiday home outright but don't see the point if they're only going to use it for a limited number of weeks each year. They like the fact that the property is managed and used all year around and they don't have to worry about it when they're not there."
Which is a great point.
After all, imagine you don't speak the Italian language (yet) nor have the will to weave yourself through endless Italian bureaucracy. Buying a fractional ownership means that essentially all you have to do is show up, everything is taken care for you upon arrival. For those scared to be locked in for life, don't be. Re-sale is 100% possible, with Appassionata facilitating the deal between the current and new owners.
For Michael, it's not about the money. In fact, they regularly turn down people who are looking to buy a share as a financial investment. Over coffee he quite rightly pointed out "what you get here in Le Marche is a real lifestyle investment."
Since the seaside is so close, we decided to have lunch at an airy, beachside restaurant "Il Grecale" in the pretty resort town of Grottammare on Via Cristoforo Colombo. Though it's January, the sunshine has brought locals out, biking or running along the wide stretch of promenade that runs parallel to the sea. Michael and Dawn know this place well, we order a bevy of seafood dishes, fresh pasta and swapped stories.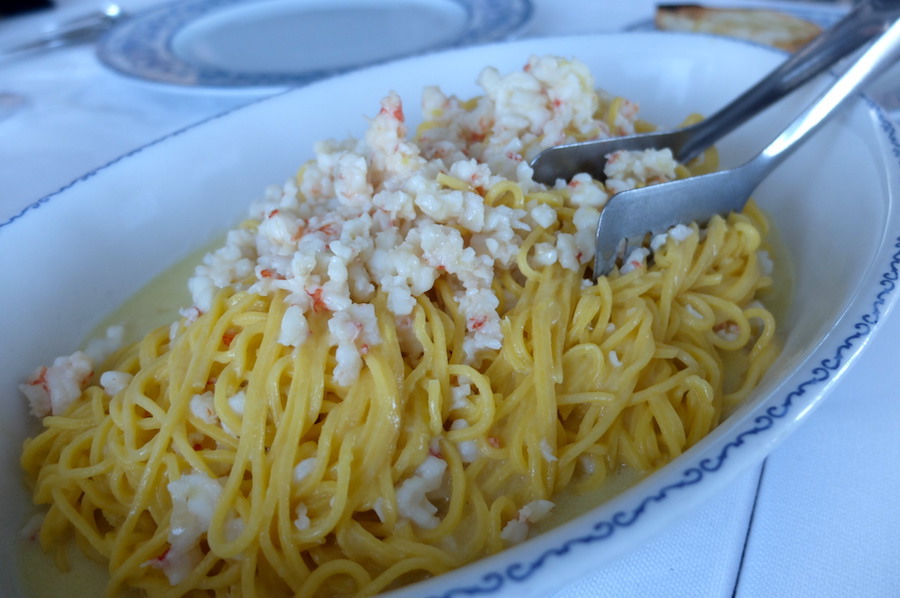 [Fresh pasta at Il Grecale]
That evening, tired but happy to come home to pretty Petritoli, we decided to visit a local wine bar suggested by Michael and Dawn, the "Cantina Antisociale," adjacent to a gas station owned by the owner's father just outside the town's ancient walls. Cozy and welcoming, locals gather here amicably for aperitivo or a light dinner, tasty nibbles are brought out with every glass of wine. The young owner Simone is extremely passionate about the business and was more than happy to chat with us about his curated selection of wines. Later that night, we head to Ristorante Re Squarchiò where families were gathered in big groups for Saturday dinner. Though we were still full from lunch and our aperitivo, we dig into delicious fresh pasta and yet another bottle of Passerina wine.
The next morning, we lingered over one last cappuccino (doppio espresso for the hubby) at Bar Tre Archi with Michael and Dawn, who made us feel instantly at home. As I walked back to pick up our luggage, I heard the voices of mass (it was a Sunday) radiating from the steps below to our apartment and a few bellows of a laughter. Apparently, priests around here have a sense of humor. We stood on the steep steps reveling in the peaceful atmosphere, a comforting murmur from the building continued inside and that's exactly when I realized my Petritoli visit can't end just here. I have to come back.  A reminder about how so many people probably feel who come to Le Marche on holiday, it draws you in as easily as a laughter-filled wine-induced lunch on a Saturday afternoon. Even if it it's just temporary, it feels like home. Michael and Dawn, we will be back.
Benefits of Buying an Appassionata Property?
Buy the weeks you are actually going to use each year
Align your costs with your usage
Make a lifestyle investment to share with family & friends
Own a more luxurious holiday home than you thought possible
Share the annual running costs of the property
Own a fully furnished interior designed home
Have your holiday home managed and serviced
Start your holiday the minute you arrive
Tips for Petritoli
Cantina Antisociale: a local wine bar, perfect for a before-dinner drink. Address: Piazza Costantino Tamanti,
Bar Gelateria Tre Archi. The place for a morning coffee and a chat with locals. I've also been informed that they make excellent homemade ice cream. Address: Largo Giacomo Leopardi, 5
Ristorante Re Squarchiò, excellent eatery to sample local seasonal cuisine form Le Marche, they offer a 25€ tasting menu (with wine). Reservations recommended. Address: Via Largo Tre Archi, 4/5.
Interested in checking out Appassionata's "Il Riposo" in person or to learn more about fractional ownership? Contact Dawn and Michael here for a chance to see your potential next vacation home in Marche