Though I've called this place home for the past 10+ years, I always wondered "why does the city of Florence capture the hearts and minds of so many?" An educated guess would be the incredible architecture and artworks, much have been collected by the illustrious Medici family. Thanks to the last remaining heir, Anna Maria Luisa de' Medici -- she signed an important family pact keeping three centuries of collected Medicean art and treasures in the city and open to the public instead of spread out in private collections all over the world. This means that we can enjoy artwork's such as Botticelli's Primavera.
In addition, the Florence's small stature allows for plenty much inspiration in a human-sized bite, both figuratively and physically. In fact, most people visiting today wouldn't notice the exact crux of the city center, where the 15th century column of abundance stands tall in piazza della repubblica – a popular meeting point for tourists and locals alike. It is at the exact point where the cardus and decumanus maximi Roman roads once met. Heading towards via roma, on the way to the large Duomo cathedral, yet still in the square and you'll find yourself face to face with one of the best hotels in the city of Florence, the elegant Hotel Savoy.
It's a hotel I personally know quite well and one I cherish, even in a city where every kilometer seems dotted with luxury hotels. This is partly because of the history, before joining the Rocco Forte Hotel brand it was the first hotel in the city during a vast urban rescaping during the 19th century. 
As the piazza began to undergo its transformation during the brief period when Florence was the capital of Italy, this did the Savoy. Location wise, it stood on the site of the old Mercato Vecchio and ex Church of San Tommaso. It's outer architecture reflecting this transformation, with balconies overlooking the square and over the rush of people below, work completed on the hotel in 1893. During its inauguration, it boasted luxurious touches you didn't often see in hotels at the time, namely electric lights, heating and a working elevator. I can only imagine who excited the first guests who stayed there felt at the time.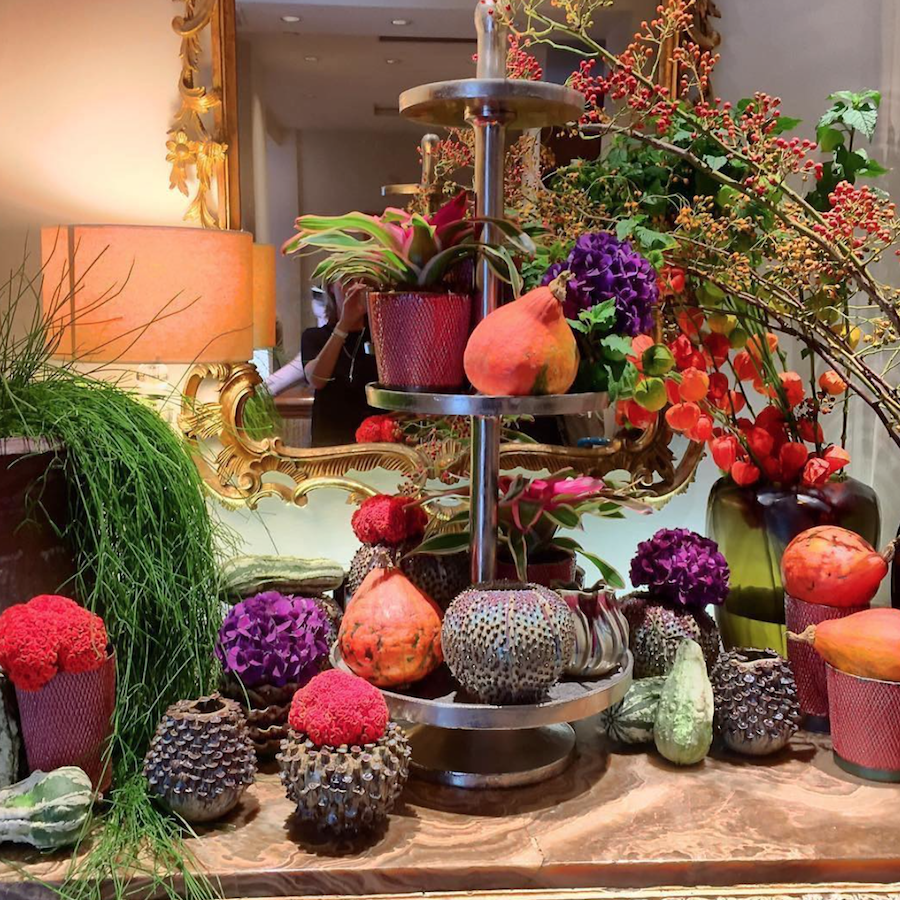 Recent flower arrangement by Sebastian Flowers, the Savoy's in-house florist. Photo credit: Instagram
Today though the Savoy thankfully boasts a more colorful modern style, with a true juxtaposition between its historical origins and in house designer Olga Polizzi's trained contemporary eye. Its central position with 102 rooms means that visiting this Renaissance city's incredible art galleries, luxury boutiques on via tornabuoni, and historical cafes screamingly easy. Just around the corner is our 13th century Santa Maria dei Fiore cathedral and Giotto bell tower, in the other direction, Palazzo Vecchio and the Uffizi gallery. Outside the swinging front doors lies an exhilerating energy. While it certainly tends to get crowded "in season" in the historical center, the Savoy serves as a comforting oasis as soon as you step inside. Off-season instead remains my personal favorite time, think mid to late November which is prime trime for truffle season. Just ask the concierge team and they'll arrange a curated experience for your entire group.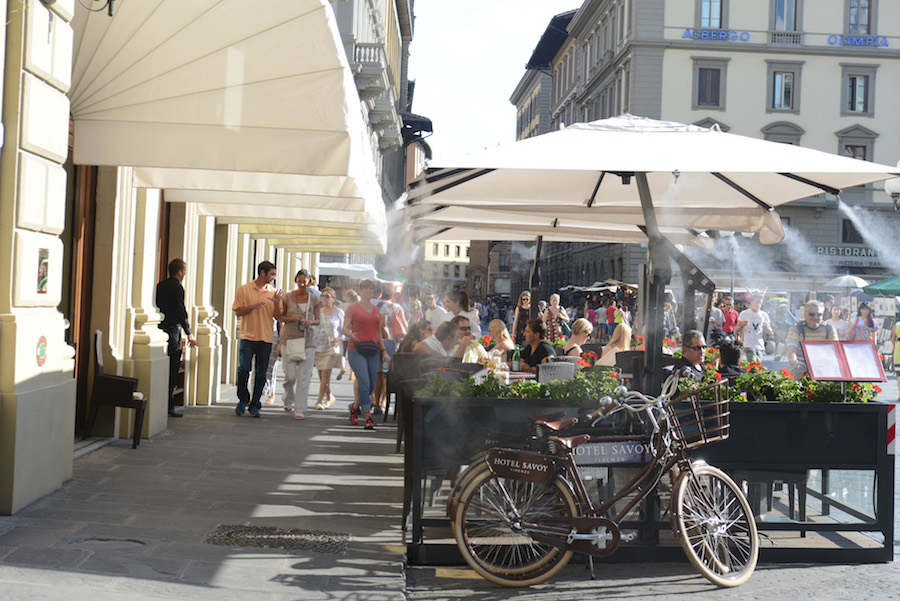 The lobby, which recently underwent a transformation at the beginning of this year, invites guests to unwind and catch up -- with pops of color not unlike Andy Warhol. Your eye immediately leads to the contemporary take on a Greco/Roman head hung on the wall, mustard yellow angular furniture mixed with the neutral touches of the room add an additional pop of color to the small, but cozy space. Music softly plays in the background as passing staff throw out a "Buongiorno." Most people never realize that tucked into the corner is a small armoire, which when opened, contains a bar – perfect for a champagne toast with friends before a night out on the town.
What stands out most to me about the Savoy is the always-reliable Rocco Forte brand of service, the epitome of class and warm greetings with staff member's remembering important details. From General manager Giancarlo Rizzi himself, he has said "Having known Florence and the charming Hotel Savoy for many years, I feel naturally at home here. The exceptional location combined with the team of passionate and professional colleagues, gives Hotel Savoy a special and unique atmosphere. To me being part of the Rocco Forte family is a true honour."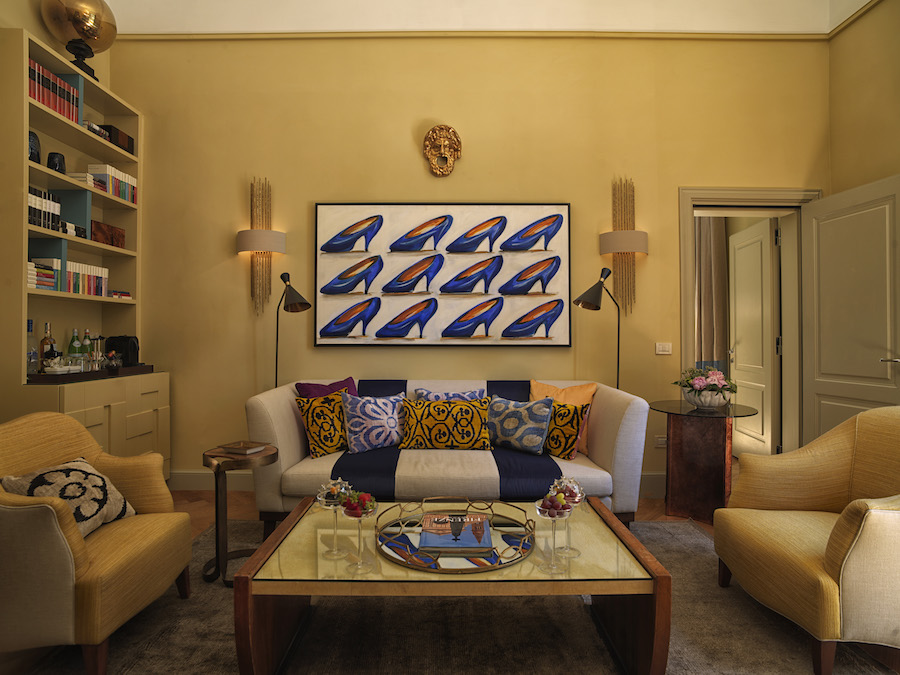 The Repubblica Suite's living room
I agree with Giancarlo, there is indeed a special atmosphere. Despite its elegant surroundings, you never get the vibe you are in a stuffy hotel. For example, on a recent staycation in their luxurious Repubblica suite where fresh flower arrangements are brought in daily, they left an array of fresh fruits and chocolates. A thoughtful touch, but one I wouldn't soon forget. Bookshelves are lined with classic literature favorites with interesting art pieces in perfect juxtaposition with the contemporary decor. Even the gym boasts a view of the Duomo that woulkd motivate anyone on the treadmill, however my mind was more on dinner.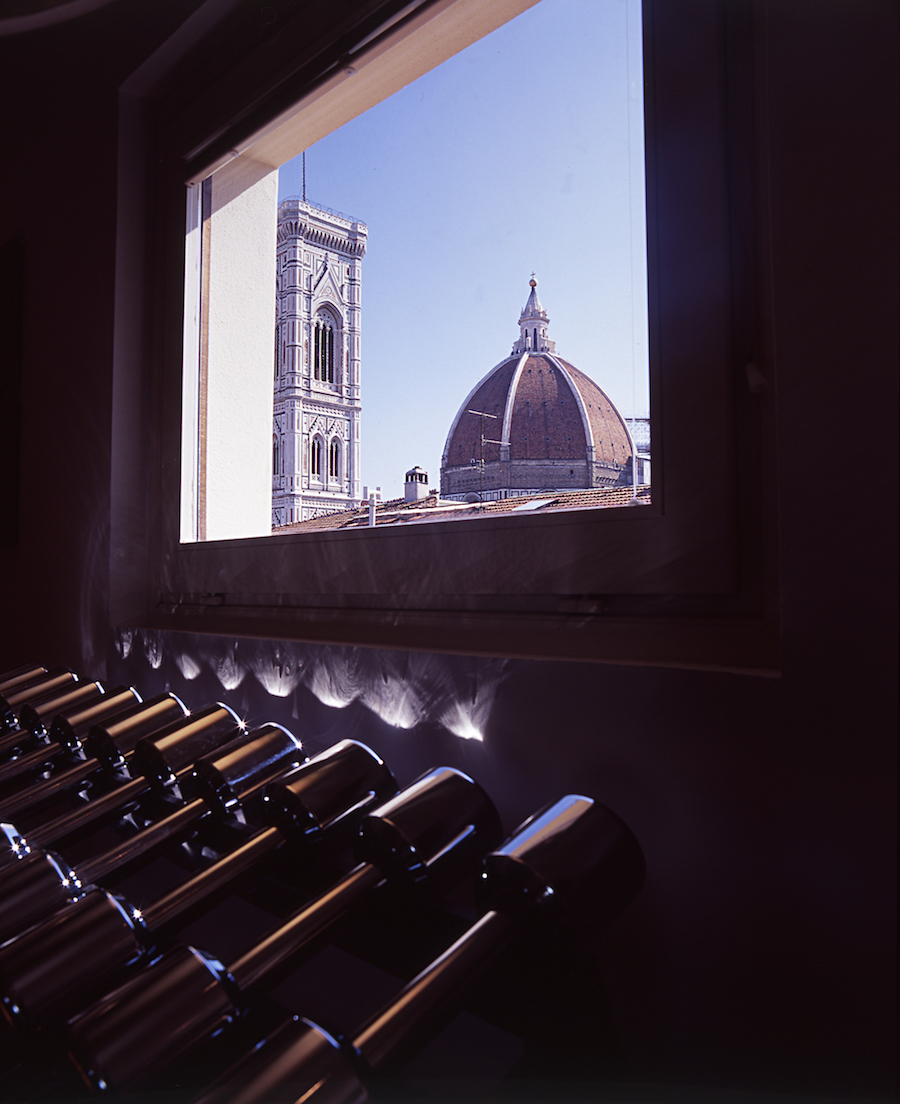 Downstairs in the Savoy's Irene Firenze a retro 1950's bistro beckons with a creative menu created by acclaimed Chef Fulvio Pierangelini inspired by Sir Rocco Forte's mother, Irene. Besides its obvious style qualities, the food is great too. Here guests and locals alike enjoy a modern twist on Tuscan classics. Freshly-made ravioli stuffed with fragrant pappa al Pomodoro, a local staple in Tuscany which make a perfect pasta filling. Another favorite was the saffron risotto topped with red shrimp tartare and pistachio, and don't forget the iconic fresh tomatoes served with a knife, fork and a bread basket, perfect for a quick do-it-yourself bruschetta. 
For cocktails, bartender Dario made sure that our discerning tastes were met with proper care, with an expertly crafted 'cardinale twist,' a blend of vermouth macchia, gin mare and China dementi. It sounds quite simple to make but like most things worth anything in life, it isn't. The quality of the ingredients, vermouth sourced from Prato for example, and an expert bartender's eye which makes this drink anything but stifling bitter.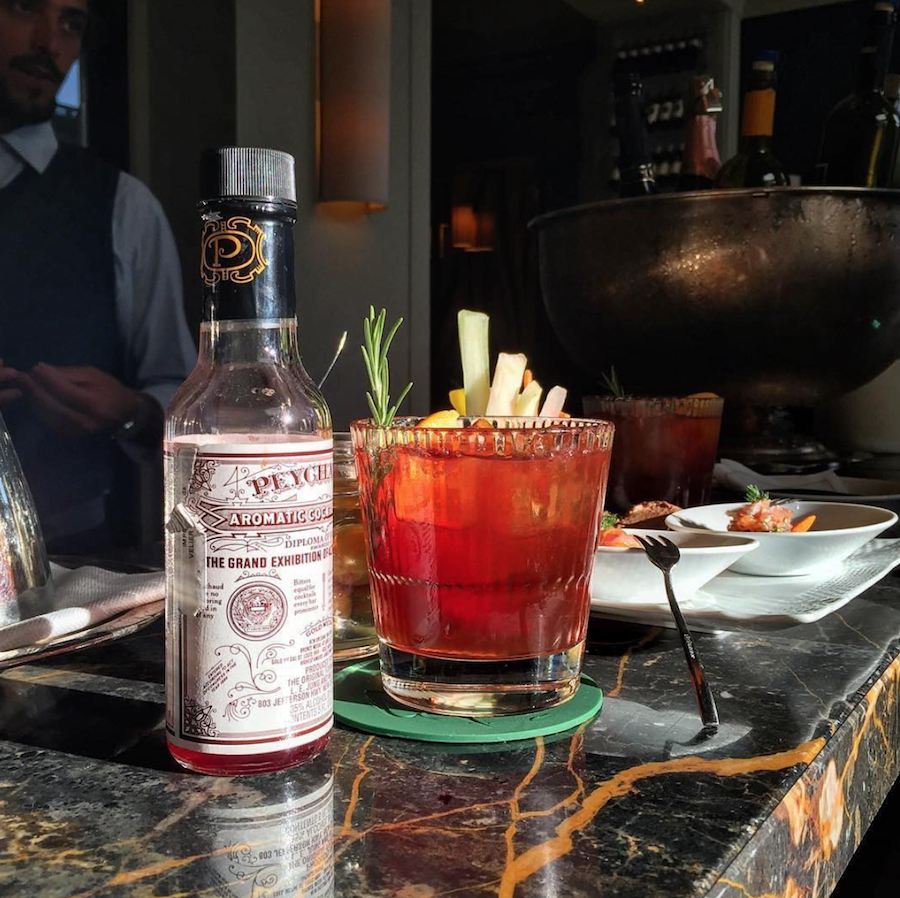 Pre-dinner drink at the sexy Irene Firenze bistro, where every drink comes with a story and nicely paired nibbles. Photo credit: Instagram 
What we love about Hotel Savoy Florence
- The central location near all of the city's hotspots 
- The steller service exuded by all members of staff, they will happily make anything happen, curated tours, exclusive visits, valet service. Also very family-friendly, ask about their Pinocchio-themed 'Families R Forte' program. 
- The eclectic yet comfortable contemporary design by Olga Polizzi that makes the Savoy anything but "stuffy," expect 'fashion-inspired' canvases of shoes or hats
- The hotel restaurant is open with continuous hours (not always the case in Italy) and offers a refreshing array of healthier Italian dishes. Try the risotto! 
- The Repubblica Suite offers a panoramic view of the piazza, with several balconies and is just one of their newly designed suites.  
Hotel Savoy Florence is located in the heart of the Renaissance city in Piazza della Repubblica. For more information and to book a stay, visit our dedicated page here, or keep in touch via Facebook.