Arriving in front of Valentino restaurant, one could not imagine that this unassuming locale in a modest area of Santa Monica, California, is actually the place that revolutionized the concept of Italian dining in the U.S. - so much so that the prestigious Bon Appétit magazine included it in its "Millennium Special" about the places that changed American dining forever.
Entering the restaurant, I am greeted, warmly, by Valentino's owner, Piero Selvaggio, a legend of the restaurant industry - although at this point I haven't yet fully grasped I'm in the presence of a star. He is gracious, friendly and charming – no wonder he's been described as the "consummate host", the last of a dying breed of restaurateurs whose role has not been supplanted by the (celebrity) chef, as he will tell me later during our interview.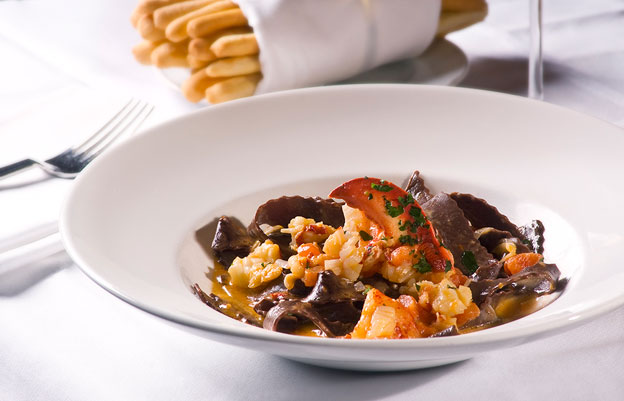 The story of Selvaggio is an inspiring story of Italian success in the U.S. As a teenager, he emigrated with his family from his native Modica, Sicily, to Brooklyn, arriving in 1964. Working in the kitchens at New York University, he did not have much exposure to American culture or the English language, until, one day, a friend said something that stuck with him: "This is not America, this is the beginning of America. This is not the great American adventure. If you want to make progress, go as far as you can." Meaning, go west. And so, at 17, Selvaggio bought a one-way bus ticket to Los Angeles. Indeed as far as he could go in the U.S.
In L.A., he had an uncle who worked as a manager at Chasen's, then one of L.A.'s most exclusive restaurants, where it was common to see stars of the caliber of Liz Taylor and Gregory Peck. His uncle gave him a job at Chasen's as a busboy. During the day, Selvaggio went to college as his dream was to become a journalist. As the years passed, he realized journalism wasn't in his destiny. He felt happy working in restaurants, rising from busboy to manager; "the restaurant was my refuge," he says.
He knew at that point he wanted to open a restaurant, although, he says, "I was a bit confused on what I was supposed to do."
That didn't stop him. In 1972, with a partner, Gianni Paoletti, he took over a former beer bar in the same location where the restaurant stands today. Selvaggio was 25. "The place was so ugly and depressing that I almost didn't do it, but then I thought, why not try?"
When Valentino opened in 1972, Italian cuisine meant "heavy sauces, a lot of garlic and tomatoes, pizza, straw flask Chianti and checkered tablecloths," Selvaggio explains. "Want to see? Look at this menu." He shows me the first-ever Valentino menu, framed on a wall in the restaurant, where the names of dishes had been hand-written by him.
His first menu, he recognizes, was very similar to that old concept of Italian cuisine, which was more Italian-American than Italian: "Buffalo mozzarella which wasn't really buffalo mozzarella, but rather 'a piece of chewy cheese', mushrooms filled with crumbs and oil, beans, calamari, scungilli (marine snails), manicotti, baked mostaccioli pasta."
Even if the dishes on offer weren't the most refined, the restaurant soon picked up. In the meantime, the two partners split and Selvaggio acquired full and sole ownership of Valentino.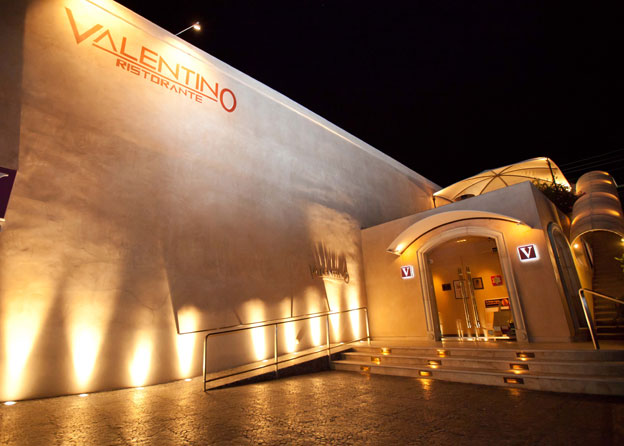 Then came the revelation: a gastronome who often dined at the restaurant told him he was a great host working with passion and determination, but  - "the food is awful and the wine is banal.". "It was like a punch in the face," Selvaggio recalls. The gastronome suggested Selvaggio travel to Italy and learn from the source. Accepting the advice, in 1979, Selvaggio went to Italy and was forever changed.
"It was an awakening. I began to understand so much about what Italian cuisine is really about: simplicity and quality. I realized how important details are, how decisive the chef is, what food elegance is, and finally how the restaurant needs a person to guide its customers through a gastronomic voyage." That person would become Selvaggio himself.
That was the first of many subsequent and regular trips Selvaggio has made to Italy to stay up-to-date with the latest developments in the "Italian enogastronomia", to find new talent to bring to the U.S. and to foster relationships with other restaurateurs and local suppliers.
When he returned to Los Angeles from that first trip, Selvaggio set out to transform Valentino into a real Italian restaurant, using only authentic and high-quality ingredients. He introduced Americans to fresh mozzarella, burrata, real prosciutto, extra virgin olive oil, risotto, balsamic vinegar and white truffles, items on every Italian restaurant menu now, but that were considered exotic back then.
Selvaggio also became very interested in wine, determined to build a wine list that would be America's best and biggest. He succeeded: at one point, he had up to 100,000 bottles in his cellar (which doubles as a private dining room), and Valentino has held a Wine Spectator Grand Award since 1981. "Few cellars in the world can match Valentino for Italian wine, and they're all in Italy," Wine Spectator wrote.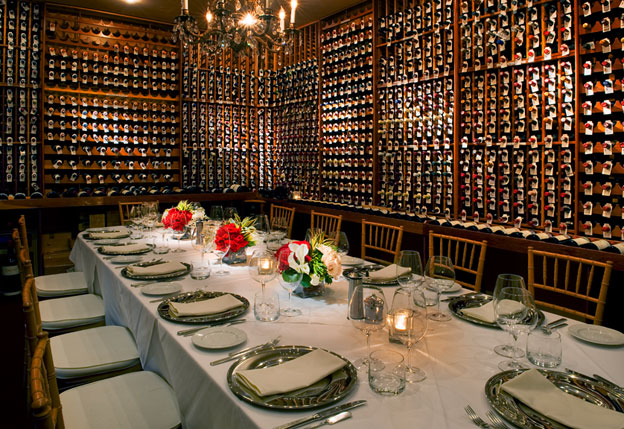 The 1990s were Valentino's best years, with chef Angelo Auriana at the helm, in line with the general growth of a more refined, elevated cuisine in the United States. Throughout its more than 40 years in business, Valentino has received countless awards and accolades.
Today, the restaurant sprawls through four elegant dining rooms, and Selvaggio still goes to work every day to continue his mission with passion and enthusiasm.
He is rightfully considered one of Italy's most important ambassadors in the U.S., and I'd like to conclude by borrowing a definition I read in one of the many articles written about him:
"Not a film star, but a star nevertheless – with the best Italian food in America." A star indeed – but he doesn't tell you.
Valentino is located at 3115 Pico Boulevard, Santa Monica, CA. Ph. 310 829 4313.
www.valentinosantamonica.com