Modigliani: The Prince of Vagabonds
Defying the bailiffs at birth
Amadeo Modigliani is remembered as much for his 'story' and his behaviour as his paintings. He was born on 12th July in 1884 on a bed piled high with all the family heirlooms while the bailiffs came to try and take possession of everything in the Modigliani household to pay debts owed.
A law in Italy at that time prevented the bailiffs from taking the possessions from the bed of a woman in labour ,and Eugenia was in labour, so Amadeo or 'Dedo' as he was called was born into this Jewish Separdist family on the bed in amongst the heirlooms. He was the last of four children from his French mother, Eugenia and his Italian father, Flaminio. The Jewish influence and the mix of Italian and French genes were most likely responsible for his looks and much of his character.
He spent his early years and his studies in Italy but his later years in France, which meant that he was imbued with the arts, styles, fashions and graces of both. He was raised as an aristocrat but rejected that association and became the very essence of a Bohemian. Rebelling the system he lived as an almost penniless artist in the Artists Quarters ' Le Bateau Lavoir' in Paris, along with other known artists such as George Braque and Pablo Picasso who had studios there.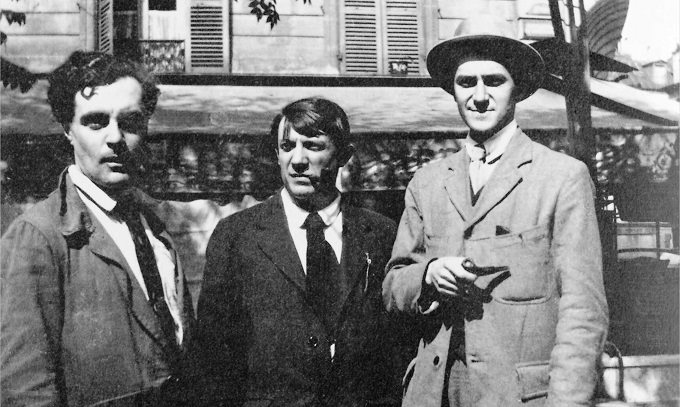 Modigliani and Pablo Picasso 
It was the place to be at the time, where poets, musicians, and artists, both men and women, and many other creative minds were in the melting pot of the cafes and galleries around Montmatre and Montparnasse. He had dark, smouldering, seductive looks , not surprising then that he was known to have many lovers, drank far too much and even indulged in drugs ,mostly as a form of escape from  his constant unwelcome companion, his illness, tuberculosis.
Modigliani's good manners were noticed even when he was quite Bohemian in his behaviour, his mother had taught him well and he had true heart quality. There are many stories of his generous gestures. Leon Bakst, the Russian painter, described him as: Quote:' a noble man in frayed cuffs.'
 In Paris his illness was a constant battle as from childhood he had suffered bouts of pleurisy and a typhoid attack which left his lungs damaged. He turned to drugs and alcohol to mask his symptoms and deal with his pain. There was a stigma attached to the disease as there was no known cure and he hid behind these vices to disguise his illness, which sadly ruined his life.
Circle of influence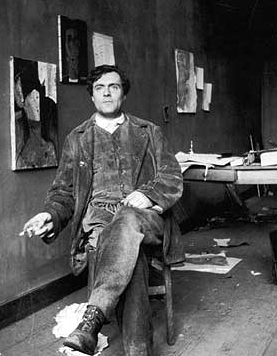 His first teacher Guglielmo Micheli was a follower of the Macchiaioli School of Italian Impressionists. Amadeo developed the classical idea of ideal beauty, he learnt to observe and immerse himself in the study of nature. Between 1898 and 1906 he travelled and studied in Italy including the 'Scola Libera di Nudo dell'Academia de Belle Arti' in Florence and the 'Scuola Libera del Nudo' in Venice. Influenced by the work of Henri Toulouse-Lautrec he was inspired to go to Paris where he studied drawing at the Accademia Colarossi.
 In 1907 his first patron was Dr Paul Alexandre, a Parisian who bought his paintings, made it possible for him to exhibit and apparently also supplied him with hashish.
Between 1914 and 1916 he had a relationship with Beatrice Hastings, a British born South African who was not only his companion but also his most important model. It was a tempestuous relationship where alcohol and hashish played their part. However, she was an intellectual and encouraged him to explore his creativity. He painted fourteen portraits and nudes of Beatrice.
Other major influences included Leopold Zborowski, poet and art dealer who represented Modigliani giving him total support and exchanging that for his entire output. Leopold was rewarded only after Modigliani's death when the work became valuable. His close friend was artist Chaim Soutine who became a most successful artist of the Ecole de Paris artists. Elena Povolosky also supported him and his friend  Soutine and he painted her at least twice.
His portraits were mainly people he knew and included Oscar Miestchaninoff, Russian sculptor, artist Diego Rivera, three portraits of pianist Germaine Survage and Picasso, whom he met in 1906 when he visited the artist's studio and was influenced by his modernist experiments. Further Portraits were of Thora Klinckowstrom, Swedish art student, Henri Laurens the French sculptor, Max Jacob the poet, Frank Burty Haviland, an American who collected African art which also influenced Modigliani, Paul Guillaume the avant- garde dealer and Jean Cocteau the poet.
When discussing his work the words 'shocking, sexual, erotic were often used as many of his paintings were of nude reclining women. His solo exhibition in the Berthe Weill gallery in Paris was closed by the police because the nudes with their explicit content was considered 'shocking'.  Modigliani went through a time of promiscuity and self-indulgence until the day he met artist Jeanne Heuterne in 1917 when his path changed to one of ultimate fidelity. They were devoted to each other, though her family disapproved, being catholic and unmarried and the mother of his child. He painted portraits of her in an aesthetic, Italianate and graceful style.
Other women who passed through his life in a special way were Lunia Czechowska who modelled for him and with whom he had great bond and his first real love poet Ana Akmatova with whom he had an affair in 1910.
Tragedy
Modigliani produced an exceptional amount of work in his time and yet he was only thirty five when he died from his afflictions. His whole life's work was produced in this short time. He died in 1920, in the arms of Jeanne, in pain. She was so distraught that the next day, pregnant with their second child, she jumped from a window. Her family refused to collect her body and bury her, as being strict Catholics they not only disapproved of her relationship but also her suicide.
His posthumous fame after his death made Zborowski a wealthy man and many arrived on the scene to lay their hands on his work.
His legacy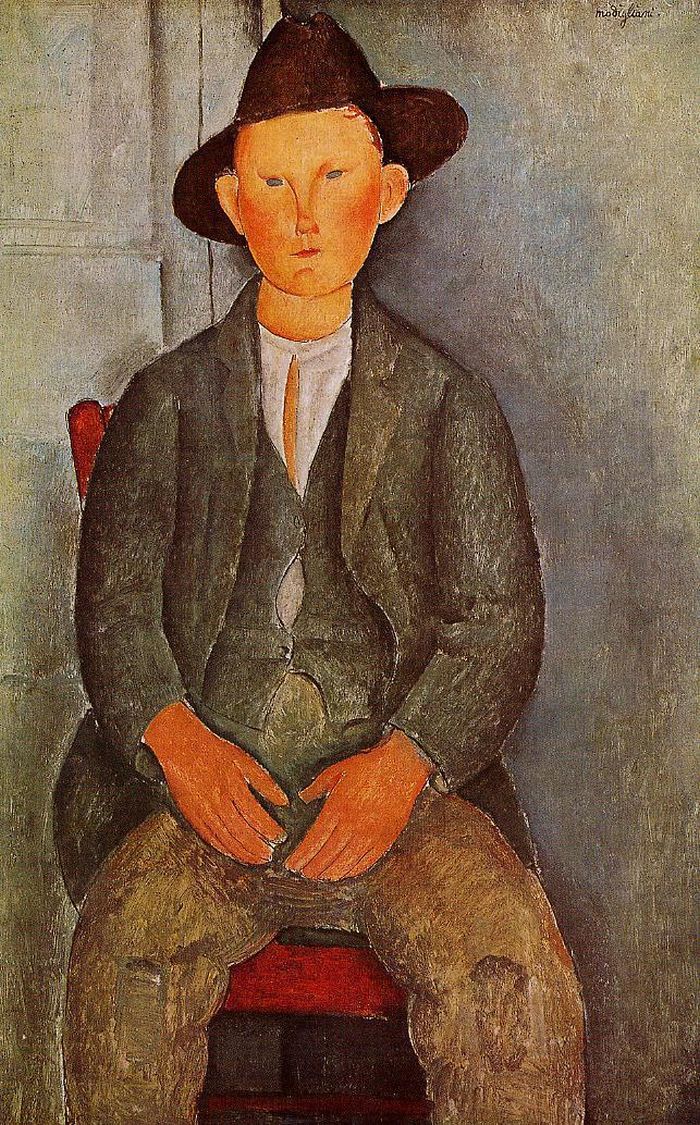 Modigliani left the world hundreds of drawings and Paintings. He produced many sculptures over a period of years yet less than thirty are still in existence .His style in painting was modern yet influenced by tradition in a time when Fauvism and Cubism was all happening at a tremendous pace around him. He developed his own style after being influenced by Simone Martini' s elongated figures and intrigued by the work of Cezanne. His exposure to African art, as well, led him to mix simplicity with sensual form and rich colour.
He died destitute, yet his work today sells for millions of dollars, work that in his time was not readily accepted is now in all major galleries in the world. 'The little peasant' 1919 (Tate Liverpool),' Portrait of Jeanne Hebuterne '1918 (Zurich),'Nude on a Blue Cushion'1917 (National Gallery Washington)'Nude with Necklace' 1917(Ohio) 'Young Man (the Student)'1919 (Guggenheim Museum New York)'Seated Nude' 1917(Koninklijk Museum, Antwerp) are just some of the few works of this great, yet troubled ,artist that are not only Italian treasures but treasures which are shared by the world.
You may also be interested in...