A New Life in Italy: 8 Properties For Sale in Le Marche
Le Marche is the ultimate retirement getaway for anyone seeking the good life. 
Whether you're after good food, drink or culture, you won't go wrong with any of the five provinces in Le Marche (Ascoli Piceno, Macerata, Ancona, Pesaro and Fermo). The local food and drink is second to none, with locally sourced meats, pastas, cheeses and baked goodies proving ideal additions for the dinner table: not to mention the wines from local family-run wineries.
Culturally, you won't run out of things to do during your retirement: music and food festivals are common in Le Marche. But if you want to get away from it all, then the many coastal areas are the perfect getaways. If you're fond of the beach, then Le Marche is the ideal retirement location for you. When selecting a property, you won't go short on some spectacular views, with the likes of the hills between San Ginesio, Gualdo and Sarnano and the Sibillini mountains jostling for your attention.
More to the point, Le Marche is said to be a place that has a longer-than-average life expectancy, as shown in this article. Fresh air and good food are contributing factors, and it's not impossible to reach the grand old age of 100 in Le Marche! Just ask Domenico Dari-Mattiacci! 
Restored Country Home, Penna San Giovanni
€ 495.000 ($573,903; £437,679)
All the fun of the farm!
Renovated 12 years ago, this farmhouse successfully mixes modern living standards with a nod to the past. The current owners of the house have kept the original farmhouse features (such as the old stone and brick walls, and wood beam and brick ceilings), but have updated the property for the ideal 21st century living experience with facilities such as thermal insulation and ventilation space. 
Comprising three floors (at 95 square metres each), the house offers plenty of features. You've got a good sized kitchen, dining room, sitting area, bathroom, laundry room and storage room on the ground floor. The first floor boasts the main master bedroom (which features its own en suite bathroom with shower), sitting area and another good-sized bathroom that includes its own bath tub. Move on up to the second floor, and you'll find two more double bedrooms, which can be used for guests such as friends or family (ideal if your extended family is moving in with you). 
Part of the package is an impressive space of agricultural land at 100.000 square metres, which you can either have all to yourself or maybe develop some kind of camping site. If you're asking about maintenance of this land, it's currently managed by a local farmer, who can carry on if you wish. There is also a lovely olive tree garden to relax in.
Country Home, San Giorgio di Pesaro
€ 180.000 ($208,692; £159,156) 
This lovely country house has the advantage of a value for money price. The caveat to this is that while it has been partly renovated to a high standard, a little bit more modernising and upgrading work is required. 
But for the price, you're getting a very good deal. Both of the two floors are of a generous size, fitting a lot into each level. The ground floor includes living quarters, a kitchen and a bathroom. Go up the internal staircase to the first floor for an equally generous four bedrooms and two bathrooms. There is also a garage, a warehouse and an oven room, plus a fully fenced 2200 square metre garden.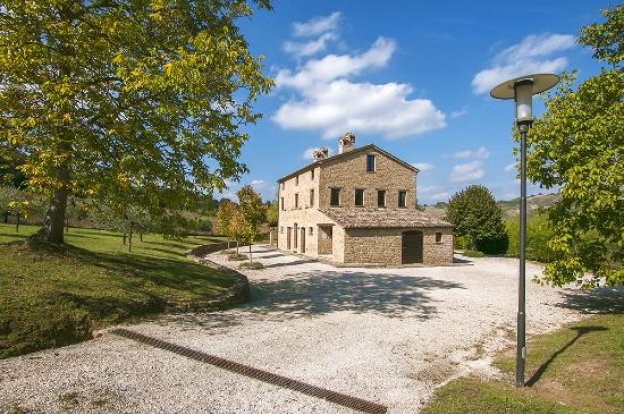 Country Home to Restore, San Ginesio
€ 175.000 ($202,895; £154,735) 
The rural location of this value for money country home takes a starring role. Situated in the area of rolling hills between San Ginesio, Gualdo and Sarnano, you can see the amazing Sibillini mountains. Furthermore, this property is just 10 minutes away from Sarnano town, which gives you plenty to do: whether you like busy markets, day skiing or even paragliding (for the more adventurous of you retiring!), Sarnano will keep you occupied.
The house itself is up for restoration work, so if you're looking for a building project, this is a good choice (either that, or hire someone to do the work for you). There is plenty of potential here with 268 metre squared of space (which can be increased to 320 metre squared if you wish), meaning that you can have four to five bedrooms as well as an underground wine cellar. You also have a bit more space to play with, thanks to the nearby annexe which gives you an extra 100 metre squared space which could be turned into an entertainment room or even a place for extra accommodation. 
€ 245.000 ($284,053; £216,629) 
Choosing an apartment for your retirement offers an immediate benefit in that it's either close to or in the heart of town. 
This is the case with this great Grottammare apartment which is near to all the major amenities and also the sea, if you wish to go on a bracing coastal walk. Furthermore, it's close (an hour away) to either the Ancona or Pescara airport, which means that when you arrive to start your new life, there's no umpteen-hour journey to reach your brand new abode. 
The two bedroom/two bathroom apartment itself is a comfortable and inviting place to live, with each of these a good size. You will also get a large open plan living room, which also features a kitchen in the corner. If you're inviting friends or family over for dinner, you can give them a cooking masterclass! Plus, when the weather's warm, there are large balconies where you can go for a spot of al fresco dining. 
For parking, there's a spacious double garage, and when the weather gets cold, the apartment's cosy central heating will warm things up. 
€ 245.000 ($284,053; £216,629) 
Another high quality apartment, this building in Ripatransone, is again close to all the amenities that you could want. Whether you want to go shopping, eating or drinking, it's all there for you. Not to mention some fantastic beaches and the jewels of the Adriatic coast. 
The beauty of this apartment is that it can be tailored to your requirements, finish-wise. The two-level building comes with some splendid panoramic views, as well as a good sized lounge, kitchen, three bedrooms and two bathrooms. 
€ 980.000 ($1,136,212; £866,516) 
Part of the joy of doing these guides to retirement properties is finding something completely quirky and unique.
This Fermo property is one such example, with the basement's large round room actually dating back to Roman times. It is part of an old Roman Temple, and used to be a banquet hall.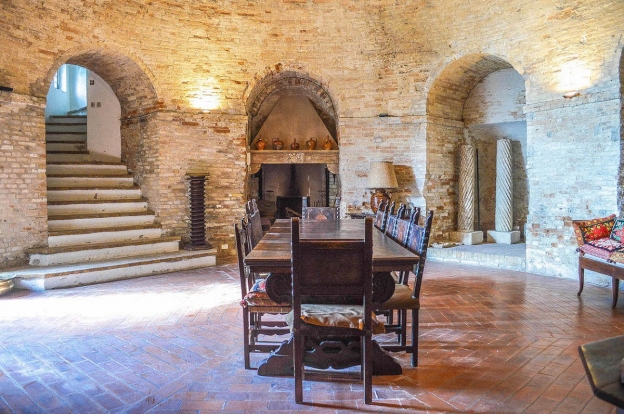 This slice of history can be yours, along with plenty of other property goodies. The stucco ceilings are a lovely touch, keeping in with the property's historical ambience. There is also a double living room, a smart dining room, kitchen, bathroom and storeroom. A further bonus on this level is the balcony which looks out on to some stunning landscape views that encompass the sea and the local mountains.
The first floor contains four bedrooms, two of which come with their own en-suite bathroom. All four of the bedrooms add a touch of class with frescoed ceilings and antique chandeliers. There is also a room that can be used for a sitting room or a study area. A third bathroom can also be used for the two en-suite-less bedrooms.
The garden is also worthy of mention. It gives you an awesome, all-encompassing 180° view, from the Adriatic sea to the central rolling hills to the Sibillini Mountains. If you want to spend your retirement in style, then this property is an ideal choice.
€ 345.000 ($399,993; £305,049) 
How would you like your very own historic palazzo with its own private panoramic roof terrace and garden?
Well, it can be all yours, with this four-floored property that benefits from its central location in the heart of Monte Giberto. Two of the floors have been restored to a high degree, with the other two providing further restoration opportunities. 
The floors that require further restoration are the lower ground floor and the attic, which could be used for facilities such as extra bedrooms or entertainment areas. 
The restored floors have been finished to perfection, with some interesting additions to the usual bedrooms, bathrooms and lounges. For example, the ground floor includes a library and cloakroom, while the first floor's en-suite double bedroom has that extra warmth thanks to the inclusion of a fireplace. 
One notable special feature is that of the spacious panoramic roof terrace that gives you some outstanding views of the region, from countryside wildlife to the Sibillini mountains. It's the perfect backdrop on a hot day whether you're relaxing, eating dinner, or throwing a party. 
€ 635.000 ($736,219; £561,467) 
Your family may want to join you in your new retirement adventure. So when choosing the right property for you and your family, it's worth considering the type of accommodation. In this case, not only do you get two villas, but a studio apartment: all providing suitable quarters for any family member wishing to come along for the ride. 
The properties contain a plethora of stylish living facilities, with interesting choices such as a fitness room, a covered loggia and a large covered portico. Outside is equally impressive, with two external brick built kitchens, a wooden gazebo, a swimming pool, and just over 10 acres of land, including a lovely garden to chill out in. Definitely a property that offers fun for all the family. 
And a brand new chapter.
Topic:
Location:
You may also be interested in...
Latest property in Marche
What to do in Marche