The start of any major event such as a wedding is an exhilarating yet decidedly stressful period. From the moment you announce your engagement on social media, the pressure is on. And for those planning a wedding in Italy, sometimes even more so -- as expectations and cultural differences can affect every one of the planning stages. As a newlywed, having been married just this past November, I know that feeling firsthand. While not exactly planning a destination wedding in my city of Florence, it at times felt like that as there is a lot to coordinate when so many people are coming abroad to celebrate your special day.
Luckily the resounding truth is, this is about your and your partner and no-one else, as much as it doesn't feel like that at times. The luxury of being married in 2016 rather than 1953, is that the bride and groom are much more present during the planning stages and non-conventional is the new conventional when it comes to weddings, a trend that I am definitely starting to see in Italy.
While some couples still stick to local traditions, for example extremely long dinner servives with multiple courses, at the same time people are starting to mix-it-up. From red wedding dresses to a barn-yard like theme under a Tuscan wine grove, unique touches thanks to DIY tips on pinterest are exploding in popularity. Smaller budgets need not fear, a wedding in Italy can come in any range of ideals.
Don't underestimate the power of help
One thing to keep in mind when planning your wedding in Italy, or well, anywhere – is that help is completely underrated. Traditionally here, you have your Italian family to help guide the planning process and 'la mamma' can be one strong opinionated personality, but things are changing as society starts to stray away from very traditional 'I do's'. For foreigners coming abroad, hiring a wedding planner is ideal for helping navigate through sticky paperwork and contacting local vendors.
Even for us that we speak Italian, having help from a known expert in the field was tantamount to scoring a few deals and discounts for getting married in the off-season (November). For those who want to take on the burden of planning themselves, a day-of coordinator is another option. They will make sure guests get from point A to point B, will make sure to follow your time schedule of events the day of (speeches during dinner, first dance, cake cutting) and help call taxis the night of. Essentially take care of details while you actually get to enjoy the day.
For those coming abroad who don't speak Italian, it is highly recommended to have a point person, like a day-of coordinator, so that you don't get inundated with questions on your special day.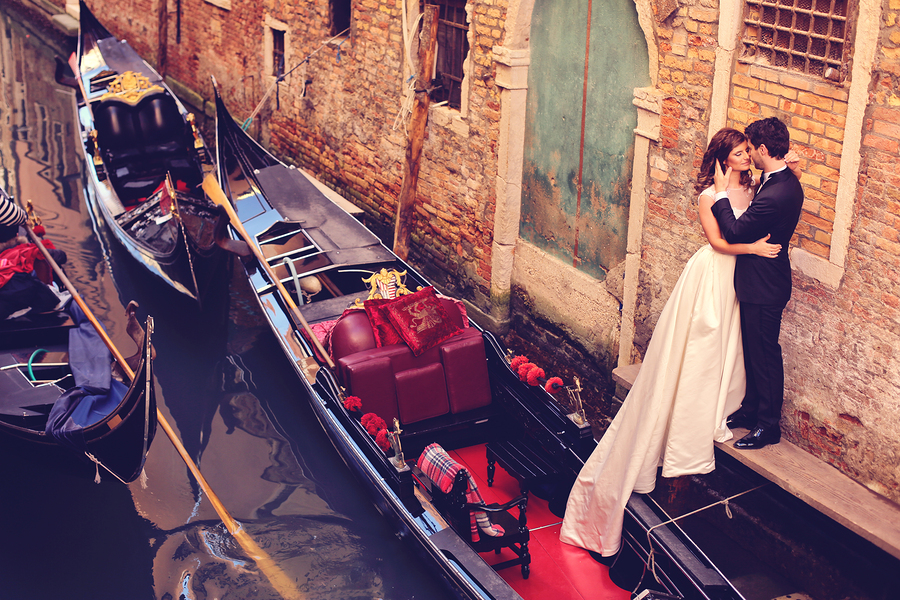 Stay Organized And Stress-Free
Being a self-admitted organizational mess myself, I was pretty lucky to have an engineer partner who is much more comfortable with numbers and spreadsheets than I was.  My advice is to stay as organized as possible, keep an excel sheet with your budget, number of guests, where they are coming from and dates of arrival and departure, and a separate wedding file with the day-by-day coordination the week of the wedding.
On the top sheet, include the contact information of every single one of your vendors, and who you need to pay and when. Entrust this with a few close friends who are helping, or with your day-of coordinator a few days before your wedding so she/he can be up-to-date with everything. When it comes to DIY efforts, remember that these actually can take more time than it seems so be wary of taking on too much while planning.
Wedding Venues, try a University!
Fancy hotels or castles remain fantastic in Italy for celebrating weddings, but in 2016, the trend is to seek out more unusual locations for a wedding day. This includes a fun trend to get hitched at a beautiful university or even the gardens of an ancient monastery. Also think about your guests and their needs when looking for venues. Keep in mind the feasibility for guests to get to and from the location so you know whether to hire a bus or if you'd like to stay closer to a town where everyone is staying.
When it comes to location, consider a less-famous spot than popular areas such as the Amalfi Coast or Venice. There are plenty of hidden finds in Italy, for example Lake Garda is the biggest lake in the country and breathtakingly beautiful.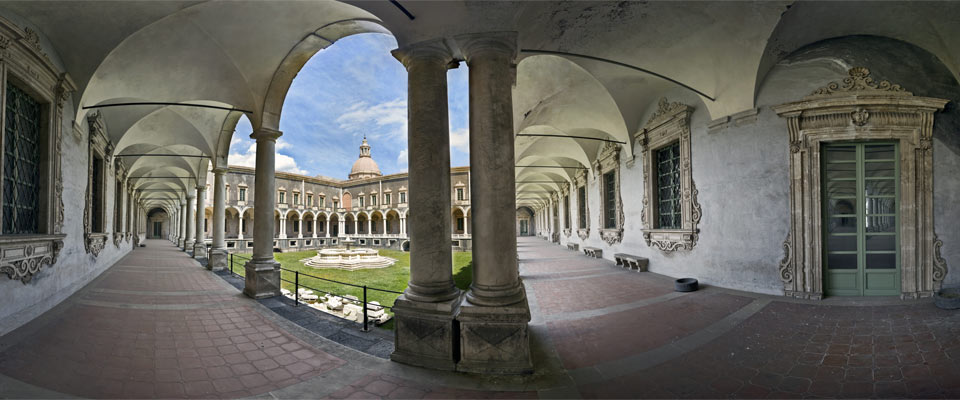 University of Catania 
Wedding Website is a must!
Far from the days of sending an attachment via email or by letter, it is easier than ever to use technology for your wedding planning. If many of your guests are coming from abroad (or even if most of them are Italian), a wedding website is highly recommended and typically easy to obtain and use. This will be the 'online real-estate' that details your wedding day, including location information and gift registry. It also is a nice place to include a little bit of info on you two as a couple and collect RSVPs. Leave a section of travel ideas for out-of-towners including hotel and restaurant recommendations. 
Consider A Symbolic Ceremony
One of the highlights of our personal wedding was the symbolic ceremony that took place after the legal one at the local commune (government office). We were able to curate a special ceremony in both languages to our liking, including poems by friends and special speeches that we had prepared beforehand. It ended up being absolute perfection, with a few funny mishaps but something that both of us would remember forever.
For those planning a destination wedding in Italy, we recommend not trying to do the legal version in Italy (unless you are a resident) and just hiring a local celebrant who will do a great job at hand-crafting a ceremony based on your personalities. Make it personal, make it unique. Red-tape can be quite ominous here when it comes to weddings, and while it is possible, it's not really needed unless you live here full-time.
If you do plan on getting legally hitched here, this is when a wedding planner can be of great help to run back and forth to the offices to file your paperwork and ensure that you get the date you want. Also keep in mind you will need two witnesses that speak Italian otherwise they will require you to get a registered interpreter. 
Off-season often means great deals
While May to September continue to be the ideal wedding times in Italy (or anywhere in the western world), consider a date in November, January or February even with risk of unpleasant weather. Especially for those on a budget, you can often negotiate a cheaper price for the rental price of a villa or location. Ask your wedding planner to help negotiate deals and don't be afraid to ask. Typically a venue might offer to do the food in-house and in this case, you can likely ask for a lower rent. Wedding venues should usually be booked 10 months to a year in advance so lock this down as soon as you get engaged. 
When it comes to weather, this is very important to consider when planning the location. Always have a plan B when it comes to rain, even in summer as the past few years have proven to be more than unpredictable weather-wise. The perks of off-season weddings is that you have to get married indoors which alleviates the stress of 'what if' when it comes to rain. 
Why photography is so important
Besides your memories as a couple, the one thing that remains after the wedding day is over are the photos. For destination weddings, it can be difficult to choose someone thousands of miles away but personally, we would go local. As tempting as it is bringing someone abroad, unless you have your sites set on someone particular, hiring a local not only helps the economy in that country but they also are 'in the know' as far as fantastic photo-ops are concerned. In 2016, most photographers in Italy have wedding websites and blogs and can communicate in English quite effectively. Ask around for tips, check out this list on our site, and here is my top recommendation for Florence.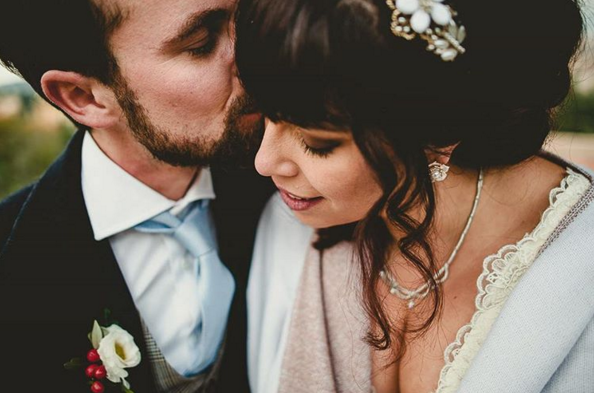 Our wedding day in Florence. Photo credit: Francesco Spighi Photography 
A Few Additional Personal Tips
Don't forget date-nights when planning. While it seems easy to sacrifice time with your partner due to busy schedules, it is extremely important to keep a close connection and bring a little romance to the table during this period. Once a week, go to dinner, have a drink and just be there for one another as a couple.

When it goes to planning the menu and also flowers, go seasonal. Part of the beauty in Italy is how closely intertwined locals are to seasonal changes. Embrace that you're in Italy and local menus, with flowers it will often be cheaper to go seasonal, also consider using organic elements such as fresh rosemary, fruits, vegetables, lemons in jars and olive branches. 

If you plan on getting a dress in Italy, consider hiring a dress-maker! It's a once in a lifetime experience to get your dream dress made by hang but it is one that (if you have time) is incredibly special. My dress-maker in Florence not only made me feel beautiful, but it was a personal, human experience as well.

The day-of take some together to be present in the moment. It can be so easy to get caught up chatting with everyone and taking photos, but even a quick drink solo with your new partner in life to say 'we did it' is a fantastic idea.

If you plan on getting married at the local comune, ask if you can bring your own music and if they allow rice to be thrown outside. Also consider other means to celebrate your exit, like ecofetti or streamers. 
Traditions are optional, if you don't feel like having 10 bridesmaids, then don't. Part of the beauty of getting married abroad is that you don't have to replicate a wedding back home. Let your creativity flow and just be you, in Italy or beyond. You'll appreciate yourself more later. 
When it comes to favors in Italy, consider something a bit more creative than the average chocolate-covered almond candy that is typical here. We chose to personalize small bottles of extra-virgin olive oil which had just been pressed in November from Pruneti, an esteemed producer in the Chianti Classico region. 
Pruneti personalized olive oil, photo credit: Alexandra Korey.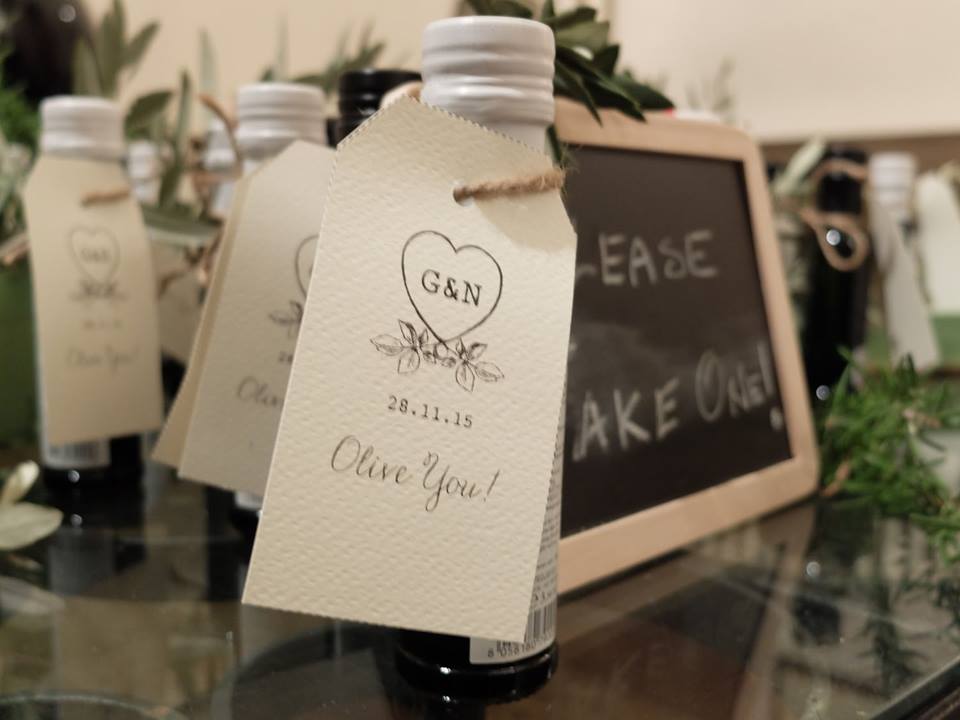 Search around for hair and makeup, which as soon as you say 'wedding', probably will jump up in price. Often if there is a group of you getting services done, it can be easier to get a discount. 
Browse our wedding section for ideas and tips to help plan your Italian wedding