Early days and style
Botticelli was born Alessandro di Mariano di Vanni Filipedi in Florence in 1445 and his work has held fascination for more historians than any other artist of his time. He is widely known as Sandro Botticelli. He was an early Renaissance painter and is well known for his devotionally motivated works of religious art. Very little of Botticelli's work is to be found in its original situation and today it is spread amongst the galleries and museums of most major cities, among them London, Boston, Berlin, Florence, Naples, New York, Scotland, Milan and the Vatican city. He lived in Florence for most of his life in the Ognissanti region where his family were tanners and they were surrounded by the wool working industry.
His art was representative of Gothic realism and with his study of antique and he used a linear style, creating soft, continuous contours and using pastel colours, which makes his work recognisable and unique. Under the patronage of Lorenzo de' Medici, Sandro's paintings were mostly created with tempera on wood, both frescoes and altar pieces were made under his artistic hand. Considering he was well known in his day it is surprising that not much is known about his personal life. It is true that he never married but there was someone in his life whom he revered enough to want to be buried at her feet. This was Simonetta Vespucci. She was a married noblewoman and was likely the model for his 'Venus'.
Botticelli was apprenticed quite young, at age fourteen, to recognised artist Fra Filippo Lippi, and by 1470 Sandro had his own workshop. He and the Pollaiuolo brothers painted the 'Virtues' for the Arte Della Mercanzia. Young Filippino Lippi became his assistant. On a visit to Pisa, Sandro completed the Raczinsky Tondo, which is now in Berlin, and the 'Adoration of the Magi'( 1475 -1477) for the Santa Maria Novella. In this work are portraits of Cosimo de' Medici, his sons and grandsons and it is now housed in the Uffizi, Florence. Vasari called it 'a true and admirable work, executed so beautifully, that every craftsman today marvels at it'. The other versions of 'The Adoration of the Magi' were painted in 1467-70 and 1481-82.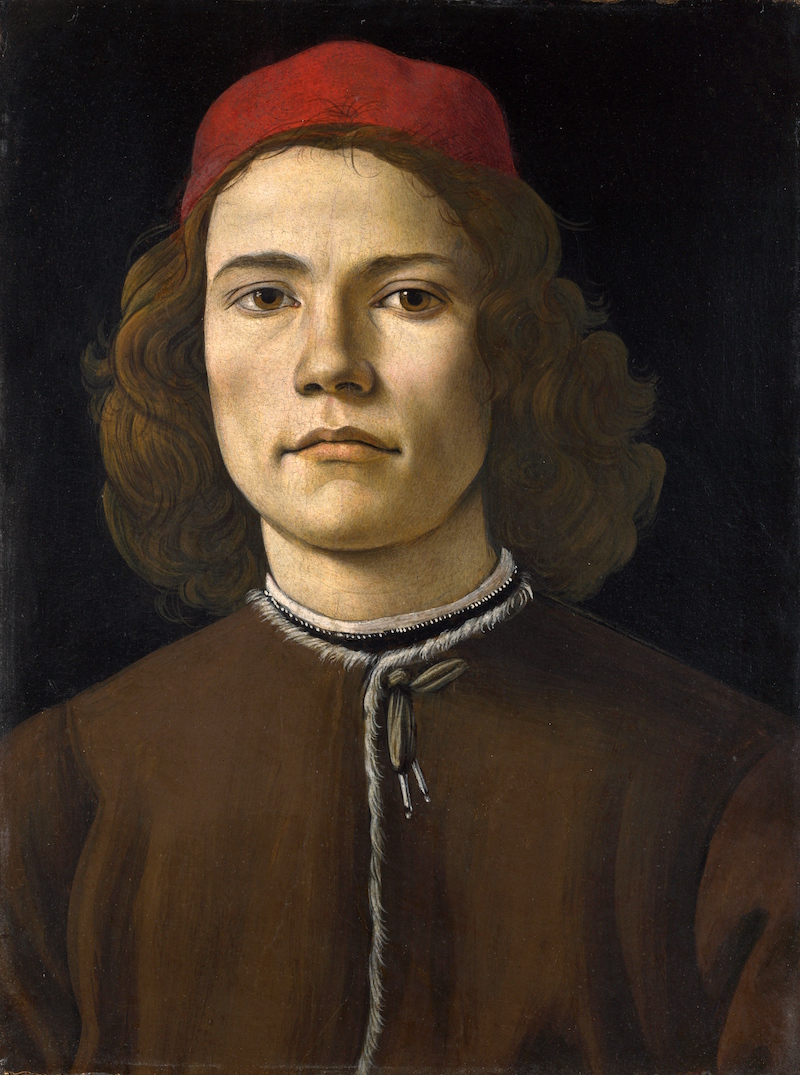 Portrait of Sandro Botticelli via Wikimedia Commons
The big rock
There is a recorded incident that Sandro's neighbour was causing a disturbance and vibrations with his eight weaving looms and it was impossible for Sandro to concentrate. He balanced a huge rock on the balcony so that any vibration would have caused it to fall on his neighbour's house! Needless to say the problem quickly disappeared!
Botticelli was commissioned to portray the criminals who were hanged in the Pazzi conspiracy on the walls of the Palazzo Vecchio. This was 1478. He also created the works 'The Annunciation' which is now in Glasgow, 'Abundance' and 'St Augustine'.
Rome 1481-82
Botticelli worked for a while in Rome and it was here he was involved with the Sistine chapel frescoes and the third 'Adoration of the Magi' (National Gallery of Art in Washington). In the Sistine chapel he painted eleven of the existing popes above the main frieze. He was also summoned along with other Florentine and Umbrian artists to fresco the walls depicting the 'Temptations of Christ', the 'Trial of Moses' and the 'Punishment of Korah'. The Villa Lemmi Frescoes were commissioned by the Tornabuoni family for a wedding ceremony, however, the walls were whitewashed after the wedding and only rediscovered much later.
In 1483-84 Sandro was working on Frescoes at the Medici Villa dello Speddata .He also completed a number of magnificent portraits which can be seen in Florence, London and Washington.
Botticelli has depicted many stories in his work one of these was 'Nastagio degli Onesti', which was about the girl who was chased through the woods only to have her heart cut out and fed to the dogs,  possibly some kind of message for women to be compliant to their husbands!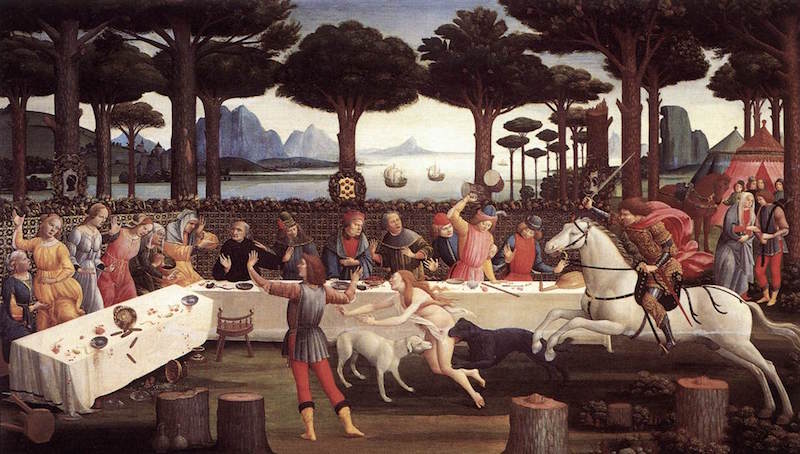 Sandro Botticelli's 'Nastagio degli Onesti' (1483) via Wikimedia Commons
Then 'Pallas and the Centaur', which was in Lorenzo and Giovanni de 'Medici's collection at Castello and yet it ended up in Palazzo Pitti. Having been rediscovered it was moved to Uffizi, and now resides in the Galleria Degli Uffizi. In 1481 he painted decorative designs on Dante's famous textual work 'The Inferno'.
The Birth of Venus (1482-1485)
On his return from Rome he completed The Birth of Venus. Venus was a vision to inspire the noble thoughts of men and not considered erotica. This work is one of the most appreciated of Sandro's paintings and is the first known canvas to have been painted in Tuscany, it represents the birth of love and the notion that spiritual beauty is the driving force in life. There are obvious references to the' Stanzas', the poetic work of Neoplatonic poet in the Medici court, Agnolo Poliziano ,Botticelli's contemporary. The other well-known work also commissioned by the Medici was 'Primavera' (Spring), an exquisite piece full of allegorical meanings, the medium used being tempera pigments suspended in aqueous medium, usually egg but also oils and resins are present. Both works were ultimately installed at Castillo in 1499.  They are now in the Uffizi Gallery, Florence.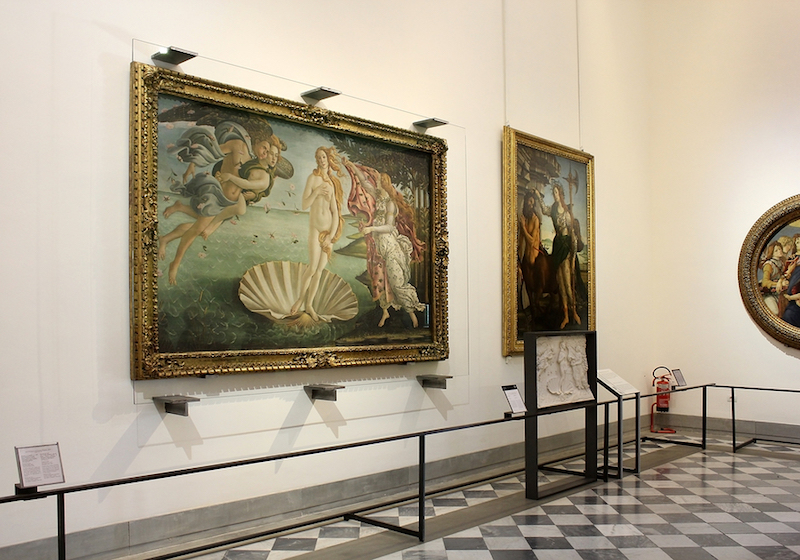 Sandro often worked with other artists and at Lorenzo the Magnificent's Villa near Volterra one will find major frescoes which Botticelli worked on along with Perugino, Ghirlandaio and Lippi.
By 1485 and up until 1490 was an extremely prolific period for Botticelli. Some of the works from this time were, 'The Bardi Altarpiece',' Madonna of the magnificent' ,and 'Madonna and child with a book',  'Madonna of the Pomegranate, 'Portrait of Lorenzo Lorenzano', 'Venus and Mars ' and 'Pala di San Barnaba' 'the Coronation of the Virgin' and the 'Pieta Panciatichi'.
Savonarola, the Mystic Friar
It was also known that he was a follower of the mystic friar, Girolamo Savonarola (1452-1498) who preached radical reformations to the church and professed to have visions and dreams directly from God. Botticelli's work reflects this devout emotion towards a spiritual renewal. In fact there are stories which relate that Botticelli went through a period of not producing any work after being influenced by the teachings of Savonarola. It is not clear if this is true, but what is true is that Savonarola enlisted the youth in Florence to be vigilant in searching out sodomy and vanity  and excess in any form, resulting in the 'bonfires of the vanities', where works of art and culture  were publicly burnt. Savonarola was excommunicated from Rome and eventually tortured into confessing to heresy, though there were many who believe he died a martyr. Nevertheless, he left his mark on history and likely on Sandro, for the painter's work went from decorative to devout. The ''Mystic Nativity '(1500) was painted by Botticelli after the death of Savaronola. It is now in the National Gallery in London. It is the only mythological piece that Botticelli painted.
Later important contributions
Between 1491 and 1500 he decorated the vault of the Chapel of St Zenobius in Santa Maria Del Fiore( but the work was never completed), the Fresco of St Francis in the Santa Maria di Monticelli and the frescoes for Medici Villa di Castello and the important series of ink drawings ' La Divina Commedia inferno'  now in the Vatican city.
 By 1502 he was not much employed but he was involved in1504 in the placing of Michelangelo's sculpture 'David'.
Sandro Botticelli died in 1510 and was buried according to his wishes at the feet of Simonetta Vespucci, in Ognissanti.
This artist's work may be displayed internationally but it remains a true Treasure for Italy.