As the 450th anniversary of William Shakespeare's birth approaches - 26th April as when baptised -, Carol King examines the love affair between the bard and Italy.
English playwright, actor and poet William Shakespeare's plays owe a lot to Italy, Italian history and literature. A prolific writer, Shakespeare produced 38 plays and 154 sonnets. A third of his plays are set in Italy, from Roman histories like 'Coriolanus' and 'Julius Caesar', and comedies such as 'The Taming of the Shrew' and 'Two Gentlemen of Verona', to tragedies including 'The Merchant of Venice', 'Othello' and 'Romeo and Juliet'. His talent brought Italian cities like Venice, Rome, Verona and Padua to life.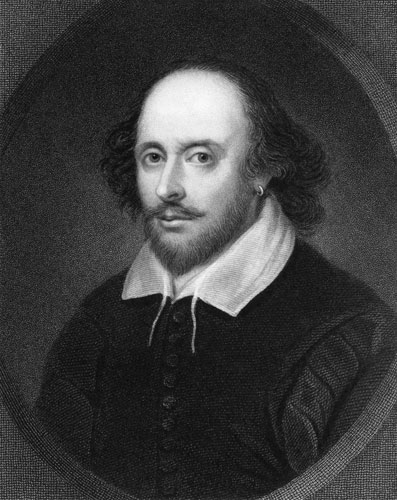 Such was Shakespeare's apparent knowledge of Italy and all things Italian some have suggested he must have had first-hand knowledge of the country gained from a visit. Experts have said this is unlikely given that travel was expensive, Shakespeare is known to have ridiculed the contemporary craze for foreign travel, and that his descriptions of places in Italy lack the authentic detail garnered from personal experience.
Such objections have not stopped others from speculating that Shakespeare was an Italian himself. In his book of 2002, 'Shakespeare era italiano' (Shakespeare Was Italian), Sicilian professor Martino Iuvara suggests that Shakespeare was not born in 1564 in Stratford-upon-Avon in Warwickshire, England to a glove maker and wool merchant John Shakespeare and his wife Mary Arden. The professor claims that the same year the poet was born in Messina, Sicily to a doctor and Calvinist priest, Giovanni Florio, and his wife, Guglielma Crollalanza. Iuvara claims that Shakespeare's real name was "Michelangelo Florio Crollalanza" and that as a Protestant he had to flee the Mediterranean island with his family because of the threat of the Inquisition when he was aged 15.
According to the professor's theory, the family took up residence in Veneto where Shakespeare lived in a building owned by Venetian nobleman called Othello, who had killed his wife, Desdemona, years earlier out of jealousy. The professor claims that Shakespeare travelled in northern Italy – Milan, Padua, Mantua, Verona, Faenza and Venice – and then to Athens where, at the age of 21, he became a teacher.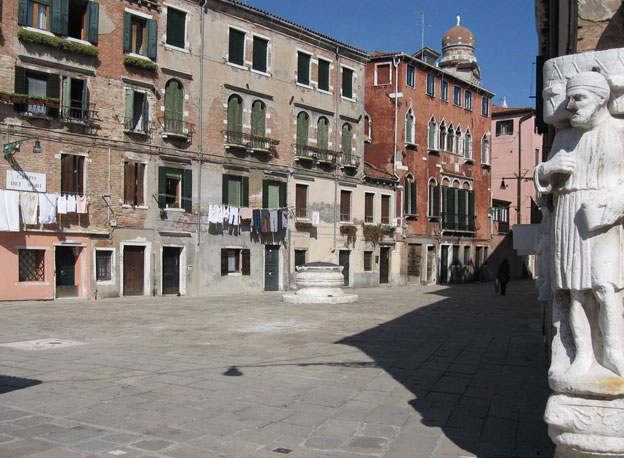 Campo dei Mori, in Venice, with one of several statues of mori, evoking Shakespeare's "Moor", Othello.
The young Shakespeare is said to have continued his world tour, visiting Denmark, Austria, France and Spain before returning to Italy, this time to Treviso. The professor asserts that Shakespeare fell in love with a 16-year-old countess. However, their love was not destined for happiness, the girl's family were against the union and later, she committed suicide. Her name? Giulietta, which translates as "Juliet" in English. The professor claims that the tragedy caused Shakespeare to head to Britain to start a new life. There he concealed his identity by assuming the name of a cousin, William Shakespeare, who had died as baby. Iuvara posits that the cousin's surname, "Shakespeare" is an anglicisation of "Crollalanza".
Iuvara suggested that perhaps Shakespeare's purported Italian nationality had been kept a secret for nationalistic reasons. In an attempt to find evidence that Shakespeare was a Sicilian, Iuvara wrote to Queen Elizabeth II in 2000 asking for permission to the poet's private library. He is reported not to have received a reply. Undaunted, in 2002, Iuvara wrote to the then British Prime Minister Tony Blair with the same request and received the same response.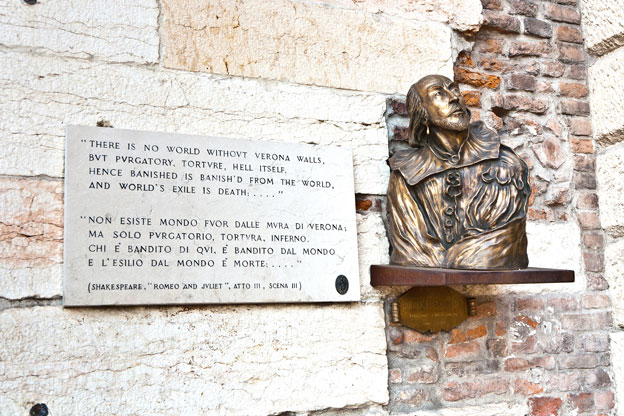 Shakespeare's identity is a subject that has been debated by academics and experts, with some people suggesting he did not even author the plays, so Iuvara's hypothesis is just one of many that seeks to challenge the conventional viewpoint regarding the playwright's origins, nationality and role as author. However, the vast majority of experts point out that Shakespeare was familiar with the classics and the works of Italian writers including Matteo Bandello, Giovanni Boccaccio and Masuccio Salernitano. Such knowledge was not unusual for the time. Elizabethans and Jacobeans had a fascination for Italy too, and contemporary dramatists set plays in Italy or featuring Italian characters. For example, Ben Jonson's 'Volpone' is set in Venice and Christopher Marlowe's 'The Jew of Malta' has a character based on Niccolò Machiavelli. Shakespeare had many ways he could have sourced material about Italy. Nevertheless, the debate about Shakespeare's identity is likely to continue. Such interest is because of the enduring popularity of the genius' plays and the fact that audiences of today continue to appreciate them.