Ah, Spring!  Finally, after a long winter of foods grown far away or in greenhouses, farmer's markets are open and rich with produce. In Italy right now, there's much in season in primavera, which comes from the Latin "primus" meaning first, and "ver" meaning spring: vegetables including artichokes, asparagus and peas as well as fruit like lemons and berries---all ingredients that pair wonderfully with pasta. Yes, even fruit!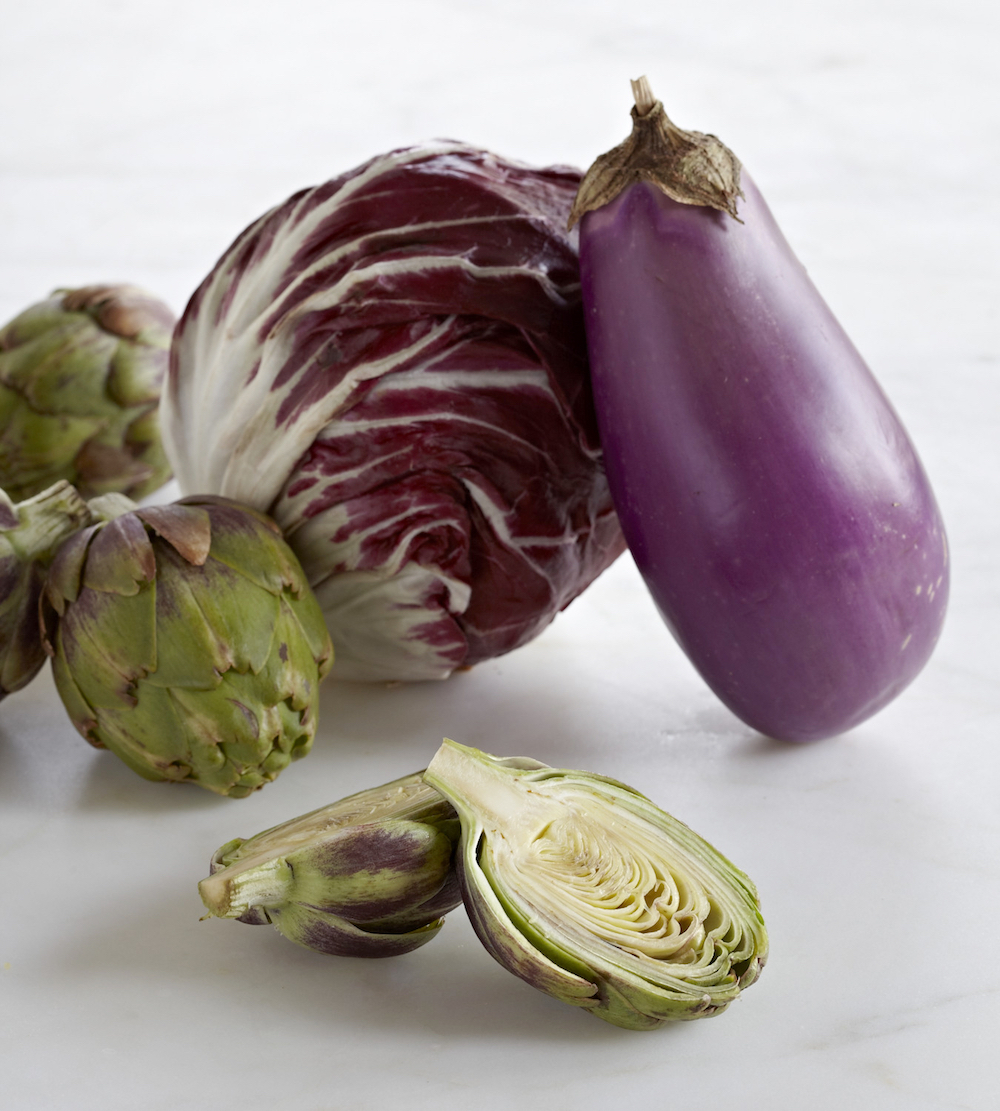 In Italy, pasta is paired with all sorts of fruit --berries, figs, plums, oranges and lemons--each adding lovely color, brilliant acidity, and delicate sweetness to the sauces.  Here are four recipes that combine vegetables and fruit, wonderfully suited to celebrate spring. 
-1- Plums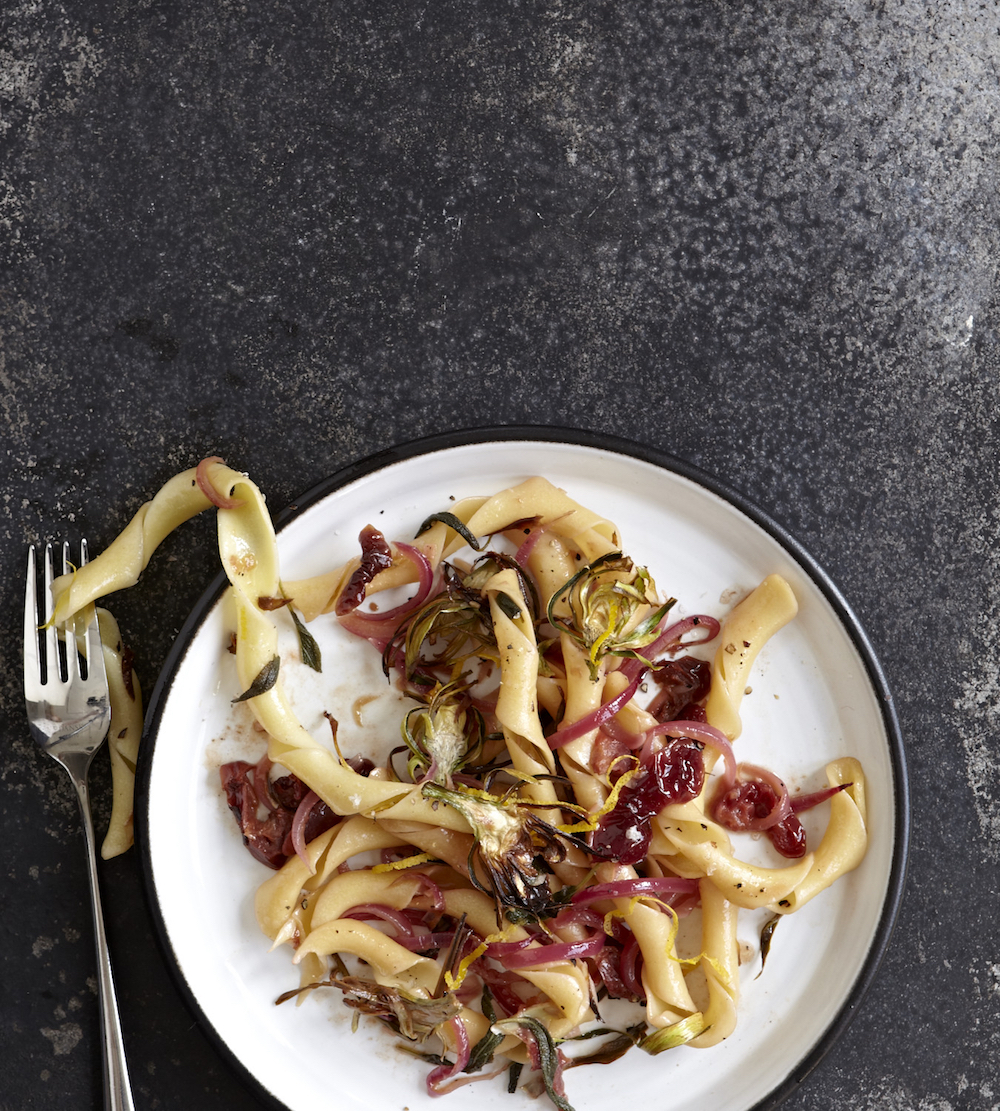 The natural sweetness of plums pairs nicely with the slight bitterness of spring's baby artichokes.  Pasta with artichokes and plums, a dish from Puglia, is typically served with incannulate---gorgeously long, wide ribbons of pasta that are folded over and then twirled around themselves. This pasta shape is available dried or you can make your own.  Of course, this delicious sauce is superb with any pasta shape!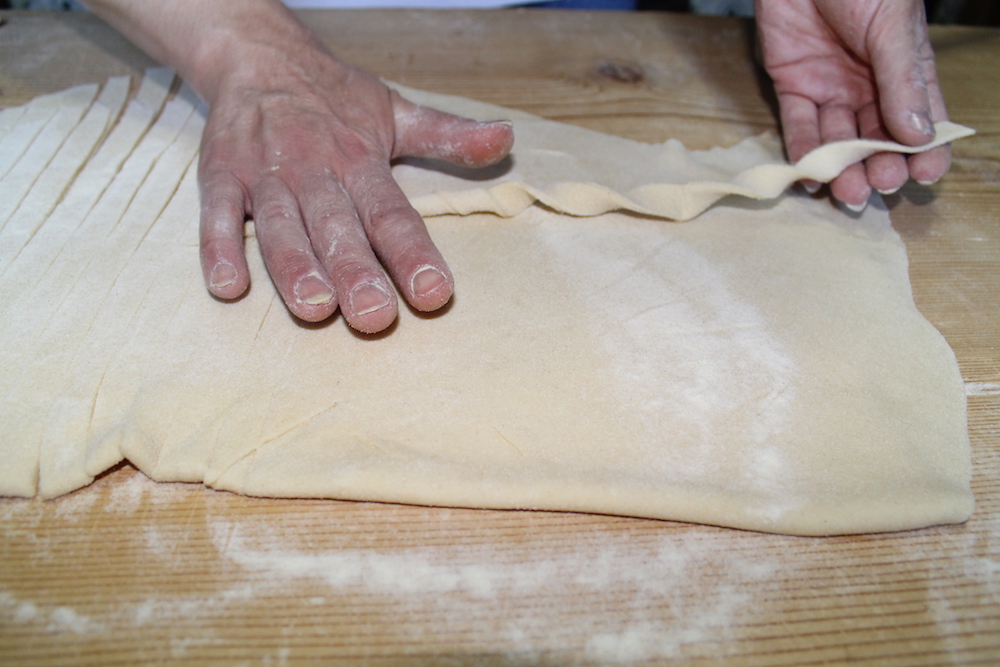 Pasta with Plums and Artichokes
Pasta coi carciofi e prugne 
Serves 4
Ready in 15 minutes or less: by the time the pasta is al dente, the sauce is ready. Italy's version of " fast food"!
8 baby artichokes
Olive oil
1 small red onion, thinly sliced 
2 garlic cloves, minced
6 plums, thinly sliced 
12 fresh sage leaves
1/3 cup white wine 
1 pound incannulateor any long pasta
Salt and black pepper
Zest of 1 lemon
Cut off the top 1/2 inch of the artichokes, discard, and slice the remainder paper-thin. Fry the artichokes in 6 tablespoons of oil on high heat in a large frying pan until crisp. Remove from the pan and drain on a paper towel. 
Lower the heat, add the onion and garlic to the same pan and sauté until the onions are soft, about 5 minutes. Add the plums, sage, and white wine. Cover and simmer for 5 minutes. 
Cook the pasta in salted boiling water for 2 minutes less than indicated on the package. Drain and finish cooking in the sauce, adding a few tablespoons of the pasta cooking liquid as needed. Stir in the fried artichokes, and season with salt and pepper to taste.
Serve topped with lemon zest.
-2-Berries
Ripe berries tossed with ricotta and hot pasta is a classic warm-weather dish from Sicily. The tingly mint and aromatic basil combine to create a highly unusual pasta dish that's staggeringly simple to make. Here it's pictured with pretty campanelle, bell-shaped pasta, but it's fantastic with any shape.
Pasta with Berries, Mint, Basil with Ricotta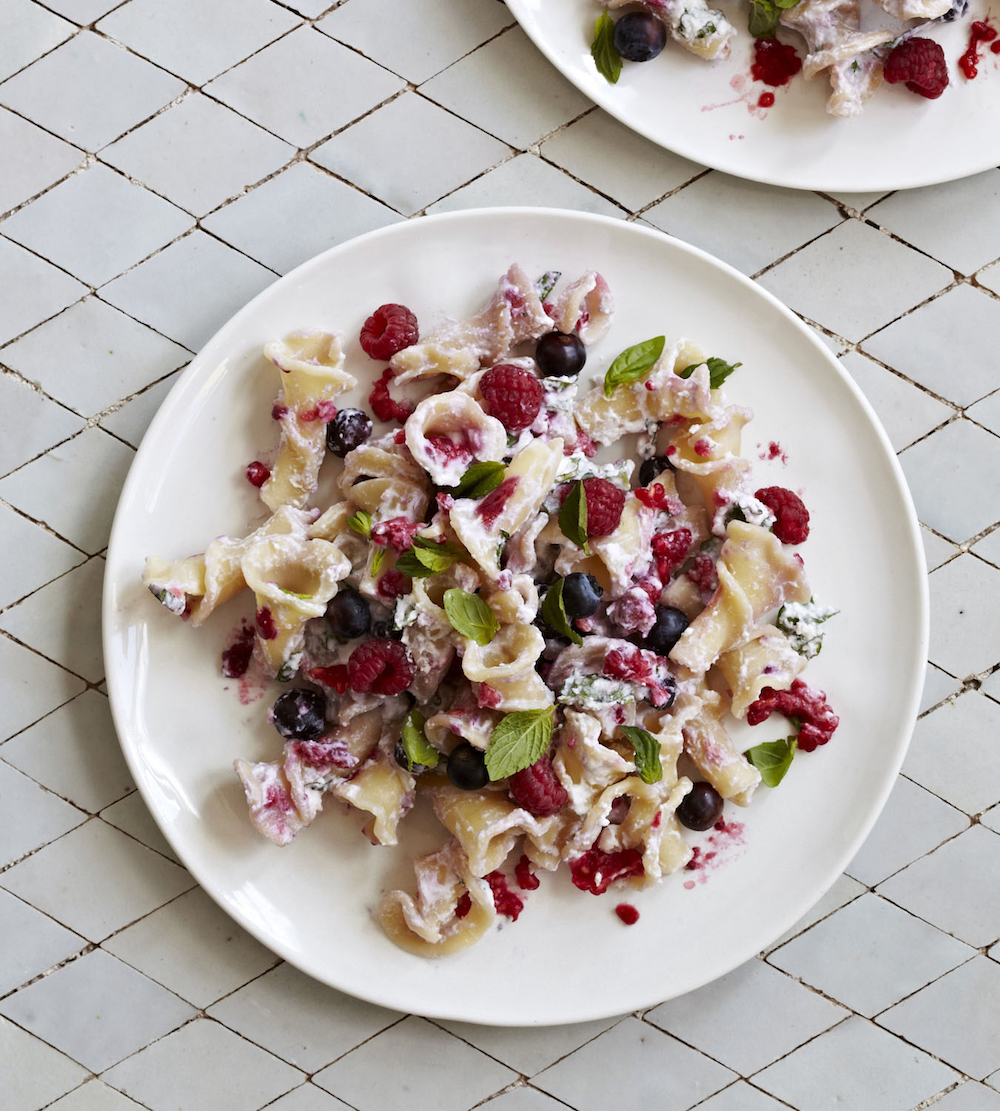 Campanelle in Crema di Frutti di Bosco
Serves 4 
There's a Sicilian expression: Ricotta e miele, bevi bene,  "Ricotta and honey, drink well" which means that one should always drink wine with a meal.
1 pound campanelle or any short pasta 
Salt 
2 tablespoons butter
1/2 pint blueberries
1/2 pint raspberries
1 cup ricotta
1 small bunch fresh mint
1 small bunch fresh basil 
Black pepper
Cook the pasta in salted boiling water until al dente. 
Meanwhile, melt the butter in a skillet over medium heat. Add 3/4 of the berries, reserving the rest for garnish, and cook for two minutes until softened. Transfer the fruit to a large serving bowl along with the ricotta. Cut a handful, about ¼ cup, each of mint and basil into thin ribbons (or use just the tiny leaves), add to the bowl, and stir the mixture with a fork to combine. 
Drain the pasta and toss with the ricotta mixture.  Season to taste with salt and freshly ground black pepper and serve topped with additional mint, basil and fresh berries. 
-3- Lemons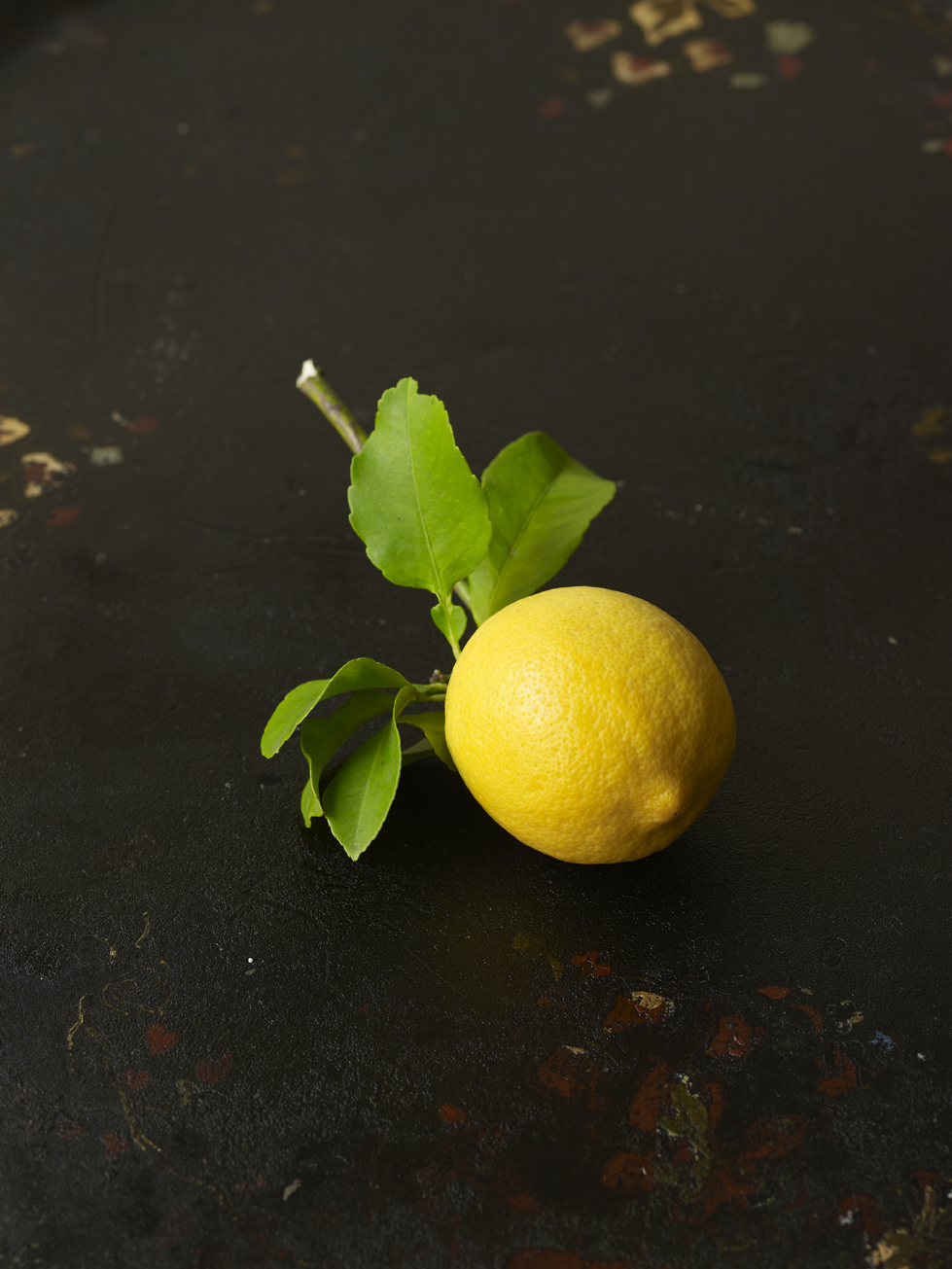 Lemons add tang and brightness to many pasta dishes.  
Lemon-Fennel Pesto
Pesto di limone e finocchio 
Serves 4 
Lemon's tang plus fennel's freshness make a light and superbly different pesto. This specialty of Sicily whirls up right in the food processor. 
1/3 cup blanched almonds
1 lemon
1 fennel bulb, including fronds, chopped 
1 small wild fennel bulb, including fronds, chopped
2 tablespoons salted capers, rinsed
1/2 bunch fresh mint 
1 bunch fresh basil
Olive oil
Salt
1 pound any short pasta
Grind the almonds in a mortar and pestle, clean coffee grinder or small food processor until fine. 
Using a very sharp knife, and working over a plate to collect the juices, cut off the skin and white pith of the lemon and discard. Separate the lemon sections, cutting or peeling off the membranes between the sections.
Put the fennel, lemon pieces, and any collected lemon juice into a food processor and grind until fine. Add the finely ground almonds, wild fennel, if using, capers, mint leaves, basil leaves, and 3 tablespoons olive oil and process until it resembles cooked oatmeal, adding more olive oil if too thick. Season with salt.
Cook the pasta in salted water until al dente. Drain and toss with the pesto. 
Lemon-Avocado Spaghetti with Shrimp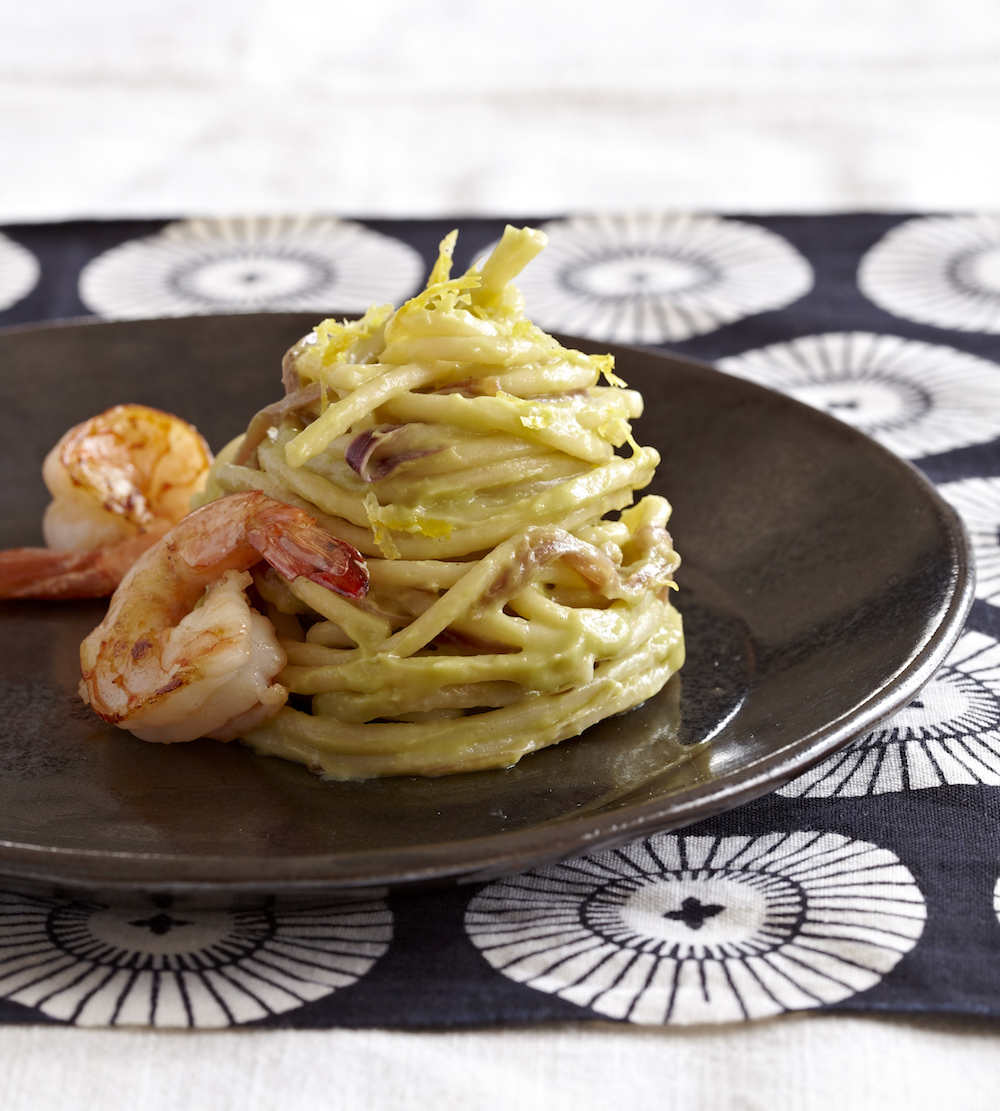 Spaghetti con avocado e gamberi
Serves 4
Avocados aren't indigenous to Italy, but, as with tomatoes and corn, when these New World ingredients got there, the Italians did magical things with them. 
Lemons and red onions, classic southern Italian ingredients, here combine with this creamy newcomer to the Mediterranean for an alluring fusion of textures and aromas. The avocado is used raw, and creates a healthier, more flavorsome "cream." The red onions and lemon brightens the dish. 
1 large red onion, finely sliced
1/4 cup dry white wine
1/2 pound shrimp
Olive oil 
Salt
1 pound spaghetti 
1 avocado
Zest and juice of 1 lemon
Black pepper
In a skillet large enough to hold the pasta over medium heat, combine the red onion and wine and simmer until the onions are soft, about 10 minutes. Add the shrimp, raise the heat to high to evaporate any remaining wine, caramelize the onions and cook the shrimp. Off the heat, add 1 tablespoon of olive oil and salt to taste. Put the shrimp onto a dish to serve alongside the pasta.
Cook the pasta in boiling salted water until al dente. Drain and toss with the onions. 
Meanwhile, peel and pit the avocado and puree, with the lemon juice, in a blender or small food processor, until very smooth.  Stir into the pasta and add half the lemon zest until well combined; re-season with salt, if needed. Top the pasta with the remaining zest and freshly ground black pepper and serve accompanied by the shrimp.