By Marisa Finetti
A small ranching town in the western elbow of Nevada doesn't seem like a place for culinary and wine discovery. But, it was to Kirk Peterson, who calls his tender childhood years in the town of Yerington to be a "Norman Rockwellian" experience.  The idyllic lifestyle, with emphasis on simple pleasures, enlivened his senses, groomed his appreciation for subtlety, and eventually primed his skills to develop an exceptional palate. Today, he is one of the most respected Italian wine specialists in the United States. Peterson steers the beverage program for all four Batali & Bastianich Hospitality Group restaurants in Las Vegas. His award-winning wine lists and classic Italian cuisine take guests on a virtual journey through Italy's finest wine regions. I sat down with Kirk to uncover his roots and learn more about his passion for all things Italian.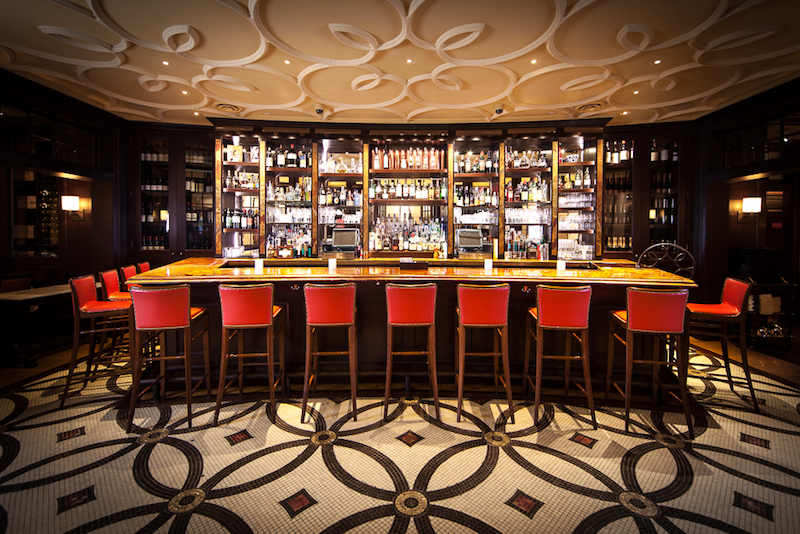 Bar area at the B&B Ristorante in Las Vegas 
How do you think growing up in a "food obsessed" family helped you to become who you are today?
I think I was very lucky in my upbringing in the way that I was exposed to flavors. My parents were exceptional cooks. I was also lucky enough to live somewhere that "farm to table" food was just regular food when I was growing up.  Even though we lived by relatively modest means, we ate a wide assortment of dishes.  At Christmas for example, we'd have cheese fondue, cioppino, pickled herring, hard aged cheeses, Swedish crackers… I was never isolated from any style of food and if I didn't like it, I had to still take a bite. There was always the idea that we would drink what was appropriate with the food. Not having my palette trained specifically to wine, since I was a child, it had been trained in its own way. For as long as I can remember, I have always been smelling things. I was surrounded by farming and to really be a good sommelier you have understand food just as much as you do wine.
How and why did you choose to specialize in Italian wine?
I'm not so sure if I chose Italian wine, or it chose me. Italian wine, the Italian esthetic sensibility, it just speaks to me. Italy has such a wealth of wine culture, such a tremendous diversity of styles, there's always something new to discover.  Everyone [producer] has a different take on how they are doing things and this changes a lot throughout time. I think it's great that there is both modern, innovative ideas and ancient traditions mish-mashed together and complexity is compelling.  It's exactly what I find compelling about it.
How often do you visit Italy each year, and why do you go?
As much as possible for reasons that should be obvious! I'm generally in Italy every spring to attend VinItaly and then one or two more times a year depending on my schedule. There is no better way to really understand a place than visiting it, and great wines are always about a sense of place.
The food and wine at your restaurants take guests on a virtual tour of a various regions in Italy.  How do you ensure they receive the most genuine experience?
By having experienced it ourselves first, that's what makes us able to bring the tastes of Italy to our guests with authenticity. I travel to Italy as much as possible, our Culinary Director lived and trained in Italy, many of our service staff have visited as well. It's these real experiences that allow us to be able to serve something that is genuine.
 
What is your favorite restaurant experience in Italy? 
There are so many outstanding restaurants in Italy but my personal favorite is this little place on an island in the middle of Lago Iseo called La Foresta. All they serve is fish caught from the lake by the father of the family, his wife manages the place and cooks, and their son serves the tables. They forage local seasonal vegetables as accompaniments, I was there this past April and I still have the picture of the wild asparagus they served as the lock screen on my phone. And it's right in the middle of the Franciacorta, Italy's answer to Champagne. So you sit there eating course after course of simply and perfectly prepared fish that was swimming in the lake that morning while drinking sparkling wine on the edge of an impossibly beautiful lake. I swear the fresh wind that comes off the lake acts like additional seasoning, all the flavors are absolutely perfect. Admittedly I drink plenty of wine while I'm there but that restaurant brings me to tears it's so good.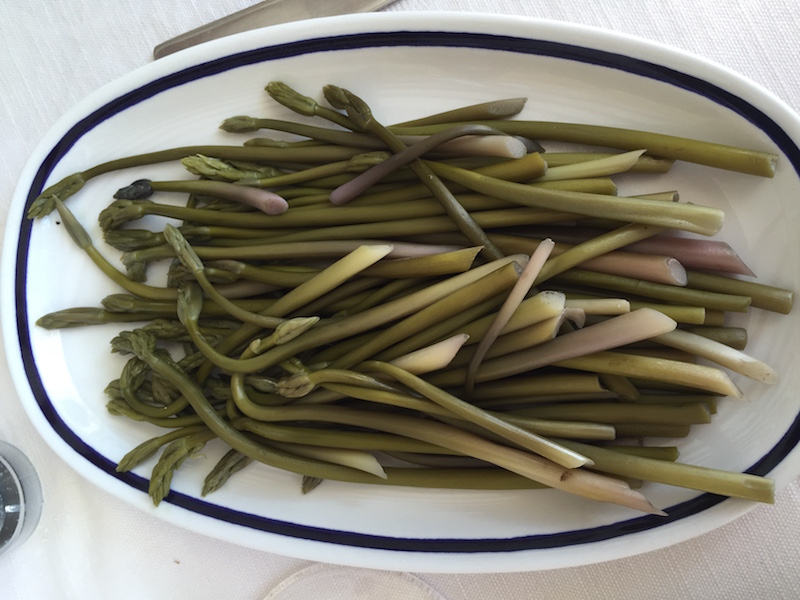 Wild asparagus at La Foresta 
What region in Italy that deserves more attention and why?
I'd have to say there's actually two regions that are too often overlooked: Alto Adige and Friuli, both in northeastern corner of Italy. And both produce tremendous white wines as well as red and rosé. As far as I'm concerned, this is where the best Pinot Bianco in the world is made as well as some of the most charming Sauvignon in Italy. The autochthonous varietals, the grapes native to the region, like ribolla gialla, friulano, and refosco are also as exceptional, as they are versatile.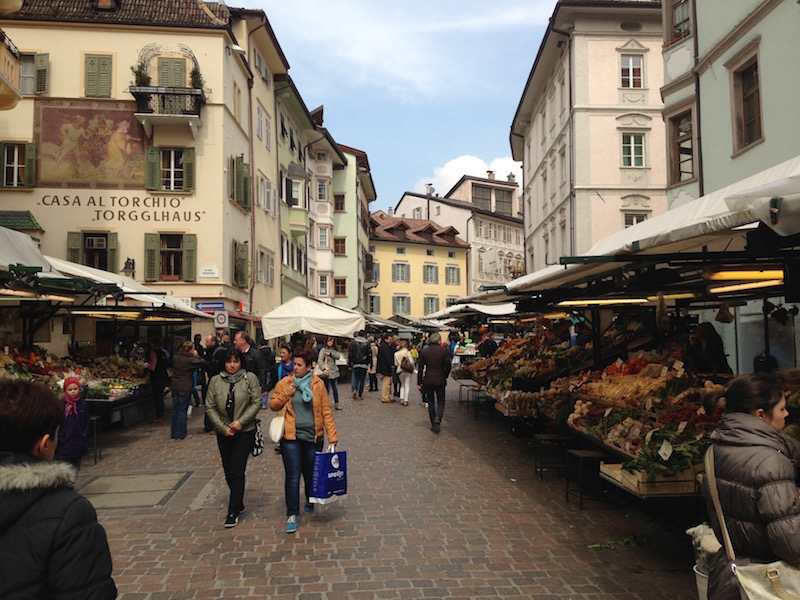 Bolzano in Alto Adige 
Many people find Italian wines to be somewhat confounding.  If someone is trying to learn more, what advice can you give?
Unfortunately, it's difficult to generalize something that's as nuanced as wine and I understand why people can sometimes get frustrated trying to make sense of it all. First, it's important to understand wine in its context within the vernacular of the Italian table. Wine is food, it's meant to enhance a meal, so going with the old adage "if it grows together it goes together" is actually quite effective. If you're eating Tuscan food, go with a Tuscan wine. And secondly, and this goes for all wine really, but realistically you're going to be better off finding a producer you like and drinking all the wines they make. If you hear a song you like typically you would listen to other songs by that artist, right? I don't think anyone has ever heard a song and then gone to get an encyclopedia of popular music and read about everything from the Spice Girls to Led Zeppelin but for some reason this is how people approach their wine education. Drink more, read less, really understanding wine is far more useful than learning trivia about it. And when you find something you like, run with it.
Name an Italian producer you would like to elaborate on.
There are Italian winemakers... and then there's Emidio Pepe. In his hands Montepulciano reaches a completely delightful, confounding, and unprecedented glory. There are few things on Earth more alive than a bottle of Emidio's wine. Absolutely everything is done hand from the crushing of the grapes to the labeling of the bottles. Aging is done entirely without oak and with some vintages being held back for 20+ years before being hand-decanted and released to the market. Significant bottle aging is crucial for developing the wine's full range of flavors and aromas and just like an older person who has lived a fascinating life these wines will enrapture you with their life story. Describing exactly the experience of drinking Emidio's wines is like trying to describe some half-remembered dream: you can't exactly, you remember the feeling more than the details.
What is your everyday go-to Italian wine and why?
I tend to drink an astonishing amount of Pinot Bianco from the northeast and Vermentino and Pigato from Liguria for white wines. For red I always seem to have a glass of Barbera or Rosso di Montalcino in hand. The reason is the same, they pair the best with the foods I typically eat due to having high acid, and they are all very affordable for the level of quality they deliver.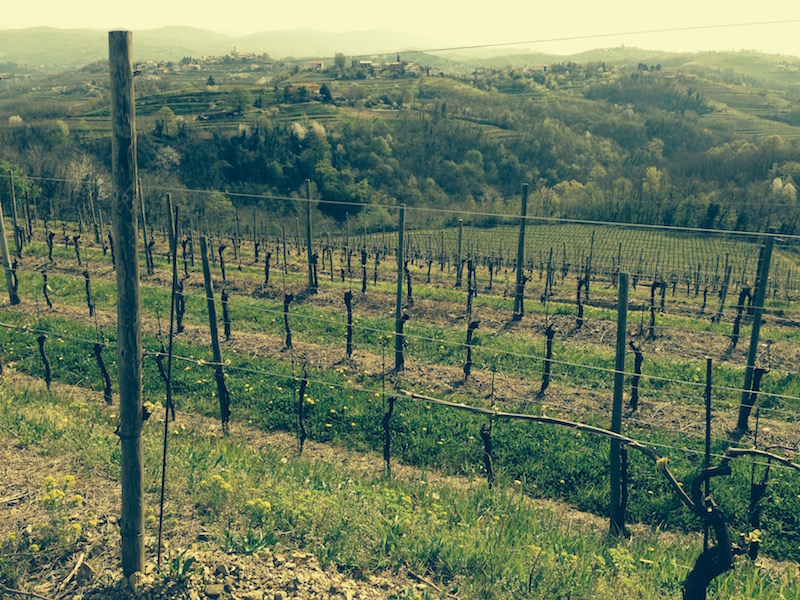 Venica vineyard
At the end of the day, what is the best part of your job?
The people I get to work with. The producers who steward these amazing historical vineyards, the importers and journalists, my fellow sommeliers, all the brilliantly talented chefs. And we all get to drink wine together!
Please provide a list of wine tips that can be useful to readers:
1.    Don't always order the same wine or same style. There's so much out there to discover, your new favorite wine could be right around the corner, go out and explore.
2.    If you don't know what to pair with food, choose a sparkling wine.
3.    Enjoy sparkling wine in a regular wine glass, not a flute. Wine glasses are meant to capture the aromas, flutes cheat you out of this.
4.    Don't be afraid to ask your sommelier for advice, the overwhelming majority of them are wonderful people who love turning people on to great wine.
5.    Sulfites aren't bad for you. If you seem to have an allergic reaction, it's the histamines in the wine, not the sulfites.