Celebrating 15 years at the top of the movie memorabilia business, London-based Liza Tesei recently launched her latest venture, 'At The Movies.' Stocked with classic ephemera from 'Gone With the Wind' to 'The Godfather', her specialist shop is attended by celebrities and movie buffs alike, and offers the top 10% of the most collectable movie posters in the world. As well as sought-after decorative art, in recent times vintage movie posters are proving a hot commodity. With both Italian and Persian heritage, Liza, 40, is British born and based.
Having lived most of your life in London, what affinity do you have with Italy?
I love Italy! Love the food, the people, and the fashion! My favourite cities to visit are Rome and Florence, though Panarea, Stromboli and the Aeolian Islands are on my 'to see very soon' list. The Amalfi Coast I consider stunning, and I have fond memories of Forte dei Marmi in the summer as a child. I enjoyed going to Pesaro, Rimini and Riccione with my family every other year when my grandparents were alive. My Dad's side of the family still lives in Pesaro. Italian film first made a big impact on me – I grew up watching videos of 'Houseboat' with Sophia Loren and Cary Grant, and Gina Lollobrigida in 'Trapeze.' Consequently, I love to have Italian movie posters decorating my house, which now includes beautiful Italian artwork for 'La Dolce Vita', 'Casablanca', 'Gone With the Wind', 'Breakfast at Tiffany's', and 'How to Marry a Millionaire.' 
Where does your passion for movie memorabilia come from?
I see it as combining the best of art and nostalgia – and constituting affordable art. Each movie poster is like a snapshot in time of changing trends, culture, style, history, etc.  An early memory I have is of buying 8x10 black and whites of my favourite movie stars. A degree in international business and marketing led to an arts course at Christies. Here, seeing the movie poster originals of the prints I used to buy, further inspired me.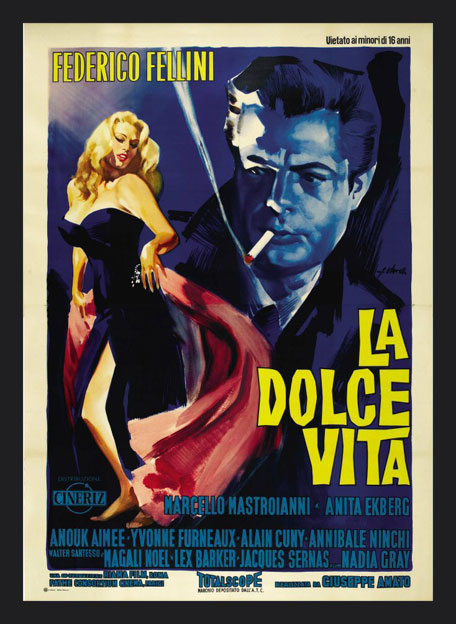 I then worked for an art dealer whose son was in the movie poster business. I spent my first pay cheque on the Italian poster for James Dean's 'Rebel Without a Cause.' It was £800 and is now valued at £2,500-3000.
However, the poster that first inspired me into collecting was the iconic 'La Dolce Vita' artwork by Olivetti, featuring Anita Ekberg in Rome's Trevi fountain and a moody Mastroianni smoking behind. To me it was the quintessential movie poster and in fact, has become one of the top 20 or 30 movie posters ever. It's also a good example of the investment potential memorabilia can have. In 1998 when I started out, it was maybe worth £5-6,000. A version I sold recently went for £31,500.
How did the practice of collecting movie memorabilia develop?
Actually, unlike other popular collectibles such as comic books, movie posters were never intended to be collected. Printed in limited amounts sufficient to supply theatres screening the film, their sole purpose was to offer enticing advertising, thereby encouraging potential moviegoers. Prior to the early '80s, movie posters that survived were legally required to be returned to the studios or poster source. Once returned, with the movie over and done, archives would be destroyed en masse. In addition, natural disasters and the huge volume of paper destroyed during World War II were all contributing factors in the scarcity value now associated with some earlier titles such as 'Casablanca', 'King Kong', 'Frankenstein', and 'The Wizard of Oz'. Fatefully, over the years more and more theatre owners ignored the poster return policy. This meant that memorabilia escaped mass destruction, safely stored instead in warehouses. In recent times, dealers and collectors bought out these collections, resulting in a huge market for this industry.
What is it about movie memorabilia that makes it such a successful commodity?
Because of the rarity value; because everyone loves the movies; and it's affordable and accessible, compared to the ever more highly priced art world.
In the credit crunch, it's one of the few, fast-growing forms of investment. Some memorabilia's multiplied tenfold or more in value over a short period of time.  For example, an original vintage British poster of the Bond movie 'Dr No' sells today for about £7500-9000, against hundreds in the mid-'90s. Major auction houses such as Christie's and Sotheby's regularly hold movie poster auctions worldwide. The record price achieved for a film poster to date is $453,000 for 'The Mummy' (1932). As per our 'At the Movies' saying: 'It's more than a poster, it's an investment.'
What constitutes that collectable 'X' factor in movie memorabilia?
The three most desirable factors are classic films, collectable stars, and great artwork.  All-time classics – such as 'King Kong', 'Casablanca', 'Metropolis', 'Citizen Kane', 'The Wizard of Oz' – are universally agreed, so their accompanying poster titles are in demand. This is the high-end, rarefied side, plus there's a burgeoning market from the '60s and '70s. Films like 'Breakfast at Tiffany's', 'The Italian Job', 'Dirty Harry', 'Bullitt', 'Star Wars' and the Bond series are highly sought after - yet can still be bought for under £1000. From 1994, 'Pulp Fiction' is a surprise modern hit - £75 purchase price then, worth £450/550 now. Other recent movies are obviously not as rare - but their status can change.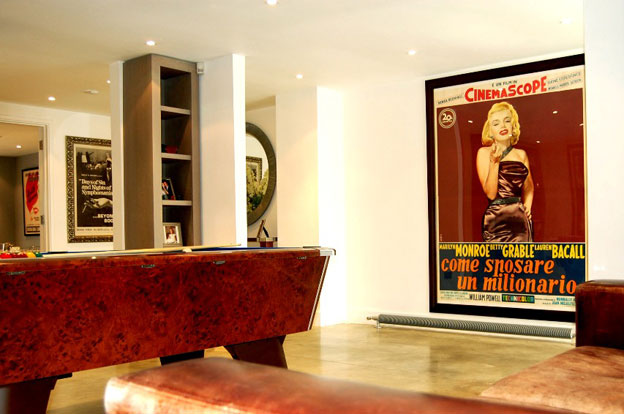 Which stars are considered most collectable?
Who's collectable is not exactly predictable! On the female side, Audrey Hepburn outsells everyone, with Marilyn as runner-up. Where Audrey is huge in the poster world, Gina Lollobrigida is not. Perhaps Audrey is considered more iconic internationally. Top male is Humphrey Bogart, followed today by Steve McQueen. Other really expensive early stars include Charlie Chaplin, The Marx Brothers, Errol Flynn, Greta Garbo, Marlene Dietrich, and Bette Davis. Later '50s and '60s favourites include Grace Kelly, Elvis, Cary Grant, Marilyn Monroe, Frank Sinatra, James Dean, Marlon Brando, Steve McQueen, Paul Newman, and Sean Connery as Bond. In the '70s, it's Clint Eastwood, Michael Caine, Al Pacino, and Robert De Niro. Among directors, Alfred Hitchcock is top, followed by Woody Allen, Frank Capra, and Tarantino. On the Italian side: Fellini, Antonioni, Vittorio de Sica and films 'La Notte', '8 and a half',' 'La Strada.'
And as regards artwork?
Just a few of the image-makers considered top-dollar are 'American father of graphic design' Saul Bass, Roger Soubie, W. Swierzy, George Allard, and Italians Eriole Brini and Anselmo Ballester. In fact, painterly Italian artwork from the '40s-'60s is amongst some of the most renowned.
Are there any mitigating factors to consider when making a choice?
Across all genres, different styles and nationalities can alter the price structure.
For example, 'The Sound of Music' from 1965 in its British form, valued around £875, is more collectable than any Spanish, French or German version. Conversely, regarding 1946 American classic 'Gilda', its most acclaimed artwork is Italian, by Ballester – because of its phenomenal size and beautiful imagery. Extremely rare, it's probably worth £35,000.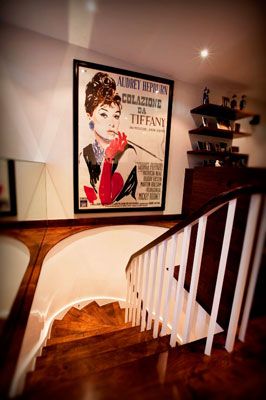 In such a thriving industry, how does your business stand out from the crowd?
We aim to find the top 10 or 15% of movie posters, and focus on the most cool and recognisable, in mint condition. Our genres span classic, romance, sci-fi, horror, and drama, across a galaxy of stars – plus we can usually source what we don't already have. We hand pick gallery style, so that it's bespoke to the client, providing the best decorative and/or investment deal for their budget.
Who constitutes your clientele?
The shop attracts all sorts, from film fans to true buffs. Interestingly, two thirds are male. Every client's special, but famous ones include British fashion designer Julien McDonald - who bought Marilyn's 'Some Like It Hot'; (heiress) Tamara Ecclestone – who bought Bardot in 'Le Mepris' - to Spice Girl Geri Halliwell, and actor Kevin Spacey. At my previous shop on London's King's Road, my first famous customer was Johnny Depp, back in 1998. He bought an obscure poster from the 1940s, 'Devil's Harvest'. I remember I hadn't felt like working as it was Christmas Eve, but he made it worthwhile!
With special occasion gifting in mind, what are your shopping tips for first time memorabilia buyers?
I always advise to buy the best you can afford, so that if buying both for decoration and investment, it's likely to appreciate in value. For the entry-level collector, vintage stills offer great value - such as 'The Godfather' (£100-150); or original artwork for 'Pretty Woman' (£200) and 'Top Gun' (£250). For future potential, consider comic book spin-offs, cult movies and genres such as 1950s sci-fi – think 'Attack of the 50ft Woman', and 'Forbidden Planet.' As Connery as Bond is so expensive, Roger Moore as OO7 could be the next best thing.  As for my overall tip for any customer - buy what and who you truly like!