Valentino Zucchetti as Lensky in Onegin 2013 - Photo by Bill Cooper
Ahead of his glittering new season at the Royal Opera House, London, accomplished classical dancer Valentino Zucchetti talks passionately on the art closest to his heart, in an exclusive Q&A. By Julie Burns 
Congratulations on your recent promotion to The Royal Ballet's First Soloist. How do you feel about your upcoming new roles such as Lensky in Onegin, and your debut as Principal in Scenes de Ballets?
'I'm really looking forward to this season! I'll shortly be making my debut as Lescaut in Manon, then Scene De Ballets soon after, alongside many great roles like Lensky, and others to be announced. The higher in the ranks you get, the meatier roles become; and with that, also greater pressure to deliver and to prove yourself. Now being a step under the rank of Principal dancer, it's my chance to prove, with the roles given, that I can make it to the top… this thought keeps me motivated every day.' 
You have already had a swift ascent to international ballet success. What has been the most challenging aspect/highlight of your career so far?
'I'm not sure about the international success; I don't think about that aspect much, as I'm concentrating on working hard and improving myself as a dancer - and that takes most of my focus. Other than the physical demands that ballet requires, the biggest challenge is often staying motivated. It can easily be taken away - regardless as to how naturally driven one is. Dancers can go through some low times, such as sustaining injuries, or having issues with castings, etcetera. It's just important never to lose sight of what you want and what makes you happy - and not allow anyone to persuade you otherwise.'
Overall, do you prefer the danseur noble roles in classics - such as Prince in The Nutcracker, as you danced in Oslo - or the more experimental works associated with the London stage?
'I don't see myself as the stereotypical danseur noble, but I like the style of it! However, I get greater rewards when I interpret a character onstage and I immerse myself entirely, using my dancing alongside my acting to tell a story. Here at the Royal Ballet, this is very common, in works such as Romeo and Juliet, Manon or Onegin.'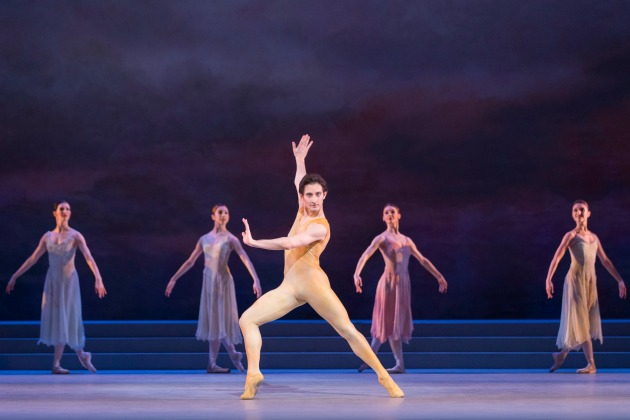 Valentino Zucchetti in Rhapsody 2014, Photo by Johan Persson
As an Italian, what qualities do you consider you bring to a role? Or put another way, how does Italian training and technique differ, as viewed from your time spent with Zurich Ballet and Norwegian National Ballet, to the UK's Royal Ballet?
'It's hard to define or generalise Italian characteristics in a dancer; however, I am very Italian in the way I approach certain roles, for sure! 
In terms of ballet training, in Italy it is very much Russian in style, and the focus is very much on extensions and good looks (of the positions). In Italy, I always felt that the dancing is very academic, which for certain classics works. In comparison, in other countries things are very different. Some focus on a greater use of the upper body - like here in the Royal Ballet - or on a more grounded type of dancing when it comes to modern pieces. In my case, every place I have been has given me something different in terms of training. Most of all, it's opened my eyes to different ways of moving, and opened my mind on how far ballet can reach; not simply as a series of movements but as an art form.'
How important an art form do you consider ballet is regarded in Italy, compared to other form of art like opera and film?
'Unfortunately I don't think Italy gives ballet the credit, or depth, that it deserves. Frankly, this can be seen by the reluctance of the institutions to finance it, and above all to publicise it, and make it accessible and widespread to the people. Italian audiences are very affectionate, and I believe there is great public interest to see more. Whoever is in charge of offering ballet to the public often doesn't deliver - or decisions come from unqualified sources.'
Does your dance path connect much with that of fellow Italian, and Royal Ballet Principal Dancer, Federico Bonelli? You both danced in the recent acclaimed Royal Opera House production of Winter's Tale… Do you know one another off-stage, also?
'Federico and I are good friends! He's a beautiful dancer, a true danseur noble; but above all, he's a great person and I admire his qualities. Though we come from different backgrounds, at different times, both of us were based with Zurich Ballet under the directorship of Heinz Spoerli… so we have some funny stories to share! '
You were born in Calcinate, before moving to Milan at a young age. Do you ever get the chance to visit these, or other, parts of Italy? Do you ever get to guest dance/tour Italy?
'At a young age, I did get the chance to see many parts of Italy while dancing, thanks to summer courses and little performances. Nowadays, I don't see Italy as much as I'd like to, and I do little guesting there. Sadly, the events that I have been invited to are either cancelled or cease to exist. I would love to dance more in Italy for Italian audiences, and to be a little bit more known in my own country.'
Growing up, who were your dance idols? You began training aged four… did dance feature strongly in your family, otherwise how were you first inspired to dance?
'To this day, I still remember when the spark came; I was three years old and watched on TV's Rai 3 channel, Mikhail Baryshnikov in Don Quixote. I just looked at him and said to myself, 'I want to be like that', and to my mum's surprise, told her I wanted to do ballet. At first, she seemed a bit sceptical - as I was a very hyperactive kid, I wanted to be, and do, many things. After annoying her every day for six months, she finally decided to send me to ballet school where I was hooked from the start! Though one of my great dance idols has to be Baryshnikov, I admired many aspects of many dancers: Rudolf Nureyev's work ethic and hunger; Fernando Bujones' perfectionist technique, and Carlos Acosta's jaw-dropping power.'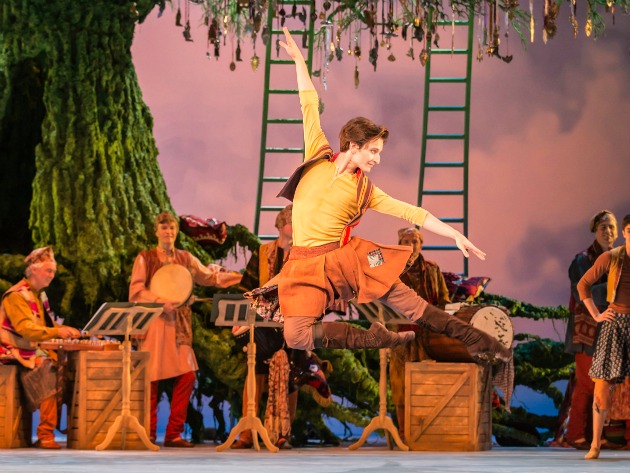 Valentino Zucchetti as Brother Clown in The Winter's Tale 2014, photo by Johan Persson
Speaking of world-famous dancer Carlos Acosta, when it comes to popularising ballet, he is known for his 'progressive' ideas. That in order to evolve - and resonate with today's audiences - along with the showing of favourite classics, ballet should keep 'fresh' by mixing with other mediums such as film/3D. Do you agree with this view? How do you see ballet's future? 
'There is no doubt that ballet, as an art form, is evolving, and needs to evolve - and it is! I just think that so many people don't really have any idea about ballet - how it works, what's behind it, or how to appreciate it. We should use todays' technologies to show and educate people on how interesting ballet is, and how much work and craftsmanship there is behind it…  For example, as we recently did with the World Ballet Day, when five companies worldwide showed their daily rehearsal, to give an unprecedented backstage access to the general public live through the Youtube channel. It was fantastic and insightful! 
Perhaps the trouble with technology is that it takes away the theatre experience from the viewer. There is also the risk that by blending so many different ideas in order to make ballet innovative, ballet itself gets lost in the process. You end up delivering something that is not really ballet but something more 'commercially appealing', which I feel in a way is deceiving or misinforming the viewers, to make them believe that that is ballet - whether it is a pale imitation or a simplification of the original.
Ballet definitely has a future as an art form and in society - thanks to the uniqueness that ballet has in expressing feeling, and in getting a message across through structured, aesthetically beautiful movement.' 
And what of your own future – award winning and talented in choreography, will this play a larger part in your dance path ahead?
'I'm very much focused on my dancing career now, and my obvious goal is to become a Principal dancer, and to explore as many roles and choreographers that my career will allow. Choreography is my next biggest passion. I genuinely love doing it, and it's definitely a path I want to pursue. I can't hide the dream of one day choreographing something for the Opera House, though time will tell! Dreams are free, after all.'
---------------
Valentino Zucchetti and Federico Bonelli will be appearing at the Royal Opera House, London, throughout the season, and into July 2015. 
The Royal Ballet Season features its worldwide screening of Manon on 16th October, with Principal Dancer Federico Bonelli in the role of Des Grieux, and Marianela Núñez, in the title role. For cinema location details, and further information, visit The Royal Opera House Website