Italy's many refrigerator cakes are no-bake desserts perfect for summer. Here are three cakes that keeps fresh for days and actually improve with time, so are a great make-ahead treat for weekend BBQs and picnics.  
The first two recipes: Instant Chocolate Cake and Summer Tiramisu both use store-bought savoiardi, ladyfingers and are a snap to make. It may come as a surpise because these cakes seem so modern and light, but the recipes come from Italy's famed cookbook Science in the Kitchen and The Art of Eating Well, written by Pellegrino Artusi in the 1890s.
Mocha Hazelnut Tart is creamy chocolate, with a hint of coffee, that floats over a layer of crunchy hazelnuts. Other than the heat needed to melt the chocolate, this is a totally no-cook dessert that's served icy cold right from the refrigerator. 
Instant Chocolate Cake
Dolce Torino 
Serves 6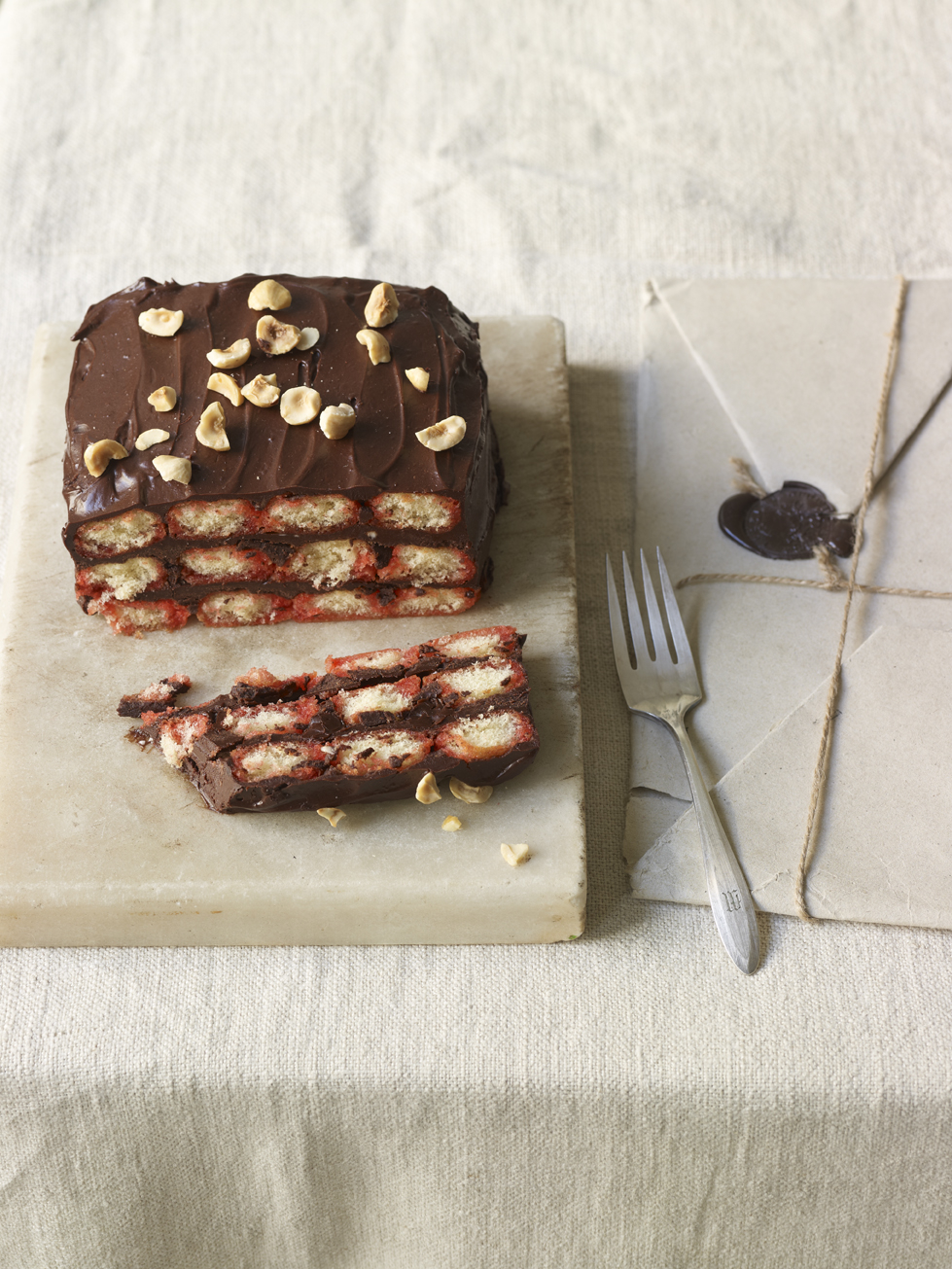 Savoiardi cookies are dipped in liqueur, layered with chocolate sauce and then refrigerated until firm. It slices just like pound cake. 
3 1/2 ounces, 7 tablespoons, unsalted butter, softened  
1/2 cup confectioners' sugar  
1 egg yolk
3 1/2 ounces dark chocolate, 70% cocoa or higher 
2 tablespoons heavy cream
1/2 teaspoon vanilla extract
2 tablespoons granulated sugar, plus more to taste
1/4 cup sweet liqueur such as Alchermes 
12 Savoiardi, Italian ladyfingers
2 tablespoons crushed pistachios or hazelnuts
In a bowl, using a whisk or electric hand mixer, beat the butter, confectioners' sugar, and egg yolk until very smooth and creamy.
In another bowl, melt the chocolate and cream, in the microwave or over a double boiler. Stir the chocolate and vanilla into the butter mixture. Reserve.
Combine 1/4 cup warm water and granulated sugar in a shallow bowl and stir until the sugar dissolves. Stir in the liqueur and add more sugar, if you like.
Dip four savoiardi, one at a time, into the liquid. Arrange the 4 liqueur- dipped savoiardi in a row, close together, on a serving plate. Spread with 1/3 of the chocolate mixture.
Repeat, dipping 4 more savoiardi into the liquid and putting them on top of the first row. Spread with 1/3 of the chocolate mixture. Repeat for the 3rd and final layer spreading the remaining chocolate on top and along the sides of the stacked savoiardi.  Sprinkle the top layer with pistachio or hazelnuts. Refrigerate for a few hours until firm. Serve cold.
Summer Tiramisu
Zuppa Tartara 
Serves 4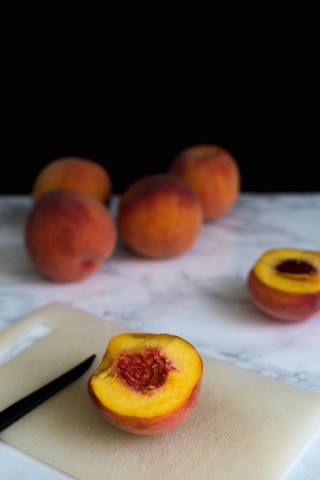 Savoiardi---ladyfingers--layered with peach jam and sweetened ricotta. The whole thing firms up so nicely, you can slice it like pound cake, creating an effortless, virtually instant, no-bake peach cake. Instead of peach, you can substitute your favorite flavor jam, marmalade or preserves. 
The original name of the dish, zuppa tartara, translates to "raw soup" because the ingredients aren't cooked. 
8 ounces ricotta cheese
2 teaspoons sugar 
Pinch ground cinnamon
1/3 cup peach jam, plus more as needed
2 tablespoons sweet liqueur or rum
12 savoiardi, Italian ladyfingers
Combine the ricotta, sugar, and cinnamon in a bowl, and beat with a fork until smooth. Reserve.
In a shallow bowl combine the jam with 1/4 cup warm water and the liqueur or rum. Dip the savoiardi, a few at a time, into the mixture until they are nicely moistened. Place 4 onto a serving plate, side by side, and spoon 1/2 of the ricotta mixture over them. Top the ricottoa with small dollops of extra preserves. Repeat. Finish with final layer of dipped savoirdi and a final drizzle of preserves, or any of the remaining preserves liquid and bits. 
Cover with plastic wrap, and refrigerate for at least hour, or up to 6 hours. Serve cold.
Mocha Hazelnut Tart 
Torta Fredda di Nocciole
Serves 8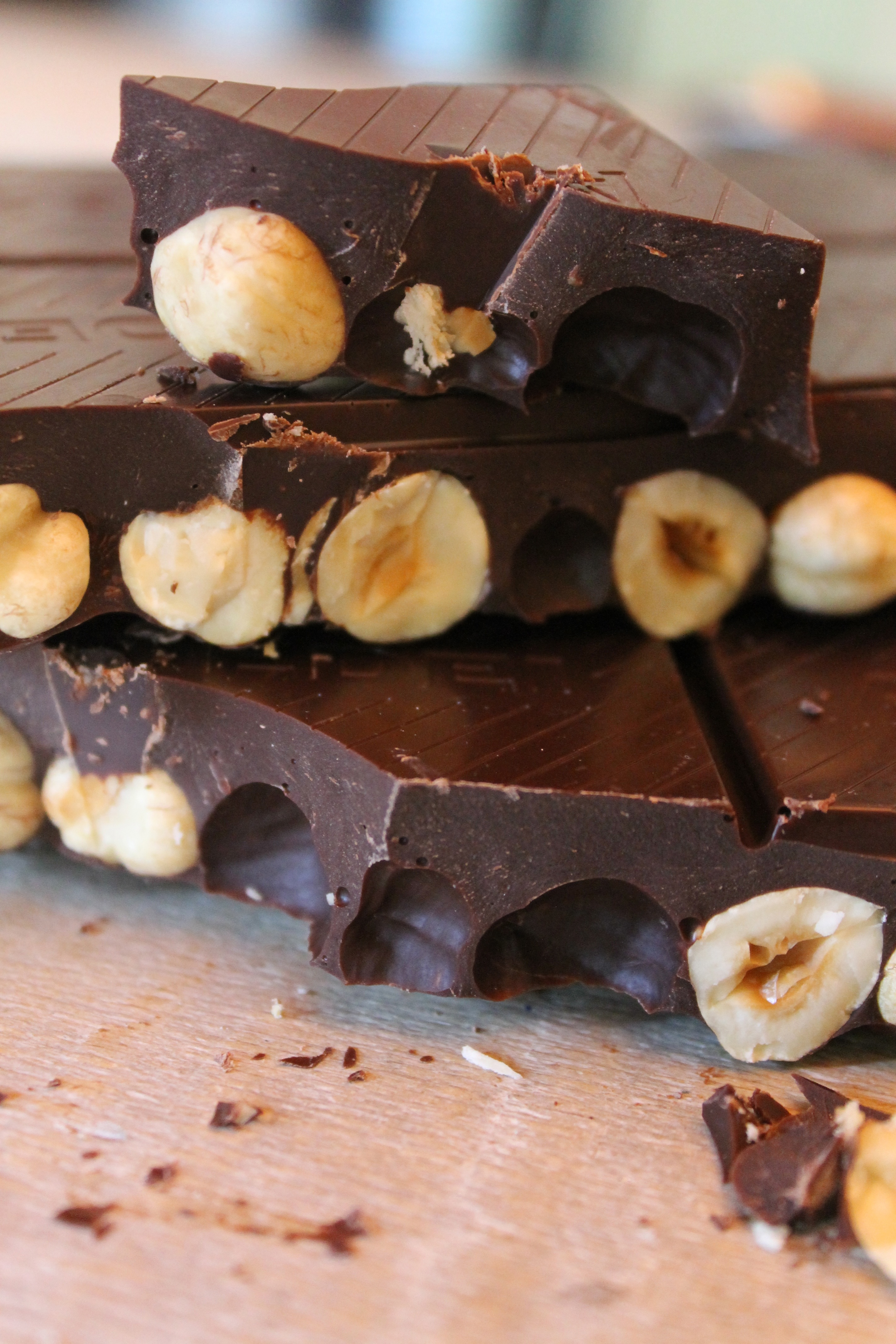 3 tablespoons unsalted butter, divided, plus more as needed
7 ounces blanched hazelnuts
6 tablespoons granulated sugar, divided
3 1/2 ounces dark chocolate, plus more for decoration
3 1/2 ounces milk chocolate
2 ounces prepared strong espresso, warm
1 large egg, beaten
1 1/4 cups heavy cream
Lightly butter the ring of a 7-inch spring form pan. Just the outer ring, not the bottom part. You need it just to keep the ingredients together as they firm up in the fridge. Butter a serving platter or cake stand, which is wide enough to hold the ring, and place the ring onto the platter.  
In a food processor combine the hazelnuts and 4 tablespoons of the sugar and process until the mixture resembles coarse sand. Add 2 tablespoons of the butter and process until combined. Press this mixture firmly and evenly onto the serving plate, within the borders of the spring form pan. Reserve.
Melt the dark and milk chocolates in a bowl, either in a microwave or over gently boiling water. Add the espresso and stir until well combined. Add the egg and the remaining tablespoon of butter. Allow to cool to room temperature.
In another bowl, beat the heavy cream and remaining 2 tablespoons of sugar until whipped. Fold into the chocolate mixture.  Spoon the mixture over the hazelnut crust and refrigerate until firm, at least 5 hours. 
When ready to serve, remove the outer spring form ring, and garnish with grated dark chocolate.