[Photo: Oneglia on the Italian Riviera in Liguria. There's a huge expat community that have bought and renovated stone houses between Finale Ligure all the way to the French border.]
For our new series about home ownership, where we share true stories of people who have gone through the process of buying a property in Italy, we speak today with Liz.
Liz, who is originally from New York, has lived in Liguria for 13 years, and has been looking for a house to buy near the coast between Garlenda and Imperia. Here, she shares with us her experiences dealing with Italian real estate agents. This could serve as a way for real estate agents to know how better to handle an international clientele.
"My mind is very sales/customer service oriented due to my job - I work in training for sales and customer service in the fashion industry," says Liz. "And, having lived on many continents with family actually in the business (my mother is a real estate agent in France, my aunt is an agent in New York), I automatically notice details. I have learned to anticipate a lot and ask many questions before even getting in my car."
It's very important to understand that there are cultural differences and a different approach overall to real estate. Don't expect things to be done in Italy the same way as in your home country, especially if you are from northern Europe and Anglo-Saxon countries. Be aware for example that, unlike in the U.S., where an agent represents the buyer and a different agent represents the seller, in Italy, the same agent represents the buyer and the seller.
Research and knowing what to expect will go a long way in helping you deal with all that comes with buying a house in the Bel Paese. And don't forget to take things with a touch of humor – Italy is often exasperating and exhilarating at the same time!
I've been looking for an apartment to buy myself, and I can relate to many of the episodes/attitude recounted by Liz. The pushy salesman, the not so precise measurements, the crumbling properties sold for exorbitant prices, the lack of any staging to make the apartment look presentable, etc., I've all experienced it. It can feel discouraging at times, but luckily I'm in no rush, so what I do to deal with it is to take breaks! I've learned to be armed with patience, and, as Liz suggests, I try to get as much information as possible before going to inspect a place. I've once met an agent who helped me understand how to look at a place, which was very useful. He told me to zoom out all the junk and old and arrangement of things/spaces, and picture the apartment as it would look after possible changes we discussed and renovations were done - could I see myself living in it? The issue here is that you're not represented by an agent who does the research for you based on the requirements you give them, you have to do the search yourself (on websites and real estate publications), so you end up dealing with many different agents, and that doesn't help in making the process smooth or efficient.   
Liz, what are the things that struck you the most  in dealing with real estate agents in Liguria?
Agents seem too many times not to have much experience in reading the customer or asking discovery questions. Most agents take you to visit a house that you contacted them about and leave after the tour without asking you a single question! Then there are companies that just email you whatever property they have in your price range, with no personalized selection because they never asked what you are looking for.
Many still have that mentality that if a foreigner is coming in, they have money, and because this is Liguria, they believe that people just come and have cash to spend; they don't realize that everybody knee deep in the crisis is being very careful.
They tend to believe real estate is the same today as it was in the '70s and '80s, and they have not updated their selling skills. They do not know generational selling and address a 40-year-old the same way they would address a 70-year-old. They give you one showing and expect you to say "I'm buying" right away. They come up with typical old school push sentences such as "there is another offer"…so predictable, and definitely not going to work with new generations.
My experience with Italian real estate agents is that they often do not call you back and rarely answer emails the same day (odd in 2019). When they answer emails, most of them do not introduce themselves, nor do they tell you which agency they represent and what property they are answering about. Now, if you are emailing about a property, it means you are house-hunting and, obviously, you are contacting many realtors!
A recent experience I've had: I emailed an agent to get extra info about a property before driving out to see it. They answered one week later and there was no proper answer to my question about parking, no introduction, just a simple phrase that said, "Ciao, vuoi info su questa proprietà?" (Hi, would you like information about this property?).
They do not offer an experience. Starting from most of them hanging old school prints of their properties in their agency windows, with hand written info, usually lacking a lot of details. They don't make you dream, they don't understand they're selling you your future basically, even if it's for a little two-room vacation house. They're selling you a dream that maybe you have taken years to save money for. They're not understanding that a house comes with a lot of emotions, both for the person who's selling as well as for the person who's buying.
In addition, agents and websites lie a lot, so you need to always be on top of your research and you can never fully depend on their 'expertise.'
Recently I called to see a house said to be in Finale and found myself following an agent all the way to Calizzano… That's almost Piemonte! That same agent showed up with his mom because he was taking "advantage of the showing to take her out."
Talking about mothers, I worked with an agency in Celle who showed me five houses: the agent showed up with her mother and her sister for each visit! Once, I had sent her a list of properties to see. She actually asked me to "do her a favor" and visit another house which I had not identified as she had told the owner we would visit and he was waiting for us. So we just "had to see it anyways."
90% of the agents I have worked with over the years do not go to the properties ahead of time to open windows, and don't  know what staging is. So, visiting houses with people's laundry dropped on beds, toilets not cleaned, garbage out, etc., is a constant. [In Italy, the culture is not to "stage" or "predecorate" a house for a potential buyer, editor's note].  
The don't know how to take pictures of properties and, obviously, they don't hire a professional. Aside for one, I have not found an agency capable of promoting a property via imaging on the net. They love to take 10 pictures of the ceilings, the toilet seat, a light or a window…
The owners do not leave keys with agents . People stay in their homes when you visit, so it makes it uncomfortable for possible buyers. I have found myself in situations where my husband and I were commenting about the changes we would make and owners got offended.
The agents show up at a showing without any proper information on the property: in France or in the U.S., agents have i-Pads on which the whole property file is to show everything administrative (taxes, fees, proper square meters, etc.).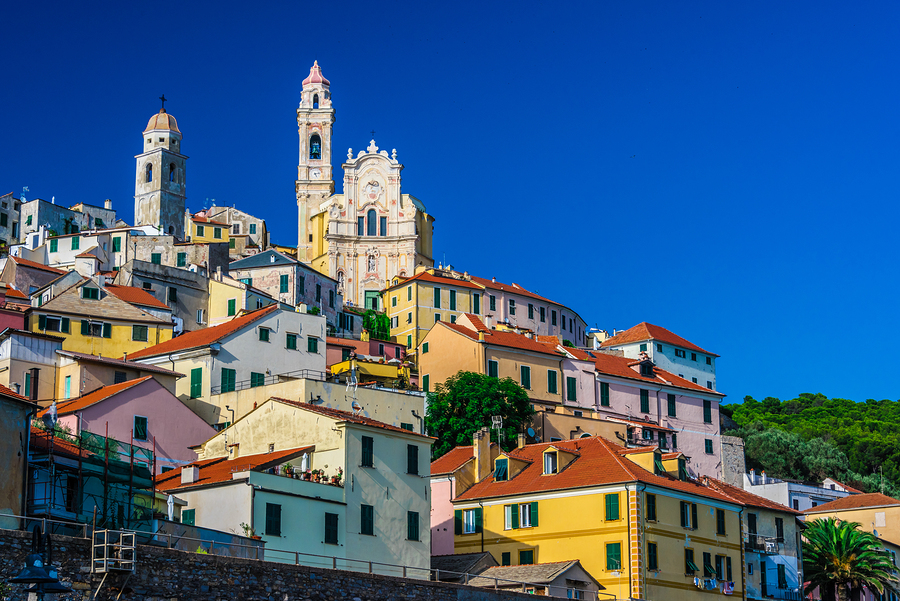 [Not all houses in Liguria are as pretty as in the village of Cervo.]
What are your tips for someone unfamiliar with Italian culture interested in buying a property in Italy?
First of all, research, research, research. Look for the same property on different sites because they often give you different prices for the same property. Everything you can find on your own, try to find it on the Internet.
When you contact an agent, try to ask all the questions ahead of time; make a list of everything you can think of - is there parking, are there hills to get to the house, where's the closest school, the supermarket, etc. - think of everything. Enter with all the information ahead of time.
Find an agent that's used to work with foreign clients. When you do your research, if the website says, 'we speak English, French, German, etc.' that's already a good point.
Join a community that can help you find the right people; build your network. People from Anglo-Saxon cultures have more difficulty understanding the games of conversation, and how we communicate, and that's a very big cultural shock for them. It's easier for Spanish and French people because they're more similar to Italians.
Be very careful with what is declared and what is not. Foreigners are never going to think about that because if you come from, say, Holland, everything is declared! Consider that one out of two of the properties I have seen in the past 10 years are an 'abuso' with added walls and spaces that have never been declared legally to city hall and, therefore, are not legally part of the surface you are being told you will own.
What have been the positives of your experience?
The positives are the properties. You have such a wide variety of houses; you have old stone, you have new stone, you can find antique, you can find a renovation project to work on, if you want new you have it. Also, right now you have great prices for beautiful old properties that you can't find anywhere else in the world -  except maybe France and Spain, and France isn't going to be so interesting pricewise, plus Italians are nicer!
Thanks, Liz, for sharing your experience with Italy Magazine readers.