We continue our series "Where to Find Italy in America", part of the Italian-American section, devoted to Italian-American communities in the United States: where they live, where they gather, where to find a little bit of Italy in different U.S. cities and states. 
Boston's North End, once the core of the city's 'Little Italy', has managed to retain a vibrant Italian community thanks to the residents' fierce effort to keep it, as much as possible, the way it was: an Italian neighborhood with a strong sense of community and tradition.
The most obvious way to see the area's Italian roots is by the large number of Italian restaurants, cafés and grocery stores lining the neighborhood's main thoroughfare, Hanover Street. And food is probably the main attraction for those visiting the area (besides the fact that part of the famous Freedom Trail traverses the North End).
But beyond the food, Boston's North End can still be considered an Italian neighborhood for the number of Italians, both old-timers and newcomers, calling it home, and the leadership role they maintain in the community. It also hosts a series of summer festivals, the largest being Saint Anthony's Feast, a tradition started in 1919 by Italian immigrants from the small town of Montefalcione near Avellino in Southern Italy, and the Fishermen's Feast, based on the devotion of the fishermen from Sciacca, Sicily, to the Madonna del Soccorso (both are held in August).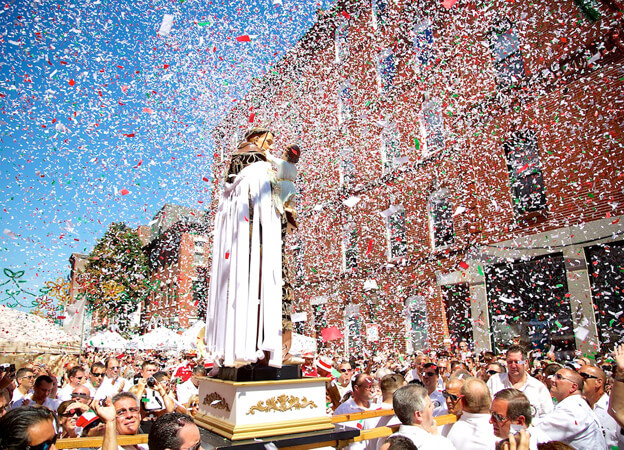 [Saint Anthony's Feast, held every August in Boston's North End.]
In recent years, the North End has gone through tremendous gentrification, attracting many young professionals who work nearby and like its European feel, the brick buildings and narrow streets, the many cafés and restaurants, the decidedly Mediterranean atmosphere.
"Today's North End is a fusion of Italian-Americans and Boston professionals of all backgrounds," says Mary Tedesco, the founder of Origins Italy, a genealogical research firm specializing in Italian-American ancestry research and a host on the PBS TV series Genealogy Roadshow, who lived in the North End for five years and says she loves it.
While the real estate skyrocketing prices have pushed many residents out, causing some resentment, the newcomers have mostly been respectful of the community they found, which helped preserve its qualities. "They want to live in an Italian neighborhood," says Boston University professor James Pasto, an expert on the history of the North End and a co-founder of the North End Historical Society. "They don't want to change it too much."   
"Italian-Americans are fortunate to have the North End in Boston," Tedesco adds. "It's living history for our Italian community here. The Italian pride in neighborhood comes alive during Feast season in the summertime. It is wonderful that so many dedicated Italian-Americans have kept these traditions alive - honoring our Italian ancestors and the rich cultural history of Boston's North End."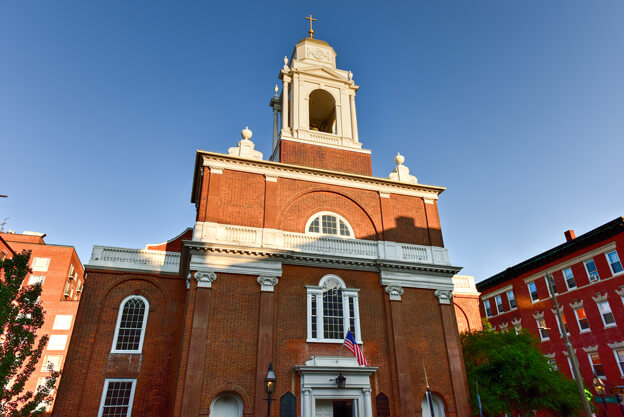 [St. Stephen's Church in Boston's North End.]
As I was researching the history of the neighborhood, I had the pleasure to preview a wonderful, touching documentary, which professor Pasto co-produced, along with Alex Goldfeld, a co-founder of the North End Historical Society, and Stephen Passacantilli, who is also the narrator and whose daughter is the family's fifth generation living in the North End. The documentary, called "Boston's North End: An Italian-American Story", premiered on November 5 to a full house at historic St. Peter's Church and does a great job of tracing the Italian history of the neighborhood and of its people, from its beginnings to today.
History of Boston's North End
The city's oldest residential neighborhood, where people have resided since the 1630s, the North End was a fashionable place to live until the American Revolution. In subsequent years, immigrants from different parts of the world started settling there to work in the increasingly important shipping industry; mansions were replaced with tenement houses, while crime, prostitution and drunkenness became widespread.  
Italians began arriving in the neighborhood in the 1860s, with a major surge between the 1880s and 1920s, when as many as four million Italians moved to the United States to escape extreme poverty and lack of opportunities in their homeland. They found work in fishing, shipping, construction, and as peddlers and shopkeepers.
As in many other Little Italys across the country, the newcomers tended to settle on the same streets where people from the same region, and even the same town, were already living; in gravitating toward their 'paesani', they were trying to recreate the village they came from. This gave them a sense of security and support, which was especially important as Italians faced, for many decades, a great deal of discrimination and racism in their adopted country.
As recalled in the documentary by many of the residents who grew up in the North End, the sense of community and solidarity was very strong. Everybody felt they were part of an extended family. "We had 100 parents, uncles, grandparents," one of them says. People watched out for one another. They did not have much, but were happy to share the little they had. Children played in the streets, while adults could be seen standing in groups on street corners. The smell of meatballs and gravy sifted through the windows. Families prepared fresh pasta, made wine in their cellars and tended to their vegetable gardens. It felt like Italy.
In the 1950s and '60s, Italians who had achieved greater prosperity started moving to the suburbs. Others remained, while, at the same time, a new wave of Italian immigrants began pouring in, helping maintain the neighborhood's Italian American ethnic identity, the Italian language and, fundamentally, the culture. Italian Americans make up between 15% and 20% of the population living in the neighborhood today, and still play a leadership role in the community. "They still consider it their neighborhood," Pasto says.
A poignant example of how a younger generation of Italians is still shaping the neighborhood and helping keep the Italian culture alive is the recent opening of I AM Books, a bookstore specializing in Italian and Italian American literature, history, research, and art. Opened on October 29, 2015, I AM Books was co-founded by Italian-born Nicola Orichuia, a young journalist who has lived in the U.S. for eight years, and semi-retired businessman Jim Pinzino, with the intent to offer the area's Italian and Italian American communities a space where to immerse themselves in Italian culture, through a variety of books and year-round events.  
During the first year of his new enterprise, Orichuia tells me, the response has been very encouraging. "For individuals who have Italian ancestry, that connection is very important, and they feel at home inside I AM Books," he explains. "Then there are those who are in love with Italy and want to dive into the Italian culture and lifestyle as much as possible. I've also noticed there is a lot of demand to learn the Italian language, which is one of the reasons we recently launched Italian language courses as well."
Overall, while things have obviously changed, Boston's North End can be considered one of the few Little Italys in the U.S. that has retained an authentic Italian American character.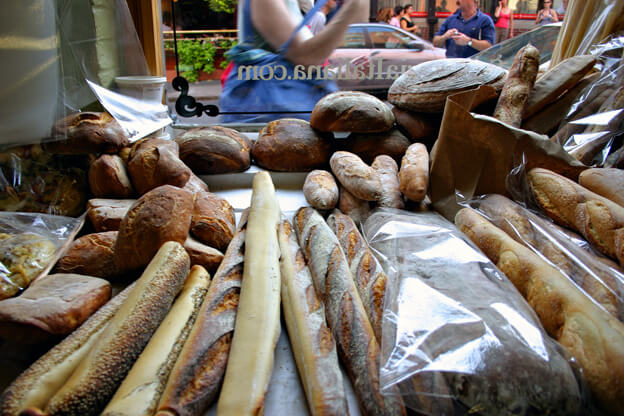 We are happy to share insider's recommendations on favorite places to eat from our interviewees:
James Pasto: "Antico Forno – it tastes like what my mother made. Galleria Umberto, where everything is made fresh every day: arancini, calzone, pizza, homemade wine. Very simple and inexpensive."
Mary Tedesco: "My favorite restaurant in the North End is Strega. There, you can find both old-world classics and dishes with a modern Italian-American twist. As for pastries and sweets, Maria's Pastry Shop and Modern Pastry are excellent. Cannoli from Mike's Pastry are also very high on my list of North End favorites. Monica's Mercato is a great place to find authentic products from Italy. They have fantastic sandwiches also!"
Nicola Orichuia: "There are truly too many good restaurants to choose only one or two. My favorite places to go are the pastry shops (try Modern Pastry!) and the coffee shops (Caffe' Paradiso). I also like the grocery stores (Salumeria Italiana), where I can go and make myself a sandwich just like I used to do back home, in Rome: pane e mortadella!"
If you're interested in learning more about the Italian history of the neighborhood, the documentary "Boston's North End - An Italian American Story" is a must-see. Instructions on how to purchase the DVD are available here.