New Series: Where to Find Italy in America. This is the first article in what we hope will become a series, part of our Italian-American section, devoted to Italian-American communities in the United States: where they live, where they gather, where to find a little bit of Italy in different U.S. cities and states.
Almost 16 million people living in the United States (nearly 6% of the population) identify themselves as Italian Americans, according to the 2000 U.S. Census. Where do they live and how do they keep alive their traditions? While most of the Little Italy neighborhoods established in many U.S. cities have lost their strong Italian traits and population, they often still feature a concentration of Italian restaurants and shops and are often the site of Italian festivals and cultural events.
Italian Immigration to the U.S.
Before 1870, relatively few Italians made the courageous move to America. In the 50 years preceding that year, roughly 25,000 Italians, mainly from the north of Italy, emigrated to the U.S. After 1870, there was a surge in Italian immigration to the U.S.: it is estimated that, between 1870 and 1920, more than 4 million Italians arrived in the U.S. – 80% of them came from the south of Italy, which was extremely poor.
The majority of Italian immigrants arrived in New York City, passing through Ellis Island. Today, New York City and New York State are still the areas with the largest Italian American population, descendants of the first immigrants.
Little Italys in America  
Wherever they settled in the U.S., Italians tended to gather in the same neighborhoods, where they could find help from their fellow countrymen and feel a little less homesick by hearing their language, finding shops that sold Italian food and celebrating the same festivities they did back home.  Thus, many Little Italys were born.
Probably, the most famous Little Italy of all is in lower Manhattan's Mulberry district, although the neighborhood is now ethnically diverse and Italians no longer gather just there. Other neighborhoods with a large Italian population between the 19th and 20th centuries were Boston's North End, South Philly in Philadelphia, the Near West Side in Chicago, the port area of Baltimore, Dago Hill in St. Louis and North Beach in San Francisco. These areas are still associated with Italian culture and often feature a number of Italian restaurants and businesses. We will look at many of these, but first, let's look at America's (former) queen of Little Italys.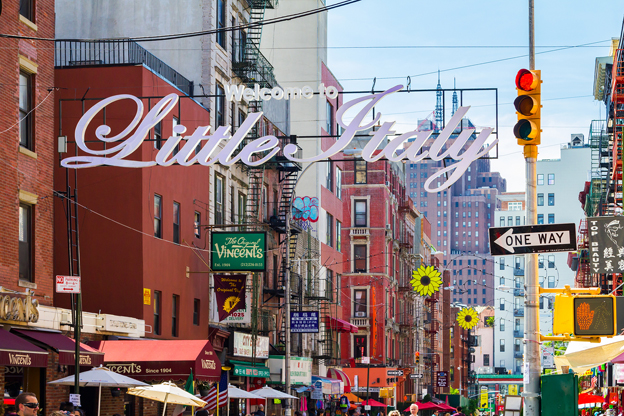 Where to Find Italy in New York
Between the 19th and 20th centuries, New York's Little Italy was often the first neighborhood in America that many of the new immigrants from Italy saw or settled in. In 1910, Little Italy had almost 10,000 Italians. Once spanning more than 50 square blocks, with Mulberry Street the main thoroughfare, today, Little Italy covers just three blocks of Italian restaurants and cafés. Chinatown started to encroach the neighborhood in the 1960s. As the area became more expensive, much of the original Italian population was eventually pushed out. This does not mean you cannot find a little bit of Italy still. Below are some of the highlights.
The Italian American Museum is located at 155 Mulberry Street, at the corner with Grand Street. The building once housed the "Banca Stabile," founded by Francesco Rosario Stabile in 1885. Banca Stabile was more than a bank offering financial services to the newly arrived immigrants from Italy; it also represented a connection with family and friends back home, providing telegraph services, functioning as a post office, working as an import-export business, "a kind of all in one immigrant community service center," as the museum's website writes. The building has been restored to serve as a museum dedicated to Italian Americans, and to their struggles and contributions in their adopted country.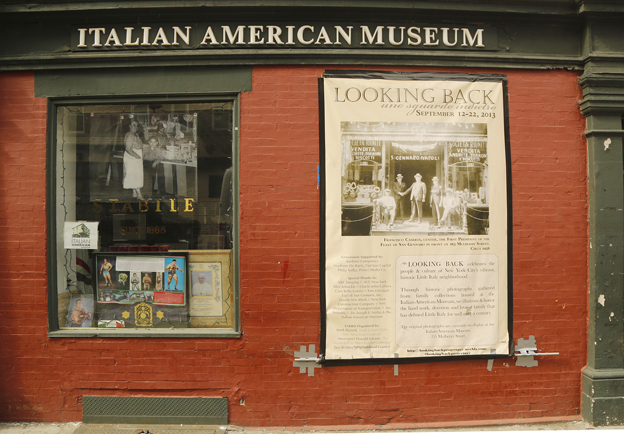 Ferrara (195 Grand St. between Mott and Mulberry) is America's oldest espresso bar founded in 1892. Still family owned, managed by the fifth generation, it was founded by Enrico Scoppa and Antonio Ferrara, who felt a gathering place where people could drink espresso, play a game of 'scopa' and relax after a night at the opera was missing. So if you're in the mood for cannoli, gelato or sfogliatella, this is the place to head.
If Ferrara was a first for espresso bars, Lombardi's (32 Spring St.) was the first pizzeria opened in the U.S. (acknowledged by the Pizza Hall of Fame, not kidding) in 1905, giving birth to the famous New York style pizza. Gennaro Lombardi started the business in 1897 as a grocery store at 53½ Spring Street; he sold tomato pies wrapped in paper to workers from the area's factories at lunchtime. In 1905, Lombardi received a business license to operate a pizzeria restaurant, and soon had an enthusiastic clientele, including Italian tenor Enrico Caruso. Just as an old-school pizza joint, Lombardi's only serves whole pies (not slices) and accepts payment just in cash.
Ottomanelli & Sons Meat Market (285 Bleecker Street) is an old-style butcher shop. Opened by Onofrio Ottomanelli in the 1950s, the store quickly distinguished itself from other butchers for the quality of its meats, which continue to be served by son Frank.
Every year for 10 days in September, New York's Little Italy is taken over by the Feast of San Gennaro (this year, it runs September 15-25). The street fair, created to salute the patron saint of Naples, is a celebration of Italian culture and the Italian-American community, and  generally attracts more than a million people to the neighborhood.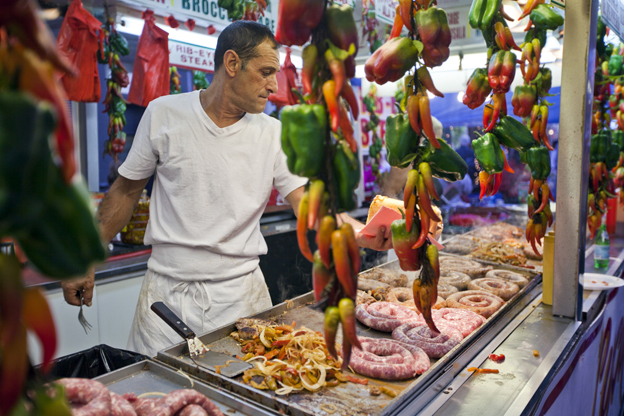 Did you know? New York has another Little Italy (after all, it is home to the largest Italian population in the U.S.):  it is in the Bronx, located along Arthur Avenue from 184th St to 187th Street, and 187th St over to Belmont Ave. Some even consider it the real Little Italy of New York! Well, stay tuned as we'll find out in the next article in the series.