[Caffè Italia on India Street in San Diego's Little Italy is one of many Italian-inspired eateries and cafés in the neighborhood. Photo credit: Little Italy Association.]
We continue our exploration of America's Little Italys by visiting San Diego's Little Italy. For more about our Italian-American series, click here.
There is an air of excitement, of new things happening, in San Diego's Little Italy. The revitalization efforts that began in the mid-1990s apparently have not stopped. A number of new piazzas are scheduled to be built; the local Amici Park is set to get an upgrade; and new businesses, some run by a recent wave of young Italian immigrants, seem to sprout up at every corner.
The way Little Italy looks today, I'm told, is quite different from the way it looked 20 years ago, when the Little Italy Association was established to revitalize this historic neighborhood, which, from the late 1800s to the 1970s, was the core of San Diego's Italian community. "We wanted to try to ensure that our Little Italy would not decline," says Marco Li Mandri, the chief executive administrator of the association, which represents the property owners, residents, and businesses of Little Italy, who, in 1996, decided to come together to oversee the revitalization and beautification of the area.
Today, San Diego's Little Italy is a vibrant, 48-block neighborhood, filled with restaurants, cafés and shops, and one of San Diego's main tourist attractions. In fact, it is a stop on the popular Old Town Trolley Tour, which is how I stumbled upon it two years ago.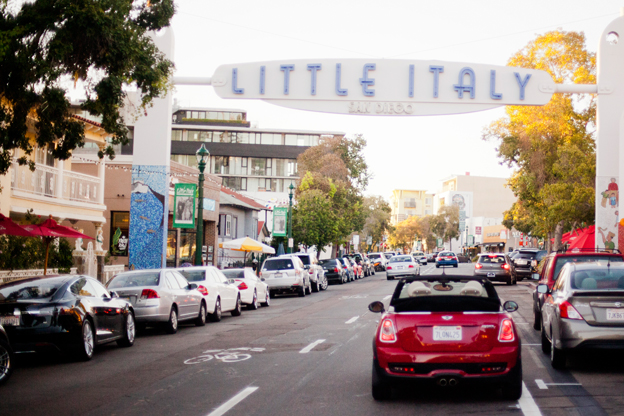 [The Little Italy sign. Notice the tiled mosaic on the left depicting the tuna fishing industry. On the right pillar, a representation of the fishermen's families. Photo credit: Little Italy Association.]
When I first visited, I have to admit, I was not particularly impressed (perhaps the stereotypical presentation on the trolley had put me off); it somehow failed to remind me of Italy or to recall an Italian past. However, through subsequent visits during which I've spent more time in the neighborhood (the most recent this past fall), sitting at outdoor cafés and talking with residents and business owners, I've started to appreciate the liveliness of this easily-walkable neighborhood near San Diego's waterfront.
Proximity to water is exactly what lured many Italian fishermen, mostly from Liguria and Sicily (and especially from the towns of Riva Trigoso and Porticello respectively) to the shores of San Diego, where they worked in the tuna fishing industry, helping to turn it into the biggest in the country: the area became known as the "tuna capital of the world."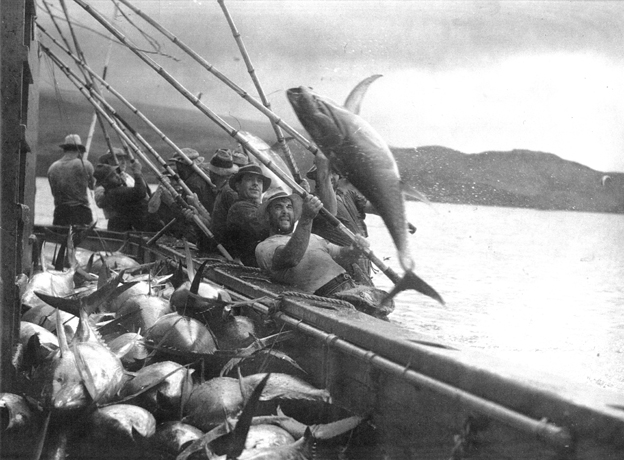 [Italian fishermen at work. Photo credit: SD Italian American Archive/P. Verdicchio.]
Italians had started to gather here in sizeable numbers from the 1890s, but it was especially after the 1906 San Francisco earthquake that many moved to Southern California, settling in the northwest end of Downtown San Diego; in fact, at the time, the area was known as Middletown, because it was located between New Town (today's Downtown) and Old Town. At one time, more than 6,000 Italian families lived in Little Italy. Construction of the 5 freeway in the 1950s was the first blow to the neighborhood: it cut right through it, displacing many residents who began moving out. The second blow came in the 1970s when the tuna fishing industry started to wane. The loss of jobs led Italians to move elsewhere - and the area went into neglect.
I learned about this interesting history thanks to University of California, San Diego, professor Pasquale Verdicchio, who gave me a historical tour of the neighborhood, pointing out some of the (few) fishermen's houses still standing, as well as some landmark stores and restaurants.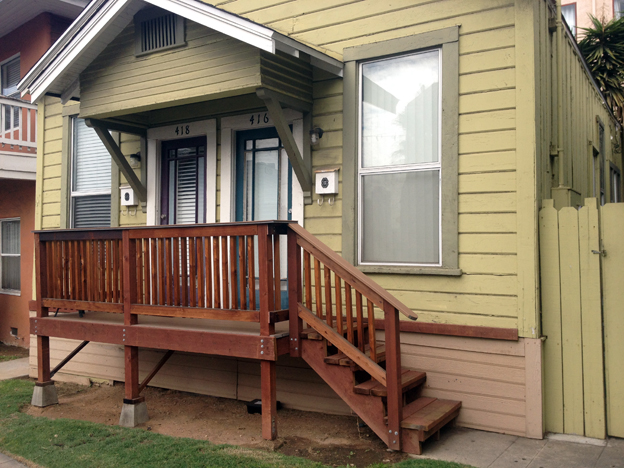 [Old fisherman's house in San Diego's Little Italy. Photo by Silvia Donati.]
But before we ventured onto the streets, Verdicchio took me inside the Italian Cultural Center of San Diego, which is located behind the community's church, Our Lady of the Rosary, in a historic building that was once the home of the Madalenas, the parents of writer Lorenzo Madalena ("Confetti for Gino"), and site of the first Church in San Diego's Little Italy. The Italian Cultural Center is a non-profit organization founded in 1981 as a meeting point for people interested in Italian culture and language. The center, which offers Italian language classes, houses three panels displaying historical information alongside old photographs and documents, which Verdicchio gathered during the course of several interviews in the 1990s with some of the older Little Italy residents, as part of an oral history project with the California Council for the Humanities. Albeit small, the Italian Cultural Center of San Diego is an important piece of the neighborhood's history; due to limited funding however, it is not - unfortunately - open for visits.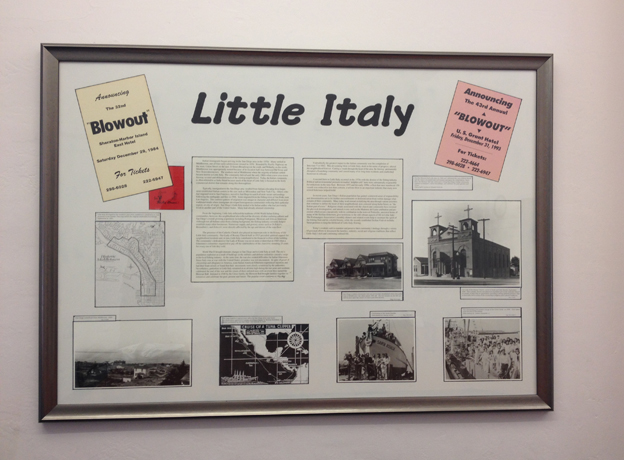 [Panel illustrating the history of San Diego's Little Italy inside the Italian Cultural Center of San Diego. Photo by Silvia Donati.]
Visiting San Diego's Little Italy
Little Italy takes up 48 square blocks in Downtown San Diego, bounded by West Laurel Street to the north, West Ash Street to the south, Front Street to the east, and Pacific Coast Highway to the west.
The bustling heart of San Diego's Little Italy is India Street (legends surround the origin of this name, with some saying it refers to a fishing ship). Along India Street is where you'll find many eateries, markets and cafés. Some of these include local favorite Caffè Italia; Filippi's Pizza Grotto, a chain of family restaurants that began in Little Italy in 1950 with the establishment of a grocery store called Filippi's Cash and Carry; Mona Lisa Italian Foods, both a restaurant and a deli; Assenti's Pasta, a family-run shop selling homemade pasta and sauces; Café Zucchero, where I met the sweetest of man, owner Frank Busalacchi, who insisted on making me try the café's specialty, cannoli (delicious); he also described San Diego's Little Italy as "the garden of all Little Italys in the U.S."; Buon Appetito restaurant, owned by Antonino Mastellone, who arrived in 1995 and now owns two more restaurants, a café and a grocery store.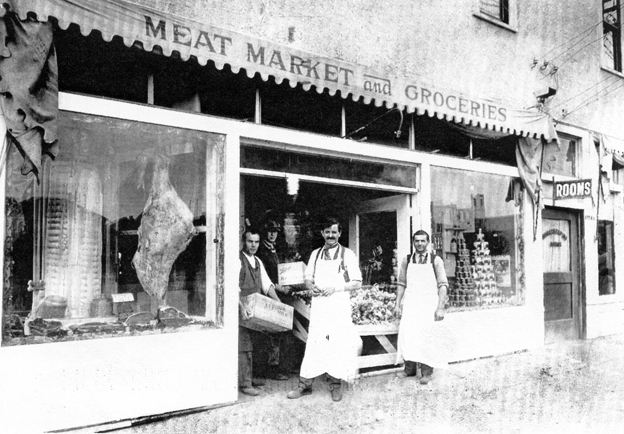 [Much has changed in San Diego's Little Italy since the times the first immigrants set up their shops in the neighborhood. Photo credit: SD Italian American Archive/P. Verdicchio.]
Make sure you wander beyond India Street to find other great places. One of my favorite was Pappalecco (good coffee, pastries and sandwiches), founded by two brothers who are part of a recent wave of young Italian immigrants who have chosen San Diego as their new home for the good business opportunities and great climate. This is also what brought Milan native Guido Nistri to Little Italy, where he opened trendy Monello and Bencotto restaurants, located on Fir St. Back on India St., Civico 1845 opened in 2013, while contemporary pizzeria and wine bar Isola Pizza Bar opened three years ago.
For an immersion into an older vibe, the Waterfront Bar & Grill on Kettner is where fishermen used to hang.
Still playing an active role in the community, Our Lady of the Rosary Church, on State St., was built in 1925 with fishermen's funds.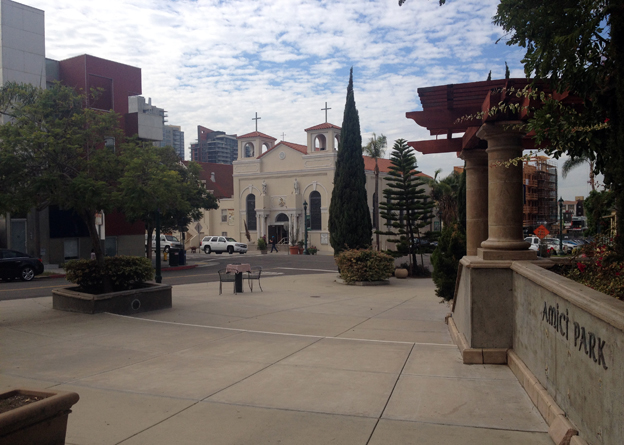 [Our Lady of the Rosary Church as seen from Amici Park. Photo by Silvia Donati.]
Across from Our Lady of the Rosary church is Amici Park, next to the neighborhood's elementary school that many Italian Americans attended in their youth, Verdicchio told me. The park includes a bocce ball court, where members of the local bocce club can be seen playing every day, and an amphitheater for community events.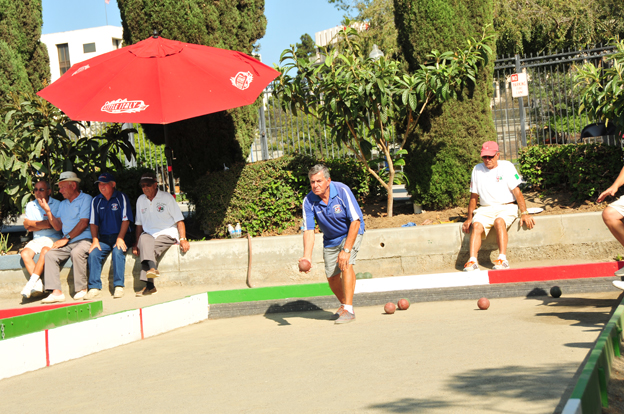 [The Bocce Ball court in Amici Park. Photo credit: Little Italy Association.]
The Mercato farmers' market, held every Saturday morning on five blocks of West Cedar Street, attracts many San Diegans.
The main construction project going on right now is the creation of Piazza della Famiglia, which, when completed, will occupy a block of W. Date Street, between Columbia and India streets. As per the Little Italy Association's plans, Piazza della Famiglia is expected to become the new heart of Little Italy. A series of more piazzas, dedicated to prominent local and national members of the Italian American community, are also scheduled for construction. "The value of Italy is in its piazzas, so we're taking this concept to San Diego's Little Italy," says Li Mandri. "People will be able to eat and sit at the piazza and watch people, like they do in Italy."
A number of events take place in Little Italy throughout the year, the most popular being Festa, held every October (Italian Heritage Month in the US) to celebrate the positive contributions of Italian Americans to the United States. The festival, created in 1994, spans 12 blocks and attracts thousands of visitors.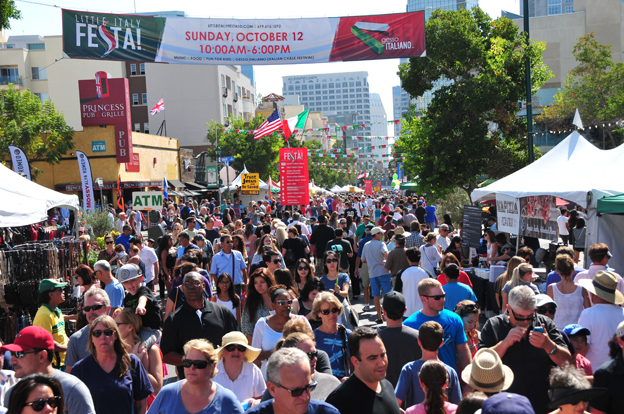 [People at the annual Festa celebrating Italian American heritage. Photo credit: Little Italy Association.]
Other popular events include the Gran Fondo San Diego (a cycling event), the Mission Federal ArtWalk (celebrating visual and performing arts), and the Madonna del Lume, a feast originating, and still celebrated, in Sicily's Porticello; it takes place the third Sunday in October when a statue of the Madonna is placed on a vara (cart) with a model of a fishing boat, then led in procession through the streets of Little Italy all the way to the waterfront where it ends with a blessing of fishing boats.
Have you been to San Diego's Little Italy?