Italy Magazine editors share favorite books by Italian authors for your 2018 summer reading list.
Silvia Donati's picks:
"Ciao America! – An Italian Discovers the U.S." by Beppe Severgnini
This is one of my favorite books from Italian journalist and essayist Beppe Severgnini, director of the weekly 7, published by Italy's Corriere della Sera newspaper. The book recounts the year Severgnini spent in Washington DC, where he had temporarily moved for work with his wife. Despite several previous trips to the United States, Severgnini states in the introduction that the U.S. is a country that "you are completely unprepared for when you arrive". It is, as he writes, "one of the world's best-kept secrets". His observations about life in America are both insightful and funny, just as the comparisons he makes with Italian life and culture (the chapter where he talks about the misspelling of his name is absolutely hilarious). He reveals some of America's idiosyncrasies, not with the intention to criticize, but with a real desire to understand, and always does it with an affectionate tone and an open mind. A delightful summer read.
"A Day in the Life of Ancient Rome" – by Alberto Angela
Alberto Angela is a paleontologist, scientific popularizer, writer and TV presenter who has amassed a loyal and enthusiastic following for his capacity to present history, science, art, and culture in general in a straightforward way full of captivating anecdotes. He has authored several books, including the fascinating "A Day in the Life of Ancient Rome," where he manages to bring the reader into the world and atmosphere of ancient Rome: inside the Colosseum during a gladiators combat; at the baths, the Romans' favorite pastime, and in the taverns; through the crowded streets and at the lavish banquets. It reads like a novel, not a history treatise on ancient Rome; it feels as if you're walking in ancient Rome, with Angela as your guide, during the course of day, which begins at sunrise in the house of a wealthy Roman.  By night time, you'll be in on the daily life of the ancient Romans.
"Things That Happened Before the Earthquake" – by Chiara Barzini
This is the debut novel by author and screenwriter Chiara Barzini. It takes place in 1990s Los Angeles, where Barzini lived for a period of time as a teenager when her filmmaker parents decided to move to L.A. looking for success in Hollywood. While the book is not a memoir, it has many autobiographical elements. The main character is 15-year-old Eugenia, who is eradicated from her Roman life by her parents hoping to make it big in L.A. (as it happened to Barzini in real life) and ends up in the San Fernando Valley. Eugenia learns to navigate the streets and the culture of LA at a time of violence and turmoil (the 1992 riots, the 1994 earthquake referred to in the title), makes mistakes, experiments with drugs. Barzini captures beautifully the ambiance, the atmosphere of LA, the 'luminous unseen', that light that is so unique to LA, the wildness that is a big part of the city; and also the insecurities and the awkwardness of adolescence. Barzini wrote the book in English first because, she said an interview with Vogue, it gave her freedom from self-judgment. It is raw at times, but that only makes it all the more authentic.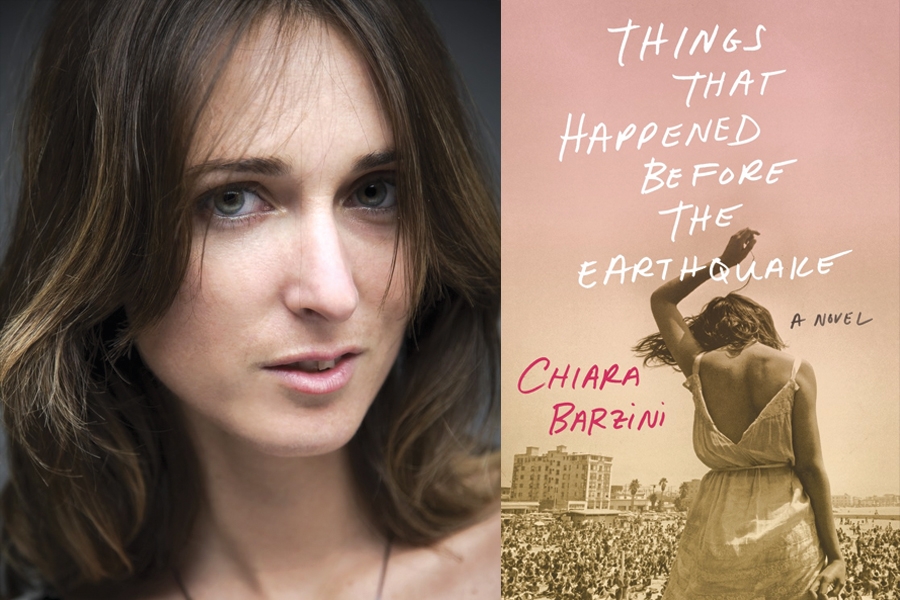 "I Promessi Sposi" (The Betrothed) by Alessandro Manzoni
A classic of Italian literature that all Italian students are made to read in high school, I Promessi sposi is always a pleasure to (re)-read. In a nutshell, "The Betrothed," which is set in Lombardy during the Spanish occupation of the late 1620s, tells the story of two young lovers, Renzo and Lucia, prevented from marrying by cruel nobleman Don Rodrigo, who wants Lucia for himself. Separated and forced to flee, Renzo and Lucia will face many dangers and meet a number of strange characters before they are finally reunited. Love, power, evil, the suffering of innocents, are themes explored in the book, which is also a fine portrait of the society of the time, and of human nature.
This book, which is considered one of the greatest masterpieces of Italian literature, has had such an influence on Italian culture that expressions, quotes and names from it are still commonly used in Italian; there's probably no Italian who doesn't know the opening line, "Quel ramo del lago di Como"; the name Perpetua, a character in the book, is used to indicate a priest's house worker; Questo matrimonio non s'ha da fare ("This marriage is not to be performed") is used, ironically, to say something is not going to happen.
"Canti: Poems / A Bilingual Edition" – by Giacomo Leopardi, translated by Jonathan Galassi
Summer inspires a bit of poetry reading, and Giacomo Leopardi is Italy's greatest modern poet; to get acquainted with his work, grab a copy of this bilingual edition, translated to high praise by Jonathan Galassi this was a New York Times Notable Book for 2011). While Leopardi isn't as well known abroad, his influence on modern poetry, in Italy and abroad, is major. The book contains some of Leopardi's most famous poems, such as Il sabato del villaggio, L'Infinito, A Silvia, La Quiete dopo la tempesta, where he examines the human condition through vivid, profound descriptions of life in the countryside of Le Marche.
Georgette Jupe's picks 
"If This Is a Man and Truce" – by Primo Levi
When I first came to Florence and I dived into the wonderful world of Italian literature, I would spend hours perusing the local Paperback Exchange on Via dell Oche, a charming bookshop just steps from the Duomo Cathedral. An Italian friend suggested this book, best described as a "humanity-filled holocaust memoir" following the journey of Levi, a 23-year old chemist, who was arrested in December 1943 and transported to Auschwitz in February 1944. The book was published in 1947 after Levi's liberation from Auschwitz and journey back to his hometown of Turin. What stands out in this book is how Levi manages to humanize each and every individual, from monster to prisoner in a very harrowing account so much more relatable than I have read in the past. Author Philip Roth described Levi as "a magically endearing man, the most delicately forceful enchanter I've ever known."He presented the truth and was unapologetic for it. Levi offers the possibility that humans will not easily – or entirely – be demolished despite all of the hardships he faced. I was especially entranced by the journey from Poland to Italy, something you don't often read in WWII novels that often stop abruptly with the end of the war. 
"My Brilliant Friend" – by Elena Ferrante 
I know so many of you guys will have already read the Neapolitan novels by elusive author Elena Ferrante, the success of them have meant that there are now tours dedicated to the books and an upcoming TV series on HBO. The book's series stretches out over 1,200 pages, the and have as many characters and subplots as a nineteenth-century novel, the plot line follows the evolution of a friendship between two girls "Lina and Lila" from the miserable outskirts of Naples after World War II. There are rivalries, marriage, divorce, heartbreak, children, with an undercurrent of intellectual knowledge, sexual knowledge, political knowledge and power dynamics all playing their valuable part. In one scene in the first book after Lila beats a male classmate at a math contest her best friend Lina notes "it became very clear that Lila could, if she wanted, ration the use of her abilities." I have to admit that in reading these books I almost forgot to breathe, they were that addictive. You don't always fall in love with the characters but you are dying to see what happens next -- if you have yet to read them, now is the time to start. 
"Christ Stopped at Eboli" – by Carlo Levi
Not to be confused with Primo Levi, Carlo Levi was a writer and a painter whose novel "Christ Stopped at Eboli" follows his experiences in a small town in Lucania, or Basilicata, a little-known region in Italy's deep South, where he had been ordered to live under police surveillance in 1935 and 1936, because of anti‐Fascist activities in his native Turin. "Don Carlo" as he was called by the villagers, eventually gained the affection of locals by caring for sick peasants (he was a former doctor). The book succeeded in a way in its time at providing a startling glimpse of archaic lifestyles and underdevelopment in southern Italy that wasn't before known. "Levi contends that man's escape from freedom is into idolatry, which, in his view, includes the gamut of organized myths, from primitive magic and Christianity down to the modern religion of the mammoth and centralized state. Man escapes because he is afraid of the chaos of life, it is in differentiation, as Levi puts it, and wishes to flee the human responsibility of freedom" as quoted by Commentary Magazine. For anyone planning to visit Matera, this is certainly a must read. 
SaveSaveSaveSave
SaveSave