UNESCO: Archaeological Area and the Patriarchal Basilica of Aquileia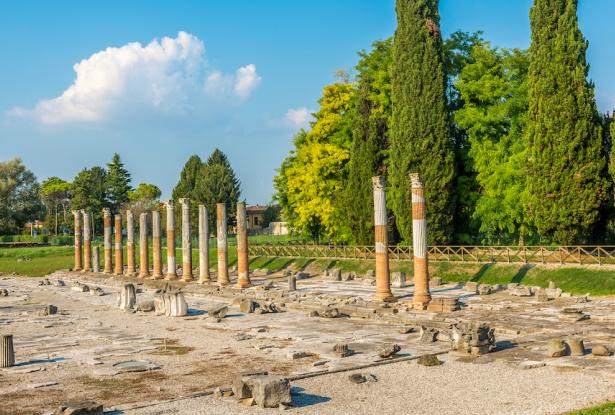 Aquileia is an ancient Roman city in Italy, at the head of the Adriatic at the edge of the lagoons, about 10 kilometres (6 mi) from the sea, on the river Natiso (modern Natisone), the course of which has changed somewhat since Roman times. Today, the city is small (about 3,500 inhabitants), but it was large and prominent in Antiquity as one of the world's largest cities with a population of 100,000 in the 2nd century AD and is one of the main archeological sites of Northern Italy.
The site of Aquileia, believed to be the largest Roman city yet to be excavated, is inscribed on the UNESCO World Heritage List. Excavations, however, have revealed some of the layout of the Roman town such as a segment of a street, the north-west angle of the town walls, the river port, and the former locations of baths, of an amphitheater, of a Circus, of a cemetery, of the Via Sacra, of the forum, and of a market. The National Archaeological Museum contains over 2,000 inscriptions, statues and other antiquities, mosaics, as well as glasses of local production and a numismatics collection.
Postal Address
Province of Udine
33051 Aquileia UD
Italy
Other points of interest in Friuli Venezia Giulia