Acca Studio Real Estate Lake Como -Menaggio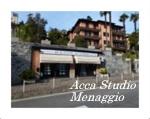 Our agency, established in 1996, is one of the oldest real estate agency in Lake Como and we strive to offer customers an excellent quality of service at all times, thanks to our experience in the field.
We aim to offer to our clients an high quality service, by helping and assisting them during all the phases; from the choice of the right property for each customer ( holiday home, investement ) to the notary act. We put a strong emphasis on communication, in order to facilitate a clear and safe communication between the two parties.
We have a great deal of experience in dealing with customers from different countries and we often help them understanding the rather complicated legal aspects.
Our agents strive to improve our service and because of this we are member of F.I.A.I.P. (www.fiaip.it, real estate agents association) and one of the owner of the agency, architect Daniela Majelli, has been nominated 'assessore al turismo' for the province of Como.
We also would like you to know that we offer an all inclusive deal, in collaboration with another firm, wich includes the management of the flat, for people who just want to invest in properties here and rent them as holiday homes.
We hope this information has been useful to you and we look forward to hearing from you.
Phone Number:
0039034431227, 00393346742686
Address:
Via IV Novembre, 52
22017 como CO
Italy