Amatriciana: Where It Originated
ITA:
Dov'è nata l'Amatriciana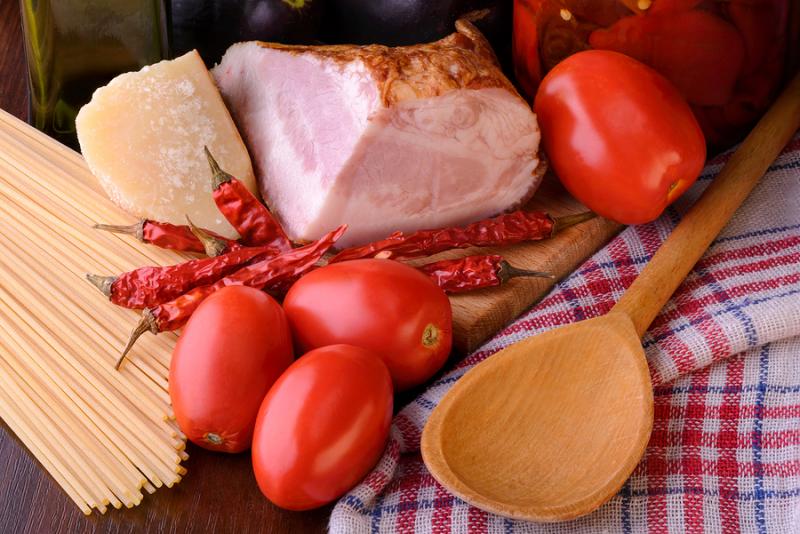 Use player to listen to Italian version
English
Amatriciana is one of Italy's most famous pasta dishes, but its original name isn't amatriciana, it's actually gricia, or, even more precisely, griscia, a word that seems to derive from the village of Grisciano, near Accumoli, where, in the ancient culinary traditions of shepherds, pasta was tossed with guanciale (cured pork jowl) and pecorino cheese. Nearby Amatrice, a town in the province of Rieti, added tomato sauce to this practice and gave the name to the dish.
So Amatriciana isn't originally from Rome, as many assume, but the tradition was adopted with enthusiasm by Roman restaurateurs who helped make it the popular pasta dish it is today. The sauce arrived in Rome with shepherds who traveled to the capital and surrounding countryside to sell their dairy products, as well as sheep and beef meat. The recipe became so popular in Rome that it's now associated with Roman cuisine.
As for many traditional dishes, Amatriciana exists in several variations. While everyone agrees on the use of guanciale, tomato isn't mentioned in some cooking manuals. Onion isn't used in Amatrice, but is indicated in manuals of Roman cuisine.
As for the cheese, either Roman pecorino or Amatrice pecorino, from Monti Sibillini or Monti della Laga area, may be used.
Amatriciana is generally served with spaghetti, bucatini, tonnarelli or rigatoni.
In 2015, the town of Amatrice passed a resolution which officially recognized both recipes, the white version and the red version. In the recipe guidelines, neither garlic nor onions are included. As for the pasta format, it indicated only spaghetti. Amatrice itself has the title of 'City of Spaghetti', as also imprinted on the road signs that announce the entrance into town. A sagra (food festival) of Spaghetti all'Amatriciana takes place every year on the last weekend of August in Amatrice.
According to tradition, this is how you prepare the sauce:
Clean and cut the guanciale into strips about 1 cm thick, and sautée in olive oil in an iron pan; add some chili pepper, then simmer with white wine until reduced. When it has evaporated, add the tomato sauce and cook slowly, then add salt and ground pepper.
In the original recipe, there's no mention of onion, garlic, carrots, nor of pancetta (bacon) instead of guanciale.
Italian
L'Amatriciana è uno dei primi piatti più famosi d'Italia, ma il suo nome originario non è amatriciana, bensì gricia o, ancora più precisamente, griscia, una parola che sembra derivare dal villaggio di Grisciano, vicino ad Accumoli, dove i pastori usavano condire la pasta con guanciale e pecorino. La vicina Amatrice, un comune della provincia di Rieti, aggiunse poi la salsa di pomodoro a questo condimento e diede il nome al piatto.
Dunque l'Amatriciana non è originaria di Roma, come molti credono, ma la tradizione è stata adottata con entusiasmo dagli osti romani che hanno contribuito a renderlo il famoso primo piatto che è oggi. Il condimento arrivò a Roma con i pastori che si recavano nella capitale e nelle campagne circostanti per vendere i loro prodotti caseari, nonché carne di pecora e di manzo. La ricetta ha avuto così tanto successo a Roma che oggi è associata alla cucina romana.
Come accade per molti piatti tradizionali, l'Amatriciana esiste in diverse varianti. Mentre tutti sono d'accordo sull'uso del guanciale, il pomodoro non è menzionato in alcuni manuali di cucina. La cipolla non è usata ad Amatrice, ma è presente nei manuali di cucina romana.
Per quanto riguarda il formaggio, si può usare il pecorino romano o il pecorino di Amatrice, proveniente dai Monti Sibillini o Monti della Laga.
L'Amatriciana è generalmente servita con spaghetti, bucatini, tonnarelli o rigatoni.
Nel 2015, la città di Amatrice ha approvato una risoluzione che ha riconosciuto ufficialmente entrambe le ricette, la versione bianca e la versione rossa. Nel disciplinare non sono menzionati né l'aglio né la cipolla. Per quanto riguarda il formato della pasta, sono indicati solo gli spaghetti. Amatrice stessa vanta il titolo di 'Città degli Spaghetti', come segnalato anche sui cartelli stradali che annunciano l'ingresso in città. Una sagra dedicata agli Spaghetti all'Amatriciana si svolge ogni anno ad Amatrice l'ultimo fine settimana di agosto.
Secondo la tradizione, ecco come si prepara il condimento dell'Amatriciana:
Pulire e tagliare il guanciale a listarelle di circa 1 cm di spessore e rosolarle in olio d'oliva in una padella di ferro; aggiungere un po' di peperoncino, quindi sfumare con vino bianco. Quando questo è evaporato, aggiungere la salsa di pomodoro e cuocere lentamente, poi aggiungere sale e pepe macinato.
Nella ricetta originale, non si fa menzione di cipolla, aglio, carote, né della pancetta al posto del guanciale.
More Dual Language Articles...