The Essence of Sicily in a Dish: Pasta alla Norma
ITA:
L'essenza della Sicilia in un piatto: Pasta alla Norma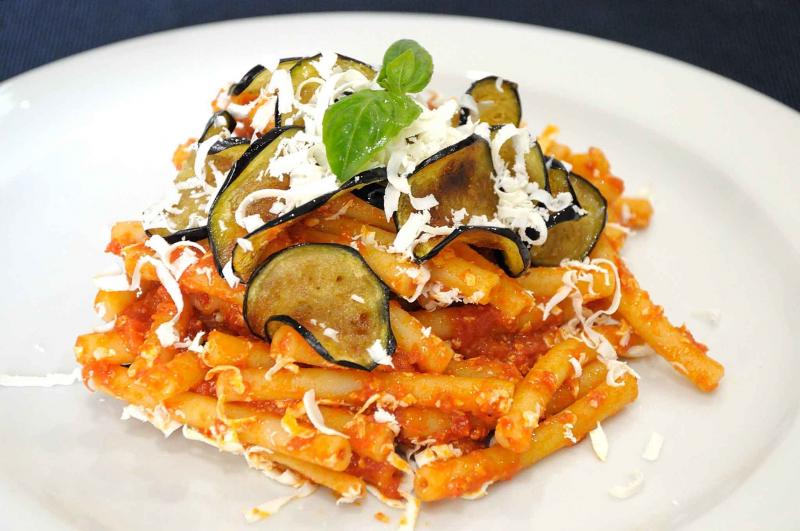 Use player to listen to Italian version
English
We begin a new series today where we explore the history and preparation behind Italy's most famous pasta dishes.
It's a symbol of Sicilian cuisine and one of the most appreciated pasta dishes all across Italy: Pasta alla Norma.
Thought to have originated in Catania, Pasta alla Norma features maccheroni seasoned with tomato sauce, fried eggplant, grated salted ricotta and fresh basil.
As for the name 'Norma', the story goes that Nino Martoglio (1870-1921), a famous playwright from Catania, upon tasting the dish, exclaimed, "Chista è 'na vera Norma!", comparing it to the masterpiece by Catania's greatest composer Vincenzo Bellini, the opera 'Norma'.
Because it's prepared with few and simple ingredients, they must be of the highest quality. It's a dish that summarizes the colors and scents of Sicily, and, just like pizza, evokes a typical Mediterranean dish.
Pasta alla Norma is now popular all over the Sicily, where it has acquired variations, not all deemed legitimate. The original recipe calls for salted ricotta, however some versions use baked ricotta, which has a decidedly different flavor, sweeter and with a hazelnut finish. Some substitute the ricotta altogether with other cheeses, from Parmigiano, to caciocavallo to ragusano. Some add capers, or even anchovies, or mozzarella cubes.
The ingredients dispute involves eggplant as well: in the original recipe, they are sliced and fried in extra virgin olive oil (which is indeed how I had them at La Pentolaccia in Catania). The Messina variant however uses eggplant cut in small cubes rather than slices.
As for the type of pasta, the recipe calls for maccheroni/rigatoni. Accepted variations include pasta corta such as mezze maniche, pennette, sedanini, some even fusilli. Some use spaghetti, but this is considered wrong by experts who claim that pasta alla norma should be prepared strictly with short pasta.
The one thing everyone seems to agree on is that basil leaves should never be missing from pasta alla Norma as their fresh aroma balances the sapidity of the dish.
Italian
Questo è il primo articolo di una nuova serie dove esploreremo la storia e la preparazione che stanno dietro ai piatti di pasta più famosi d'Italia.
È un simbolo della cucina siciliana e uno dei piatti di pasta più apprezzati in tutta Italia: la pasta alla Norma.
Originaria di Catania, la pasta alla Norma consiste in maccheroni conditi con salsa di pomodoro, melanzane fritte, ricotta salata grattugiata e basilico fresco.
Per quanto riguarda il nome 'Norma', risalirebbe all'800, quando Nino Martoglio, un famoso drammaturgo catanese, dopo aver assaggiato il piatto, avrebbe esclamato "Chista è 'na vera Norma!" paragonandola all'opera 'Norma', il capolavoro del più grande compositore catanese, Vincenzo Bellini.
Poiché è un piatto preparato con pochi e semplici ingredienti, questi devono essere della massima qualità. È una ricetta che contiene i colori e i profumi della Sicilia e, proprio come la pizza, evoca un tipico piatto mediterraneo.
La pasta alla Norma è diffusa in tutta la Sicilia, dove viene preparata con diverse varianti, non tutte ritenute legittime. La ricetta originale prevede la ricotta salata, tuttavia alcune versioni usano la ricotta al forno, che ha un sapore decisamente diverso, più dolce e con un retrogusto di nocciola. Alcuni sostituiscono la ricotta con altri formaggi, dal Parmigiano, al caciocavallo al ragusano. Alcuni aggiungono capperi o persino acciughe o cubetti di mozzarella.
La disputa sugli ingredienti riguarda anche le melanzane: nella ricetta originale, vengono tagliate a fette e fritte in olio extra vergine di oliva (così in effetti mi sono state presentate a Catania, alla trattoria La Pentolaccia). La variante messinese utilizza invece melanzane tagliate a cubetti, non a fette.
Per quanto riguarda il tipo di pasta, la ricetta prevede maccheroni / rigatoni. Le varianti accettate includono pasta corta come mezze maniche, pennette, sedanini e anche i fusilli. Alcuni usano gli spaghetti, ma questo è considerato sbagliato dagli esperti che sostengono che la pasta alla Norma dovrebbe essere preparata rigorosamente con pasta corta.
L'unica cosa su cui tutti sembrano concordare è che le foglie di basilico non dovrebbero mai mancare dalla pasta alla Norma poiché il loro fresco aroma riequilibra la sapidità del piatto.
More Dual Language Articles...