Great Foods of Italy: Eggplant Parmigiana
ITA:
I grandi cibi italiani: Parmigiana di melanzane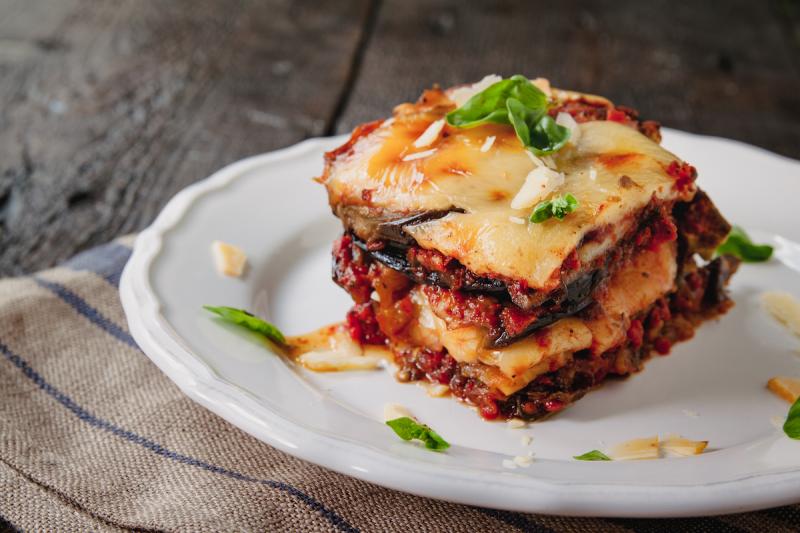 Use player to listen to Italian version

English
Some just call it "Parmigiana," others precede that word with the name of the star ingredient, "melanzane alla parmigiana," others use what is considered the correct wording: "parmigiana di melanzane." Whatever you decide to call it, eggplant parmigiana is one of Italy's most beloved recipes, a classic for Sunday lunch, just as good as when it's just out of the oven, re-heated the following day or even eaten at room temperature. 
The origin of the dish is disputed between Sicily and Naples. Some say the word parmigiana derives from 'parmiciana', a Sicilian term used to indicate the wooden slats of shutters, reminiscent of the layers of fried eggplant. However, others claim that the phrase "alla parmigiana" means a preparation with Parmigiano Reggiano. In fact, there are those who claim that the dish may have originated in Emilia-Romagna. (Although not all recipes for eggplant parmigiana use Parmigiano cheese and it isn't the main ingredient anyway.)
As for many iconic Italian dishes, there are different versions of eggplant parmigiana. In the classic, eggplants are fried before being baked. You could use grilled eggplant for a lighter version, and the dish will still turn out just fine, but the result just won't be the same as when you fry them. Some recipes may include eggs, or ham; parmigiana could also be made with other vegetables, such as zucchini. 
The class recipe features eggplants, tomato sauce, mozzarella, onion, basil and extra virgin olive oil. The eggplants should be placed in a baking pan in alternating layers with the tomato sauce and the mozzarella only after having been fried. The final result should yield a gratin crust and a stringy and tasty filling.
Perfect to prepare well in advance, eggplant parmigiana can save a dinner when you don't know what to make, and it's also ideal for buffets, parties, picnics and on the beach. 
Italian
Alcuni la chiamano semplicemente "parmigiana", altri precedono con il nome dell'ingrediente protagonista, "melanzane alla parmigiana", altri ancora usano quella che è considerata la dicitura corretta: "parmigiana di melanzane". Indipendentemente da come si decida di chiamarla, la parmigiana di melanzane è una delle ricette più amate in Italia, un classico del pranzo della domenica, tanto buona appena sfornata quanto riscaldata il giorno dopo o anche gustata a temperatura ambiente.
L
This is Premium Content
Subscribe today for unlimited access to all our exclusive Italy intel and much more...
...for less than the cost of a cappuccino a week!
More Dual Language Articles...