Great Foods of Italy: Mozzarella in Carrozza
ITA:
I grandi cibi italiani: mozzarella in carrozza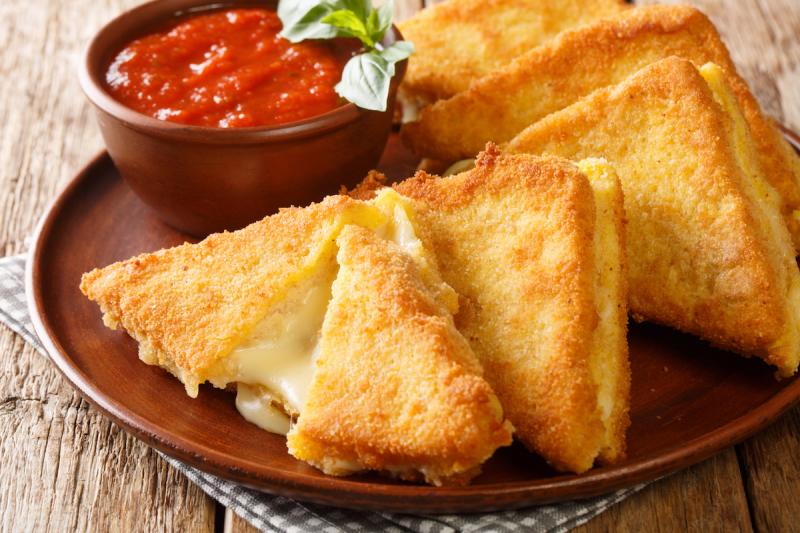 Use player to listen to Italian version

English
Mozzarella in carrozza ("mozzarella in a carriage") is an easy to make, yummy dish that works perfectly as an appetizer or to "save a meal" when you have just few ingredients available at home. 
Originally from Campania, it is popular across Italy, where it can be served with some variations.  
All you need to make it is some sandwich bread, mozzarella, flour, eggs, breadcrumbs, and oil for frying. 
The recipe consists of two slices of sandwich bread stuffed with mozzarella, cut in thick slices. The bread should be floured, especially at the edges, which should be sealed well with your hands. The bread should then be battered in the beaten egg with a pinch of salt, and passed through the breadcrumbs. After that, it is fried in a pan.
The Roman version uses fiordilatte instead of buffalo mozzarella, more common in Campania, and adds anchovies or cooked ham. This addition is also common in Venetian bacari. 
How did mozzarella in carrozza originate? This royally named food is actually a poor dish born in Campania in the early 19th century to recycle ingredients that were no longer fresh, such as stale bread and mozzarella from previous days. 
Various anecdotes circulate about the reasons for the particular name of this delicious recipe. The most accredited attribute it to the fact that, in the 19th century, the milk, transported on carriages (like other food), curdled itself as a result of the continuous movement during the journey, arriving at its destination as fresh cheese. Hence the name "mozzarella in carrozza." Another theory states that the slices of bread were once roundish in shape, resembling those of a carriage's wheels.
Whatever the reason, mozzarella in carrozza is simple, yet filling and delicious, and now back in popular demand thanks to the street food craze. 
Italian
La mozzarella in carrozza è un piatto sfizioso e facile da preparare, perfetto come antipasto o per "salvare una cena" quando in casa si hanno pochi ingredienti a disposizione.
Originario della Campania, è diffuso in tutta Italia, dove può essere servito con alcune varianti.
Tutto ciò che serve per prepararlo è del pane per tramezzini, mozzarella, farina, uova, pangrattato e olio per friggere.
La ricetta consiste in fette di pancarrè a due a due ripiene di mozzar
This is Premium Membership Content
Subscribe today to gain unlimited access to all of our exclusive Italy intel and much more. For less than the cost of a cappuccino per week, you'll have access to invaluable insights and resources that will enhance your Italian experience.
Join now and start exploring Italy like a local!
More Dual Language Articles...